Last summer I had one goal in mind and that was to share as many healthy smoothie recipes as I can. I even gave it a name, Summer Smoothies. In just a short few months I shared over 10 vegan, sugar-free and healthy smoothie recipes. Going into it, my long term plan was to turn this into a summer tradition and share weekly smoothie recipes during the summer months in the years to come.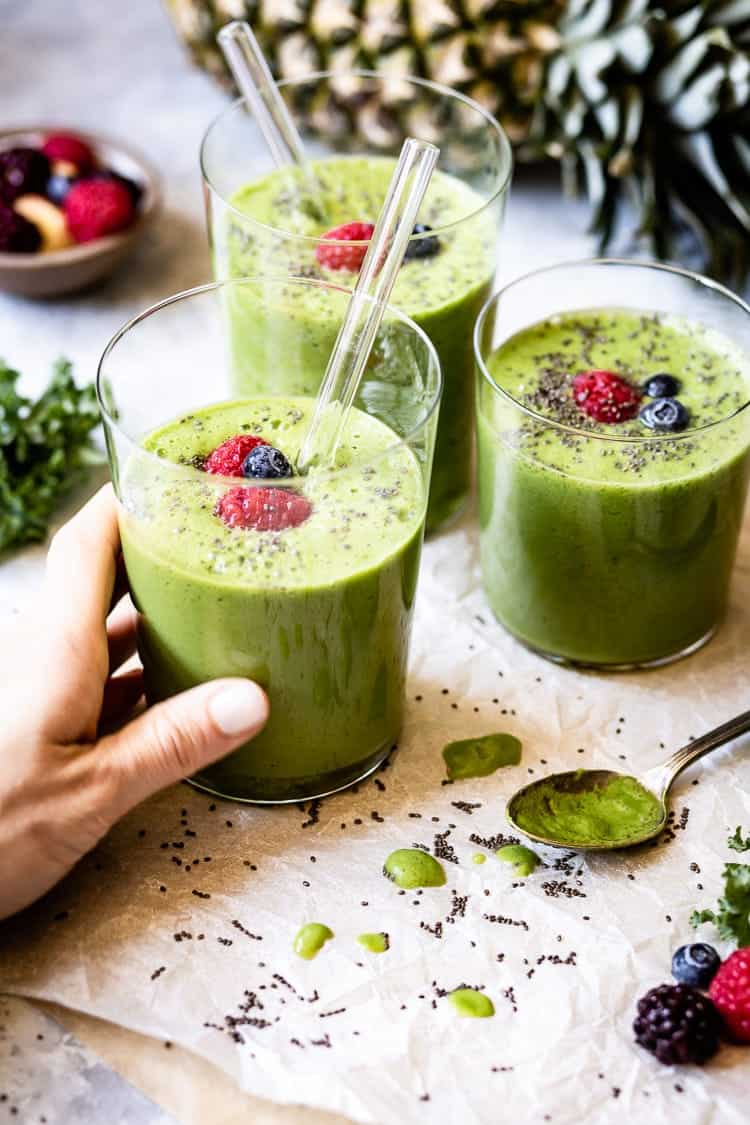 Sadly, life happened and I dropped the ball on that plan this summer. However, I am a firm believer that it is better late than never, so even if it means that I am sharing only one smoothie recipe for the whole summer of 2018, this Kale Pineapple Smoothie recipe should be on the blog.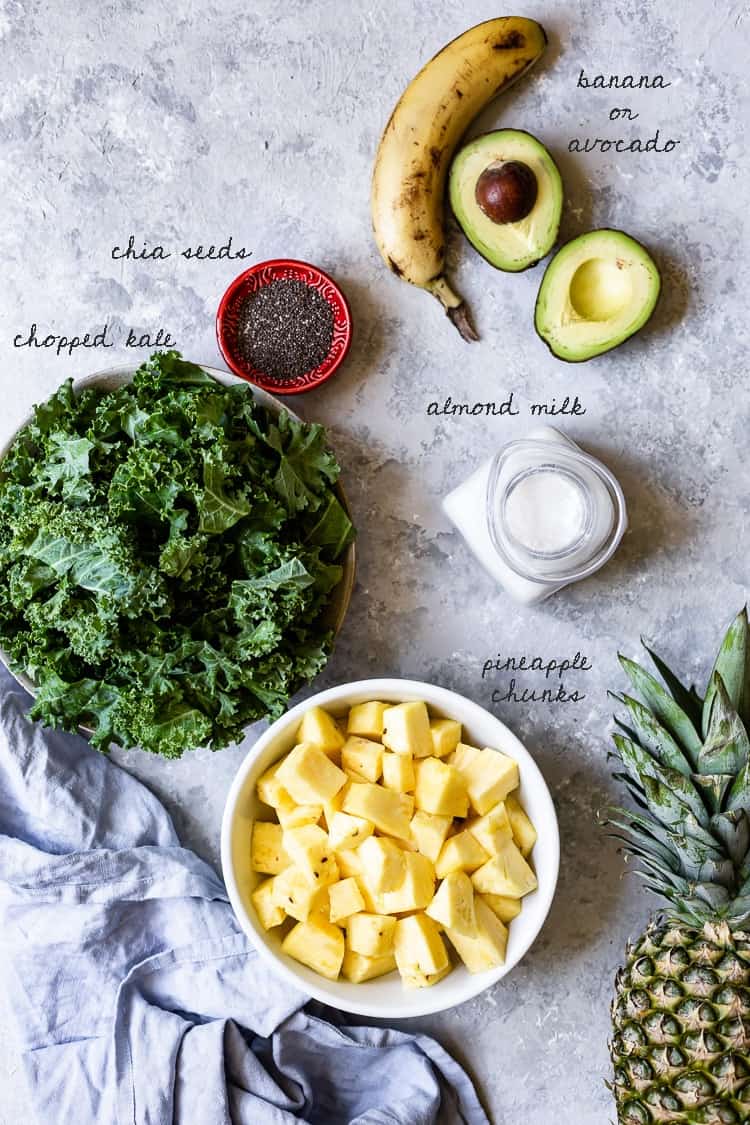 With fresh summer produce (including gorgeous kale) in abundance, this healthy kale smoothie is what we have been drinking for breakfast for the last few weeks. For me, it is one of those tropical smoothie recipes that works as an instant energy boost that gets you going pretty quickly.
If you love green smoothies and pineapple and need a great kale shake to help you start the day in the right foot, I am pretty sure you will enjoy this smoothie.
How To Make Kale Pineapple Smoothie
The recipe calls for only 5 ingredients. As the name suggests, kale and pineapple are in there. Plus, I used chia seeds for additional nutrition, unsweetened homemade almond milk as liquid, and a ripe banana for creaminess.
With that being said, I know some people do not care for bananas in green smoothies. If you are one of those people, you can easily switch banana with an avocado. In my opinion, pineapple is sweet enough that you won't need any additional sweetener. However, if you feel it needs some additional sweetener you can always add a few tablespoons of maple syrup or honey. Though either way, I recommend giving it a taste first.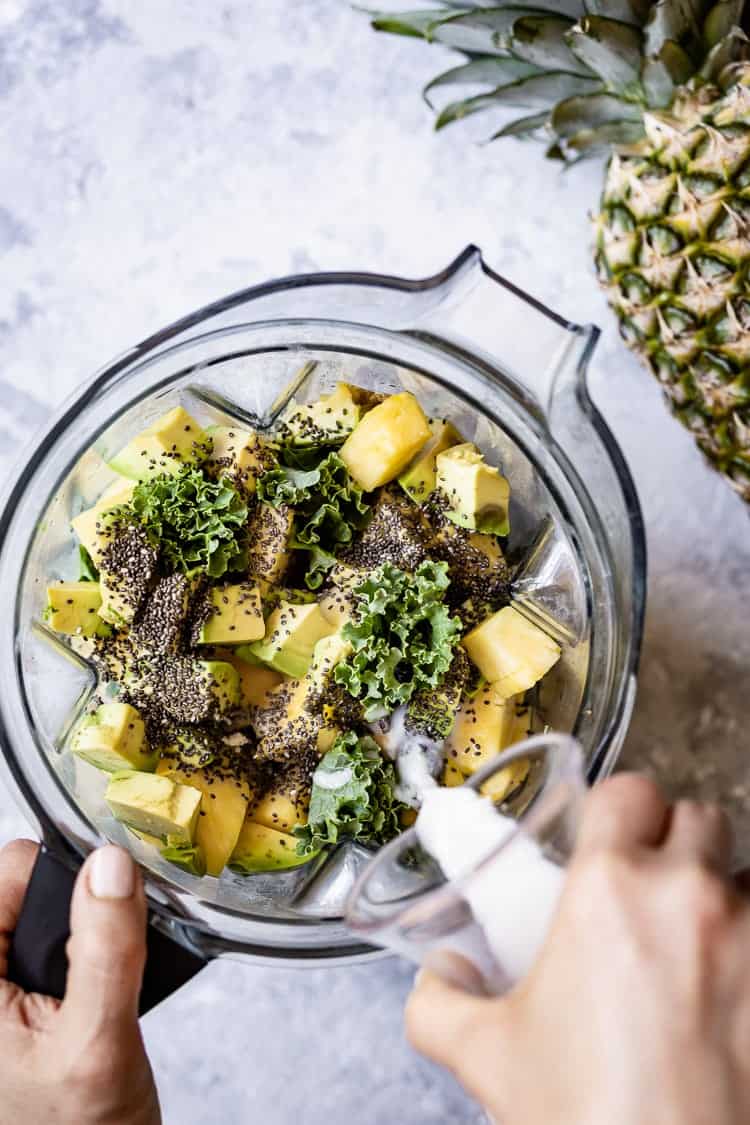 How To Make Kale Taste Good in Smoothies
I get asked this question all the time: How do you make kale smoothies taste good? Though I think there is no one way, I found that the best thing to do is to find the best ratio of sweetness and creaminess that will balance the bitter taste of kale.
The ratio that works for me is to use 1 ½ cups of ripened fruit for every 2 cups of kale. While that formula usually works well, fruits like pineapples can be sweeter than other fruits so it is always a good idea to taste the fruit and adjusting the amount you use according to your sweetness preference.
Additionally, adding some fat into the recipe will help mask the bitterness coming from kale. In the recipe below, I used almond milk as the liquid. Since almond milk is high in (healthy) fats, it helped quite a bit. If you try making this pineapple kale smoothie recipe using avocado instead of bananas, you will realize it will be even less bitter.
Alternatively, you can use different plant-based milk options like cashew milk or coconut milk.
How Many Calories Are There In A Kale Smoothie
If you make this as a Kale Pineapple Banana Smoothie (using banana instead of avocado), it will be 84 calories with 2 grams of fat and 8.9 grams of sugar per serving. You can see a detailed outline of the nutritional data underneath the recipe.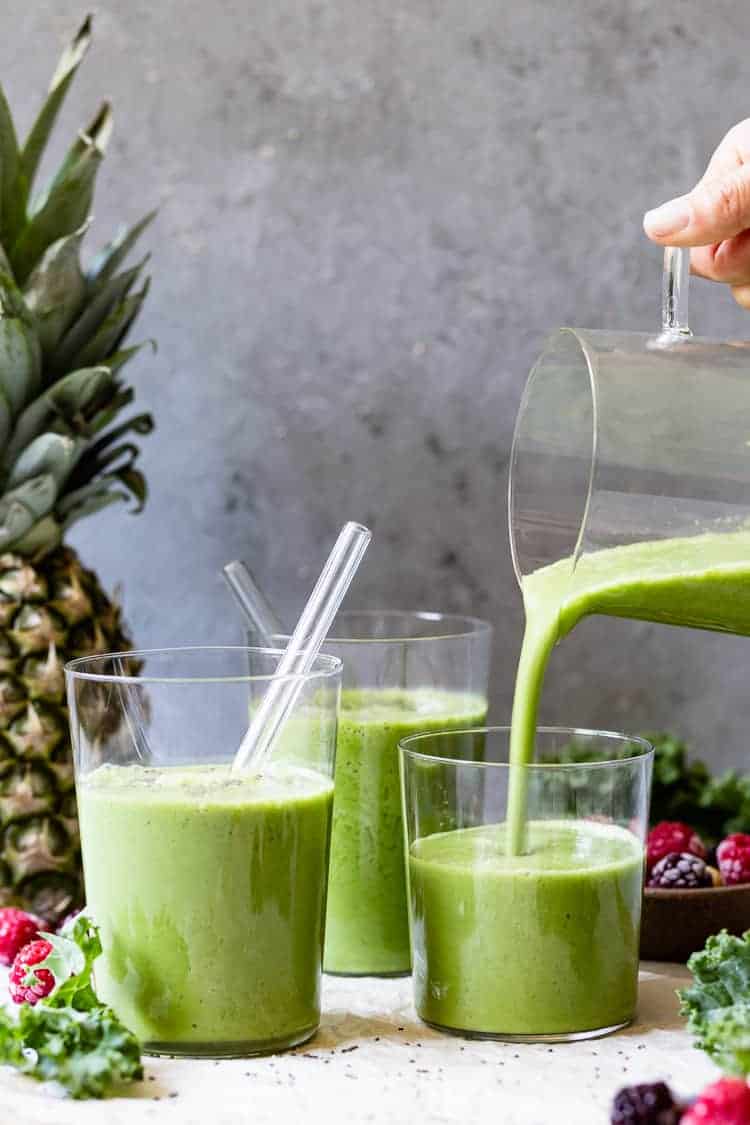 If you swap banana with an avocado, the calorie count will jump up to 114 calories with 7.1 grams of fat and 5.4 grams of sugar. The good thing is that if you are someone who consumes avocado in moderation, it a very healthy and nutritious way to add good fats into your diet.
Neither of the recipes mentioned above have any additional sugar added in them. Like I mentioned earlier, I find pineapple to be sweet enough so I don't see it necessary to add-in. However, if you decide to use maple syrup or honey, the calorie information would change.
With all this being said, the calorie value of a kale smoothie, in general, will depend on the type of fruit used.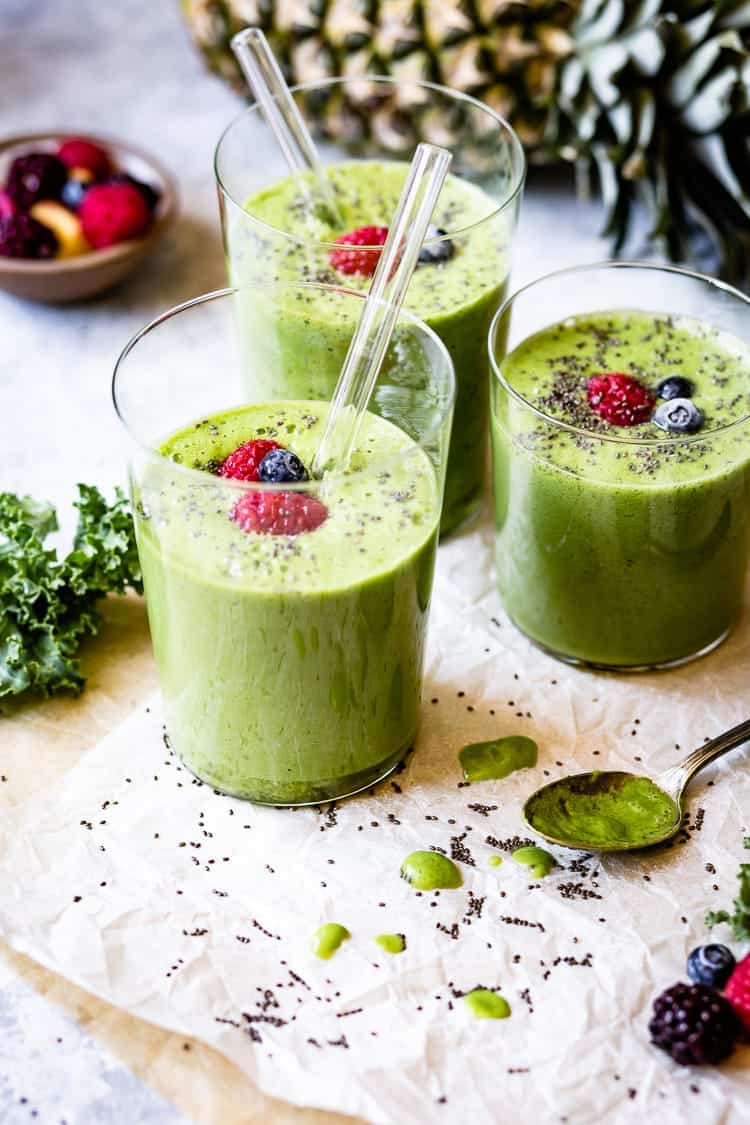 Expert Tips
Feel free to switch pineapple with berries or cherries when they are in season.
I also love adding a tablespoon of hemp seeds when I have them at home. They don't have a very distinctive taste, but they are so nutritious.
If you want to make ahead, you can prep pineapple chunks and kale in advance, place in a resealable bag and freeze until you are ready to use.
If You Liked This Kale Pineapple Smoothie Recipe You Might Also Like
Kale Pineapple Smoothie
Ready to start your day with an energy boosting and healthy smoothie? If so, try this Vegan Kale Pineapple Smoothie. Made with only 5 ingredients, it is ready in than 10 minutes.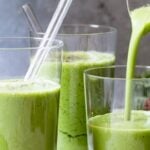 Print Recipe
Ingredients
2

cups

kale

rinsed, stems removed and coarsely chopped

1 ½

cups

fresh pineapple

cubed

1

tablespoon

chia seeds

1

ripe banana

peeled and cut into small chunks

1 ½

cups

unsweetened almond milk

Maple syrup -

optional

1 ½

cups

ice
Instructions
Place all ingredients in a blender. Blend until fully mixed and smooth.

Taste for sweetness and add in maple syrup if you think it is necessary.

Serve immediately.
Nutrition
Calories:
101
kcal
|
Carbohydrates:
19
g
|
Protein:
3
g
|
Fat:
3
g
|
Saturated Fat:
1
g
|
Sodium:
140
mg
|
Potassium:
350
mg
|
Fiber:
3
g
|
Sugar:
10
g
|
Vitamin A:
3401
IU
|
Vitamin C:
72
mg
|
Calcium:
192
mg
|
Iron:
1
mg
Like this recipe? Consider sharing: