Eggplant is a versatile vegetable that gets a range of reactions from people. Some adore its rich, meaty texture, while others find its distinct flavor to be an acquired taste. With so many eggplant varieties and recipe ideas, this summer vegetable offers something for everyone who enjoys the unique flavor of this spongy vegetable.
Whether you are interested in Roasting Eggplant Halves, Baking Eggplant Slices, Charring Eggplant on the Stove, Roasting Eggplant as a Whole, Sauteeing Eggplant, or Grilling Eggplant, this informative guide will teach you how and when to use each type.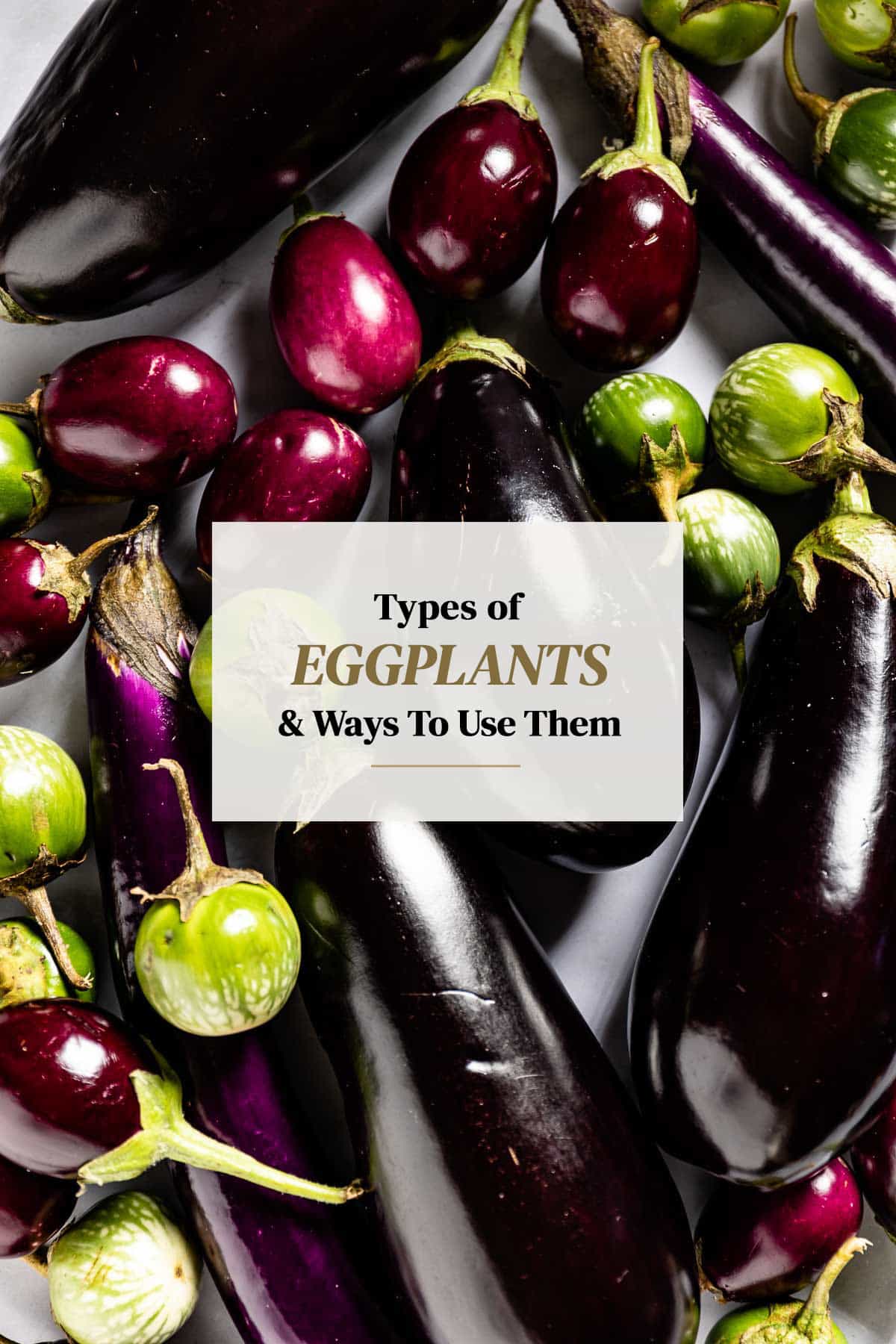 Eggplant, known botanically as Solanum melongena, is technically a berry, but we cook and eat it like a vegetable. A member of the nightshade family, eggplant thrives in hot weather.
Globally, it goes by many different names, including aubergine, brinjal, melanzana, garden egg, patlican or guinea squash.
1. Globe Eggplant
Globe or American eggplant is the most common eggplant sold in grocery stores throughout the United States. Of all the eggplant types, this is the one that you can use in (pretty much) any eggplant recipe.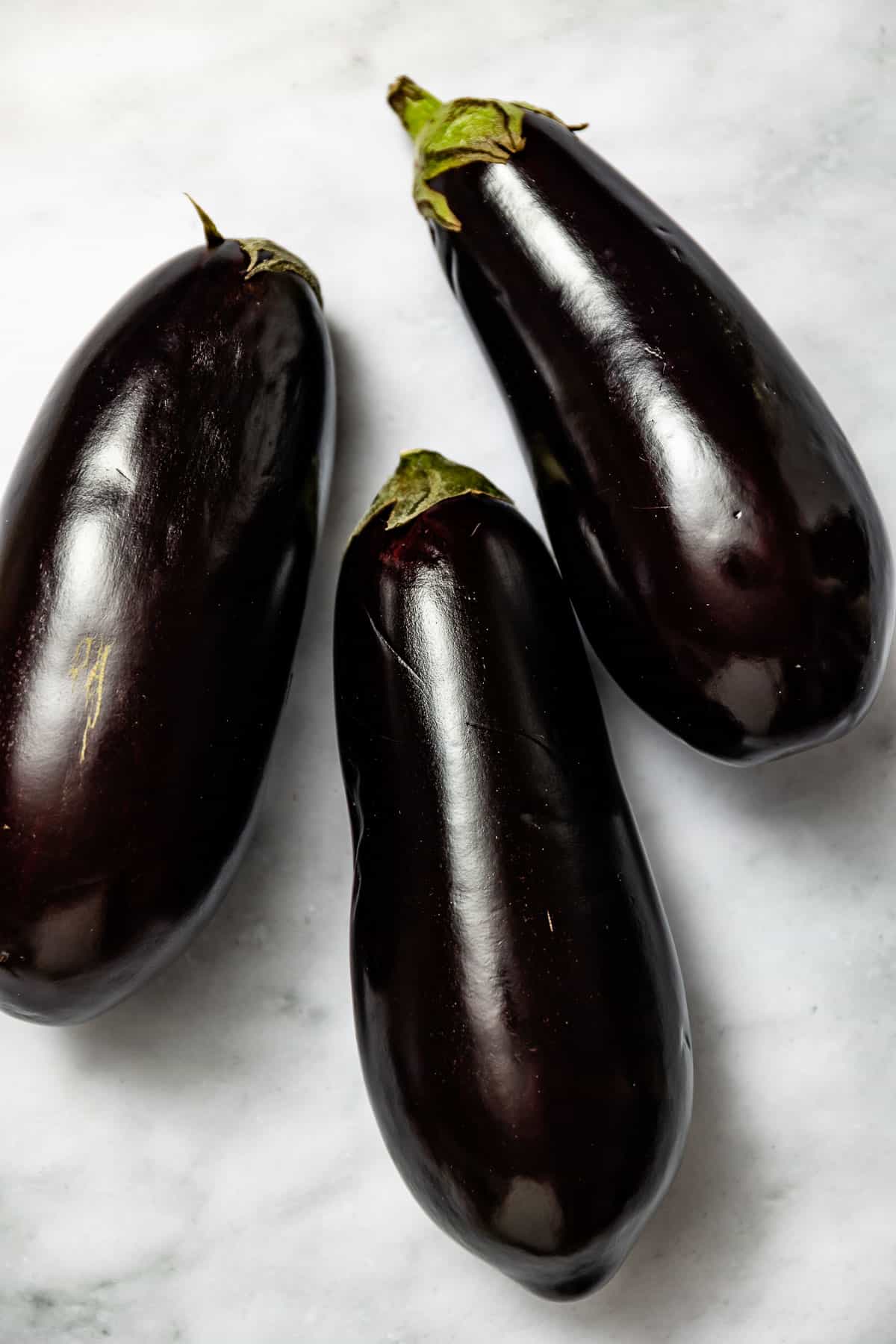 Plump and spherical, with a somewhat teardrop shape and deep purple color, globe eggplants are available year-round. While the skin is edible, the thick skin can be tough or bitter to some, which is why some people peel it before using it in recipes.
With that being said, I personally do not peel the eggplant before cutting it down into smaller pieces (or cubes) or slices. If you are new to it, here is a quick guide to How to Cut an Eggplant.
This is a variety of eggplant that is extremely versatile, as it can be grilled or roasted whole, then blended into Babaganoush or Turkish Eggplant Dip, sliced, breaded, and made into Baked Eggplant Parmesan, braised in Eggplant Beef Stew and Eggplant Curry.
2. Italian Eggplant
With a teardrop shape, Italian eggplants are similar in appearance to globe eggplants but smaller in size. This means the flesh will be much more tender once cooked, with a sweeter flavor.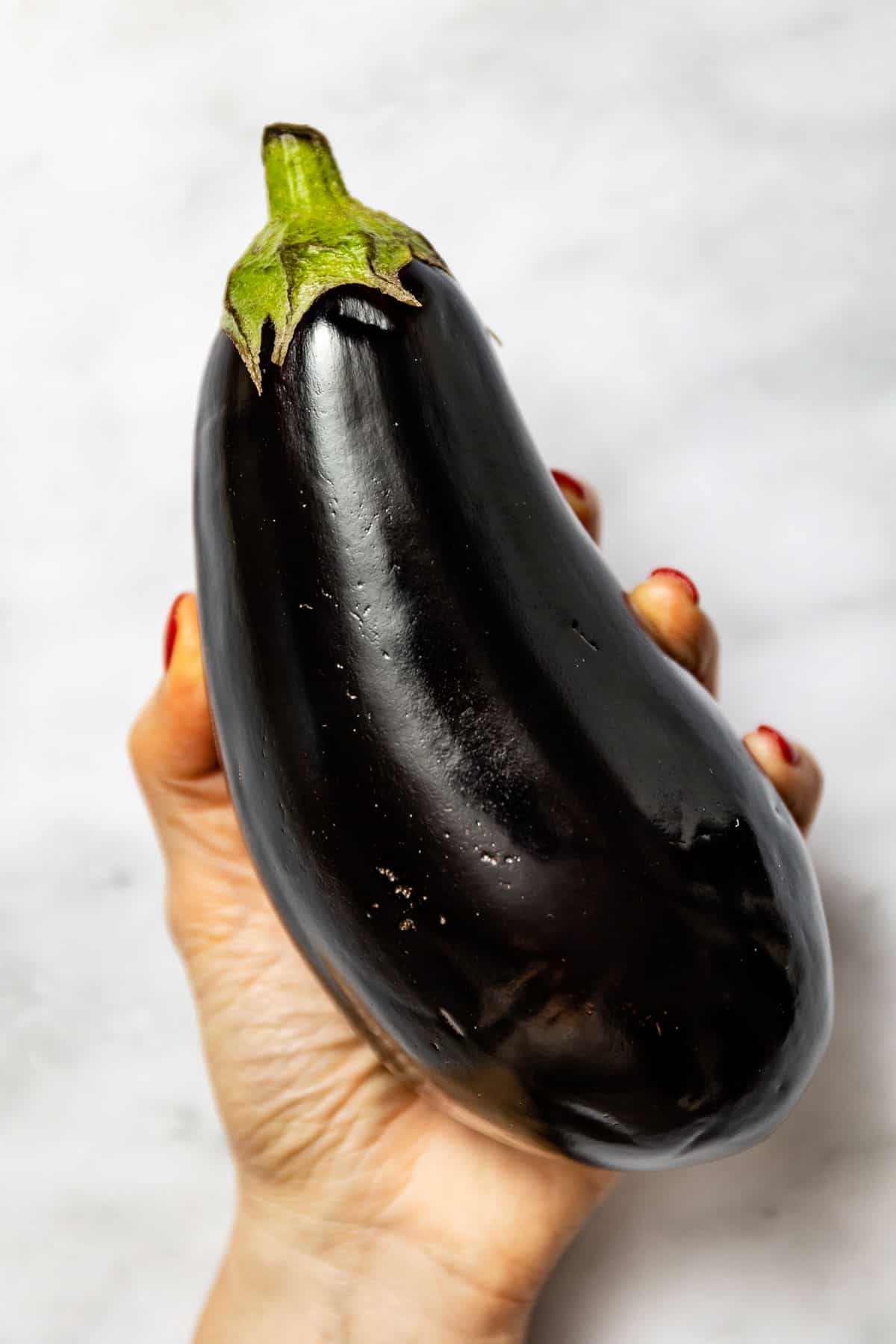 Versatile in nature, Italian eggplants can be easily cooked using various techniques like braising, grilling, sauteing, frying, and stewing. They are wonderful when they are used to make Crispy Roasted Eggplant or popular Italian dishes like Eggplant Involtini and Eggplant Caponata.
Similar to the globe variety, there is no need to have to take the extra step of Salting Eggplant as it does not have the bitter taste that you experience with some of the other types of eggplants.
3. Sicilian Eggplant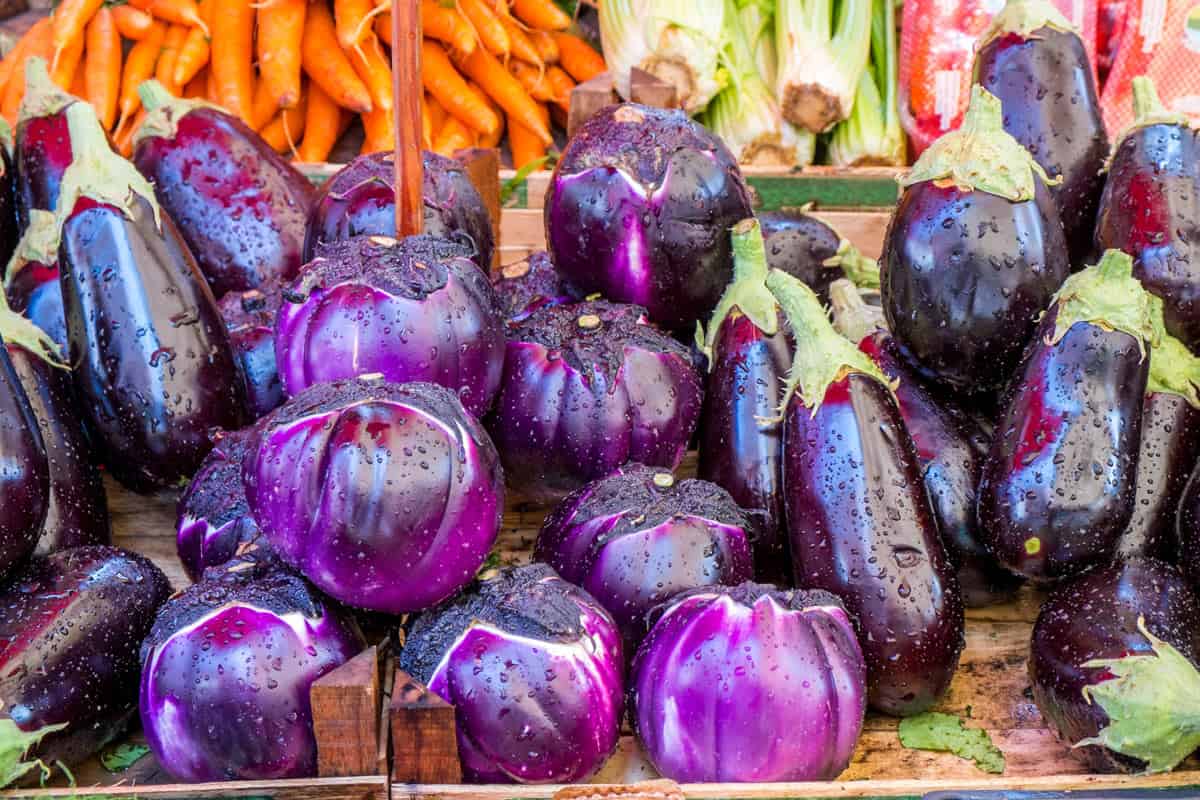 Sicilian eggplant falls under the same umbrella as the Italian variety, but these are small, round, and light pink or lavender in color. Their flesh is custard-like and sweet, making it a must-try if you are lucky enough to spot them at the farmer's market. Other varieties of this small purple eggplant go by the name Rosa Bianca eggplant.
4. Graffiti Eggplant
Graffiti eggplants have interchanging purple and white stripes (hence the name graffiti) with smaller seeds and thinner skin. This makes them sweet (almost fruit-like) and never bitter.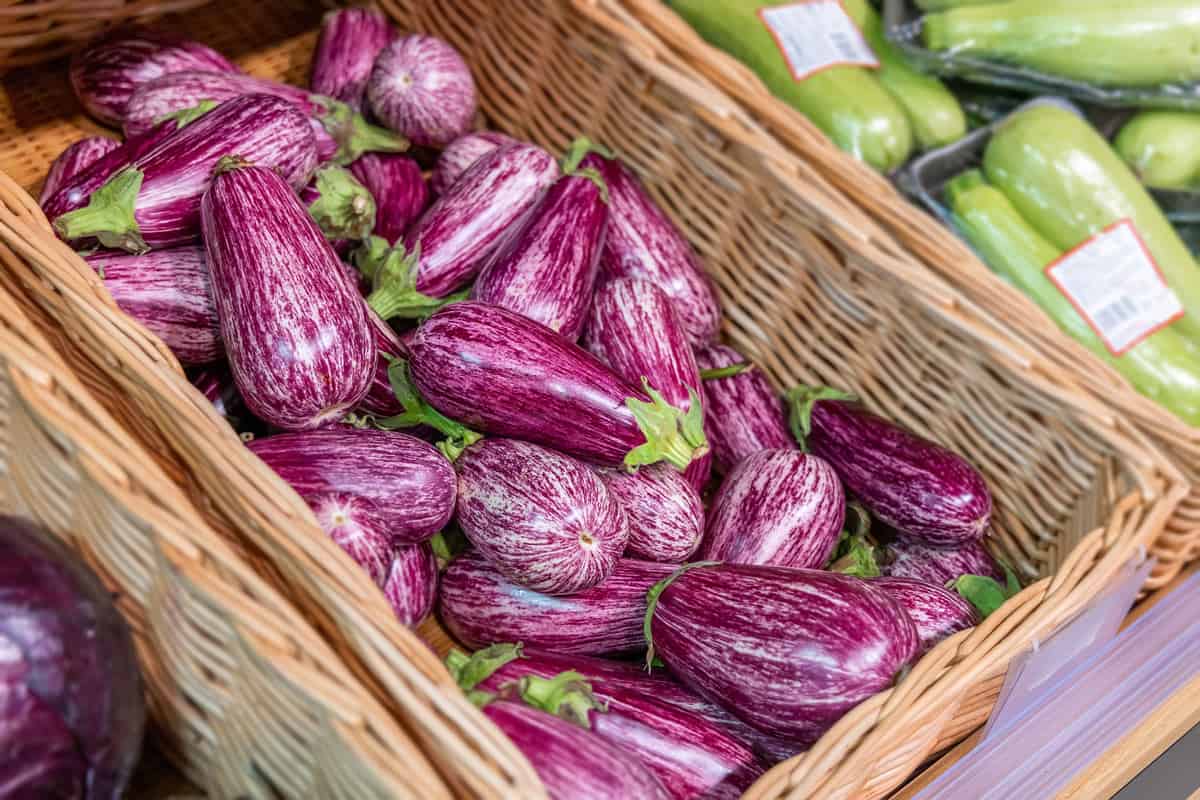 While this light purple eggplant is considered an Italian eggplant, it is larger than Sicilian eggplant with a skin color with similar hues of purple. Graffiti eggplant bodes well roasted whole like a potato, then split and enjoyed just as is or turned into stuffed eggplants like my Karniyarik recipe.
5. Chinese Eggplant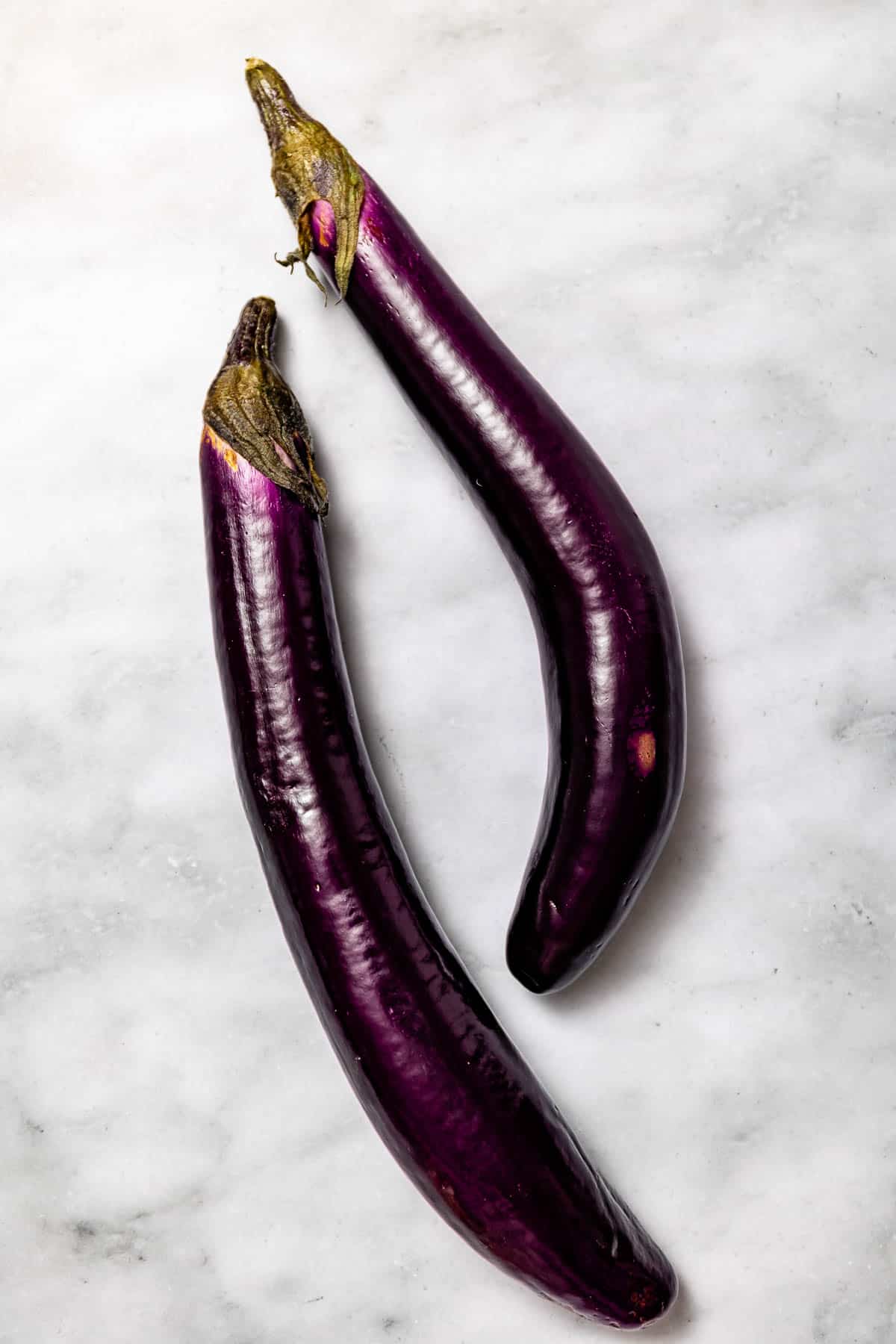 Chinese eggplants are elongated, thin eggplants with skin ranging from pastel purple to lilac. They have a white flesh interior with fewer seeds, making them sweeter than globe eggplants. Chinese eggplant, sometimes used interchangeably with Japanese eggplant (see below), is best enjoyed in stir-fry dishes like this Eggplant Stir Fry recipe.
6. Japanese Eggplant
Japanese eggplant is similar to Chinese eggplant. However, they have deep purple skin and are shorter in length. Both of these long skinny eggplant varieties are sometimes labeled Asian Eggplant and make a wonderful addition to stir-fry dishes.
7. Indian Eggplant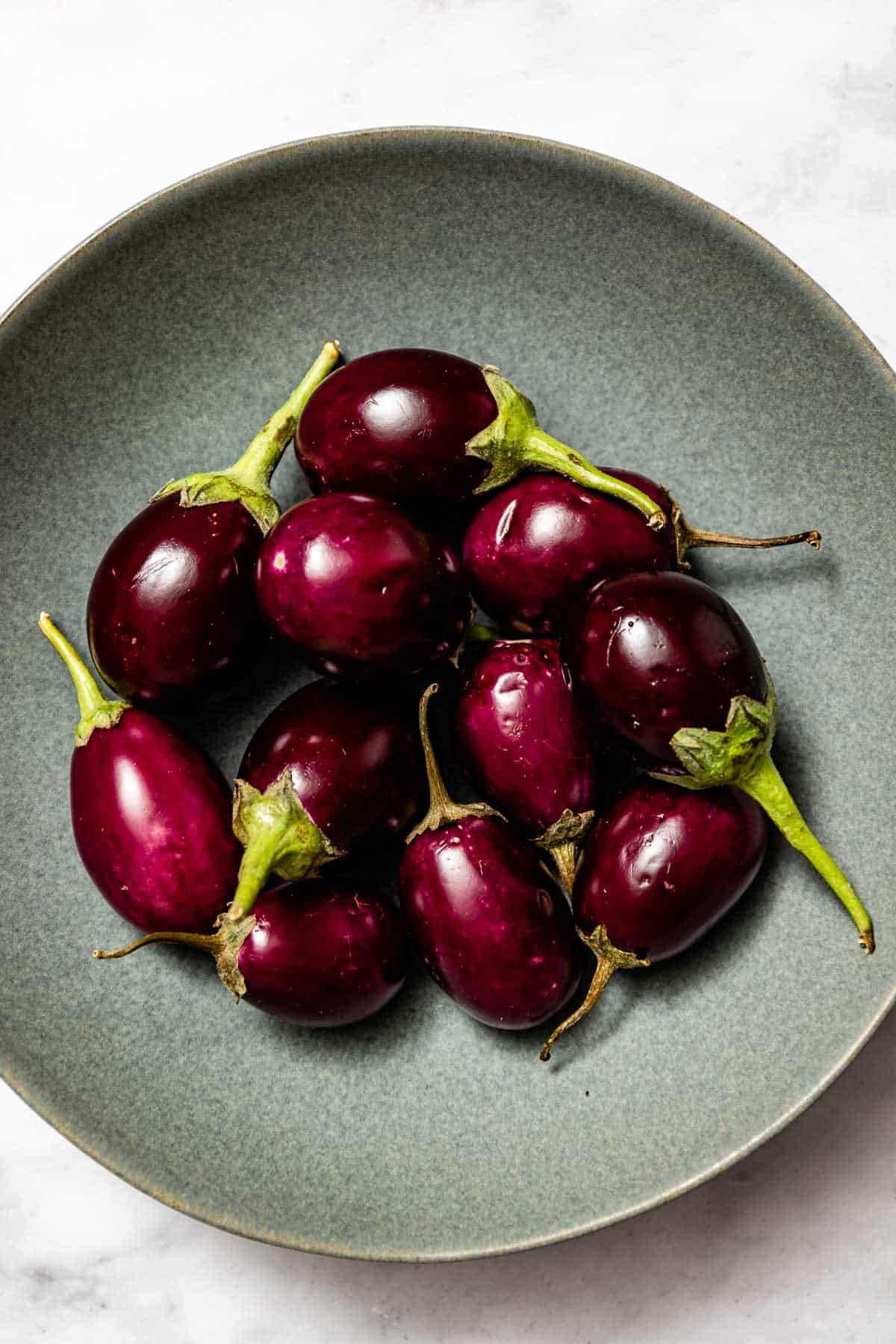 One of the small eggplant varieties, Indian eggplants are plump and round with rich purple skin. Oftentimes, you can spot them at the farmer's market, labeled as Baby Eggplants, as fully mature Indian eggplants only get about 2 inches long. Popular in Indian cuisine, they are quick-cooking and make a wonderful addition to curries. Their small size also bodes well for stuffing and roasting.
8. Thai Eggplant
Thai white eggplant doesn't really look like eggplants at all, as they have white to pale green skin (although some can be purple) and a small, round shape.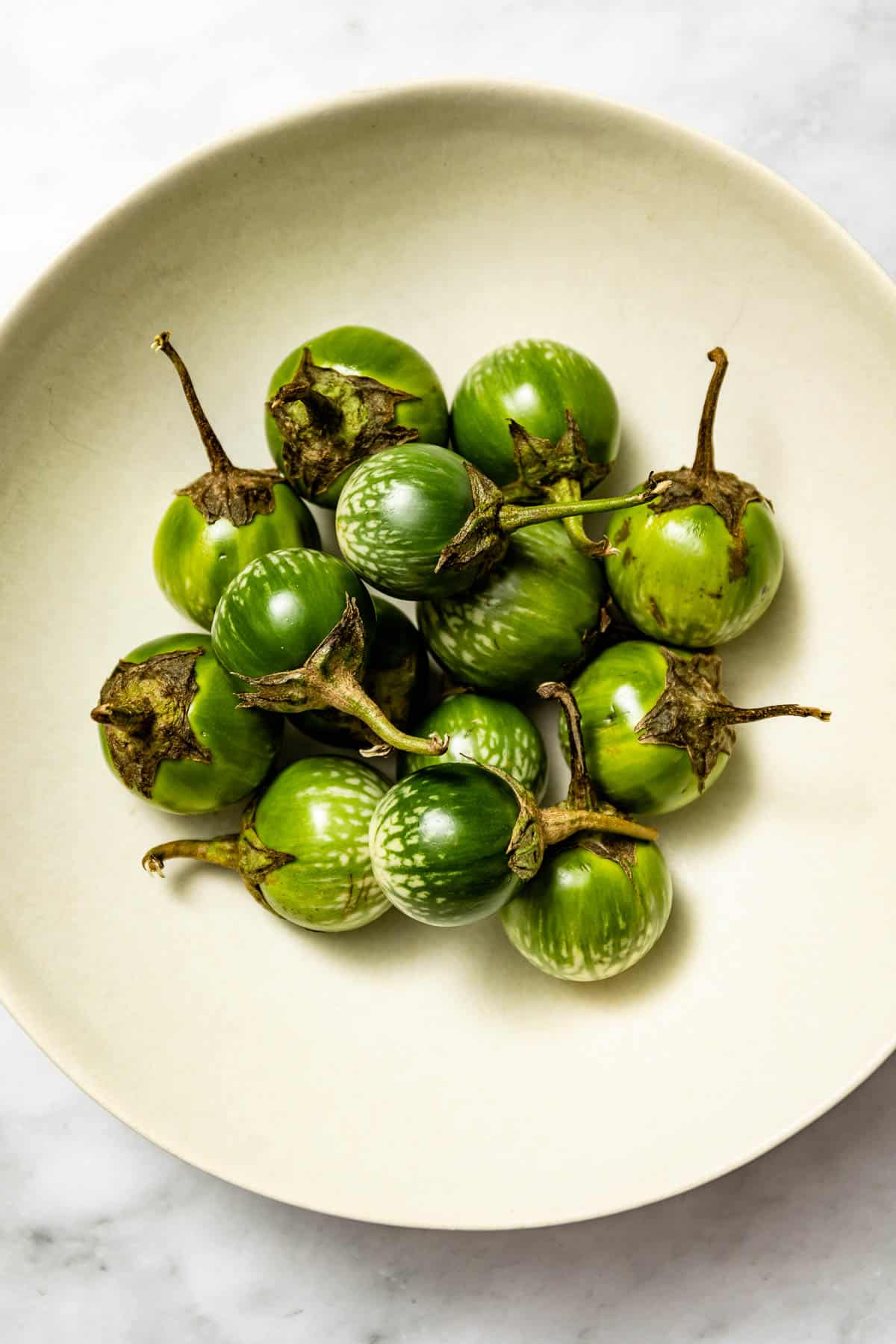 They have a mild flavor and are slightly crunchy, which is why they are oftentimes eaten raw in salads or served crudité style with a flavorful dip or spread in South Asian cuisine. Thai eggplants are usually hard to find, but a specialty Asian market or farmer's market may be your best bet to spot them.
9. White Eggplant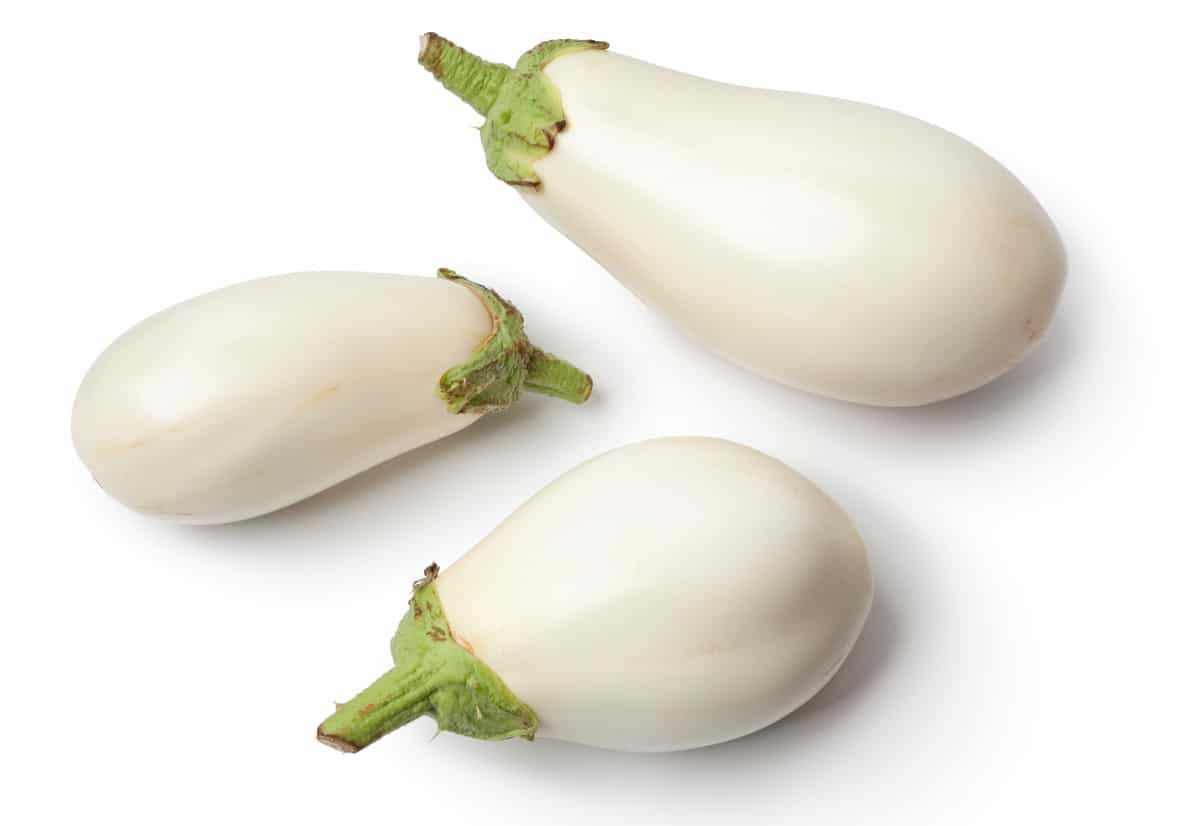 White eggplants are similar in shape and structure to globe eggplant, with one exception – their glossy white skin. They also have a mild taste and can be used interchangeably with globe or Italian eggplant in recipes.
10. Fairy Tale Eggplant
Fairy tale eggplants are slender and small eggplants with thin, purple, and white streaked skin. Their flesh is delicate and creamy and benefits from a quick saute or stir fry.
11. Heirloom Eggplants
Heirloom eggplants can range in color from white to light purple to deep violet and have a mild, sweet flesh. The term 'heirloom' denotes a traditional variety of plants not associated with modern or commercial agriculture. In other words, these seeds have been passed down through generations of farmers and can be any variation of the eggplant crop.
Heirloom eggplants are easy to find at farmer's markets, especially during the summer months, when eggplant is in its peak season (July – October). Different varieties go by different names, but some notable ones include Black Beauty, Little Fingers, Kermit, Barbarella, Santana, Ping Tung, Turkish Orange, Old White Egg, Early Long Purple, or Little Green eggplants.
Eggplant Varieties Chart
The color, shape, taste, and cooking technique varies based on each eggplant variety. Here they are broken down into a handy chart:
| Eggplant Names | Color | Shape | Taste | Best Uses |
| --- | --- | --- | --- | --- |
| Globe / American | Deep Purple, Violet | Large, Oblong, Spherical, Teardop | Sour, Bitter, Sweet, Meaty | Saute, Broil, Grill, Roast, Puree, Braise, Stir Fry, Stuff |
| Italian | Deep Purple, Violet | Small, Oblong, Teardrop | Sweet | Saute, Broil, Grill, Roast, Puree |
| Sicilian | Light Pink, Lavender | Small, Round | Sweet, Custard-like | Saute, Broil, Grill, Roast, Puree |
| Graffiti | White and Purple Streaks | Small, Oblong | Sweet, Tender | Saute, Broil, Grill, Roast, Puree, Stuff |
| Chinese | Pastel Purple, Lilac | Long, Thin | Sweet | Grill, Saute, Braise, Stir Fry |
| Japanese | Deep Purple, Violet | Short, Thin | Sweet | Grill, Saute, Braise, Stir Fry |
| Indian | Deep Purple, Violet | Very Small, Round | Sweet, Tender | Stuff, Roast, Braise, Curry |
| Thai | Pale Green, White, Sometimes Purple | Small, Round | Mild, Crunchy | Raw, Salads, Crudite, Curry |
| White | Pure White, Glossy | Large, Oblong, Teardrop | Mild, Sweet | Saute, Broil, Grill, Roast, Puree, Braise, Stir Fry, Stuff |
| Fairy Tale | Purple and White Streaks | Small, Slender | Delicate, Creamy | Saute, Grill, Stir Fry |
| Heirloom | White, Light Purple, Lilac, Deep Purple, Reddish-Orange | Small, Oblong, Round, Plump, Rippled | Mild, Sweet, Meaty, Nutty | Saute, Broil, Grill, Puree |
FAQs
What does an eggplant look like?
Although we associate the world of eggplants with the large dark purple eggplants with a green calyx, commonly referred to as Globe eggplants, they can range from round to oblong, thin to thick, and white to purple in color.
How many different types of eggplant are there?
There are countless eggplant varieties, it's hard to know exactly how many. Commercially grown eggplants are easy to spot in stores, while rare heirloom varieties of eggplants may be available at farmer's markets during peak season.
What is the best-tasting eggplant?
Although more about personal preference, globe eggplants seem to win over most for their versatility in cooking and perfect balance of sweet and sour flavors.
Which eggplant is sweeter?
Typically, Italian, Sicilian, and Heirloom eggplants all have a sweet note. This is thanks to their thinner skin and smaller, sometimes fewer seeds.
Sicilian eggplant vs. regular eggplant, what is the difference?
Sicilian eggplant is small and round with a light pink to lavender colored skin, whereas regular eggplant is large, oblong, and deep purple.
Chinese eggplant vs. Japanese eggplant, what is the difference?
Chinese eggplant is pastel purple to lilac in color with a long, slender shape. Japanese eggplants are deep purple, short and thin.
Chinese eggplant vs. regular eggplant, what is the difference?
Chinese eggplant is long, thin, and light purple, as opposed to regular globe eggplant, which is large, thick, and deep violet.
Japanese eggplant vs. regular, what is the difference?
Japanese eggplant is small, thin and deep violet, whereas regular eggplant is large and spherical.
Can you substitute regular eggplant for Japanese eggplant?
Yes, in most instances, depending on your recipe, you can substitute regular eggplant for Japanese eggplant. The key, as with most eggplant recipes, is to season liberally and cook until tender.
Like this recipe? Consider sharing: