Why Should You Try this Recipe?
Out of all the quick eggplant recipes to make, this oven-fried crispy eggplant is guaranteed to be a fan favorite. I personally love it because it is an Italian-inspired dish that is savory, simple, and oh so irresistibly crisp. Here are a few more reasons why it is worth a try: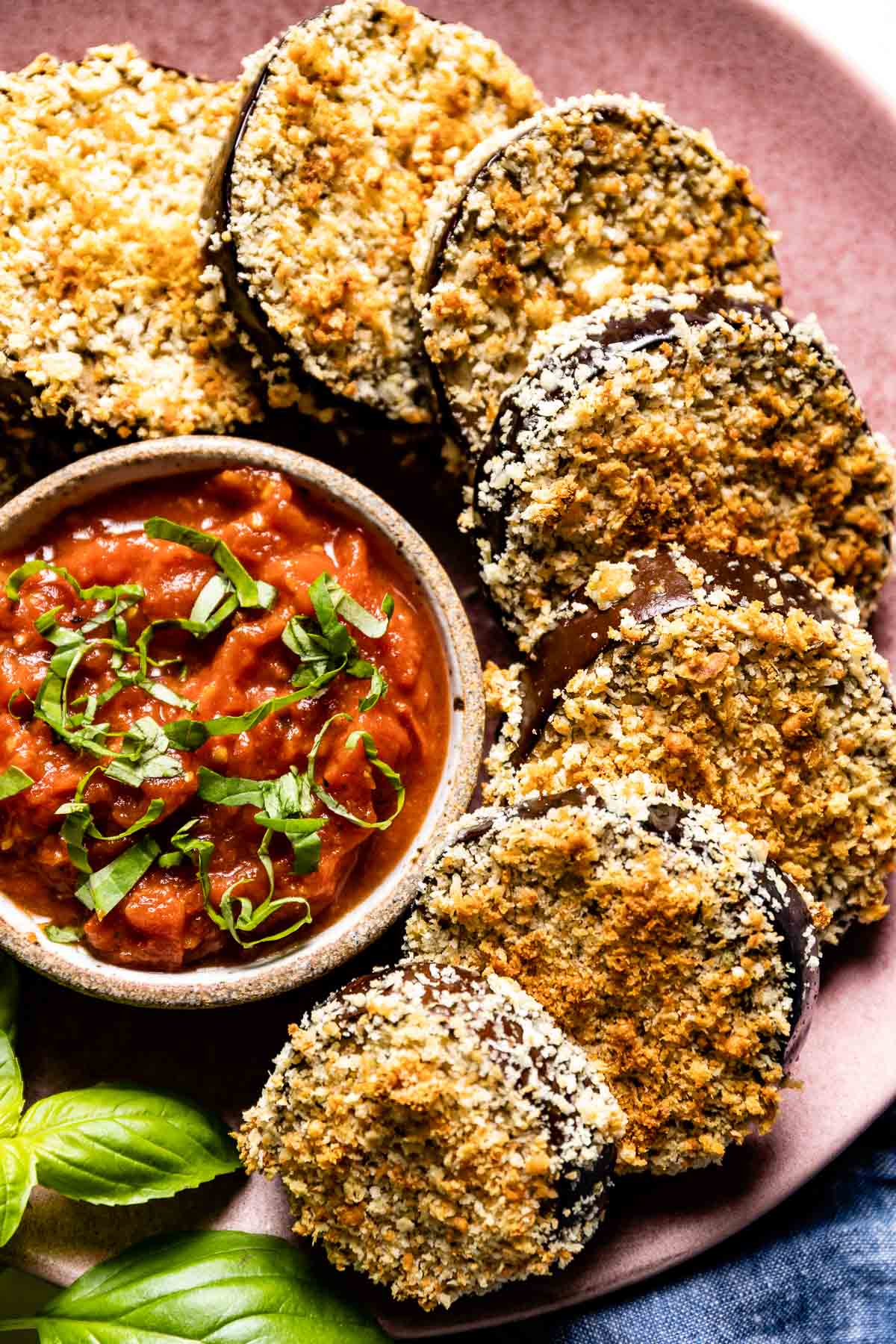 Ready in less than 30 minutes, crispy baked eggplant rounds are the perfect side dish. It comes together more quickly than everybody's favorite, Eggplant Parmesan, but offers a very similar flavor and texture profile.
With so many ways to prepare eggplant, this recipe is the most flavorful. Packed with robust seasonings, nutty parmesan, and crunchy panko, this dish is rich enough to serve by itself (with your favorite dipping sauce, of course!).
This easy eggplant recipe packs serious crunch in every bite. And guess what? It uses no oil which means that it is much healthier than its pan-fried alternatives. So, go ahead and put this baked breaded eggplant recipe on the menu with no guilt.
Ingredients
To make sliced baked eggplant with panko, you will need globe eggplants, large eggs, panko breadcrumbs, shredded parmesan cheese, garlic powder, Italian seasoning, and black pepper.
If you prefer to serve it with a condiment on the side, my Homemade Tomato Sauce would be a perfect addition, but any of your favorite tomato sauces would work.
Helpful Notes & Variations
You can make crispy roasted eggplant in countless different ways—each of them delicious. These tasty variations are sure to please, whether you're accommodating a special diet or simplifying ingredients.
Type of eggplant: Though I use globe eggplants—the larger, more spherical type of eggplant most common in the U.S.—you may also use Japanese eggplants for this recipe. However, Japanese eggplant is slightly skinnier, so the baking time may vary. If you are new to the world of eggplants, be sure to check out our guide on Different Types of Eggplants with Pictures.
Gluten-free fried eggplant: To make this recipe gluten-free, all you have to do is use gluten-free panko crumbs.
Vegan fried eggplant: Wonder how to make crispy eggplant vegan? Simply omit the eggs and parmesan cheese. Instead, dip eggplant slices first in aquafaba and then into a breadcrumb mixture made with panko breadcrumbs and nutritional yeast.
No breadcrumbs: If you want to make this crispy baked eggplant with no breadcrumbs, you're in luck! My recipe for Baked Eggplant Slices preserves the rich flavor of roasted eggplant without the extra breading.
How to Make Crispy Eggplant?
This crispy roasted eggplant is a simple recipe that packs major flavor. Every bite of this easy side dish explodes with seasoned Italian flavor.
Preheat the oven: Preheat the oven to 400 degrees F., and line two baking sheets with parchment paper. Set the sheets aside.
Prepare the eggplant: Slice your eggplant into ½-inch slices, and set them aside. If you are new to preparing eggplant for cooking, be sure to check out my how-to guide on slicing an eggplant.
Prepare the breading station: Whisk the eggs until in a shallow bowl. Then, whisk together the breading ingredients; panko breadcrumbs, parmesan cheese, garlic powder, Italian seasoning, and black pepper in a separate bowl.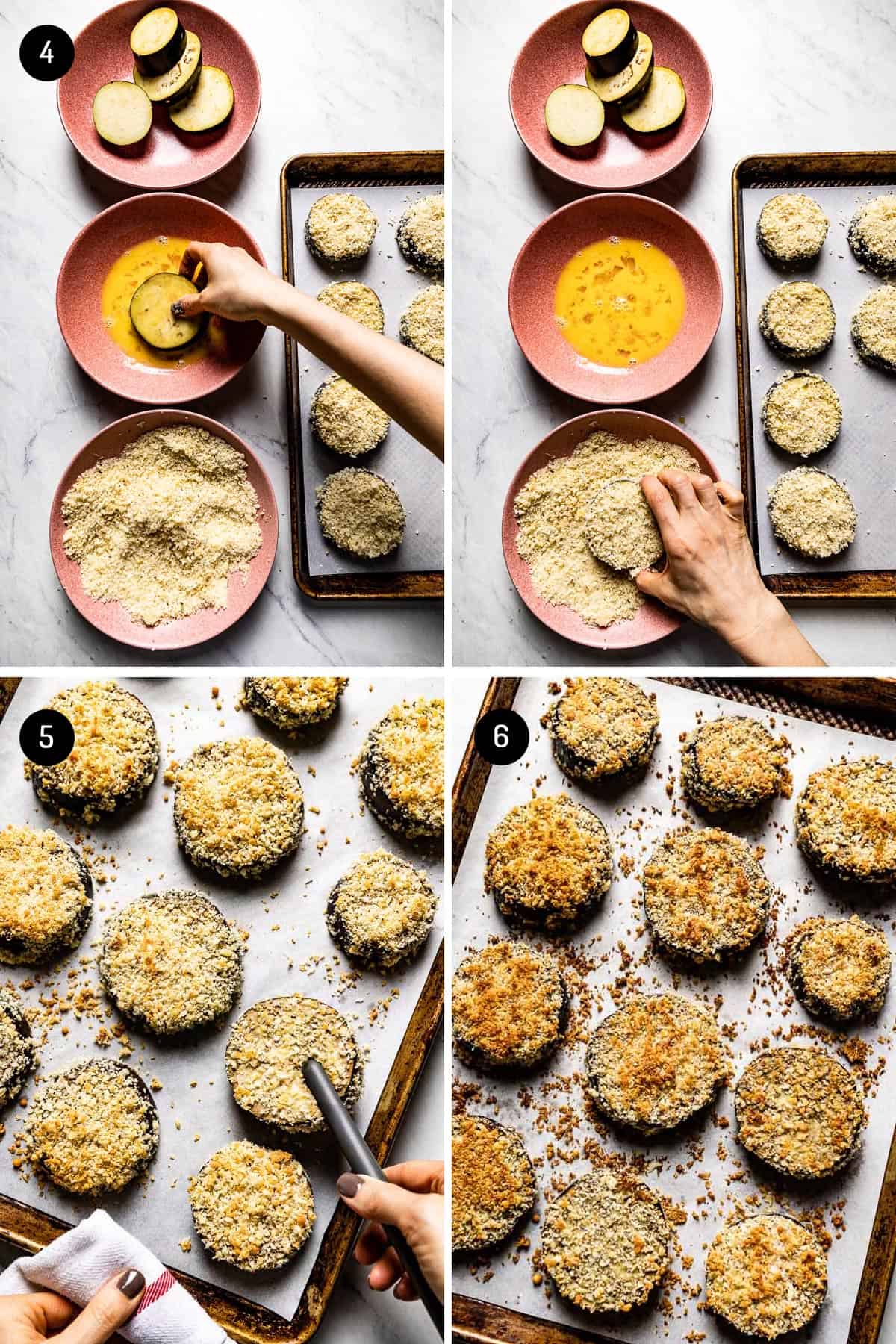 Coat the slices: Take a slice of eggplant and dip it in the eggs, letting any excess egg drip off. Then, dip the slice in the breadcrumb mixture, ensuring that you coat each side. You may have to gently push down on the slice to give it a full coating. Repeat this step until each eggplant slice has an even layer of egg and panko.
Transfer the slices: Transfer the coated eggplant slices onto the prepared baking tray in a single layer, meaning no pieces overlap with one another.
Bake: Place the baking sheets in the hot oven and bake for 15 minutes. Then, flip the slices of eggplant, rotate the pans, and bake until the veggies are lightly browned on top (12-15 minutes).
Serve: Serve your deliciously crispy oven-fried baked eggplant slices right away alongside your favorite dipping sauce.
How to Serve
One of my favorite things about this crispy roasted eggplant dish is its versatility. Whether you serve it as a crisp side dish or a savory snack, you never have to be at a loss for what to make with eggplant ever again.
How to Store & Reheat
Follow these easy steps for storing any leftovers so you won't have to waste a single bite of these delicious breaded eggplant slices. Though, if I am being honest, I think these breaded baked eggplant slices taste best on the day they are made, preferably as soon as they come out of the oven.
Storage: To store any leftovers, place the breaded slices in an airtight container in the fridge. It will stay fresh for up to 2 days, though it will likely lose its crisp texture once placed in the refrigerator.
Reheat: To reheat your panko-baked eggplant, place it in a 300-degree F. oven for 10 minutes or until warmed through.
Freezing: I do not recommend freezing the leftovers of this dish.
Expert Tips
This simple recipe is a favorite recipe among beginner chefs—and it's no wonder why. Follow my foolproof tips to take your eggplant cooking skills to the next level.
Olive oil spray: This is an optional step, but if you want to give your eggplant slices extra crispiness, lightly spray them with olive oil spray before placing them in the oven.
Not all eggplant is created equal: Because eggplants come in different shapes and sizes, depending on the size of your eggplant, you may have to use more eggs and panko to give your slices a complete coating. For this recipe, I used globe eggplants that were approximately 1 lb. each.
Seasoning: There's no doubt that this recipe has—in my opinion—the best breading for eggplant. However, if you want to switch up your eggplants' flavor profile or add a fresh twist to your recipe feel free to swap out the seasonings you use in your breading mixture.
Sweating eggplants: Though not necessary, you may choose to sweat your eggplant slices before coating them in the egg and panko. Salting eggplant before cooking removes any unwanted bitterness, seasons the veggie from the inside out, and gives your slices extra crunch by removing excess water. For more information on sweating eggplants be sure to check out my detailed article, How To Salt Eggplant.
FAQs
Your crunchy eggplant recipe doesn't have to be rocket science. Whether you want to know how to bread eggplant for baking or make eggplant taste good, below are answers to some of the most popular faqs:
Is eggplant gluten-free?
Yes! Since gluten comes from wheat and eggplant is wheat-free, eggplant is safe for anyone with a gluten-based dietary restriction.
Is eggplant supposed to be crunchy?
No, unless it is coated with breadcrumbs. Properly cooked eggplant should have a caramelized and crispy exterior and a soft and tender interior. Giving each slice enough room in the pan will result in this ideal texture—no crowding allowed!
How long to bake breaded eggplant?
I recommend baking your eggplant slices at 400 degrees F. for 15 min on one side and 10-12 minutes on the other. This baking time ensures your eggplant rounds come out with a crisp, golden brown exterior and soft insides.
How to make eggplant taste good?
The best way to make your crispy eggplant slices taste good is to coat them with delicious ingredients. Breading your eggplant in panko breadcrumbs, nutty parmesan cheese, and fresh Italian seasonings will give them a mouthwatering flavor.
Other Baked Eggplant Recipes You Might Like:
Are you still wondering what can you do with an eggplant? Then, here are a few more baked eggplant recipes for you from the archives:
If you try this Crispy Breaded Baked Eggplant recipe or any other eggplant recipes on Foolproof Living, please take a minute to rate the recipe and leave a comment about your experience below. It helps others who are thinking of making the recipe. And if you took some pictures, be sure to share them on Instagram using #foolproofeats so I can share them on my stories.
Crispy Baked Eggplant Recipe
This Crispy Baked Eggplant is made by breading eggplant slices in a mixture of panko, parmesan cheese, garlic powder, and Italian seasoning and then baking them to crispy perfection. Serve it as a side dish or with tomato sauce on the side.
Print Recipe
Ingredients
2

medium- sized globe eggplant

rinsed and dried ~1 pound each*

2

large eggs

1 ½

cups

panko breadcrumbs

¾

cup

grated parmesan cheese

1

teaspoon

garlic powder

1

teaspoon

Italian seasoning

¼

teaspoon

black pepper

1 ½

cups

Homemade Tomato Basil Sauce

optional
Instructions
Preheat the oven to 400 degrees F. Line two baking sheets with parchment paper. Set them aside.

Slice eggplant into ½ inch thick slices.* Set them aside.

Set up your dredging station: Whisk eggs in a shallow bowl. Whisk panko breadcrumbs, parmesan cheese, garlic powder, Italian seasoning and black pepper in another shallow bowl.

Dip each eggplant slice in eggs (letting the excess drip off) first and then into the panko mixture making sure that it is coated on all sides. You may have to gently push it down to ensure that slices are fully coated.

Transfer onto the parchment-lined baking sheet in a single layer. Repeat with remaining eggplant slices.

Bake for 15 minutes, flip each eggplant rounds and rotate baking sheets, and bake for another 10-12 minutes or until lightly browned on top and soft to the touch.

Serve it right away with your favorite dipping sauce (or Marinara sauce).
Notes
Serving size: A globe eggplant that is approximately one pound sliced in 1/2-inch thickness yields 8-10 slices. Based on that, this recipe serves 6 people 3-4 crispy eggplant per person.
Based on the size of your eggplant you may have to use a bit more (or less) egg or breadcrumbs. Use this recipe as a starting point and adjust the amounts as necessary.
* Sweating eggplants: Thanks to modern farming, nowadays the eggplants sold in the supermarket do not need salting. However, if you prefer to salt yours, check out my foolproof guide on How to Salt Eggplant.
Storing leftovers: I think these breaded baked eggplant slices are best on the day they are made, preferably as soon as they come out of the oven. However, you can store leftovers

in an airtight container in the fridge for up to 2 days.
Nutrition
Calories:
174
kcal
|
Carbohydrates:
22
g
|
Protein:
9
g
|
Fat:
6
g
|
Saturated Fat:
3
g
|
Polyunsaturated Fat:
1
g
|
Monounsaturated Fat:
2
g
|
Trans Fat:
1
g
|
Cholesterol:
65
mg
|
Sodium:
353
mg
|
Potassium:
434
mg
|
Fiber:
5
g
|
Sugar:
6
g
|
Vitamin A:
229
IU
|
Vitamin C:
3
mg
|
Calcium:
166
mg
|
Iron:
2
mg
Like this recipe? Consider sharing: