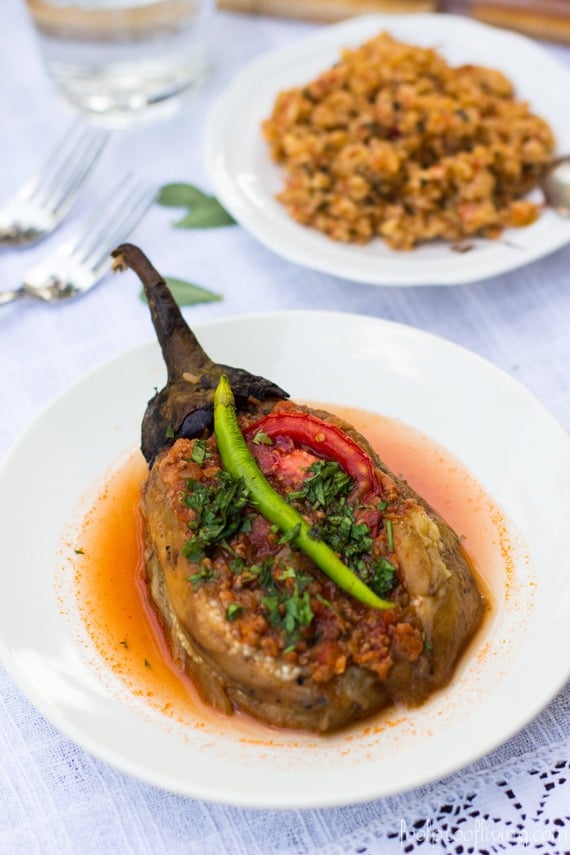 When I tell people where I am from, usually, first thing that they tell me is that they love Turkish Food.  Most of the time, they had it or heard good things about it and want to try it.
As I was recently in Turkey, I thought about putting some of the most popular Turkish dishes on my blog.
This, Stuffed Eggplant dish, is one of them. It's original name is Karniyarik. The exact translation from Turkish to English is "Riven Belly".
As usual, one my mother's best friends, Sevil, graciously helped me make it.
Well… I will be honest. She made it. I helped. We not only had a fantastic time together but also, ended up with a fantastic dish.
Karniyarik is one of the staple dishes of the Ottoman Cuisine. In general, egglants are BIG in our cuisine. If you ever come across with an Ottoman Cuisine cookbook, you will see several recipes that use them as the main ingredient. They say, in Ottoman Cuisine, there are more than 280 original recipes made from eggplant.
This dish kept its popularity over the years and, is still one of the most cooked dishes to this day in Turkey. Especially during summer times, when eggplants are in their peak season.
As most kids grew up in Turkey, I ate this dish many times during hot summer months. No wonder why I associate Karniyarik with brutally hot summer days of Bursa, where I grew up.
In the original recipe, eggplants are supposed to be fried. However, since I am not a big fan of fried food, I was hesitant about putting it in my blog as a favorite dish. Sevil (as she usually does) came to my rescue and told me that she no longer fries them. Instead she grills them or like we did, cooks them on open fire on the stove top. My mother used to make it like that as well, not only for this dish but also, for some eggplant salads. If you have a charcoal grill you can grill them that way as well. The secret is to cook/grill them in open fire. Do not ask me why, but it really tastes better when you cook them this way.
As I was working on the eggplants, Sevil was making the ground beef mixture. She started heating butter and olive oil in a large skillet, continuing with adding onions, tomatoes, peppers, seasoning and ground beef. (For detailed instructions, please refer to the recipe instructions below). If I was making this dish by myself, I would start making the ground beef mixture first, then grill the eggplants.
When the eggplants were ready, she hand-peeled them under running water, leaving the stems intact. At this stage, since the display of this dish comes from the way the eggplants look, it is important to maintain their original shape as much as possible.
Once peeled and washed, she placed them in a glass, ovenproof pan as displayed in the picture below.
Using a spoon and her fingers, she created a large pocket in the "belly" of each eggplant, gently pushing the eggplant flesh to the sides. She stuffed each eggplant belly, equally, with the ground beef mixture, letting it mound through the slit. She decorated the top of each eggplant with thinly sliced tomatoes and peppers.
Prior to putting in the oven, she poured a mixture of water and tomato paste over the eggplants. Last but not least, she sprinkled chopped parsley on top of each eggplant.
You see how pretty they look…
Sevil says that if you want, you can cover it with stretch film and bake it the next day or  freeze it for up to a  week. If you freeze it, just defrost it in the refrigerator the morning of the day you want to eat it.
After baking it in the oven for 15 minutes uncovered and 10 minutes covered with aluminum foil, it is ready to serve. I love to serve it with bulgur pilaf but white or black rice would go well with it.
Print
Stuffed Eggplant (Karn?yar?k)
Author:
Prep Time:

1 hour

Cook Time:

25 minutes

Total Time:

1 hour 25 minutes

Yield:

4
Ingredients
6 eggplants
1 tablespoon butter
1 tablespoon olive oil
1 medium onion, chopped
1/2 lbs ground beef
1 cup green pepper, seeded and chopped (more for decorating, if desired)
2+1(for decorating) medium tomatoes, peeled
4 cloves of garlic, thinly chopped
1/2 teaspoon salt
1/4 teaspoon black pepper
Pinch of cayenne pepper
1/2 cup Italian Parsley, washed and chopped
1 cup hot water
1 tablespoon tomato paste
Instructions
Pre-heat the oven to 350 F Degrees.
Heat butter and olive oil in a large skillet over medium heat and cook the onion until fragrant, for 7-8 minutes, stirring occasionally.
Chop 2 of the tomatoes, allowing much of the liquid to drain away (you do not want the stuffing to be too soggy). Add tomatoes, green pepper and garlic to the onion and cook for 3 to 4 minutes, stirring occasionally. Add ground beef, salt, pepper and cayenne pepper. Cook in medium heat, stirring occasionally, until the meet is cooked, 8-10 minutes. Once cooked, off the heat, add half of the chopped parsley and set aside.
Mix hot water and tomato paste in a glass bowl and set aside.
Grill or cook (as explained above) eggplants until they are soft. Hand-peel them under running water, leaving the stems intact. You should be left with the meat of the eggplants. At this stage, it is imperative to be careful to maintain the shape of the eggplants as much as possible.
Place eggplants in 9X13 inch ovenproof glass pan. Using your fingers or a spoon create a large pocket in the "belly" of each eggplant, gently pushing the eggplant flesh to the sides. Stuff each eggplant belly, equally, with the ground beef mixture, letting it mound through the slit.
Slice 1 tomato (and pepper, of desired) into 6 thin slices and place one slice on top of each eggplant.
Pour the tomato paste and water mixture over the eggplants.
Sprinkle it with the rest of the parsley.
Place in the oven and bake for 15 minutes and then cover it with aluminum foil and bake for another 10 minutes.
Serve with your favorite starch, mine was bulgur… ?
A Recipe by Sevil Sebatlı.
Sevil Teyze'ciğim, sana ne kadar teşekkür etsem azdır.