This post has been sponsored by Good Plants TM. All thoughts and opinions are my own.
Last November my husband and I made an impromptu decision and signed up for an online workout program. We both have gained a few extra pounds since we moved to Vermont and have been feeling the weight of it. Plus, with the holidays ahead of us, we wanted to keep things under control and hopefully not gain any more weight.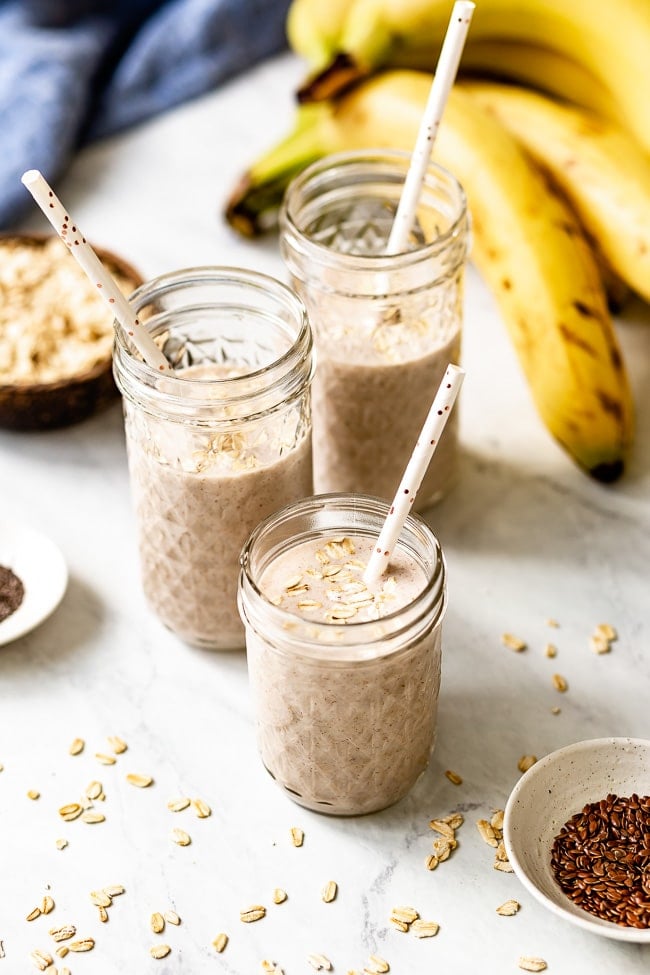 Thankfully, we were able to stick to it and have been working out 6-days a week, first thing in the morning ever since. With our new workout routine, I have been thinking a lot about smoothies. They say, what you put in your body in the first 30 minutes after your workout is very important. To me, there is nothing better than a mason jar filled with a delicious smoothie.
When I found Good Plants™ Almondmilk Probiotic Yogurt Alternative, I found myself in the mood for a good old smoothie.
Now, you might say, who wants an icy cold smoothie in the middle of winter?! I would not blame you for that as I probably wouldn't want to start my day with anything cold. However, ever since I found out about Good Plants™ almond milk probiotic yogurt alternative, I have been making smoothies without any ice or frozen elements (i.e. frozen fruit, ice, or frozen greens, acai, etc.). It has been a nice alternative to our usual oatmeal breakfast.
Today's recipe, Vegan Banana Smoothie and the variations I will talk about below has been a favorite in our house so I thought I would share it here with you.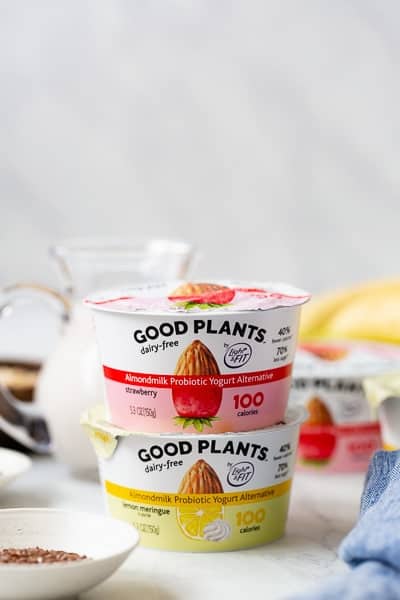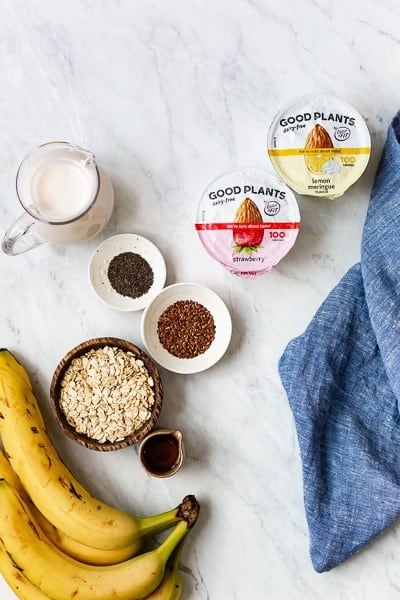 As the name suggests, in addition to being vegan, this easy banana smoothie recipe is gluten-free and dairy-free. It comes together in 5 minutes and a great breakfast that you can take with you to work.
How To Make A Vegan Smoothie – Healthy Smoothie Ingredients
I know most of you are used to making your banana smoothie with milk and yogurt. While there is nothing wrong with that I sometimes like to switch things up good-for-you vegan ingredients.
Regardless of the fruit you are using, you can make any vegan fruit smoothie by using the ingredients below:
Fresh fruit: While banana is a favorite fruit for most of us, if it is not your jam you can easily swap it whatever is in season. Berries, apples, or any of your stone fruits would all work.
Liquid – Water or Plant-based milk: In terms of liquid, I usually go for unsweetened almond milk, but water would also work.
Yogurt – Plant-Based Yogurt Alternative: I find that adding yogurt alternatives to smoothies gives it a smooth and creamy texture. Like I mentioned earlier, I am currently loving the Good Plants™ Almondmilk Probiotic Yogurt Alternative. In addition to being an excellent source of fiber, it is dairy-free and vegan certified. I also like that it comes in 4 different flavors: vanilla, chocolate coconut, lemon meringue, and strawberry. While they are all very good, my favorite one is the strawberry flavor. Come summertime, I plan on adding a few fresh strawberries and turn this into a vegan strawberry banana smoothie.
Additional Fiber & Nutrition Sources: I always add in additional fiber sources like rolled oats (I buy gluten-free certified oats), flax seeds, and chia seeds. Adding those is an easy way to give it a nutritional boost.
Optional Plant-based Protein: My husband always asks me to put in a tablespoon of peanut butter to give it a nice protein boost. If you have peanut lovers in your family, peanut butter banana smoothie is a great variation of this vegan banana smoothie recipe.
Optional Green Leafy Vegetables: If I have it on hand, I sometimes add in a cup of green leafy vegetables like kale, spinach, or swiss chard. If you are like us, focused on clean eating in the new year and looking for ways to up your consumption of greens, adding some in your banana breakfast smoothie is a great way to sneak them in your diet.
How To Make A Creamy Smoothie
If you are like me, like your vegan breakfast smoothie on the creamy side, you are not alone. When it comes to making your favorite smoothie creamy, you can try a few tricks:
Freeze your bananas: If you are making this smoothie during the warmer months, you can slice your ripe bananas, place them on a sheet pan, cover tightly with stretch film, and freeze until you are ready to use them.
Adding frozen bananas into the smoothie mixture eliminates the need to add in ice and make it watery. Instead, they make it super creamy texture almost like ice cream. Think about it, who would say no to a frozen banana smoothie in the middle of summer when it is a million degrees outside?
Add in Plant-Based Yogurt Alternative: If you are new to using plant-based yogurt alternative, you should definitely give Good Plants™ Almondmilk Probiotic Yogurt a try. Here in our local Shaw's store, I find them in the yogurt aisle right next to the regular yogurt. Additionally, you can also find Good Plants Almondmilk Probiotic Yogurt Alternative at Hannaford, Shoprite, Giant, Harris Teeter stores.
Add in a ripe avocado into your smoothie: Similar to bananas, avocados are a great way to add some creaminess into your banana smoothie. Plus, they offer healthy fats, potassium, and fiber! And I have to tell you, adding a ripe avocado along with almond milk yogurt alternative makes a really creamy and thick banana smoothie.
How To Make Vegan Banana Smoothie:
The recipe is pretty straight forward. I kept the ingredients in the recipe below pretty simple, but feel free to add in other ingredients to change it up.
Here is a quick video showing how to make healthy banana smoothie:
If You Liked This Healthy Banana Breakfast Smoothie Recipe, You Might Also Like…
Vegan Banana Smoothie
Banana Split Smoothie recipe is a naturally sweetened vegan smoothie that is packed with healthy ingredients to help you satiate your sweet cravings for a quick breakfast or an afternoon pick me up. If you like banana split as a dessert, this 5-minute recipe is going to be your next favorite smoothie recipe.
Print Recipe
Ingredients
1

ripe banana

or frozen

¼

cup

ground rolled oats

1

teaspoon

chia seeds

optional

1

cup

unsweetened almond milk

1

Plant based yogurt

such as almond or coconut yogurt

½

cup

of crushed ice

optional
Instructions
Place banana, rolled oats, chia seeds (if using), almondmilk, almond yogurt, and ice into the blender.

Blend until smooth. Pour into a glass and enjoy.
Video
Nutrition
Calories:
118
kcal
|
Carbohydrates:
22
g
|
Protein:
3
g
|
Fat:
3
g
|
Saturated Fat:
1
g
|
Cholesterol:
1
mg
|
Sodium:
164
mg
|
Potassium:
248
mg
|
Fiber:
4
g
|
Sugar:
7
g
|
Vitamin A:
38
IU
|
Vitamin C:
5
mg
|
Calcium:
168
mg
|
Iron:
1
mg
Like this recipe? Consider sharing: