It all started when we were on vacation in Vancouver, BC last year. My husband Dwight used to work in a hotel there prior to us moving down to Virgin Gorda.
He had a close friend, who was also a famous local chef, named Ned Bell. They worked together during the opening of Hotel Georgia in 2011, and after a year, parted ways as their careers took them to different places.
When Dwight phoned Ned to let him know that we were in town, he immediately invited us to dinner at Yew, the restaurant that he was (and is still) working at.
Yew is a seafood restaurant with an extensive wine list located in Four Seasons, Vancouver.
We went there not knowing that they also had an extensive vegan menu. Up until that day, neither of us had ever been to such a high-end restaurant that also served vegan food. Though the seafood dishes on the menu looked very appealing, I decided to give the vegan menu a shot.
It was amazing. I ordered the squash salad as an appetizer and the crispy cauliflower dish as an entrée. They were so tasty; I was truly amazed at how flavorful and delicious vegan food could be.
Since then, I try vegan recipes in my own kitchen from time to time. Though it does not excite Dwight as much as our typical meat-based meals, there are times that he is happily surprised with a vegan dish. These vegan Sloppy Joe's ended up being one of those recipes.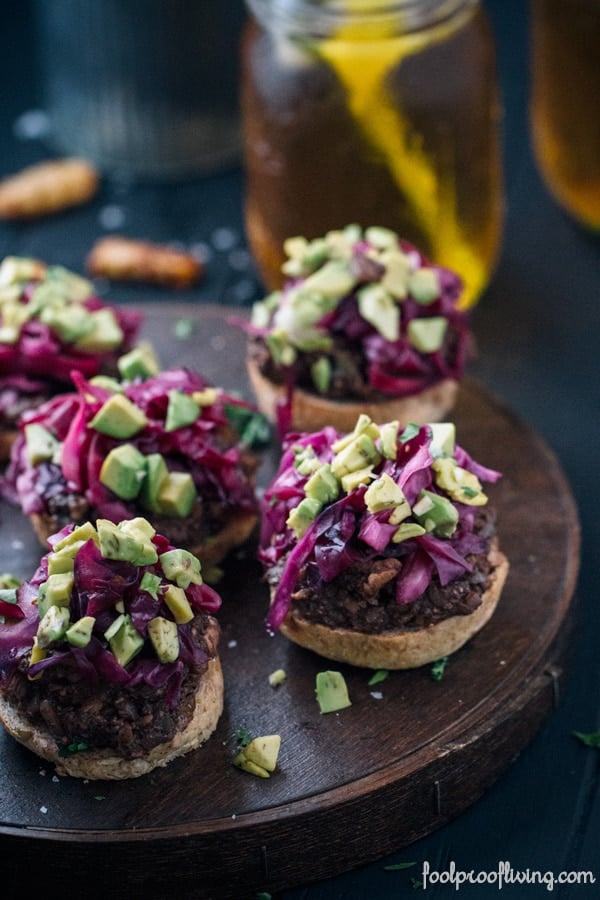 To make this traditional American dish vegan, I swapped the ground beef with Portabella mushrooms. I cooked it in beer to give it an earthy, rich flavor, which also made it taste like it has been simmering for a long time. A last minute addition of walnuts gave it a surprising crunch. After spooning a generous amount of this deliciousness on freshly toasted slider buns, I topped it off with balsamic vinegar-flavored wilted red cabbage and chunks of avocados.
It was a healthy lunch feast for us on that day. A lunch that I will be making more often as we approach the excruciatingly hot summer days of the Caribbean.
Vegan Sloppy Joe's with Wilted Red Cabbage
Hearty vegan sloppy joes made with fresh and simple ingredients (i.e. mushrooms, onions, and peppers) and topped off with wilted red cabbage. Ready in just about 30 minutes, this plant-based meal is guaranteed to impress.
Print Recipe
Ingredients
1

pound

Portobello mushrooms

wiped and cleaned

2

tablespoon

olive oil

divided

1

large onion

chopped

1

red or green bell pepper

chopped

2

tablespoon

tomato paste

1

+ 1/4 teaspoon salt

divided

1/2

teaspoon

black pepper

freshly ground

1

teaspoon

chili powder

1

cup

light beer

I used Heineken Light

1/4

cup

ketchup

1/2

cup

walnuts

chopped

1

cup

red cabbage

sliced thinly

2

tablespoons

balsamic vinegar

1

ripe avocado

sliced

vegan hamburger/slider buns
Instructions
Place mushrooms in the bowl of a food processor and process them in batches until they are finely chopped. Set aside.

In a large skillet (I used a cast iron skillet) heat 1 tablespoon of the olive oil. Add the onion and pepper. Cook, stirring frequently, until they are wilted, 5-7 minutes.

Stir in the tomato paste, salt, pepper, and chili powder. Cook, stirring constantly, until they are all incorporated, 3-4 minutes.

Add the mushrooms and cook until they release some of their juices, 5 minutes.

Stir in the beer, ketchup, and walnuts. Cook stirring occasionally for -7-10 minutes.

In the mean time, heat 1tablespoon olive oil in a large skillet. Add the red cabbage and cook, stirring occasionally, until soften, 7-8 minutes. Once cooked, place it in a mixing bowl. Stir in the balsamic vinegar. Season it with 1/4 teaspoon salt.

To assemble: Spoon 2 tablespoons (or more) of the vegan Sloppy Joe's onto each bun. Top it off with wilted red cabbage and sliced avocados.

Serve immediately.
Nutrition
Calories:
226
kcal
|
Carbohydrates:
17
g
|
Protein:
5
g
|
Fat:
16
g
|
Saturated Fat:
2
g
|
Sodium:
156
mg
|
Potassium:
692
mg
|
Fiber:
5
g
|
Sugar:
8
g
|
Vitamin A:
1067
IU
|
Vitamin C:
40
mg
|
Calcium:
29
mg
|
Iron:
1
mg
Adapted with changes from this recipe.
Like this recipe? Consider sharing: