Growing up, I ate a lot of artichokes because they were one of my mother's favorite vegetables. She had this one recipe that she would make almost every week once they became available during this time of the year.
I loved that dish, and for some reason, I never inquired about any other way of cooking them. But then after college, I moved to the US and that was when I was introduced to different kinds of artichokes and ways of cooking them.
About Baby Artichokes
For many years, around this time of the year, I saw baby artichokes in the supermarket, but I always felt intimidated by them. I guess I just didn't know what to make with them. But then last week, coincidently, Heidi (of 101cookbook.com) wrote a blog post called A few words on how to cook artichokes. In her article she said, "A lot of people are intimidated by the process, or they think it's not worth the effort. But with a little patience, salt, and fat – you can absolutely cook some of the best artichokes of your life." After reading through her post, I felt encouraged to give it a try. And to my surprise, it was much easier than I thought.
First, I needed to learn how to peel them. I had no idea how much of the leaves needed to be discarded. Since I am a visual person I did a quick YouTube search, which revealed several how-to videos. Of all the videos I watched, I found the method used in Cooking Light's video to be the most helpful. If you give it a watch you will see, it is not that difficult. Once you get a hang of it, it takes less than 15 minutes to get them ready for cooking.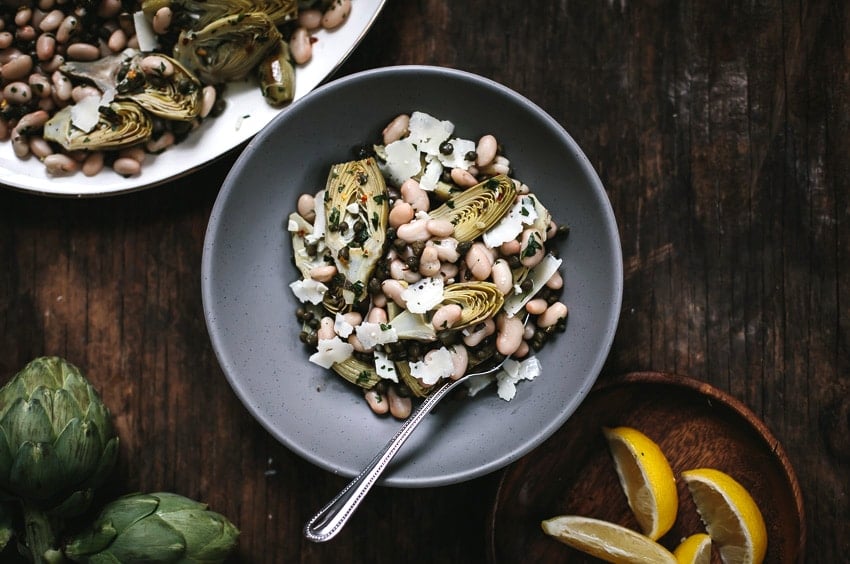 How to cook Baby Artichokes
Once they were peeled and trimmed, it was time for me to make a decision as to how to cook/serve them. After a quick Google search I found some great recipes from some of my favorite bloggers like this Crispy Lemon Roasted Baby Artichokes, Roasted Baby Artichokes and Pearl Onions, and Roasted Baby Artichokes with Black Pepper and Lemon Vinaigrette. However, all these recipes were using the same method of roasting them in the oven or cooking them in a pan with little fat to get a crusty outer skin. Undoubtedly, they were incredibly delicious. However, I wanted to create something different. If you think about it, who needs a similar recipe when variations of it have already been published on the internet?
Then I did what I always do. I picked up my favorite vegetarian cookbook, Deborah Madison's Vegetarian Cooking for Everyone
. I find this book to be one of my go-to cookbooks when it comes to cooking vegetables because it covers basic methods of cooking almost every vegetable that are commonly found in supermarkets. Plus, since I met her in person and ate her food, I knew that her recipes and methods were infact, foolproof.
How this Warm Braised Baby Artichoke Salad with White Beans and Manchego recipe came about
In her book, in addition to a recipe for roasted and grilled artichokes, she had a recipe for braising them. I decided to go with her Braised Baby Artichokes recipe, which ended up being so delicious that we could have easily eaten it all just by itself. However, I wanted to take it a step further and create a dish that could be served next to meat dishes or by itself as a light dinner. But I had no idea what to pair it with. To find the answer, I referred to another one of my go-to cookbooks, The Vegetarian Flavor Bible
. This book is basically a resource that outlines pairings for each and every vegetarian ingredient that you can think of. Even if you are not a recipe creator, I still recommend it as it gives you an idea as to what ingredients work well together and how to pair them up.
Come to find out, one of baby artichokes' flavor affinities were white beans, capers, fresh herbs, lemons, and Parmesan cheese. Luckily, I had everything on hand except the Parmesan cheese. But I had Manchego, which I thought would be compatible. Once the artichokes were braised, I quickly assembled the salad with the rest of the ingredients. It ended up being a delicious warm salad that we all loved. Not to mention, it looked so pretty.
On a final note: Though prepping the baby artichokes for cooking requires a little patience, braising them and putting the salad together takes less than 30 minutes. Here, one thing I would like to recommend is that you peel as many leaves as possible. I know it feels like you are wasting most of the vegetable, but if you do not do so you end up with very chewy artichokes. The method she uses in the video that I mentioned earlier is a pretty good one.
---
Warm Braised Baby Artichoke Salad with White Beans and Manchego
This Warm Braised Baby Artichoke Salad with White Beans and Manchego is a super flavorful winter salad made with cooking baby artichokes with white beans, capers, fresh herbs, and lemons. To finish it up, it is topped off with shavings of manchego cheese. It is a perfect salad recipe to make using baby artichokes when they are in season.
Print Recipe
Ingredients
For braised baby artichokes:
4

cups

of water

1

lemon

20-24

baby artichokes

3

tablespoons

of olive oil

6-7

sage leaves

chopped

2

cloves

of garlic

minced

1/2

teaspoon

Kosher salt

1/4

black pepper

freshly ground

2

bay leaves
For the salad:
1

15 oz. can of white (Cannellini or Navy) beans, drained and rinsed

1/2

cup

of capers

drained

1/2

cup

of chopped fresh parsley

salt and pepper

4

oz.

or a small block of Manchego cheese

shaved

lemon wedges

to serve it with
Instructions
Place water in a large bowl. Squeeze the lemon into the water. Place the squeezed lemon halves in the water as well. Remove the tough outer leaves of the artichokes. Cut in half and trim pointy tops and stems. Drop them into the bowl.

Heat olive oil in a large sauté pan with a lid over medium heat. Add in the chopped sage leaves. Fry leaves for a minute. Stir in the garlic and cook stirring constantly for 30 seconds.

Using a slotted spoon, fish out the baby artichokes and transfer them to the sauté pan. Pour in 1 1/2 cup of the lemon&water into the pan as well. Discard the rest of the water. Give it a large stir, season it with salt and pepper, put the lid on, and cook in medium-low heat for 15-20 minutes or until artichokes are tender.

When baby artichokes are cooked, spoon them out and place them into a large mixing bowl. Let the remaining liquid reduce until 1/2 to 3/4 cup remains, 10 minutes or so.

To assemble: Add in the white beans, capers, and parsley into the bowl with the artichokes. Pour the warm reduced liquid over the salad. Taste for seasoning and add in if necessary. Give it a gentle stir.

Transfer the salad into a large oval serving plate. Shave thin slices of Manchego cheese over the top. Serve, while still warm, with lemon wedges.

The salad is still good when it is served cold. As long as it is kept in an airtight container in the fridge it will keep its freshness for 2 days.
Nutrition
Serving:
4
g
|
Calories:
422
kcal
|
Carbohydrates:
50
g
|
Protein:
24
g
|
Fat:
21
g
|
Saturated Fat:
9
g
|
Cholesterol:
30
mg
|
Sodium:
1617
mg
|
Potassium:
79
mg
|
Fiber:
25
g
|
Sugar:
8
g
|
Vitamin A:
4613
IU
|
Vitamin C:
34
mg
|
Calcium:
488
mg
|
Iron:
8
mg
---
Like this recipe? Consider sharing: