Why do we gain weight? So what if I enjoyed a couple of scoops of vanilla ice cream on my husband's famous apple pie?
So what if I like to eat cake after every meal with a cup of coffee? Really, why?
I know. I know. It is all about a balance…
I wish that we could eat sweets and fatty things, and still be thin and healthy.
It so unfortunate that it does not work that way.
I have not been eating healthy lately. It is all my husband, Dwight's fault because he was the one who made the apple pie. Yes, I made the ice cream, but he started it.
I was faced with the harsh reality on the scale this morning. I was wondering why my pants are tight'ER.
I got my answer.
I decided that today is the day that I will go back to my old self and start cooking healthy again. When I found kale in the supermarket, I considered it as a sign from above.
While I was looking for inspiration for a healthy recipe on the internet, I found out that John Mayer, whom I love, came out with a new album.
Another sign from above…
I downloaded the whole album and as I was listening to it, I decided to find the inspiration within myself.
I had zucchini, kale, onions, garlic, yellow pepper, scallions, vegenaise, and walnuts in the fridge.
To make it, I started with peeling the zucchinis like fettuccini noodles using a vegetable peeler. I placed them in to a colander, added some salt and put them aside for 10 minutes to drain.
In the meantime, I washed a bunch of kale and steamed them for 5 minutes. In a pan, I cooked the onions and when they got fragrant and soft, I added some garlic and a chopped yellow pepper.
I washed and drained the zucchini and added it to the pan. I let it cook for 6-7 minutes. I placed the zucchini in a mixing bowl.
Then I chopped the kale into small pieces and placed it in the same mixing bowl. I chopped some scallions and threw them in the bowl, for more flavor.
Lastlu, I made a quick dressing using some vegan mayo, black pepper and a little bit red wine vinegar. I drizzled the dressing over the zucchinis and kale. When I was ready to serve, I garnished it with a handful of walnuts and a tablespoon of hemp seeds.
I do not know you, but John Mayer's music has that kind of effect on me.
The album is wonderful, so does this healthy and delicious recipe that I would like to name as "Zucchini Fettuccine with Kale".
Need More Zucchini Recipes? Here are a few more:
Zucchini Kale Recipe
Zucchini and Kale Salad: A summer vegan dish made with zucchini noodles, yellow peppers, scallions, walnuts and kale. Filling and low in calorie.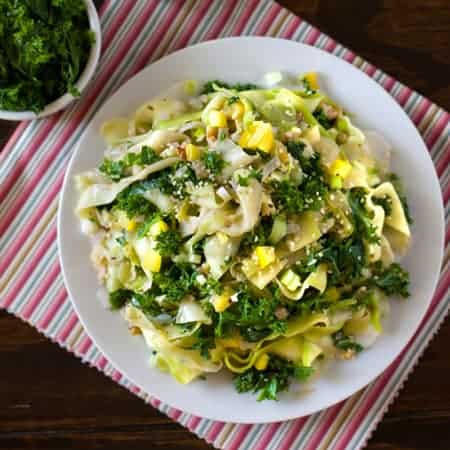 Print Recipe
Ingredients
For the Zucchini:
4

medium-size zucchini

washed and peeled like fettuccini noodles

1

teaspoon

salt

1

bunch

4-5 leaves kale, washed

1

tablespoon

olive oil

1

medium onion

chopped

1

small yellow pepper

seeded and chopped

2

cloves

garlic

minced

3

scallions

chopped (both white and green parts)

Handful of walnuts

2

tablespoon

hemp seeds

optional
For the dressing
2

tablespoons

vegan mayo

1

tablespoon

red wine vinegar

1/4

teaspoon

sea salt

Pinch

of black pepper
Instructions
Place the zucchini ribbons into a colander, add salt and let it drain for 15 minutes.

In a large pot put some water and, using a steam basket, steam the kale for 5 minutes. Take it out and let it cool. Once cooled, chop it into small pieces.

Heat olive oil in a large pan. Add onions and cook until they are fragrant, 4 to 5 minutes. Add the yellow pepper and garlic. Stirring frequently, cook for 3-4 minutes or until slightly wilted.

Add the zucchinis, mix and cook for 5-6 minutes. As they cook, they will soften and will start looking like noodles. Place them in a mixing bowl.

Add the chopped kale, scallions, and walnuts in the mixing bowl.

To make the dressing: Mix vegenaise and red wine vinegar in a small bowl. Season it with salt and freshly grounded black pepper.

Drizzle the zucchini and kale mixture with the dressing. Give it a gentle mix.

If using, when ready to serve sprinkle it with a tablespoon of hemp seeds.

Serve immediately.
Notes
If you do not have vegan mayo, you can use also use regular mayo
Nutrition
Calories:
234
kcal
|
Carbohydrates:
33
g
|
Protein:
11
g
|
Fat:
10
g
|
Saturated Fat:
1
g
|
Sodium:
1536
mg
|
Potassium:
1839
mg
|
Fiber:
6
g
|
Sugar:
13
g
|
Vitamin A:
12471
IU
|
Vitamin C:
325
mg
|
Calcium:
271
mg
|
Iron:
4
mg
Like this recipe? Consider sharing: