As a food blogger, I usually find myself looking for recipes that are different than what is already out there. While I think there is nothing wrong with that, when it comes to the meals I make my for myself, I usually go for recipes that are quick and easy to make with whatever is in season. Our farmer's market is bursting with zucchinis and lately I have been making this 5-ingredient zucchini noodles dish on repeat.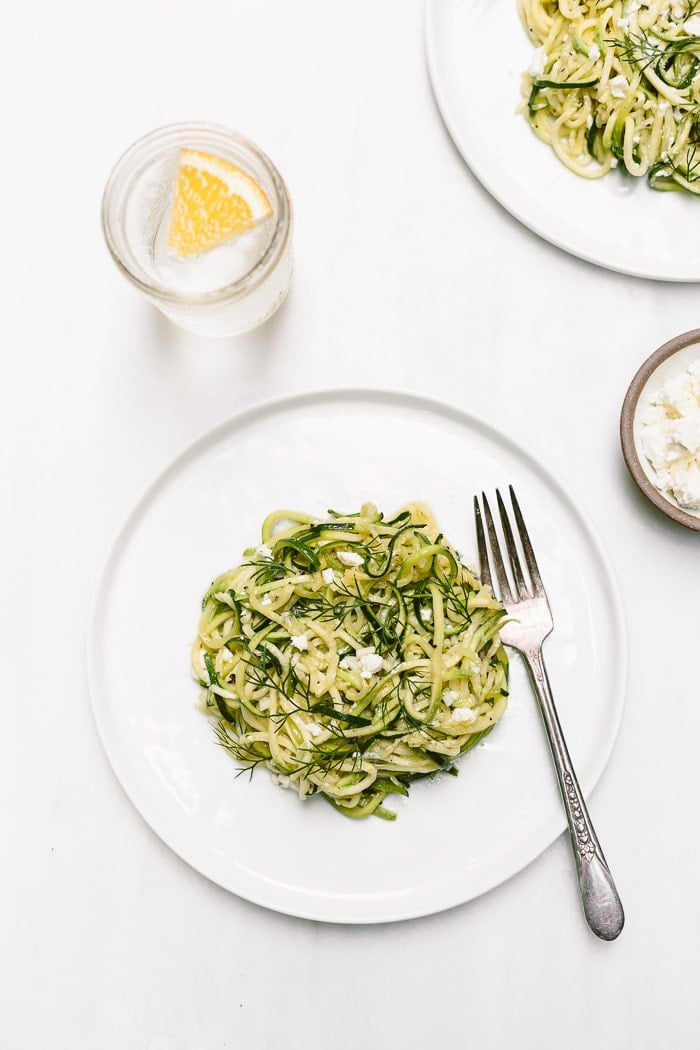 Why should you try zucchini noodles?
Unless you are hiding in a cave for the last few years, you would know that spiralized vegetables are the new hype for some time now. Nowadays, they sell already spiralized vegetables in grocery stores. In my opinion, zucchini noodles (aka zoodles) are the best vegetable to spiralize.
Here is why:
1. Even after cooking just a few minutes, it resembles spaghetti, helping you with feeding your eyes.
2. It is super quick to cook. All you need is 5-6 minutes to cook zucchinis.
3. Since it has very little flavor on its own, it is so easy to flavor zoodles with whatever you have in your fridge.
4. You can eat as much as you want. Since zucchini is a very low calorie and good-for-you kind of vegetable, you can eat as much as you want. Plus, you get almost 2-3 cups of zoodles from one zucchini.
About This 5-Ingredient Zucchini Noodles Recipe:
If you ask me, this zoodle dish is the dictionary definition of a workday lunch. You cook the zucchinis in oil flavored with minced garlic and top it off with crumbled feta and dill. Voila! You have an amazing, low calorie lunch ready in 15-20 minutes, from start to finish.
You can serve it warm or cold. Want to add some animal protein? Top it off with a poached or fried egg. Have some cherry tomatoes? Add them in. Don't like dill? Substitute it with fresh parsley. Sky is the limit.
Pack it in a container and take it to work. Seriously, do yourself a favor and make this 5-ingredient zucchini noodles before the zucchini season is over.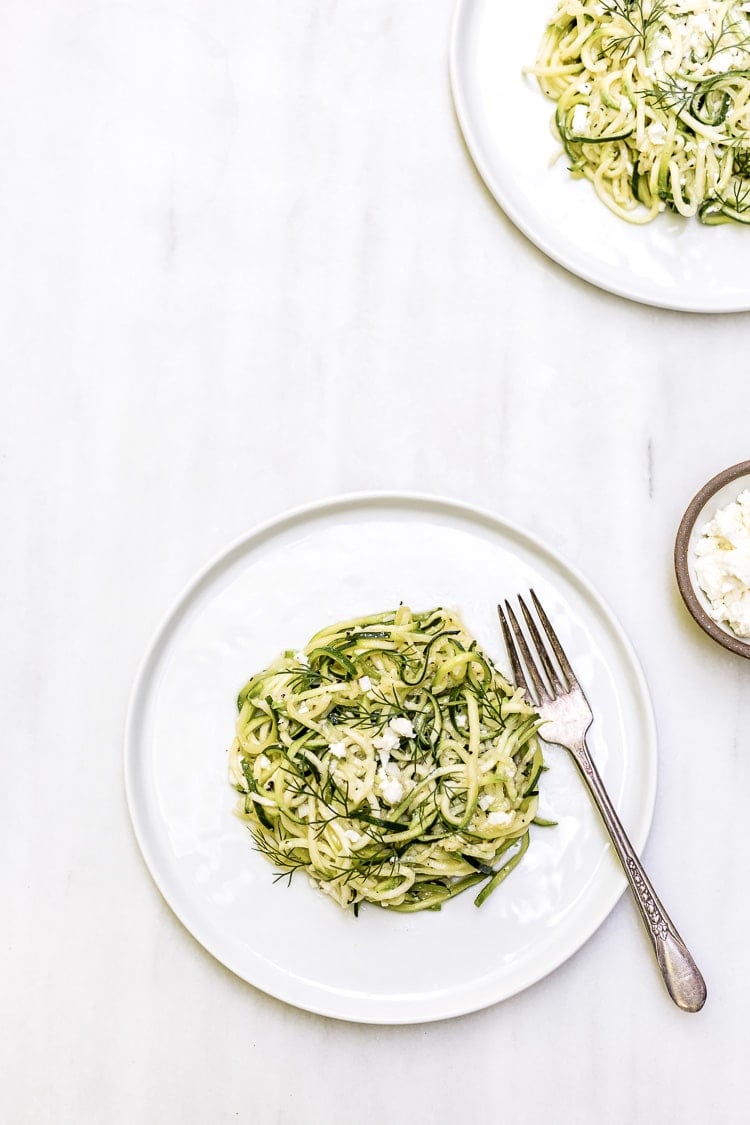 Frequently Asked Questions:
How To Cook Zucchini Noodles on Stove?
There are 2 things you need to pay attention when it comes to cooking zucchini noodles on the stove:
1. Make sure that your skillet is very hot. The cooking oil should be sizzling and it should cover the bottom of your skillet.
2. Be sure to not to overcrowd your skillet. When you spiralize zucchini, they will look like a lot of zucchini pasta, but once they are cooked they will shrink quite a bit. The trick here is to cook them in small batches.
How long to cook zucchini noodles?
I prefer my zoodles al dente so I cook them for 4-6 minutes. However, it depends on your preference. The longer you cook the softer and soggy they will get.
Also, to ensure even cooking, I recommend using tongs to toss them as they cook.
How to make zucchini noodles without a spiralizer?
While I love my Spiralizer, I know that you may think of it as "yet another gadget" that will take up space in your kitchen. I understand. Luckily, there are some other ways you can make zoodles without a spiralizer.
The below 2 are the ones I tried:
Use a julienne peeler: I recommend investing in a julienne peeler. I have one of these Ultra Sharp Stainless Steel Dual Julienne & Vegetable Peeler

and I think it is super handy. It does a really good job of evenly julienning vegetables. Though this is one of those tools you want to be very careful while operating as it is very sharp, especially around children.
Use a regular vegetable peeler: I wanted to list this method as most of us own a vegetable peeler. If you choose this method, you can make ribbons out zucchini and cook them as "fettuccine" style pasta. A great example of this is this Zucchini Fettuccine with Kale recipe.
I have seen some people also use a mandoline but I do not own one. If you do, I think it is worth a try.
Can zucchini noodles be frozen?
I do not recommend freezing zucchini noodles as they get very mushy and watery.
Where can I buy zucchini noodles?
It used to be that you can find spiralized vegetables only in health food stores like Whole Foods and Trader Joe's. However, nowadays even small supermarkets has a section in their refrigerated sections for various types of spiralized vegetables, including zucchini noodles.
How can I make zucchini noodles more flavorful?
As I mentioned earlier, since they are pretty much flavorless you can easily flavor them in various ways. In addition to this 5-Ingredient Zucchini Noodle recipe, below are my favorite ways:
5-Ingredient Zucchini Noodles
This vegetarian 5-Ingredient Zucchini Noodles dish is the perfect healthy summer lunch. Ready in less than 20 minutes, it is a great way to use summer's favorite vegetable, zucchini.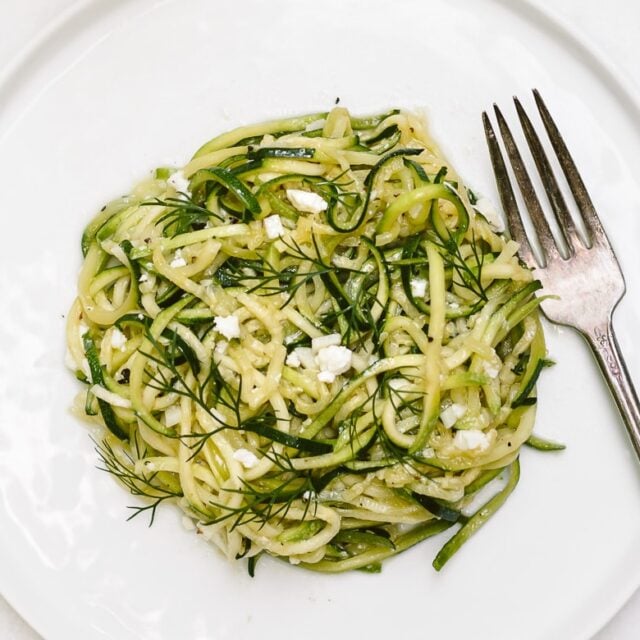 Print Recipe
Ingredients
2

tablespoons

olive oil

1

clove

of garlic

minced

4

medium sized zucchini

spiralized with the skin on

¼

teaspoon

sea salt*

¼

teaspoon

black pepper

½

cup

feta cheese

crumbled

2

tablespoons

fresh dill

coarsely chopped
Instructions
Heat oil in a large skillet in medium heat. Add in the garlic clove and cook, stirring constantly, until lightly browned, 30 seconds or so.

Add in the zucchini "noodles" and season with salt and pepper. Cook until slightly wilted, 4-5 minutes. Make sure to turn it a few times with tongs (or two forks) to ensure even cooking.

Divide the zucchini noodles amongst two plates. Sprinkle with feta cheese and dill. Taste for seasoning, and add in if necessary.

Serve immediately
Notes
When it comes to seasoning, I would recommend to check the saltiness of your feta before adding more salt into the dish.
This dish can be served warm and cold. It makes a great cold salad.
Alternatively, you can top it off with a fried or poached egg if you want to add some animal protein to your dish.
Nutrition
Calories:
292
kcal
|
Carbohydrates:
14
g
|
Protein:
10
g
|
Fat:
23
g
|
Saturated Fat:
8
g
|
Cholesterol:
33
mg
|
Sodium:
741
mg
|
Potassium:
1046
mg
|
Fiber:
4
g
|
Sugar:
11
g
|
Vitamin A:
973
IU
|
Vitamin C:
71
mg
|
Calcium:
248
mg
|
Iron:
2
mg
Like this recipe? Consider sharing: