What is Baharat?
Baharat is an aromatic blend of spices originating in Arabic regions and is now widespread across the Middle East and North Africa. While the word baharat directly translates to "spice" in Arabic, it has come to refer to a unique mix of seven ingredients.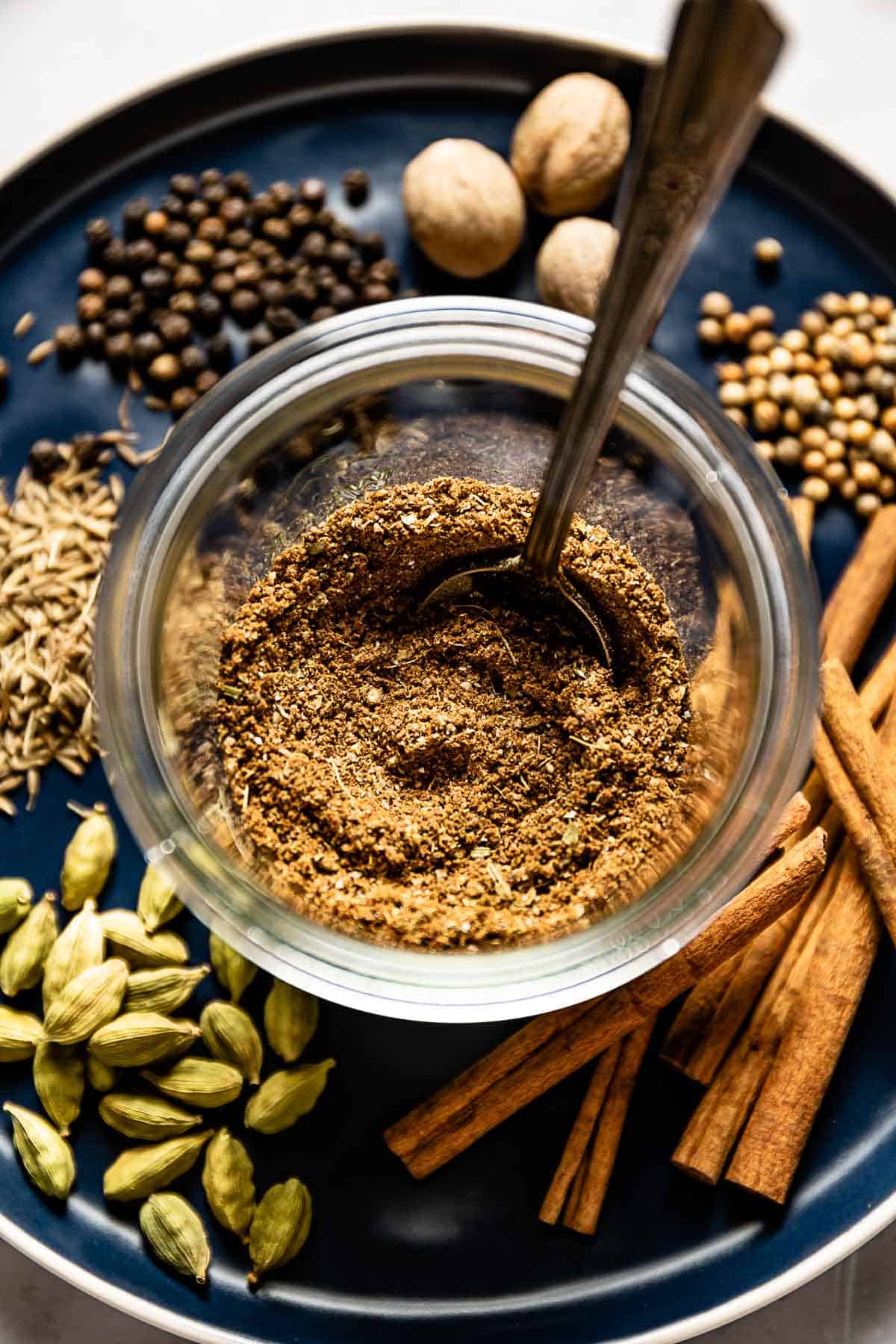 This smoky, warm mixture typically includes a basic mix of 7 spices; Coriander, cumin, black pepper, nutmeg, cloves, cardamom, and paprika, which is why it is also referred to as "Middle Eastern 7 Spice." With that being said, depending on the region, this spice blend may contain a few extra spices.
A quintessential ingredient for Middle Eastern cuisine, cooks use this versatile blend in many different ways, including a dry rub for meat dishes, a seasoning for rice recipes, an addition to soups, and a topping for roasted vegetables.
What Spices are in Baharat?
For this full-bodied baharat spice recipe, I include a typical blend of aromatic spices. However, I decided to use ground spices to simplify the process for those who don't have a spice grinder or are simply looking for easier meal prep.
Though ground spices will work wonderfully, you may also use whole spices to give your blend a heartier, more robust flavor profile.
Ground coriander
Ground cumin
Ground black pepper
Ground nutmeg
Ground cinnamon
Ground cloves
Ground cardamom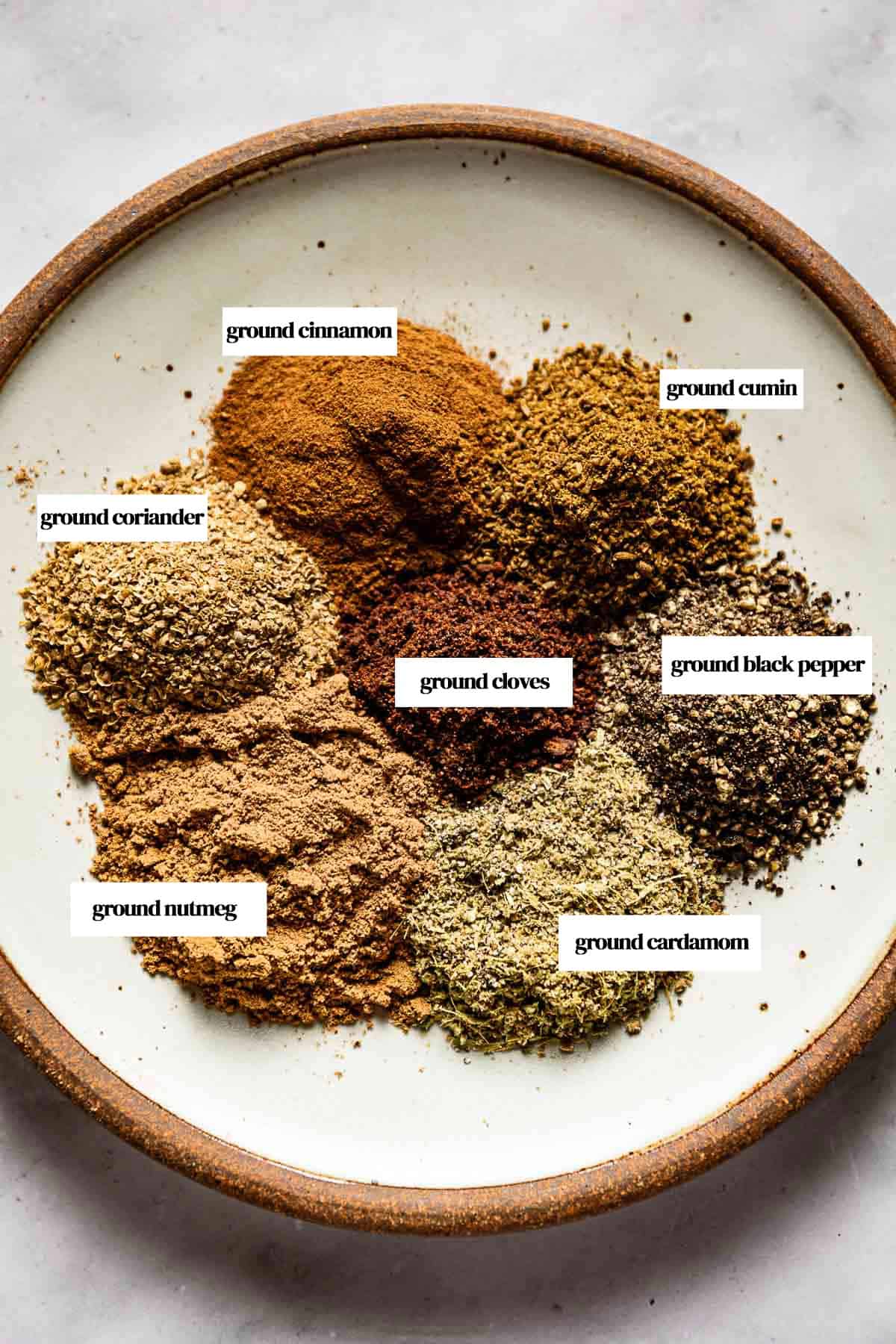 Optional Add-Ins
Though the basic ingredients of this Arabic spice mix rarely change, additional (often lesser-known) components may vary from region to region. Below, you'll find iconic add-ins from across African and Middle Eastern cooking that will give your baharat spice blend recipe herbaceous, piquant, and sweet undertones.
In Turkey: For a lighter, earthier Middle Eastern spice mix, I recommend adding herbs like dried mint and oregano. This authentic Turkish blend adds delectably herbal notes that will balance the warmer taste of the other seven spices. And if you are a fan of spicy flavors, you can also add a pinch of Aleppo pepper into the mix.
In Palestine: Palestinian bharat spice is a spicier take on the original mix, adding paprika or dried chili peppers. You may also use smoked paprika for a touch of heat should you prefer a richer, smokier profile.
North Africa: One of the sweetest variations of the classic recipe, North African cuisine and Egyptian spice blends often include dried rosebuds for a floral, fragrant finish.
How to Make Baharat Spice at Home?
Few spice mixes are as simple and flavorful as this baharat seasoning recipe. You only need five minutes and two steps to prepare a mouthwatering blend that's perfect for all your meals.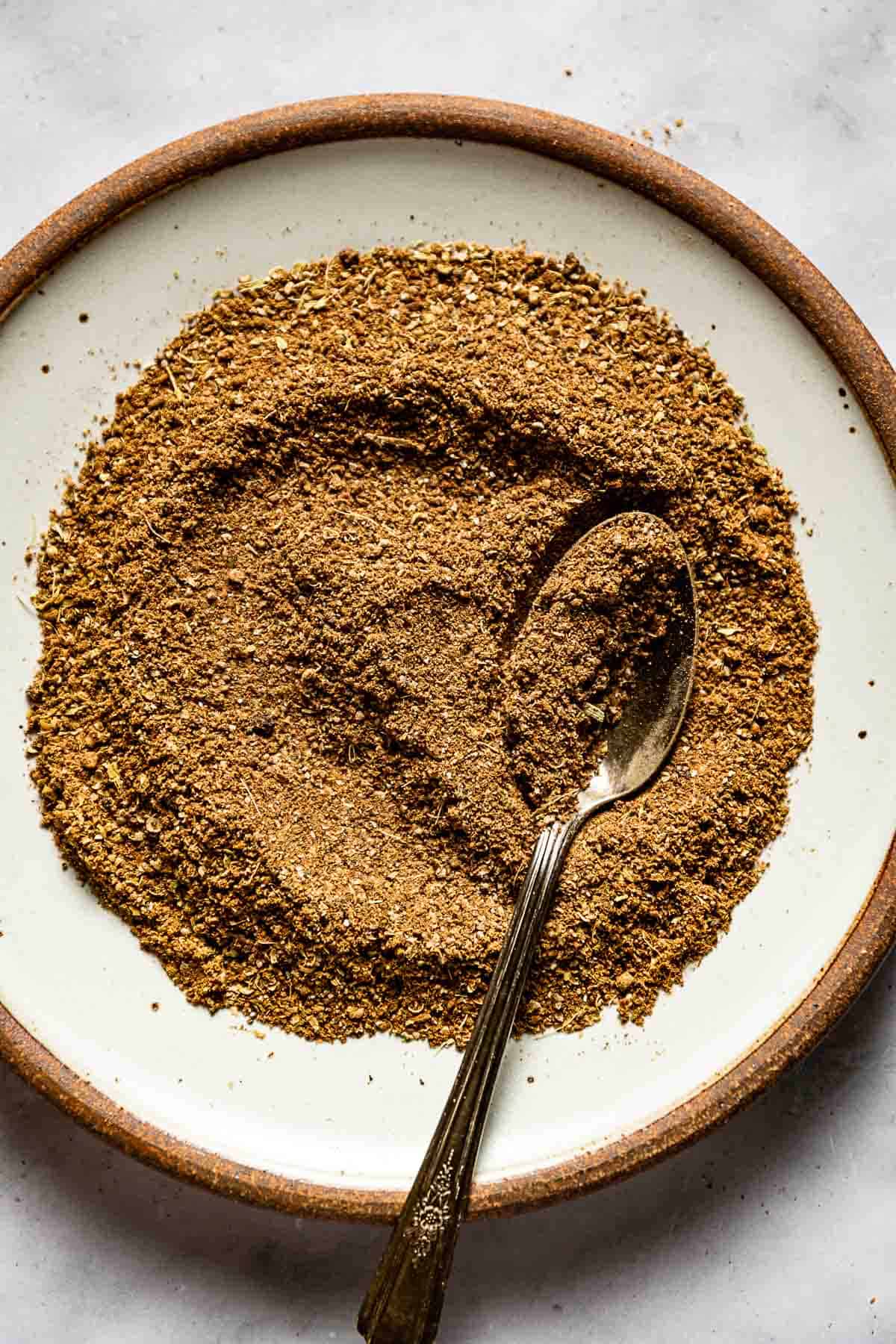 If you are using ground spices, simply mix them in a jar and use it right away.
If you prefer to take this basic ground spice recipe to the next level by using whole, toasted coriander and cumin, then follow the steps below:
To Toast Whole Seeds:
Heat the pan: Heat a dry skillet over medium heat.
Toast the seeds: Add one teaspoon of whole coriander seeds and one teaspoon of whole cumin seeds to the skillet. Shake or stir the seeds for 2-3 minutes until they release their aroma.
Remove from heat: Once toasted, remove the seeds and let them cool for five minutes.
Grind the spices: Grind the now-cool seeds in a spice grinder or with a mortar and pestle until ground to a fine powder.
To Assemble the Baharat Mix:
Mix the ingredients: In a small bowl, add the ground coriander, cumin, black pepper, nutmeg, cinnamon, cloves, and cardamom. Whisk the spices until thoroughly combined.
Store: Place the baharat spice mix in an airtight container and store it in a cool, dry place until ready to use.
Uses for Baharat Spice Blend
It's no wonder why baharat spice is one of the most prominent mixes in Turkish cuisine. This versatile, fragrant blend is workable in nearly any savory Turkish recipe, and you can use it as both a cooking spice and a finishing spice—perfect for the Middle Eastern multi-tasker.
Meat rub and kabobs: Effortlessly elevate all your lamb, chicken, seafood, and beef dishes by adding this aromatic Arabic seasoning to your meat, either before or after cooking. This simple seven-spice mix transforms iconic Middle Eastern dishes—like Turkish Kofte, Shish Taouk, and Baked Chicken Kabobs—into five-star meals, and it also works as a delectable finishing spice for other simple weeknight meals, like Chicken Pita Wraps.
Soups and stews: If you are looking for the perfect soup seasoning, you have found it. This Middle Eastern seasoning adds immediate depth and complexity to dozens of tasty recipes. Add a tablespoon to iconic dishes, like Eggplant Beef Stew, Slow Cooker Chicken Stew, and Red Lentil Soup, and your mouth will be watering before your first spoonful.
Roasted vegetables: There's no reason why veggies have to be bland. Sprinkle a bit of this baharat spice over your favorite roasted vegetable recipes—like my Whole Roasted Carrots, Roasted Portobello Mushrooms, and Roasted Eggplants—and every bite will burst with smoky, warm flavors.
Sauces and marinades: Want to add a touch of savory-sweet flavor to your favorite sauces? Add this Arabic 7 spice to Garlic Butter Sauce for an all-purpose pasta, bread, fish, and steak blend. Or, if you want to prep protein-packed, savory dishes, you can also mix baharat seasoning into delectable marinade recipes like Yogurt Chicken Marinade and Shrimp Marinade. If you want an even simpler way to use it, make a quick marinade by mixing 1 teaspoon of this mixture with ¼ cup olive oil and 2 tablespoons of lemon juice.
Eggs: Top your eggs with this seasoning for a quick, easy, and super flavorful breakfast you can make in minutes.
Storage Tips
The key to ensuring your baharat seasoning remains as robust and flavorful as possible is to store it in an airtight container (such as a glass jar) in a dark place, like a closed pantry. When stored properly, your mixture should remain fresh for up to one year.
Expert Tips
If you want to make a Middle Eastern spice blend that rivals that of Middle Eastern chefs, this master guide is just what you need. Get maximum, balanced flavor from your spices with these pro tips.
Start with whole spices if you can: If you're serious about making your own spice blend, I highly recommend beginning with whole spices and grinding them at home. This process will ensure your spices are as fresh and fragrant as possible, resulting in a rich mix of delicious ingredients. To enhance your spice game, I also suggest investing in a spice grinder (affiliate link) with a removable bowl, as it's easy to wash and even easier to use.
Get fresh, good-quality spices: You must use fresh, high-quality spices to make this seven-spice blend. Fresh spices have a more potent flavor, resulting in a robust, fully flavored mix that will last longer.
Take your time to toast spices: If you have time, I suggest toasting your spices before adding them to your mix. The toasting process helps the spices release their oils, producing a more fragrant, robust flavor.
Adjust the recipe as needed: Feel free to adjust the spices in your baharat recipe according to your tastebuds and your unique recipe. If you make changes, I recommend writing them down so that making your own version of this baharat blend is easier in the future.
Multiply the recipe: Generally, you'll only need between one teaspoon and one tablespoon of baharat spice per recipe. However, if you need a larger amount of this spice blend to accommodate a bigger crowd, you may multiply the recipe as needed.
Shake the container before using: To help distribute the spices in the mix, shake your storage container before adding the blend to your recipes. This movement will help redistribute spices that have settled in the mixture, giving you a balanced flavor in every teaspoon.
FAQs
Want to be an expert on this gourmet seasoning mixture? This FAQ will answer all your questions, from baharat vs. garam masala to tasty recipe substitutes.
What is a good substitute for baharat?
Mediterranean Seasoning makes an excellent baharat substitute with a similar profile of warm, earthy undertones. To make a comparable spice recipe with pantry-ready ingredients, mix one-part ground cumin with one-part ground coriander, one-part ground black peppercorns, and one-part cinnamon.
What is the difference between Bharat and garam masala?
Garam masala and baharat both offer a warm, savory-sweet flavor profile. However, garam masala primarily appears as a finishing seasoning in Indian dishes with a more intense spiciness and aromatic flavor. Meanwhile, baharat is milder, with slightly sweet, savory overtones and only a bit of heat. Baharat is also more commonly used throughout cooking, such as when rubbing meat dishes before roasting.
What is the difference between ras el hanout vs. baharat?
Though both use similar spice blends, ras el hanout is a Moroccan mixture that creates a warm flavor profile with additional ingredients, including allspice berries, turmeric, cardamom pods, and ground ginger. Traditionally, ras el hanout appears in couscous, soups, and braises. By contrast, baharat uses fewer spices and is often used to season meats, stews, and roasted vegetables to add flavor like other cooking spices.
Other Seasoning Blends You Might Also Like
Is your spice cabinet full of spices? Try these other spice blends to add flavor to your food in a quick, easy, and inexpensive way:
If you try this Baharat Spice Mix recipe or any other recipe on Foolproof Living, please take a minute to rate the recipe and leave a comment below. It is a great help to others who are thinking of making the recipe. And if you took some pictures, be sure to share them on Instagram using #foolproofeats so I can share them on my stories.
Baharat Spice Mix Recipe
Put your spice cabinet to good use and make your own baharat spice mix with this quick and easy recipe. A staple in Middle Eastern cooking, this is the perfect blend of smoky, sweet, and tangy spice mixture that will help you enhance your savory dishes with the authentic flavors of the region.
Print Recipe
Ingredients
1 ¼

teaspoons

ground cumin

1 ¼

teaspoons

ground coriander

1

tablespoon

ground black pepper

2

teaspoons

ground nutmeg

1 ¼

teaspoons

ground cinnamon

1

teaspoon

ground cloves

1

teaspoon

ground cardamom
Optional add-in:
2

teaspoons

ground smoked paprika
Instructions
In a bowl or a jar, add the ground cumin, coriander, black pepper, nutmeg, cinnamon, cloves, and cardamom. Whisk to combine.

Place in an airtight container and store in a cool, dry area.
Notes
Yields:

This recipe makes 4 tablespoons of baharat. If you need more, you can multiply the recipe.

Storage:

Keep it in a jar with a tight-fitted lid and store it in the pantry. When stored properly, it should last for up to 1 year.

Toasting & grinding whole spices:

To get a full aromatic taste, try using whole coriander and cumin that has been toasted and ground.

Toast:

Use 1 teaspoon of whole coriander seeds and 1 teaspoon of cumin seeds (each spice will yield 1 ¼ teaspoon of ground.) Heat a dry skillet over medium heat. Add the whole coriander and cumin to the pan, shaking or stirring for approximately 2-3 minutes until their aroma is released. Remove from the heat and cool for 5 minutes.

Grind and mix:

Once cooled, grind in a spice grinder or in a mortar and pestle until fine. Mix with the rest of the spices.

Shake the container before using it to help distribute spices in the mix.
Nutrition
Calories:
21
kcal
|
Carbohydrates:
4
g
|
Protein:
1
g
|
Fat:
1
g
|
Saturated Fat:
0.3
g
|
Polyunsaturated Fat:
0.2
g
|
Monounsaturated Fat:
0.2
g
|
Trans Fat:
0.003
g
|
Sodium:
4
mg
|
Potassium:
79
mg
|
Fiber:
2
g
|
Sugar:
0.4
g
|
Vitamin A:
512
IU
|
Vitamin C:
0.3
mg
|
Calcium:
32
mg
|
Iron:
1
mg
Like this recipe? Consider sharing: