So many of you have asked for easy weeknight dinners, like chicken fricassee or chicken Caprese sandwich. But just like so much of Mediterranean cuisine, I think these healthy pita wraps take the least amount of effort yet offer the biggest amount of flavor. Not to mention they are very similar to gyro wraps with chicken but made in half the amount of time.
Hearty, bright and comforting all in one – that's a Greek-style pita calling my name.
Why Should You Try This Recipe?
There is something about Mediterranean food that is so undeniably crave-able. Because of the heavy use of fresh herbs and quality ingredients, it just makes you want to eat it over and over again. I know you will love this recipe for Greek chicken chickpea pita wrap because:
Easy and straightforward: If you love Greek food (and chicken gyros in particular), you will enjoy this pita wrap made with simple ingredients, including crispy chickpeas, juicy chicken, and garlicky homemade tzatziki sauce, in about 30 minutes.
Vibrant, beautiful, and satisfying: If the colors aren't enough to get you to dive in, then one bite should get you there. Serve it warm or at room temperature for a satisfying meal.
Serving is versatile: These pita wraps can double as a light lunch or dinner, or the perfect platter to share with friends. Double or triple the recipe to bring to all your summer picnics and parties.
Ingredients
The ingredient list for this gyro wrap recipe is a mix of fresh and store-bought ingredients.
Gather together boneless, skinless chicken thighs, chickpeas, olive oil, ground coriander, ground cumin, Kosher salt, black pepper, pita wraps, tzatziki sauce, fresh arugula, and fresh dill.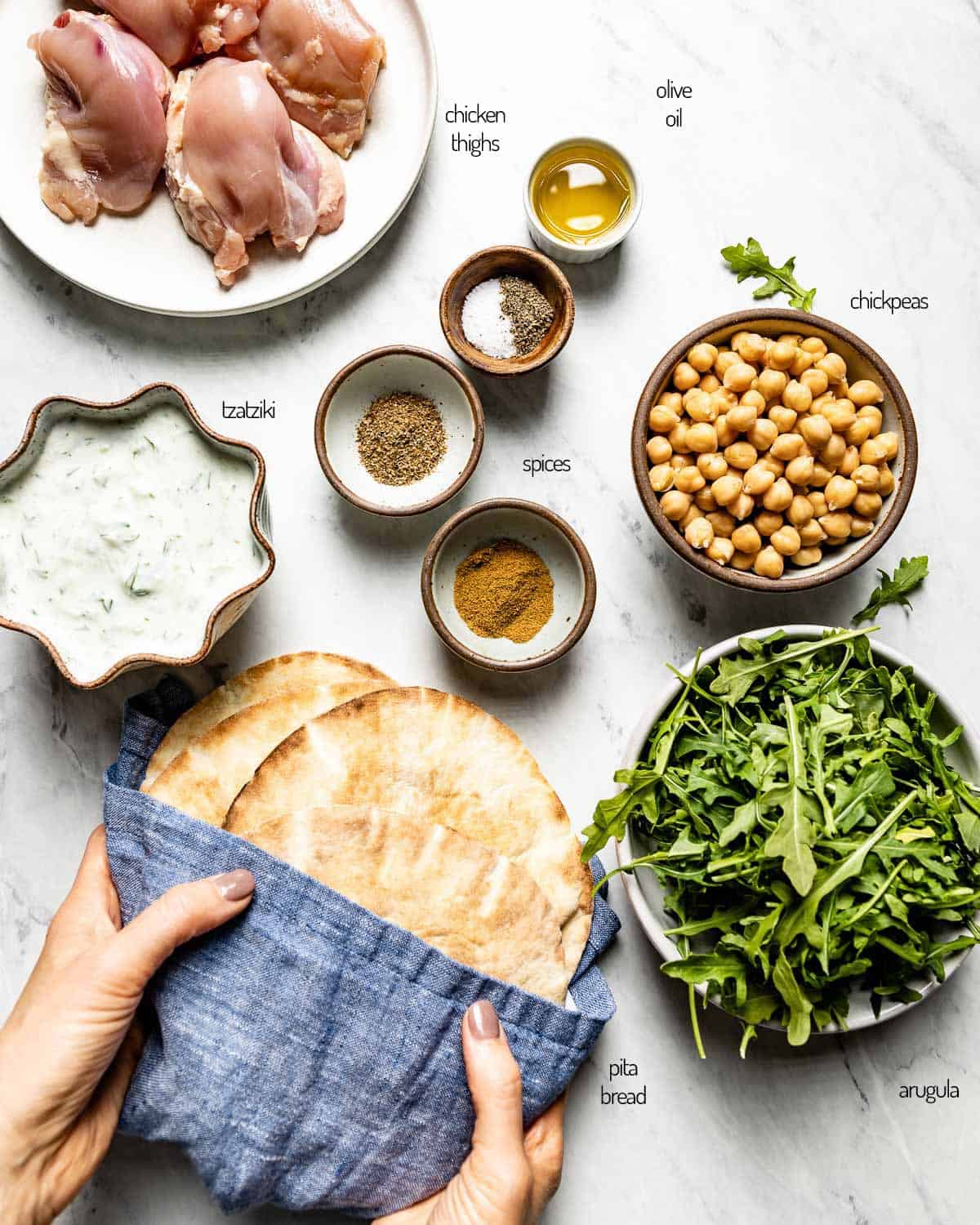 Ingredient Substitutions and Notes
Use Leftover Chicken: This recipe is perfect with leftover baked bone-in chicken breasts, air-fried chicken drumsticks or with a rotisserie chicken you can pick from the store on your way from work.
Wraps: I like to use whole wheat pita for this recipe. While I love pita bread, you can also use storebought or homemade flatbread or naan bread in a pinch. Aslo, you can opt for a low-carb version, if desired.
Marinade chicken in yogurt: If you have the time to plan ahead, you can marinade chicken in my Yogurt Chicken Marinade. Marinating chicken in yogurt tenderizes the meat and produces a deliciously moist and flavorful chicken.
Homemade Tzatziki sauce: You can make your own tzatziki sauce or use my Greek Yogurt dressing if you want a faster condiment. And if you want to take it up a notch, try it with my Tahini Yogurt Sauce.
Fresh Veggies and Additional Toppings (optional): Topping with thinly sliced red onion, lightly roasted red onion, half a cup grape tomatoes, sliced cucumber, and/or crumbled feta cheese is also a great option.
Fresh Greens: You can substitute any salad greens or fresh herbs for arugula and dill.
How to Make a Pita Wrap
I can honestly say this chicken pita recipe will be ready to enjoy in less than 30 minutes – assembly included. Here's how to do it: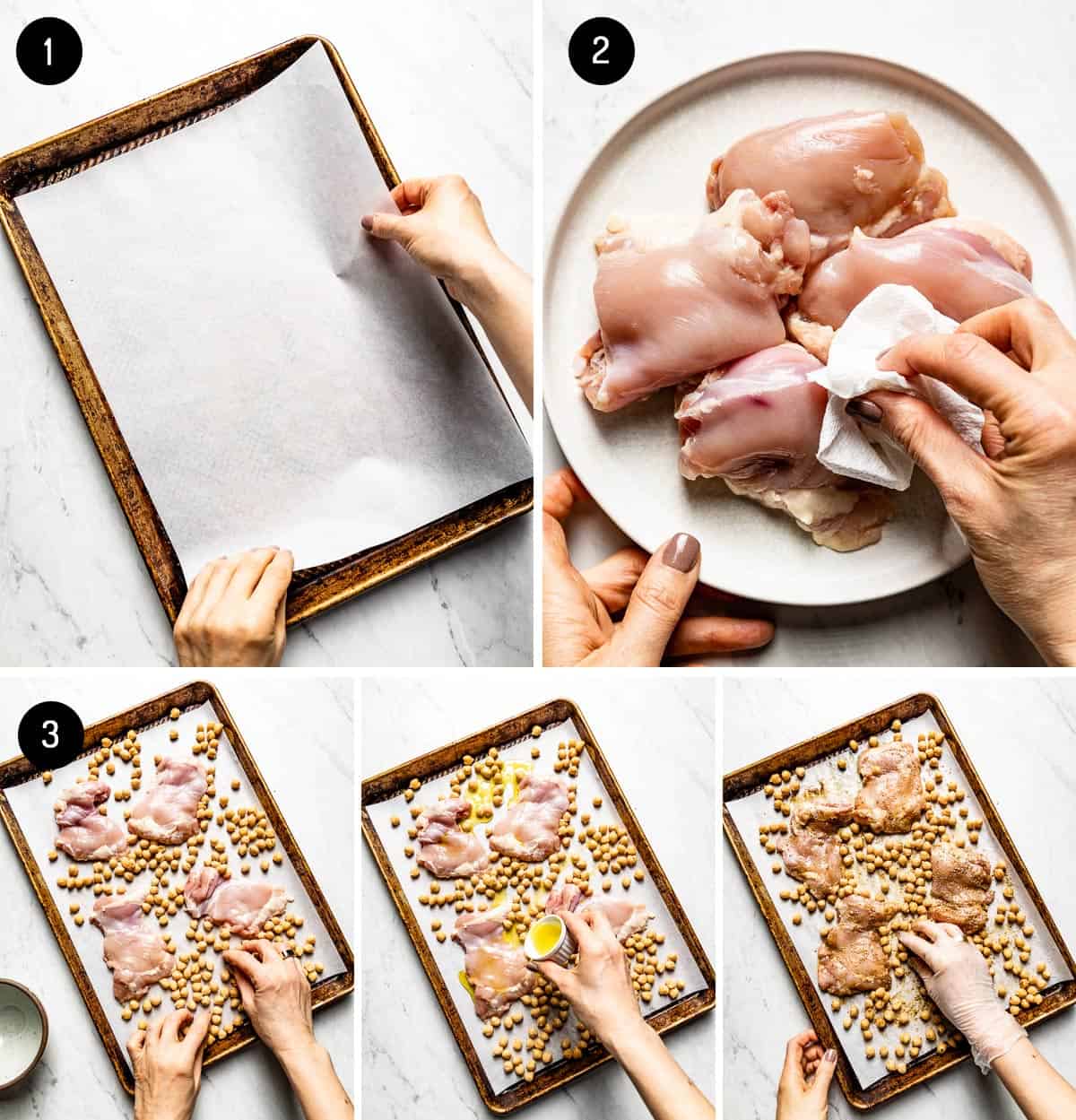 Prep equipment: Preheat the oven to 425 degrees F. Set up a baking sheet lined with parchment paper.
Dry chicken and chickpeas: Use two paper towels – one to dry the chicken and the other to pat dry the chickpeas. Place them both on the baking sheet.
Season: Add olive oil, coriander, cumin, salt, and pepper to the chicken and chickpeas. Using clean hands, rub the seasoning all over the surface so that they are evenly coated. Spread the chicken and chickpeas out into a single layer, ensuring there is space between them.
Bake: Bake in the oven for 15 minutes, or until the chicken registers 160-165 degrees F when an instant-read thermometer is inserted into the thickest part of the thigh. Allow to rest for 10 minutes, then cut the chicken into strips.
Assemble pita wraps: Lightly warm pita bread in the oven. Start by spreading it with a few tablespoons of tzatziki sauce. Then, divide chicken mixture (including chickpeas) and top with a handful of arugula. If desired, top with extra tzatziki sauce and fresh dill. Finish with a sprinkling of salt and pepper or a squeeze of lemon juice. Repeat the same process with the remaining pita bread.
Serving Suggestions
Nothing says Greek chicken pita wrap more than a hot summer day and more tzatziki to pass around. You can wrap them up just as I did or serve them open-faced on a plate. Some of my favorite ways to serve include:
How to Store
This Greek pita wrap recipe will keep if all the components are stored separately. An easy chicken recipe for meal prep, too. To do so, simply:
Chicken and chickpeas: Store in an airtight container for up to 4 days in the refrigerator.
Tzatziki: If homemade, store in an airtight container for up to 4 days in the fridge. If store-bought, keep unopened until ready to use.
Arugula: Store in an airtight container with a strip of paper towel to absorb any extra moisture.
Pita: Keep wrapped in plastic or the same package it came in right on your kitchen counter.
Expert Tips
Dry the chicken and chickpeas. The extra dry surface makes them extra crispy.
Spread the chicken and chickpeas into one even layer. This cooks them evenly. Use two baking sheets, if necessary.
Toasting the pita is optional. I first turn the oven off after making the roasted chicken, then place the pita bread inside the warm oven for just a few minutes. The residual heat makes the perfect warm pitas. If you are short on time or if your pita bread is fresh, feel free to skip this step.
Make a salad with the leftovers. Feel free to shred the chicken, tear up the pita bread into bite-size pieces, place them on a bed of arugula or use my Simple Spring Mix Salad as a base and drizzle them with Tzatziki sauce to enjoy as a salad.
FAQs
How do you use a pita wrap?
I made these Greek chicken pita wraps just as I would with a traditional flour tortilla. In other words, without opening the pocket. That being said, you can make chicken pita pockets by first cutting off the top of the pita and gently sliding your finger through to separate the top from the bottom.
How many calories are in a Greek chicken pita?
One chicken pita wrap is 521 calories. Calories will vary depending on how much tzatziki sauce you use.
Is Greek pita healthy?
Yes! These Greek Chicken pitas are packed full of protein, healthy fats, greens, fresh herbs, and spices. It is a complete, well-rounded meal you can feel good about.
Other chicken recipes you might also like:
If you try this Chicken Pita Wraps recipe or any other recipe on Foolproof Living, please take a minute to rate the recipe and leave a comment below. It is a great help to others who are thinking of making the recipe. And if you took some pictures, be sure to share them on Instagram using #foolproofeats so I can share them on my stories.
This recipe has been adapted from Healthyish: A Cookbook with Seriously Satisfying, Truly Simple, Good-For-You (but not too Good-For-You) Recipes for Real Life with some minor changes to the original recipe.
Chicken Pita Wraps Recipe
These Chicken Pita Wraps is an easy weeknight meal that is made by roasting chicken with chickpeas on a sheet pan then serving it on pita bread that is smeared with homemade tzatziki sauce.
Print Recipe
Ingredients
1

pound

chicken thighs

(455 gr) – boneless, skinless

1

can

chickpeas, drained and rinsed

(15.5 oz. can)

2

tablespoons

olive oil

1

teaspoon

ground coriander

1

teaspoon

ground cumin

1

teaspoon

Kosher salt

½

teaspoon

black pepper

4

pita breads

I used whole-wheat pita

1

cup

Tzatziki Sauce

1

cup

fresh arugula

rinsed and drained

Handful of fresh dill

chopped (optional)
Instructions
Pre-heat the oven to 425 degrees. Line a baking sheet with parchment paper.

Pat-dry chicken with a sheet of paper towel. Transfer the chicken and chickpeas onto the baking sheet and make sure that they are on a single layer.

Drizzle them with olive oil and sprinkle them with coriander, cumin, salt and pepper.

Rub all sides of the chicken and chickpeas with the spices either with your clean hands or using a spatula and/or tongs (to flip the chicken).

Roast for 15 minutes or until the chicken is fully cooked (it should register between 160-165 F degrees when a thermometer is inserted in the middle of a thigh).

Let rest for 5 minutes. Cut chicken into strips.

Meanwhile, if preferred, place the pita in the oven and let it warm with the residual heat for a few minutes.

When ready to assemble, place a pita bread on a plate. Spread it with a few tablespoons of tzatziki sauce and top it off with chicken strips, a handful of crispy chickpeas, and arugula. If preferred, drizzle it with more Tzatziki sauce and garnish with fresh dill. Lightly sprinkle with salt and pepper.

Repeat the same process for the rest of the pita bread.

Serve.
Notes
Chicken: You can use chicken breasts or rotisserie chicken instead of chicken thighs.
Arugula & Dill: Any leafy greens and fresh herbs (i.e. fresh parsley and mint) can be used.
Pita Bread: Storebought or homemade naan and flatbread can be a good substitute.
Store leftovers in an airtight container separately for up to 4 days.
Nutrition
Calories:
521
kcal
|
Carbohydrates:
50
g
|
Protein:
34
g
|
Fat:
21
g
|
Saturated Fat:
4
g
|
Cholesterol:
115
mg
|
Sodium:
1520
mg
|
Potassium:
517
mg
|
Fiber:
6
g
|
Sugar:
1
g
|
Vitamin A:
192
IU
|
Calcium:
165
mg
|
Iron:
4
mg
Like this recipe? Consider sharing: