There are countless reasons to prepare this Mediterranean spice blend. Not only are homemade spice mixes fast and flavorful, but they're also an easy way to save money on your spice cabinet. With just a handful of fresh, natural ingredients, you can make dozens of spice combinations guaranteed to be free of fillers and preservatives. Plus, you can tailor your recipe perfectly to your preferences by adjusting the spice levels or modifying how much salt you include.
So, go ahead and make a batch and bring the most-loved flavors of the Mediterranean region to your own kitchen with this unique combination of warming spices you probably already have in your spice cabinet.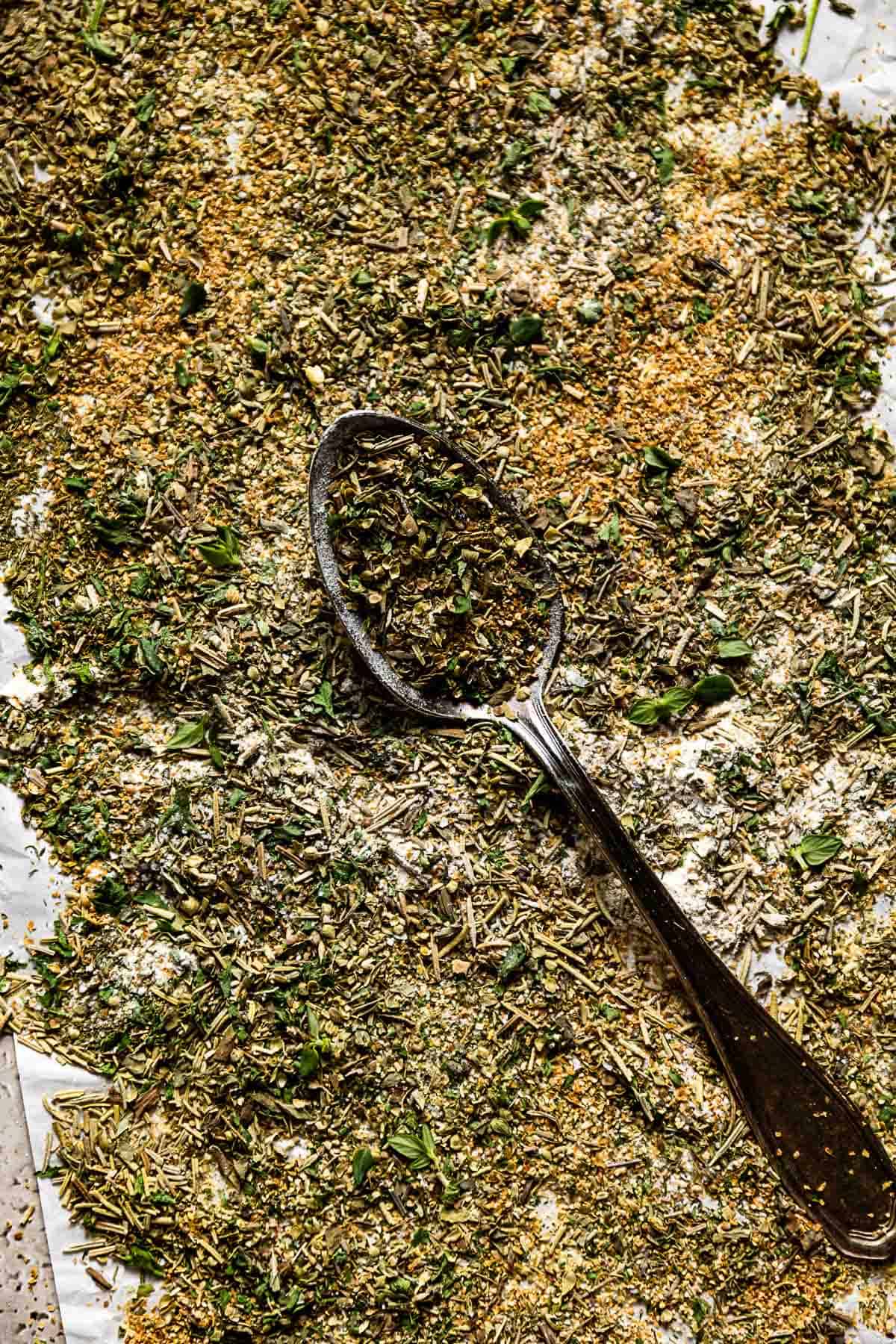 What is in Mediterranean seasoning?
Also referred to as a Mediterranean herb blend, this seasoning is a classic mixture of common Mediterranean spices and herbs—basic, natural ingredients you likely already have in your spice cabinet!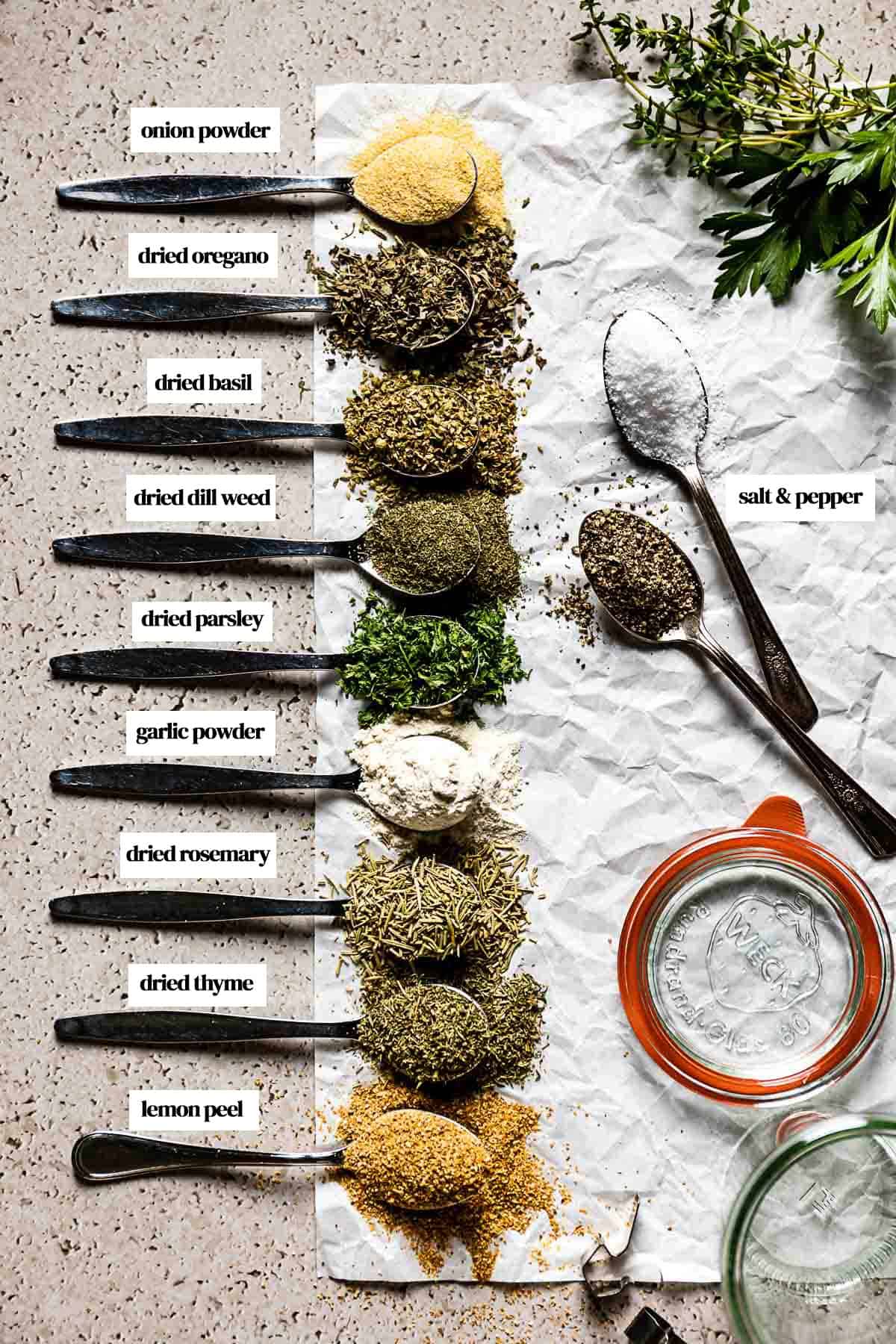 Garlic powder: I use garlic powder here. However, you can use granulated garlic if you can't get your hands on it. The granulated version is thicker compared to its powdered version. Therefore, if you prefer a finer Mediterranean spice mix, simply use a food processor or spice grinder to crush your granulated garlic into smaller fragments.
Onion powder
Dried basil
Dried oregano: I prefer Italian oregano in this spice blend recipe due to its minty, herbaceous undertones. Mexican oregano will add too much citrusy flavor, resulting in a different flavor profile.
Dried dill weed
Dried parsley
Dried rosemary
Dried thyme
Ground black pepper
Dried Lemon peel: This is probably the only ingredient that may require a trip to the store, but it is worth it. Dried lemon peel (affiliate link) lends this simple spice mixture an irresistible hint of fresh, tart flavor—in addition to its signature bright color. However, you could also use orange peel. And if that doesn't work, you can add fresh lemon zest right before you are ready to use this Mediterranean seasoning in your recipe.
Optional Additions:
Kosher salt: Add ½ teaspoon salt to your mixing bowl for extra savory spice. Or, add it separately to your recipe while cooking to ensure it doesn't come out too salty.
Ground cumin: Cumin is the key to giving Mediterranean cuisine its hearty, earthy taste—especially when making meat dishes and kabobs. Depending on your recipe, you can add ground cumin directly into your spice or separately. If you are a spice nerd like me, you can also purchase cumin seeds and grind them in your own spice grinder for an even fresh flavor.
Ground cinnamon: Want to add a little warmth to your Mediterranean spices? Just ¼ teaspoon of ground cinnamon will add a woody richness to your blend, making it the perfect addition to meat recipes.
Dried mint: Mint is a wonderful addition to this recipe, as it naturally sharpens the unique flavors of the other herbs. However, remember that dried mint is a potent herb, and a little bit can go a long way in this spice blend.
How to Make This Recipe?
You can have a sumptuous flavoring for all your favorite dishes in just five minutes and one step.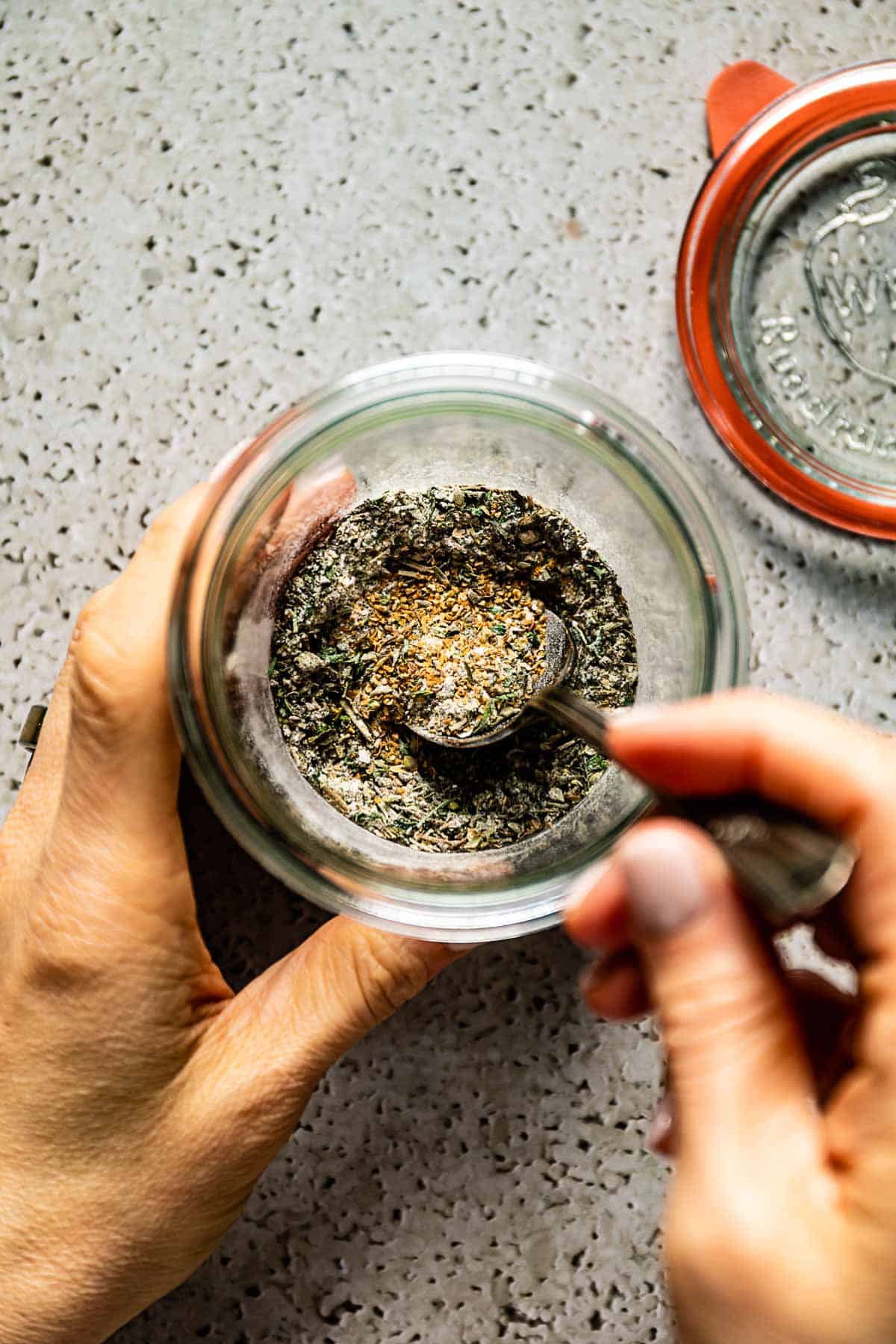 Simply add your ingredients to a small mixing bowl, adjusting the salt and seasoning levels to your taste. Mix until thoroughly blended. Use it in your recipe right away, or transfer the Mediterranean herb seasoning to an airtight jar for later use.
Storage Instructions
Whether you're using this Mediterranean spice blend recipe for weeknight meals or a special occasion, use these storage tips to ensure that your mix stays fresh and flavorful for months.
Airtight container: It's essential that you store your Mediterranean herb mix in an airtight container to ensure the ingredients don't lose their flavor over time. A jar with a tight-fitting lid is ideal.
Check for dryness: Ensure your storage container is fully dry before adding your spice mixture. Also, if you dried your own fresh herbs, ensure all ingredients are completely dry before storing them. Any moisture will make your blend difficult to use, dull its flavors, and may result in unwanted bacteria or mold.
Store in a dark place: To keep your spices' flavors as robust and fresh as possible, store your mixture in a cool, dark place, such as a pantry or cupboard. Exposure to heat and sunlight can strip your herbs of their flavors and limit how long you can use them.
Date and label: I recommend dating and labeling your Mediterranean spices and herbs before storage to keep track of their freshness. This way, you won't have to fret over your calendar every time you prepare a new dish.
Use within six months: To ensure maximum flavor, I suggest using it within six months of preparation. Though the seasoning won't go bad, it will likely lose its potency the longer it sits.
Uses of this Mediterranean Spice Mix
There are endless ways to incorporate it into your cooking. In minutes, you can add fresh, sunny flavors to fan-favorite recipes, from hearty chicken to light seafood.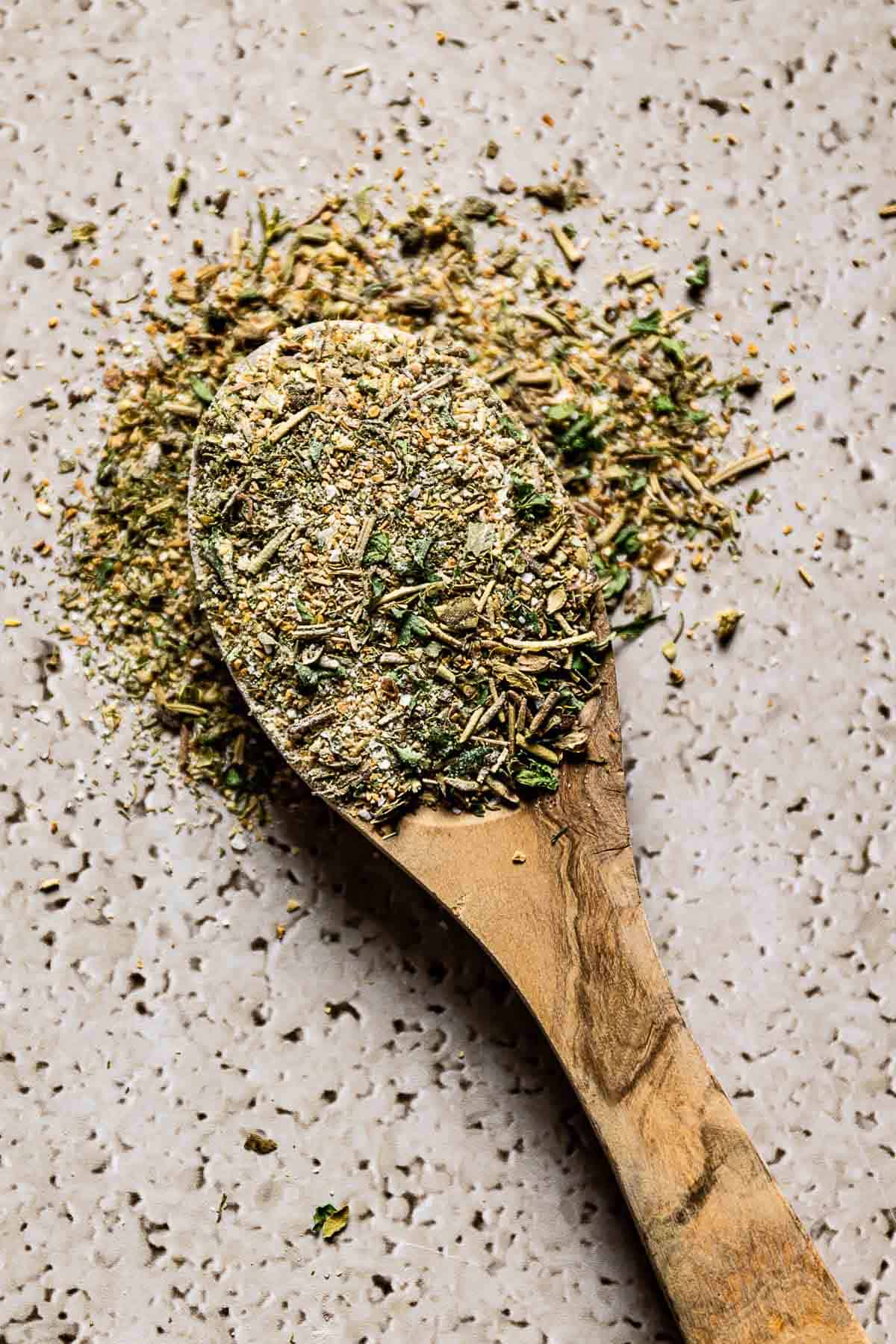 Expert Tips
Making your own savory blend of herbs and spices is a great way to add bright, fresh flavor to your menu. With these tips for making Mediterranean spice, you'll never eat bland food again.
Use new herbs and spices: The trick to getting your spice mixture as herbaceous and flavorful as possible is using fresh ingredients. You can make your own dried herbs for extra freshness, but ensure they dry thoroughly before adding them to your mixture.
Make it your own: My favorite part about making my own spice blends is how easy they are to customize. Feel free to adjust the spices in this recipe to match your taste. Or, if you don't like any of the ingredients, you can omit them entirely or use a bit more of something else. For example, if you're not a fan of dill, you can leave it out and add more thyme. For a spicier mix, you can add red pepper (aka chili pepper flakes), or you could include Spanish paprika for a slightly smokier taste.
Give it a good shake: Shake your spices' storage container before incorporating the blend into your cooking. Because some ingredients tend to shift to the bottom during storage, shaking your mixture will ensure an even distribution of flavors.
Start with a small amount: When adding this seasoning to your cooking, I recommend beginning with a small amount and adding more after tasting. Remember, you can always add more spice but you can't take it out.
Customize your salt levels: When you buy spice blends at the store, you never know how much salt is inside. That's why I prefer to make my own seasoning mixtures. For this recipe, you can either add the salt directly into the blend or omit it and add salt to your recipe as needed.
FAQs
What is Mediterranean seasoning?
Mediterranean spices generally include a signature blend of ingredients, such as basil, oregano, rosemary, garlic, and onion powder. However, other versions—often resultant of regional differences in the Mediterranean area—include flavor-enhancing additions, such as parsley, thyme, and dill. These different combinations give this classic mixture such versatility in Mediterranean cooking.
Is Greek seasoning the same as the Mediterranean?
Because these two variations often include the same spices used in Mediterranean cooking, there is a significant flavor overlap between them. However, Greek seasonings tend to have earthier overtones due to the inclusion of marjoram. Still, because of their similar flavor profiles and regional variations, you can use this Mediterranean spice mix instead of Greek seasoning in your recipes.
What can I use in place of Mediterranean seasoning?
Several options exist if you need a replacement for these Mediterranean food spices. Herbs de Provence is a common seasoning blend from France with a slightly more fragrant, herbaceous flavor. You can also use Italian seasoning due to its earthy, somewhat sweet overtones. However, remember that these seasoning blends have slightly different flavor profiles and may affect the outcome of your recipe.
Is Mediterranean food spicy?
Generally speaking, Mediterranean dishes are not spicy. However, chefs may add spice to their recipes to increase heat levels and accommodate personal preference.
Other Homemade Seasoning You Might Also Like:
If you try this Mediterranean Seasoning recipe or any other recipe on Foolproof Living, please take a minute to rate the recipe and leave a comment below. It is a great help to others who are thinking of making the recipe. And if you took some pictures, be sure to share them on Instagram using #foolproofeats so I can share them on my stories.
Mediterranean Seasoning Recipe
This Mediterranean spice mix is perfect for flavoring meats, vegetables, soups, stews, sauces, and more. Use this unique blend of spices and herbs in your recipes and bring the Mediterranean to your table.
Print Recipe
Ingredients
2

teaspoons

onion powder

1

tablespoon

dried oregano

1

tablespoon

dried basil

½

tablespoon

dried dill weed

½

tablespoon

dried parsley

1

tablespoon

garlic powder

1

teaspoon

dried rosemary

1

teaspoon

dried thyme

1

teaspoon

lemon peel

1/2

teaspoon

Kosher salt

1

teaspoon

coarsely ground black pepper
Optional
½

teaspoon

ground cumin

¼

teaspoon

ground cinnamon
Instructions
In a small bowl, mix all the ingredients and transfer the mixture to an airtight jar.
Notes
Yields: This recipe yields 1/3 cup of spice blend. However, it can be multiplied as many times as you need.
Storage: B sure to store your mixture in a cool, dark place, such as a pantry or cupboard. As long as it is kept in an airtight container, it should be fresh for up to 6 months. It would technically still be good after then, but we find that you get the freshest flavors if you use it within the first 6 months.
Nutrition
Calories:
21
kcal
|
Carbohydrates:
5
g
|
Protein:
1
g
|
Fat:
0.2
g
|
Saturated Fat:
0.1
g
|
Polyunsaturated Fat:
0.1
g
|
Monounsaturated Fat:
0.1
g
|
Sodium:
296
mg
|
Potassium:
110
mg
|
Fiber:
2
g
|
Sugar:
0.2
g
|
Vitamin A:
72
IU
|
Vitamin C:
2
mg
|
Calcium:
69
mg
|
Iron:
2
mg
Like this recipe? Consider sharing: