If you are like us, a fan of making your own Roasted Garlic Compound Butter, you won't be able to resist the rich and robust taste of this easy garlic butter sauce recipe. Using this versatile recipe as a base, you can quickly turn your homemade garlic butter sauce into the perfect recipe for countless other dishes.
Whether you use it to make Garlic Butter Pasta, Garlic Bread, or dipping sauce for bread, this quick and easy recipe is going to be a staple in your daily cooking routine.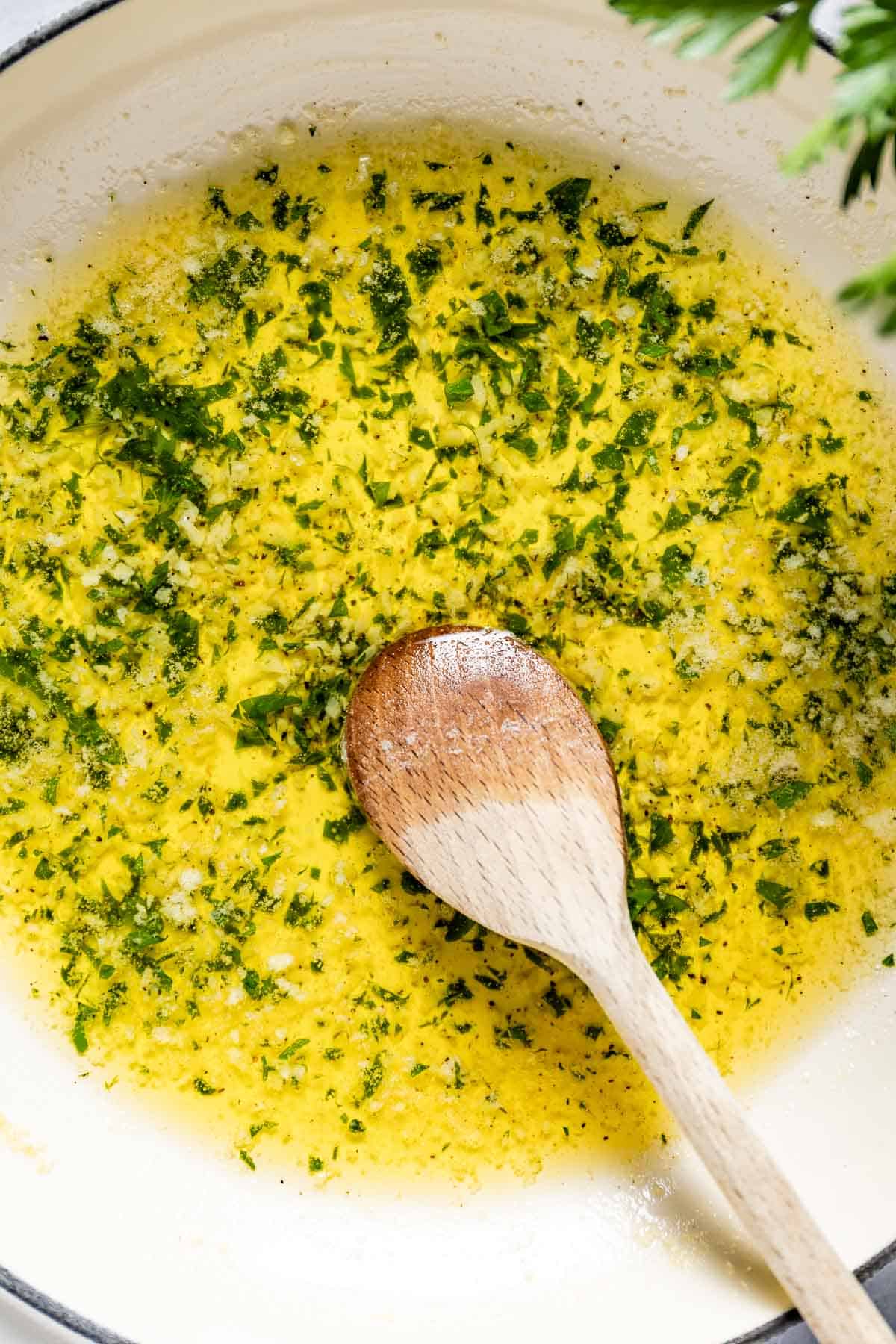 Ingredients
The list of ingredients for garlic butter sauce is simple and short. You can make this savory recipe using only three ingredients, possibly with things you already have in your kitchen. So, no grocery trip is necessary!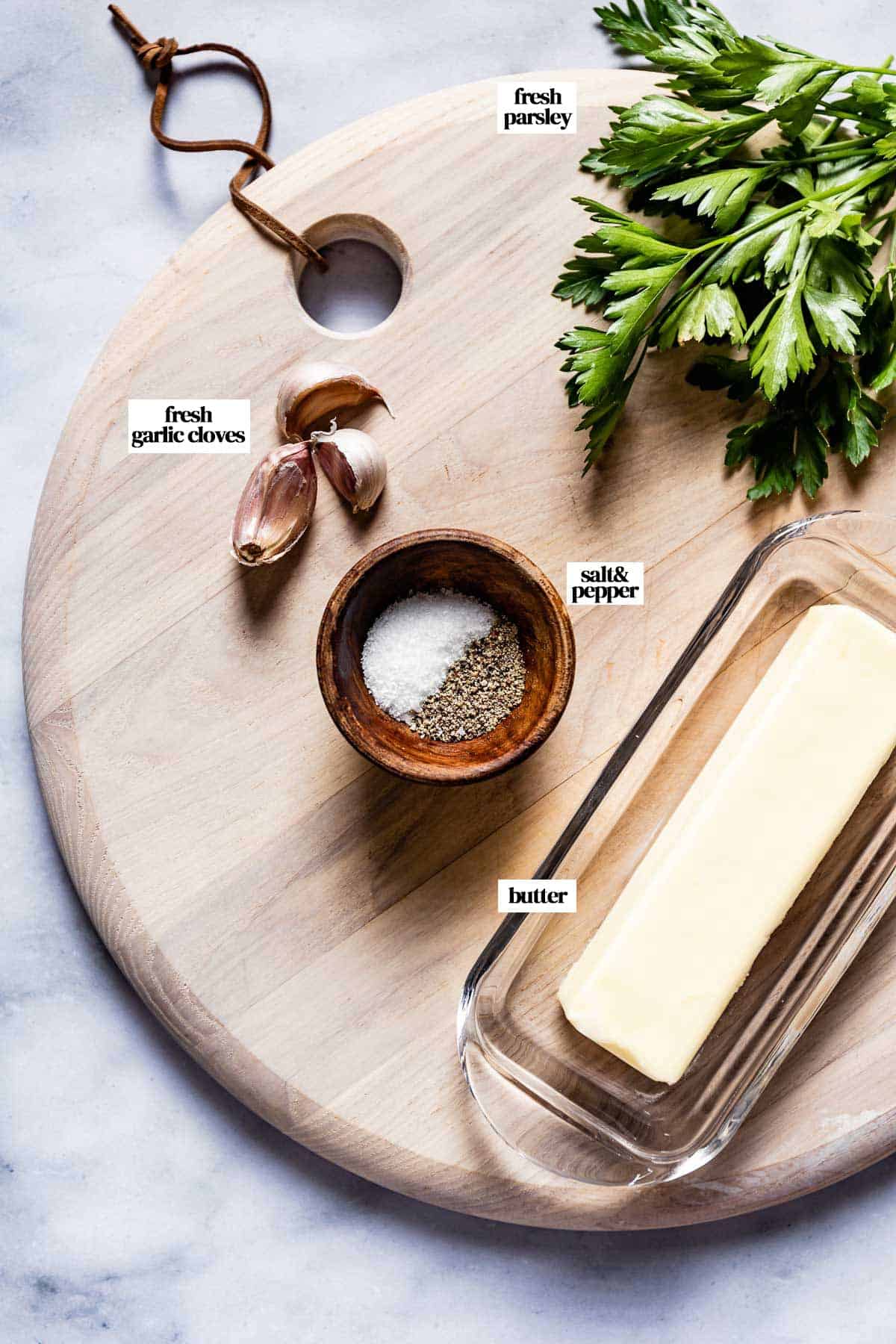 Butter: I recommend using unsalted European-style butter (I like Vermont Creamery (affiliate link), as its high-fat content gives this recipe extra richness and depth. However, nearly any salted or unsalted butter would also work. Just note that if you use salted butter, I recommend omitting the extra salt to avoid over-seasoning.
Fresh garlic cloves: I prefer finely minced garlic for this recipe. However, you can also use my Roasted Garlic or Air Fryer Garlic for a smokier garlic flavor. Though I don't recommend using garlic powder in this recipe, you can use it in a pinch if you don't have any fresh garlic on hand.
Kosher salt
Optional Add-Ins and Variations
Clarified butter: If preferred, you can make this DIY garlic butter sauce with clarified butter or ghee. I make clarified garlic butter whenever I need a vegan or dairy-free version of this recipe.
Black pepper: Give your three-ingredient garlic butter recipe a little heat by mixing a bit of ground black pepper at the last minute.
Fresh herbs: To make an authentic Italian garlic butter sauce, fresh herbs are essential. One of my favorite variations is garlic parsley butter, but you can also sprinkle in a little rosemary, oregano, thyme, or dill for a light, herbaceous flavor.
Spices and seasonings: This buttery garlic sauce recipe is the easiest way to compliment dozens of different flavors, especially if you use it as a meat marinade. For a Greek-inspired take, try Mediterranean seasoning, or add a pinch of baharat spice mix to compliment Middle Eastern fare. You can also add other dried spices to your sauce, including red pepper flakes, Italian seasoning, and Old Bay seasoning.
Fresh lemon juice and zest: I recommend adding a squeeze of fresh lemon juice or zest to your butter mixture for bright, citrusy overtones. Lemon Garlic Butter Sauce makes the ultimate garlic butter sauce for fish and the perfect dipping sauce for shrimp.
How to Make a Garlic Butter Sauce From Scratch?
Simple yet tasty, this quick butter garlic sauce comes together in just five minutes with these easy instructions: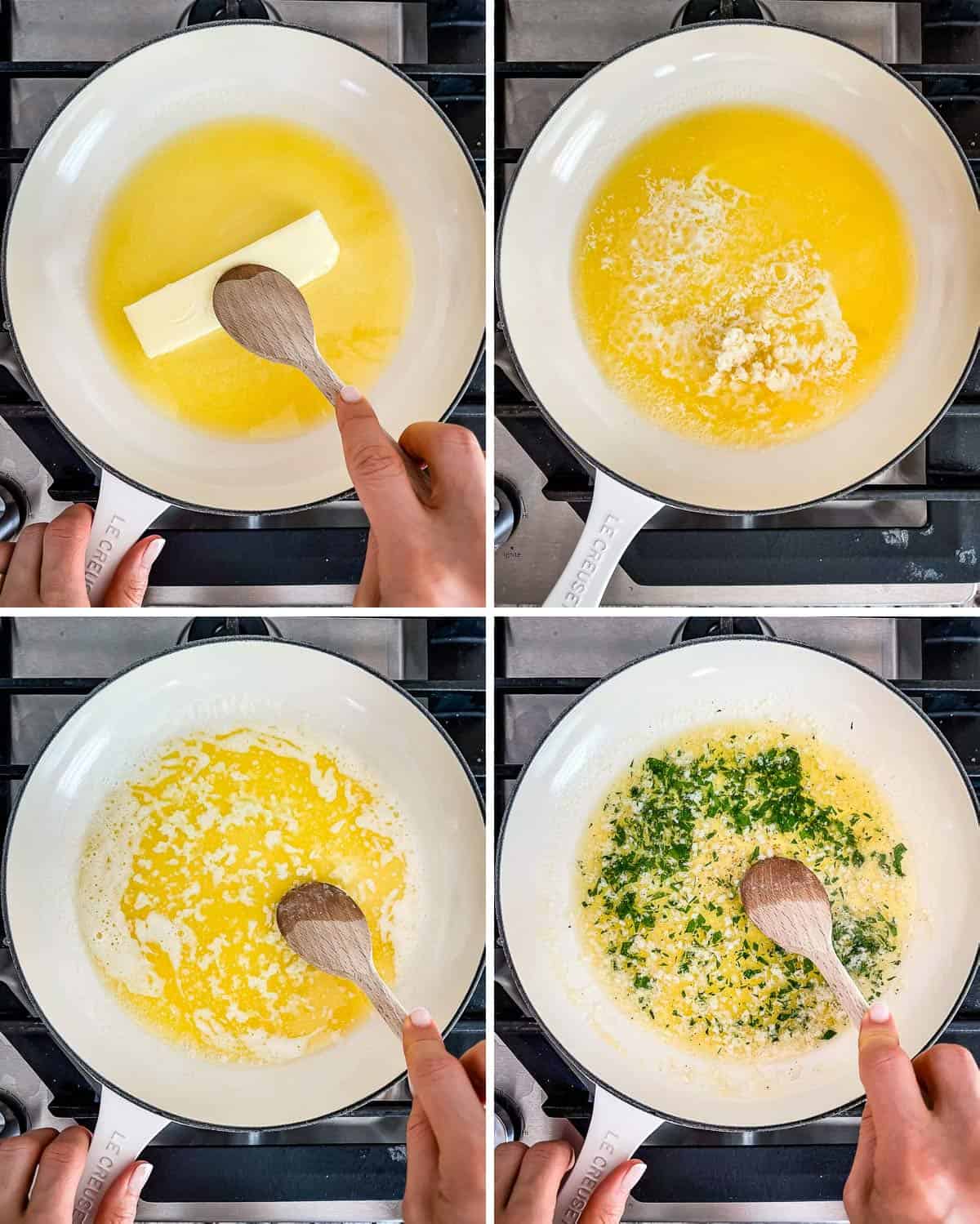 Melt butter: Heat a small skillet or saucepan over medium heat and add the butter. Wait until the butter melts.
Saute the garlic: Add the garlic to the pan, cooking gently. Stir the mixture until the garlic becomes soft (2-3 minutes). Be sure to watch it closely, as garlic burns easily.
Add the seasoning: Remove the butter from the stove. Then, stir in the salt and other desired add-ins, such as pepper and parsley.
Serve: Serve your melted garlic butter with bread or pasta, or use it as a tasty baste for other recipes.
How to Store, Reheat, Freeze, and Thaw?
You won't want a single drop to go to waste when you make butter garlic sauce. These expert storage tips will ensure you can quickly meal prep and save your recipe for weeks.
Store: To store leftovers of this recipe, place them in an airtight container. It will stay fresh in the refrigerator for 3-4 days.
Reheat: I recommend reheating this butter sauce recipe just before serving to avoid unwanted coagulation. Reheat it over low heat in a small saucepan or the microwave (5-second increments) until it reaches your desired heat and consistency.
Freeze: To freeze, first let it reach room temperature. Then, you can pour it into an airtight container or an ice cube tray to make individual portions. Store the sauce in the freezer until ready to use.
Thaw: There's no need to thaw your frozen butter garlic sauce. Instead, reheat it just before serving.
How to Use This Buttery Garlic Sauce?
It's amazing how versatile this simple garlic butter sauce is. Use it in dozens of dishes—from melted garlic butter for bread to sauce for steak—for a tasty meal no one can resist. Here are a few more suggestions:
Bread: For a match made in heaven, serve it as a garlic butter dipping sauce alongside your favorite French bread. Or, if you prefer homemade bread, this hearty side tastes amazing with soft, buttery bread like my Buttery Brioche Rolls and Brioche Slices. Or, serve it alongside crustier recipes—like my No-Knead Artisan Bread and Air Fryer Garlic Bread—for a more rustic feel.
Pizza: Want to take your homemade pizza to the next level? Use this sauce for pizza by brushing your dough before baking it. Or you can also brush the pizza crust right after it comes out of the oven. Either way, every bite will explode with flavor.
Meat: Transform your bland meat recipes into five-star meals that will disappear in minutes. Use this butter garlic sauce for steak or beef with recipes like my Beef Tenderloin. You can also use it to drizzle or baste poultry dishes like my Baked Bone-In Chicken, Turkey Loin, and Roasted Turkey Legs.
Pasta: It's undeniable that this recipe makes the ultimate homemade butter sauce for pasta. Serve it with spaghetti, and you'll have Garlic Butter Pasta the whole family will love.
Fish: Few things taste more elegant than using this creamy garlic butter sauce for fish. Drizzle this simple sauce over your favorite fish or seafood recipe—like my Grilled Mahi Mahi, Grilled Shrimp Kabobs, or Breaded Fish—and prepare your tastebuds for a host of rich, sophisticated flavors.
Marinade: This simple recipe doubles as one of my favorite garlic butter marinades—a succulent substitution for olive oil. Like my Shrimp Marinade and Marinade for Mahi Mahi, this easy recipe adds flavor to any meat or fish meal. Just be sure that the garlic butter reaches room temperature before adding it to your fish or meat.
Vegetables: This recipe makes for a flavorful garlic butter glaze that will give any vegetable side a rich, luscious taste. Drizzle this divine sauce over Boiled Green Beans, Air Fried Corn on The Cob, or Steamed Asparagus for a tender, garden-fresh veggie side. If you want a slightly crispier taste, adding garlic butter to Air Fryer Green Beans is an easy way to take it to the next level.
Potatoes: If you're searching for a lavish, melt-in-your-mouth potato recipe, add garlic butter with minced garlic to your favorite dishes. Mix this garlic butter recipe with Rosemary Mashed Potatoes, and your table will look like a food magazine spread. Or, use garlic butter sauce instead of olive oil to give your Smashed Fingerling Potatoes a robust, crisp bite.
Rice or grains: This garlic and butter sauce gives any grain dish a flavorsome depth. Pour some of your sauce into classic recipes, like Cooked Bulgur Wheat, Cooked Quinoa, or cooked orzo, and you'll savor every bite. You could also add this delicious sauce to dishes like Forbidden Rice or Wild Rice for a subtle flavor boost.
Popcorn: If you love the savory taste of gourmet popcorn, drizzle your batch with a few tablespoons of this garlic butter herb sauce. You won't be able to put down your popcorn bowl until it's empty.
Expert Tips
There's no secret to making garlic butter sauce that will delight your taste buds with its savory, succulent taste. Though I have a few tips to help you get the perfect results every time:
Use quality ingredients: Selecting the freshest ingredients is the best way to ensure your fresh garlic butter has the most decadent flavor. Good quality grass-fed butter and fresh garlic are the keys to preparing the best garlic butter sauce.
Mince the garlic finely: To infuse every drop of this simple butter garlic sauce with robust flavors, mince your garlic as finely as possible. I recommend using a garlic press if you have one on hand.
Keep a close eye on it: No one likes a burnt sauce's harsh, bitter taste. Because it's so easy to burn garlic and butter, cook your sauce gently and watch it closely during the sautéeing process.
Season to taste: To avoid over- or under-seasoning, I highly recommend giving it a taste before serving and adding more seasoning as necessary.
Adjust consistency: You can transform this basic recipe into a thick garlic butter sauce by slowly simmering it over very low heat, stirring it every few seconds until it is reduced. It is imperative that the heat is very low as high heat will turn it into browned butter. Instead, let it simmer low and slow until it thickens to your desired consistency. Conversely, if you prefer a thinner sauce, you can add a splash of water, broth, or white wine to the saucepan.
Customize it with fresh herbs and spices: Seasoned garlic butter sauce can compliment countless recipes, from Caprese Pizza to Whole Roasted Chicken, with the right blend of herbs and spices. Add fresh parsley and Italian seasoning for the perfect Italian meal, or make an Old Bay garlic butter sauce for all your fish recipes. The options are endless with this basic butter recipe.
FAQs
What is garlic butter sauce?
Garlic butter sauce is a rich, flavorful mixture made by sautéing garlic in melted butter over low heat until the butter is fully melted and minced garlic is lightly toasted.
How do you thicken garlic butter sauce?
To thicken, let the mixture simmer over low heat until it reduces, stirring frequently. Then, let the mixture rest off-heat until it reaches your desired consistency.
How do you make a vegan version of garlic butter sauce?
To make this recipe vegan, try using vegan butter, which generally includes coconut oil, almond flour, and plant-based milk. Or, to reduce the amount of dairy in your sauce mixture, you can also swap out regular butter with clarified butter or ghee.
Other Garlic Butter Recipes
If you love the rich taste of this garlic-infused butter, then you'll be amazed by how many other delectable recipes are at your fingertips. This collection has it all, from veggie sides to tasty pasta.
If you try this Garlic Butter Sauce recipe or any other recipe on Foolproof Living, please take a minute to rate the recipe and leave a comment below. It is a great help to others who are thinking of making the recipe. And if you took some pictures, be sure to share them on Instagram using #foolproofeats so I can share them on my stories.
Garlic Butter Sauce Recipe
Made with just a few simple ingredients, this garlic butter sauce is a quick and easy way to enhance the flavors of any dish. It serves multifunctionally as a pasta sauce, dipping sauce, or a marinade for meats and vegetables.
Print Recipe
Ingredients
8

tablespoons

unsalted butter

preferably European style butter*

3

cloves

garlic

finely minced

¼

teaspoon

Kosher salt

plus more to taste

¼

teaspoon

ground black pepper

optional

1

tablespoon

fresh parsley

chopped, optional
Instructions
Heat a small skillet (or small saucepan) over medium heat. Add the butter and let it melt.

Add the garlic and stir until soft for approximately 2-3 minutes.

Remove from the heat and stir in the salt. If using, add the pepper and parsley as well. Serve or use in your recipe.
Notes
Butter:

You can make this sauce using salted butter. However, if you use unsalted butter, we recommend omitting salt. Alternatively, you can use clarified butter (aka ghee) as a vegan option. Garlic ghee sauce is just as tasty without any dairy.

Optional Add-ins:

Depending on the recipe you are planning to use this sauce, you can easily flavor it with dried herbs and spices, parmesan cheese, or add a splash of lemon juice and lemon zest to brighten the flavors.

Store

: To store garlic butter sauce, place it in an airtight container. It will stay fresh in the refrigerator for 3-4 days.

Reheat

: I recommend reheating it just before serving. Reheat it over low heat in a small saucepan or the microwave (5-second increments) until it reaches your desired heat and consistency.

Freeze

: To freeze, first let it reach room temperature. Then, you can pour it into an airtight container or ice cube trays to make individual portions. Store the sauce in the freezer until ready to use.

Thaw

: There's no need to thaw your frozen butter garlic sauce. Instead, reheat it just before serving.
Nutrition
Calories:
205
kcal
|
Carbohydrates:
1
g
|
Protein:
0.4
g
|
Fat:
23
g
|
Saturated Fat:
14
g
|
Polyunsaturated Fat:
1
g
|
Monounsaturated Fat:
6
g
|
Trans Fat:
1
g
|
Cholesterol:
60
mg
|
Sodium:
149
mg
|
Potassium:
23
mg
|
Fiber:
0.1
g
|
Sugar:
0.05
g
|
Vitamin A:
785
IU
|
Vitamin C:
2
mg
|
Calcium:
13
mg
|
Iron:
0.1
mg
Like this recipe? Consider sharing: