Lately, I have been cooking and baking a lot from some of my favorite food blogs. Though I love my cookbooks and find them as a great source inspiration, now that I am a food blogger and know what goes into creating recipes, I have so much respect for fellow bloggers, who spent countless hours creating recipes. And I think a good way of honoring that is by making their recipes.
These banana muffins are a spin off recipe from Lady and Pups' Molten Chocolate Banana Bread. I have been a follower of her blog for sometime now, and every recipe I tried from her blog turned out wonderfully. So when I was looking for a way to use the ripened bananas that were sitting on my kitchen counter, I decided to give her recipe a try. She photographed the chocolate river running through the banana bread so beautifully it wasn't a hard decision to make. God knows, I wanted a bite of that cake so badly.

But for my version, I opted for muffins instead of a loaf cake, because I like the fact that it is easier to serve, and quicker to bake. On my first try, I followed her "Molton Chocolate Center" recipe, which ended up being great.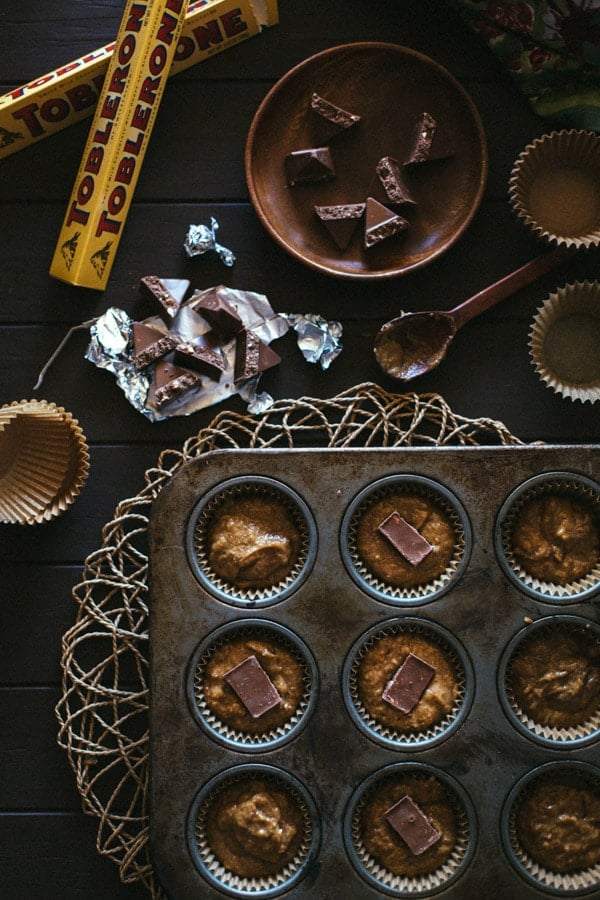 But when I wanted to make it again, I realized that I was out of baker's chocolate at home and all I had was a sleeve of my favorite candy bar, Toblerone. So instead, I used one piece of Toblerone for each muffin cup. Conveniently, one sleeve of Toblerone consists of twelve pieces of chocolate, which at the time I considered as a sign from above – 12- muffin cup pan and 12 pieces of chocolate!?!!!
It ended up being so delicious that I feel like this version can easily compete with hers. The crunchy almond praline pieces in Toblerone melted during the baking process creating a mini chocolate river in the middle of each muffin.
Here, I'd like to mention – Although you can make this muffin with all-purpose flour, the whole wheat flour mixed with cinnamon and nutmeg gives it a nice, somewhat of a bran-muffin like texture that I personally think takes this muffin recipe to another level.
On a final note, when I make muffins or cake, and if I have enough time, I usually rest my batter in the fridge overnight following Thomas Keller's technique. The following is from his book, Bouchon Bakery
:
" Resting Batter: The key to making a great muffin is letting the batter rest, to allow the flour to hydrate (absorb liquid). We (at Bouchon Bakery) rest our batters overnight, or for as long as 36 hours, which results in a very moist muffin. Resting the batter also enhances the flavor and gives a better crumb. As an added benefit, when you make the batter a day ahead, it is ready to pour into the muffin pan in the morning so you can have fresh baked muffins for breakfast."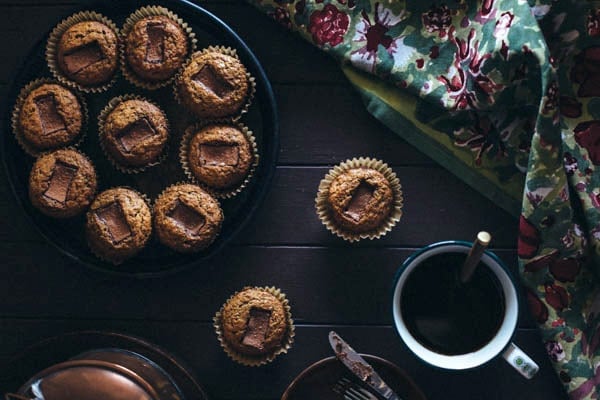 So if you have time and want to make a stellar banana chocolate muffin this recipe is a no brainer. I promise, it won't disappoint.
Other Muffin Recipes You Might Like:
Banana Muffins with Toblerone Chunks
If you have never put toblerone in your muffins, stop what you're doing and go into the kitchen. Because we are making toblerone banana bread muffins. This chocolate-y banana muffin with melted toblerone in the middle is going to impress everyone in your family and make them ask for more.
Print Recipe
Ingredients
5

tablespoons

butter

melted and cooled

3

tablespoons

vegetable oil

3

large very ripe bananas

mashed

1

egg

1/2

cup

(3 1/2) ounces packed brown sugar

1

tablespoon

molasses

1

teaspoon

vanilla extract

1

cup

(5 ounces) whole wheat flour

1/2

cup

(2 ounces) cake flour

1

teaspoon

baking soda

1

teaspoon

ground cinnamon

1/4

teaspoon

ground nutmeg

1/4

teaspoon

salt

1

sleeve

3.52 ounces Toblerone chocolate
Instructions
Pre-heat the oven to 400 degrees. Line a 12-cup muffin pan with muffin liners, or alternatively spray it with vegetable spray.

Stir together the butter and oil in a large bowl. Whisk in the bananas and egg, brown sugar, molasses, and vanilla extract. Set aside.

Mix both flours, baking soda, cinnamon, nutmeg, and salt in a bowl until combined.

Gently fold in the dry ingredients into the wet ingredients in 2 batches while making sure to not over mix the batter.

Divide the batter equally in a 12-cup muffin pan.

Gently press 1 piece of Toblerone chocolate in the middle of each muffin cup upside down. You do not need to push it all the way down.

Bake until a toothpick inserted in the batter portion (not the chocolate) comes out clean, or 17-18 minutes making sure to rotate the pan halfway through the baking process.

Let it cool in the muffin pan for 5-10 minutes and serve.
Nutrition
Calories:
280
kcal
|
Carbohydrates:
36
g
|
Protein:
4
g
|
Fat:
14
g
|
Saturated Fat:
9
g
|
Cholesterol:
27
mg
|
Sodium:
192
mg
|
Potassium:
269
mg
|
Fiber:
3
g
|
Sugar:
19
g
|
Vitamin A:
192
IU
|
Vitamin C:
3
mg
|
Calcium:
30
mg
|
Iron:
2
mg
Cake batter in the recipe is adapted from Lady and Pups' Molten Chocolate Banana Bread.
Like this recipe? Consider sharing: