This post is sponsored by Domex Superfresh Growers, but all opinions are mine.
Can you believe that we are only 3 days away from Thanksgiving? This afternoon, we will be heading to the farmer's market to pick up a few more groceries and then I will start prepping for the big day. But before then, I have a super simple, easy and quick to make appetizer recipe to share with you.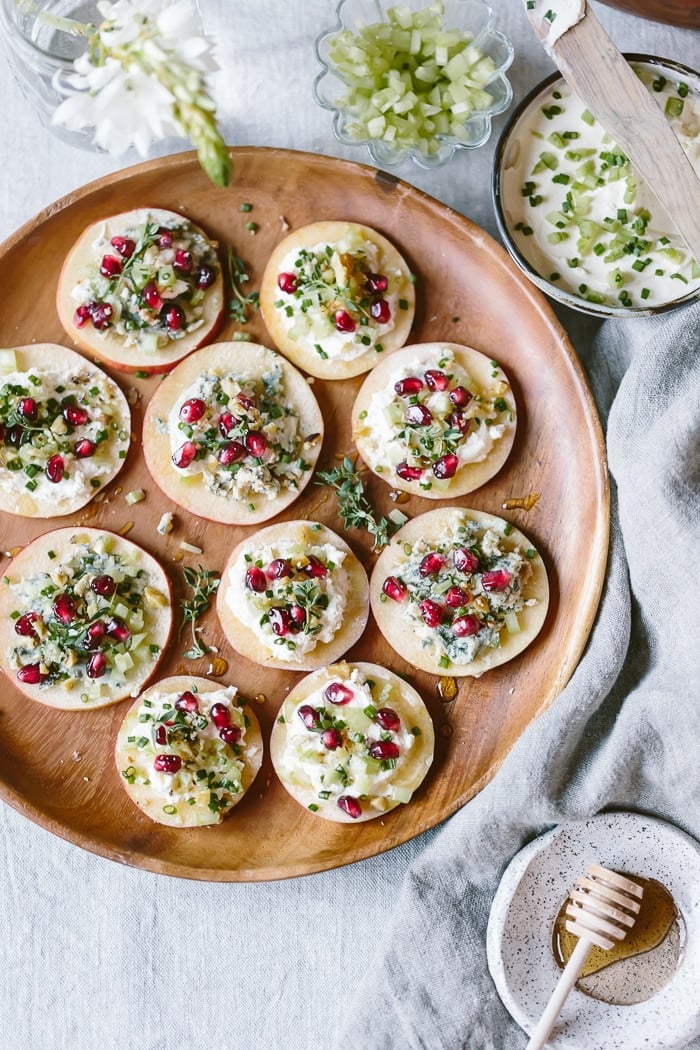 When I say 'quick' I mean it, because it literally takes 5 minutes to put these cheesy apple bites together. In the midst of all the cooking and prepping, I can't imagine a simpler appetizer to serve family and friends alongside a glass of champagne.
I know I will be serving them.
The thing about simple recipes is that in order for them to work you have to have incredible ingredients that are able to shine on their own. For this recipe, instead of using crackers to spread the cheese, I used thinly sliced apples. But they are not just any apples.
They are the Autumn Glory Apples, a.k.a. the most delicious and juiciest apples I have ever had. They literally taste like candy with caramel and cinnamon undertones with every bite. And imagine what happens when they are spread with a little bit of cheese and topped off with a few fresh ingredients.
About this Apple Appetizers Recipe:
As I mentioned earlier, putting these together cannot be easier.
To start, lay the apple on its side and cut it thinly (1/4-inch) width-wise. If you prefer, you can use a pairing knife to remove the seeds. I only removed the seeds for the middle slices as the rest had very minimal seeds.
Next, spread it with cheese. Now, if I was serving these just for us I would only spread it with blue cheese because we are a huge fan. However, I know a lot of people, who are not crazy about stinky cheeses. And since I am serving them for a crowd, I also spread them with whipped cream cheese, which is loved by most people I know.
You can certainly, buy cream cheese, bring it to room temperature, and whip it yourself in a standing mixer. However, luckily nowadays most supermarkets carry already whipped cream cheese helping you save time on the prep.
In terms of condiments, I used chopped celery, walnuts, chives and a few pomegranate seeds to make them look festive. The apples are already super sweet, but if you want you can lightly drizzle them with a little bit of honey, especially for the ones spread with blue cheese.
Autumn Glory Apples as "Crackers" On Your Cheese Plate:
This year, in addition to these cheesy apple bites, I will also be putting together a cheese board. When it comes to cheese plates, my rule of thumb is to have only a few types of cheeses. I almost always have a creamy cheese (like Epoisse, goat cheese, herbed cream cheese), a stinky cheese (like blue cheese, gorgonzola, or Stilton), and a hard cheese (like cheddar, Manchego, Gouda).
Alongside with the cheese, I love serving a combination of fresh and dried fruits and some roasted nuts. This year, I am completely ditching the crackers and going for the flavorful and sweet Autumn Glory Apples. You can either slice them like I did or cut big bite-size chunks of them for easy snacking. Either way, they are the perfect pairing for any of your cheese plates and I cannot imagine a better combination.
To get more information on Autumn Glory Apples, check out their website and follow them on Facebook, Twitter, Instagram, and Youtube.
Other apple recipes you might also like:
Cheesy Apple Bites
These Cheesy Apple Bites are the easiest and the quickest appetizer you can serve to your guests during the holidays. They are made with Autumn Glory Apples that taste like candy with cinnamon and caramel undertones.Simply spread thinly sliced apples with cheese and sprinkle them with a few fresh condiments. And VOILA! Your gorgeously festive and delicious appetizer is ready to serve.
Print Recipe
Ingredients
3

Apples

6

ounces

blue cheese or whipped cream cheese

or BOTH

¼

cup

celery

thinly sliced

3

tablespoons

chives

chopped

3

tablespoons

of walnuts

lightly toasted and chopped

handful of pomegranate seeds

3-4

tablespoons

honey

optional, for drizzling

a few fresh thyme leaves

optional, as garnish
Instructions
Lay an apple on its side and slice it in ¼-inch thick slices. Slice the rest of the apples.

Place each apple slice on a large plate and spread it with cheese.

Sprinkle each slice with celery, chives, walnuts and pomegranate seeds. If preferred, drizzle them with honey and garnish with fresh thyme leaves.

Serve immediately.
Notes
* Alternatively, you can slice the apples in chunks and serve them on a cheese board.
* I used only three apples, but if you are serving for more people feel free the double or even triple the recipe.
Nutrition
Serving:
10
g
|
Calories:
126
kcal
|
Carbohydrates:
14
g
|
Protein:
2
g
|
Fat:
8
g
|
Saturated Fat:
3
g
|
Cholesterol:
19
mg
|
Sodium:
58
mg
|
Potassium:
102
mg
|
Fiber:
2
g
|
Sugar:
12
g
|
Vitamin A:
308
IU
|
Vitamin C:
3
mg
|
Calcium:
24
mg
|
Iron:
1
mg
---
Editor's Note: This post is sponsored by Domex Superfresh Growers. The compensation received in exchange for placement on Foolproof Living is used to purchase ingredients and props, write blog posts, take and edit photos and maintain this website in general.
However, though compensation was received in exchange for coverage, the thoughts and opinions mentioned in this post are my own. Thank you for supporting brands that support Foolproof Living!
Like this recipe? Consider sharing: