Zoup! Good, Really Good® provided me with the product for the purpose of this post, as well as compensation for my time. As always, all opinions expressed in this post are my own.
On a cold day, nothing satisfies me more than a yummy soup full of great flavors. While I adore the more standard Vegan Butternut Squash Soup or globally inspired Butternut Squash Thai Soup (Zoup! also makes a creamy, heat-and-eat butternut squash soup), there is something so special about a healthy chicken soup with butternut squash.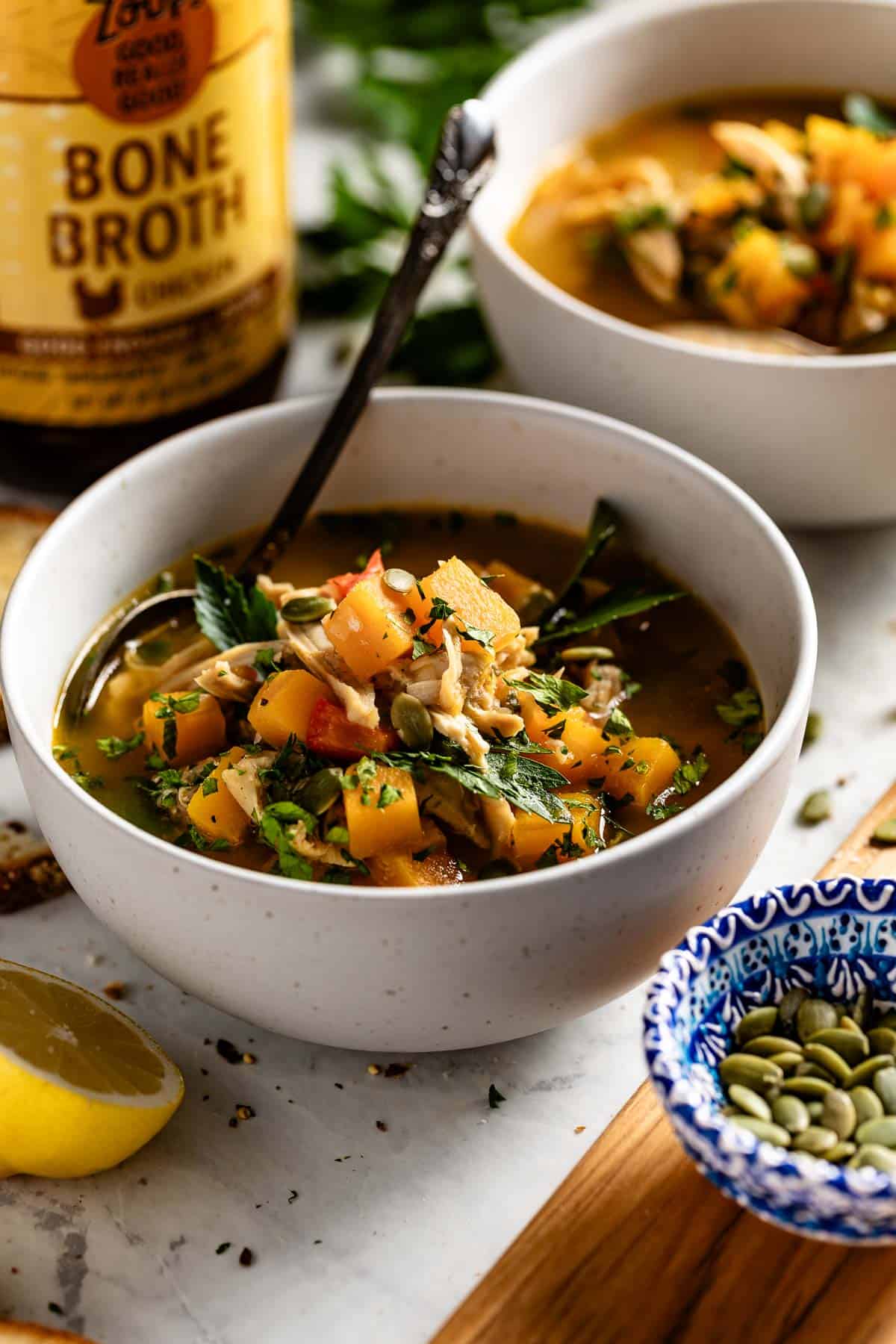 Creamy or chunky, made entirely from scratch using the most delicious Zoup! Good, Really Good® Chicken Bone Broth, I have got you covered with plenty of ways to make this creamy chicken and butternut squash soup your own.
Ingredients
Butternut squash soup with chicken requires nothing more than a few simple ingredients. We will need: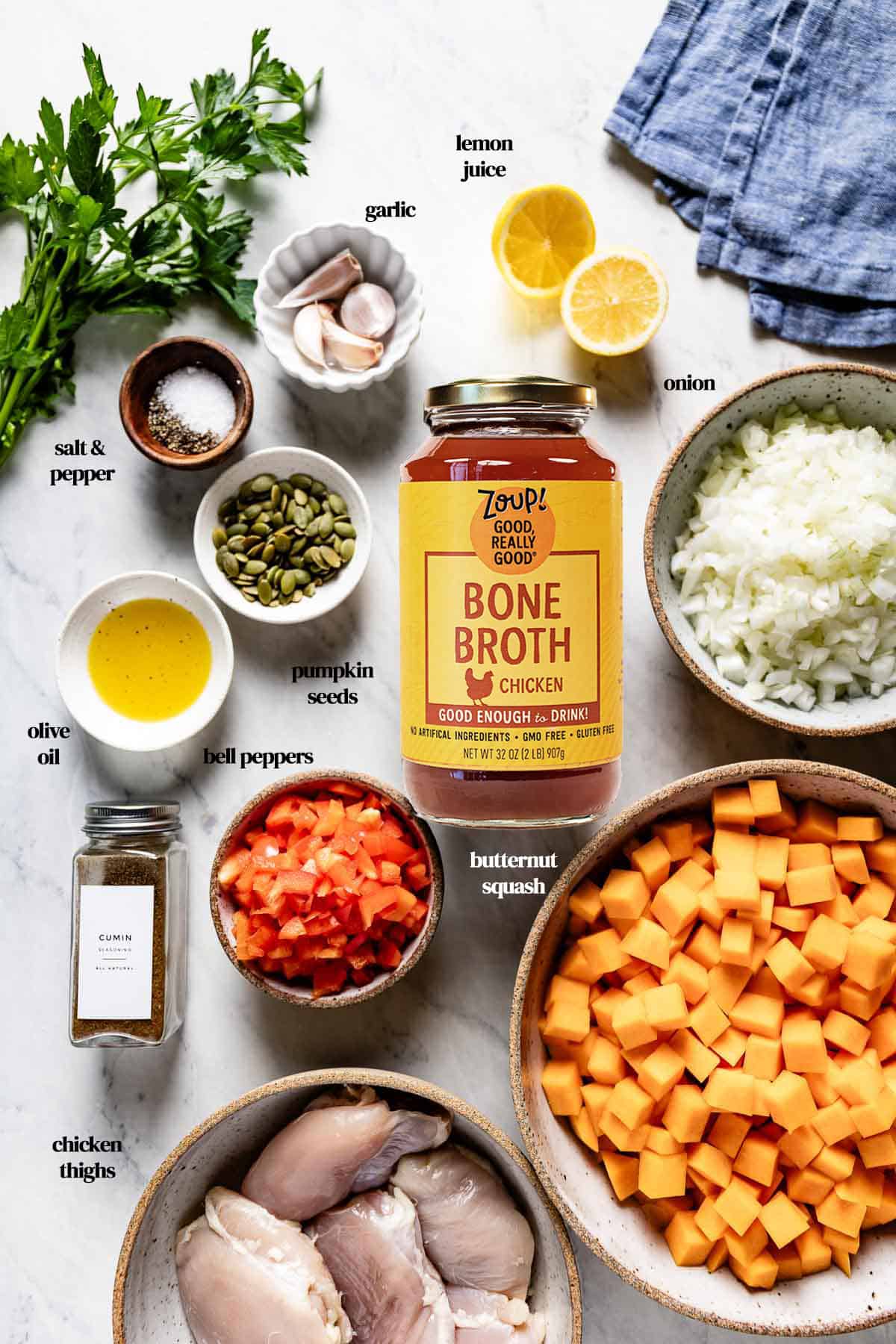 Olive oil: You can also use avocado oil or clarified butter (aka ghee) in this recipe.
Vegetables: Go for an aromatic background of yellow onions, red bell pepper, and garlic cloves.
Spices + seasonings: Ground cumin adds depth and complexity to this butternut chicken soup. You could also try ground coriander or turmeric to celebrate that orange color and make it even more nutritious.
Chicken: Go for boneless, skinless chicken thighs for a richer flavor, but leaner chicken breasts can also be used.
Butternut squash: Pick up a butternut squash that is heavy for its size and prep when you get home. If working with butternut squash is new to you, check out my post on the Best Way to Cut Butternut Squash before you get started.
Chicken broth: While you can make your own Homemade Chicken Stock when I am short on time, I reach for Zoup! Good, Really Good® Chicken Bone Broth. I love purchasing Zoup! as it has the same complex, homemade taste with a balanced flavor. While it is widely available in retailers across the country, you can also purchase it online at ZoupBroth.com, Amazon, and Walmart.com. Plus, Zoup! has a number of different broths to choose from, but in this instance, I would stick to the Chicken Bone Broth, Original Chicken Broth, or Low Sodium Chicken Broth.
Lemon juice: A squeeze of freshly squeezed lemon juice is a last-minute addition to brighten up the flavors.
Fresh herbs: Fresh parsley gives the slowly simmered soup a nice pop at the end. Reserve some on the side for garnish, too. For even more depth of flavor, consider adding fresh thyme or sage while the soup simmers on the stove.
Optional toppings: Pumpkin seeds add a wonderful crunch, but they are optional.
Variations and Substitutions
If you find yourself short on time or are looking to make this squash soup recipe on a busy weeknight, here are some short-cut suggestions to save you some time in the kitchen:
Rotisserie chicken: It is no secret that rotisserie chicken or cooked leftover chicken is a great shortcut when you are short on time, and this chicken soup with squash is no different. If you use either one of these options, simply shred them and add them to the soup at the same time as you are adding the butternut squash. You will need about 4-5 cups of shredded or cubed chicken.
Roasted butternut squash: Use leftover Roasted Butternut Squash to add extra depth and caramelized flavor, thanks to all those natural sugars.
Winter squash: Can't find butternut squash? Use any winter squash that is available, like roasted acorn squash, roasted delicata squash, or pumpkin. Alternatively, you can swap out half the squash for some diced carrots and sweet potatoes for a slightly different flavor texture or flavor that is just as delicious.
Lime juice and cilantro: Give it a unique twist by swapping out the lemon juice and parsley for lime juice and fresh cilantro.
Add grains: Make it a complete meal with the addition of leftover cooked quinoa, brown rice, or pasta. Toss it right into the soup near the end of cooking.
Coconut milk: If you want an even more luxurious creamy texture, consider finishing it with a touch of coconut milk or heavy whipping cream.
Extra toppings: Add even more contrast to flavor and texture by topping it off with croutons, a swirl of yogurt or sour cream, fresh herbs like chives, basil or tarragon, or a sprinkle of red pepper flakes.
How to Make Butternut Squash Chicken Soup?
I like to think of this as a high-protein butternut squash soup, thanks to the addition of chicken. It is also a great soup to make on a cold night in chilly weather. Not to mention, it is easy to make. Here's how I like to make it in a few easy steps on the stovetop: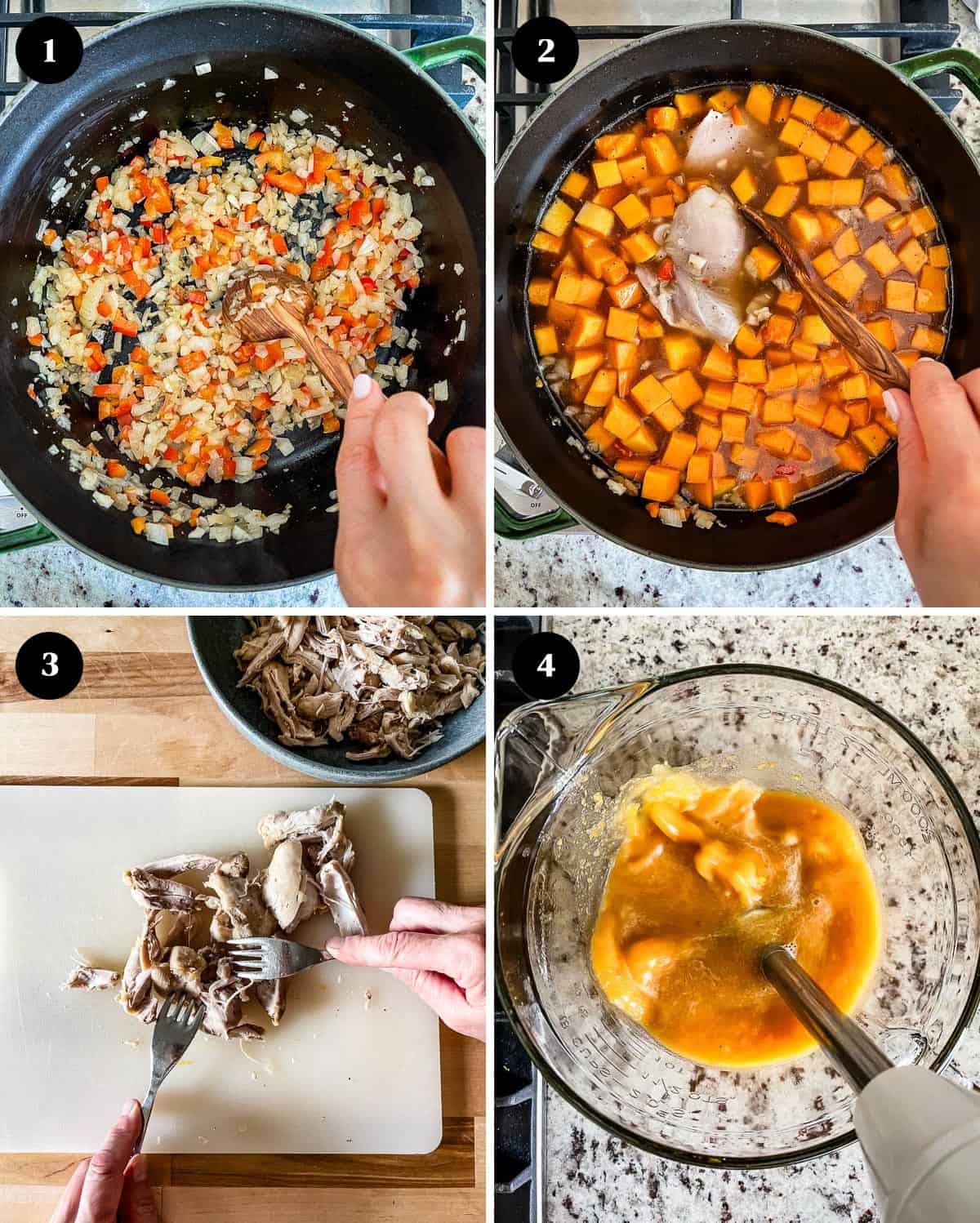 Saute aromatics: Heat olive oil in a large Dutch oven or large soup pot over medium to medium-high heat. Add onion, bell pepper, and cumin. Cook, stirring occasionally, until vegetables are softened, 5-6 minutes. Add the garlic and cook, stirring constantly, for 1 minute.
Simmer soup: Add the chicken, butternut squash, chicken stock, salt and pepper. Give it a good stir. Cover and bring to a boil. Then, reduce to low heat, put the lid back on, and let it simmer for 15-20 minutes or until the chicken is fully cooked. Feel free to stir it once or twice during the cooking process.
Shred chicken: With a large slotted spoon or tongs, remove the chicken and allow to cool slightly. Shred it with two forks or cut it into cubes.
Blend half of the soup: Ladle 4-5 cups of the soup into a large heatproof bowl. Blend until smooth with an immersion blender.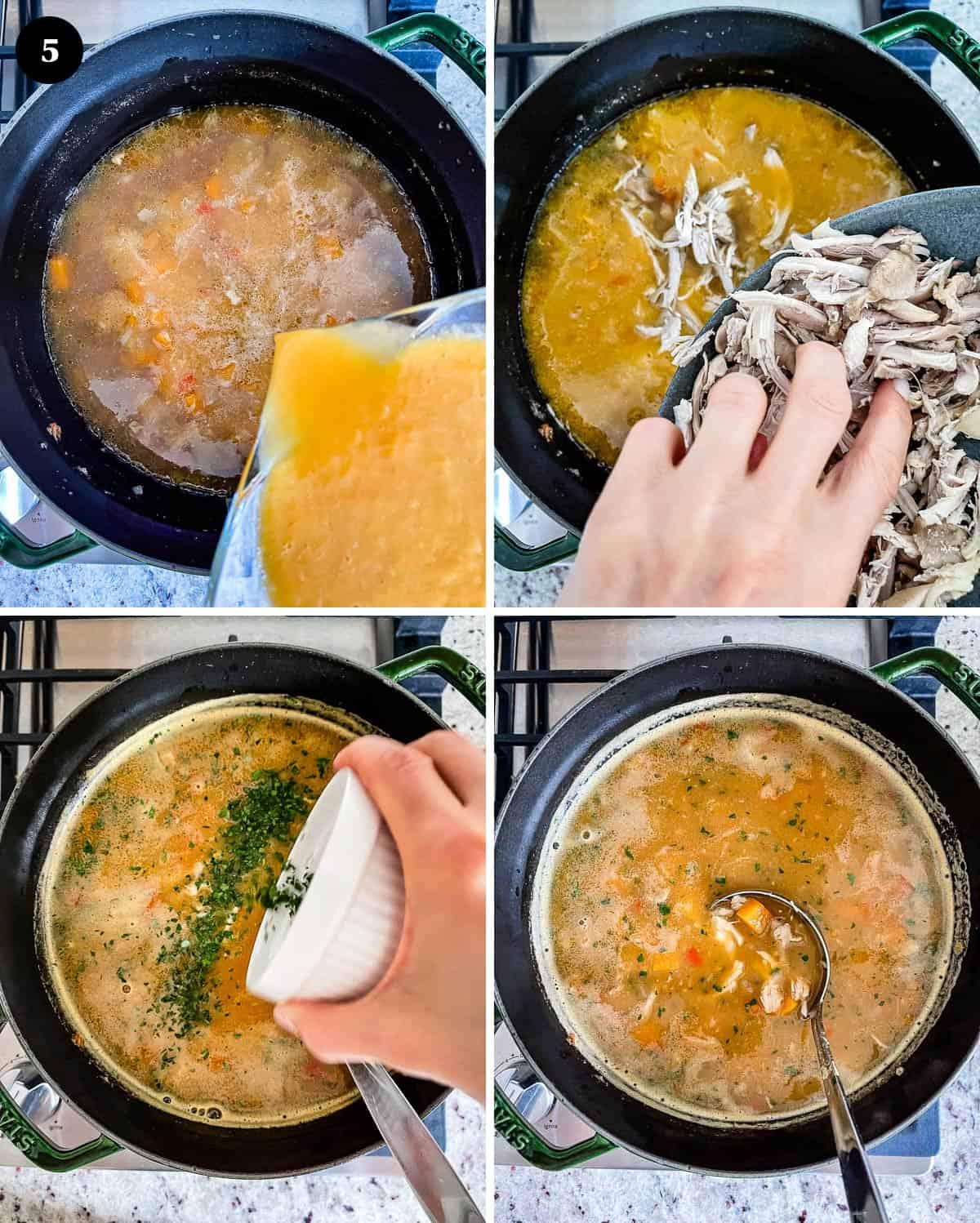 Finish: Carefully transfer the pureed soup back into the pot (be careful, it will still be hot!) along with the shredded chicken. Bring the soup to one last boil. Finish with lemon juice and parsley.
Garnish and serve: Ladle into bowls, top with pumpkin seeds and more parsley. Serve with lemon wedges on the side.
How to Store, Freeze, and Reheat Leftovers?
This Chicken squash soup stores beautifully in both the fridge and freezer. Just like so many soup recipes, the flavors get better the longer they have time to marry together. To store and reheat, simply:
Store: Cool completely and transfer to a large airtight container. Store in the fridge for up to 5 days.
Freeze: Cool completely and ladle soup into freezer-safe airtight containers, leaving some room at the top to allow for expansion. Freeze for up to 3 months.
Reheat: If frozen, thaw the soup overnight in the refrigerator. When ready to reheat, place a pot over medium heat, add the soup, and bring to a gentle simmer. Or, reheat individual servings in a microwave-safe bowl, covered, in 30-second intervals in the microwave. Stir each time in between and continue until warmed through.
What to Serve with this Butternut Squash Soup?
Butternut squash and chicken soup is a meal all its own, but I love to serve it with crusty bread or winter greens on the side to round it out as a complete meal. You could try:
Expert Tips
Save on time: The majority of the prep work comes from peeling and cubing the butternut squash, so if you are short on time, you can prep the vegetables the day before or buy pre-cut vegetables from the grocery store.
Blending is personal: I really want you to make this soup your own, so you can blend half the soup as I do in the recipe card, skip the blending altogether, or blend the entire soup for a creamy, thick consistency. Just make sure to remove the chicken prior to blending.
If you do not own an immersion blender, blend until smooth in a high-powered blender or food processor, or use a potato masher to puree it. However, keep in mind that when blending hot liquids, always make sure to fill no more than halfway, remove the measuring cap, and partially cover with a kitchen towel so the steam will be able to escape.
More about Zoup!
Zoup! was created by the founders of Zoup! Eatery, which served soup face-to-face to consumers for over two decades. In other words, they really know their soup! In addition to their expertise and knowledge, I always pick up a jar of Zoup! Broth (packaged in recyclable glass jars, by the way) whenever I get a chance because:
The Zoup! Good, Really Good® Broth lineup includes original and low-sodium chicken broths, veggie broth, seafood broth, and chicken and beef bone broths.
The broth is kettle-cooked in small batches using the freshest and finest ingredients.
It is low in calories, paleo-friendly, and completely free of artificial ingredients, preservatives, gluten, GMO's, fat, trans fat, and saturated fat.
Zoup! has also introduced Culinary Concentrates™, gourmet broth bases available in Chicken Bone Broth and Beef Bone Broth, plus Savory No Chicken Vegan Broth, offering a space-saving solution for home cooks.
And for when you crave soup but want something you can just heat and eat, Zoup! makes shelf-stable soups in nine flavor-forward recipes, including Chicken Potpie, Garden Vegetable, and Butternut Squash with Brown Butter and Sage.
If you are interested in learning more, visit ZoupBroth.com and follow @ZoupGoodReallyGood on Facebook, Instagram, and TikTok and @ZoupGoodReallyGoodBroth on Pinterest.
As a reader of Foolproof Living, Zoup! is offering 20% off your first order of Zoup! Products on Amazon. Use the code, 20FOOLPROOF at checkout (under the payment section.) The code is valid until November 6, 2023.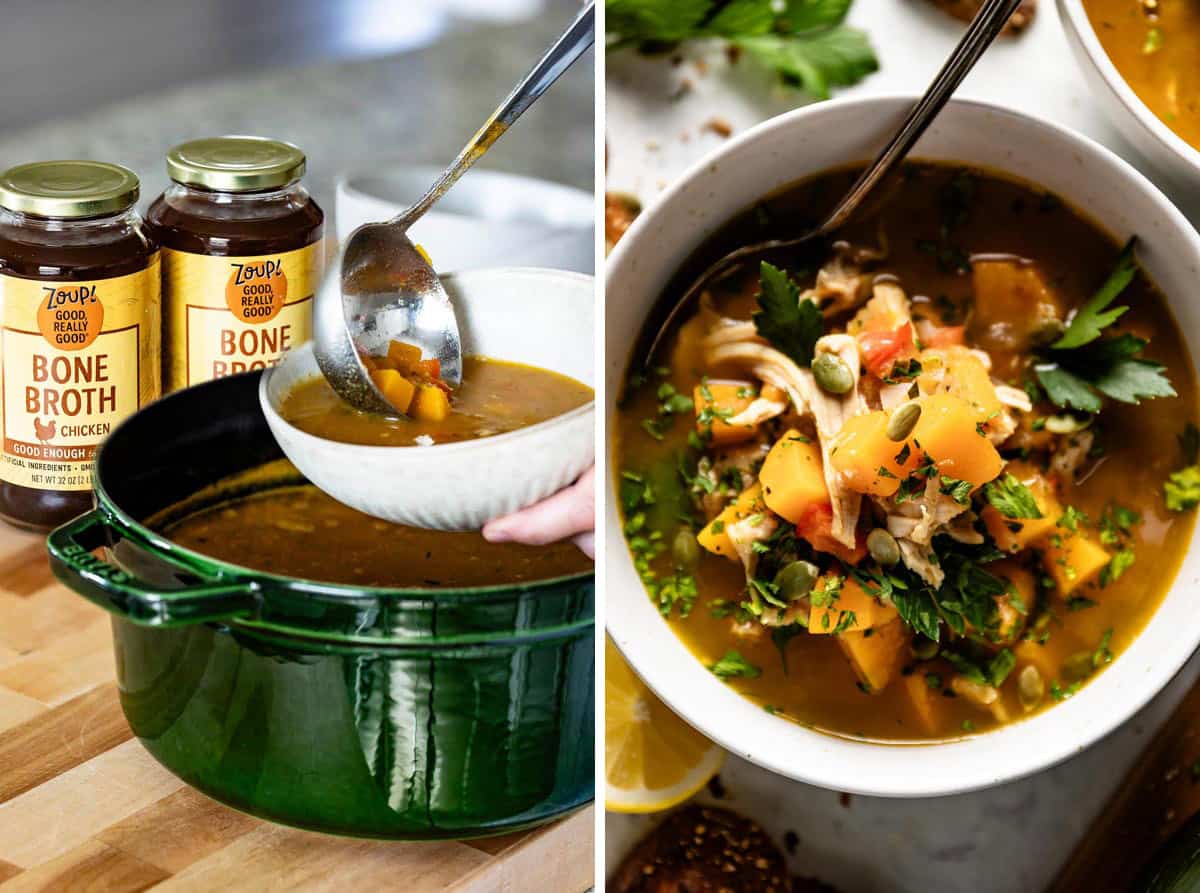 FAQs
What herbs go with butternut squash soup?
Hearty herbs such as rosemary, thyme, sage, and bay leaf add depth and herbal complexity, while fresh herbs like parsley, cilantro, basil, tarragon, and chives give it the finish of fresh flavor.
Can you use chicken broth in butternut squash soup?
Yes, both chicken broth and chicken stock can be used to make butternut squash soup. The delicate meaty flavor is a nice addition to an otherwise vegetarian soup.
Is butternut squash soup good when sick?
According to Healthline, butternut squash has many health benefits. It contains high amounts of powerful vitamins, minerals, and antioxidants, most notably vitamin A and vitamin C, making it an ideal choice to keep a sore throat at bay. So, yes, butternut squash soup is a good way to soothe yourself when you are feeling under the weather.
Do you need to peel butternut squash for soup?
We do recommend peeling butternut squash when making soup, as doing so will result in a creamy and smooth texture.
What protein goes with butternut squash soup?
Butternut squash pairs well with a variety of animal and plant-based protein resources. Chicken, beef, quinoa, and tofu are just a few to name.
Other Comforting Soup Recipes for Fall and Winter:
If you try this Chicken Butternut Squash Soup, please take a minute to rate the recipe and leave a comment below. It helps others who are thinking of making the recipe. And if you took some pictures, be sure to share them on Instagram using #foolproofeats so I can share them on my stories.
Chicken Butternut Squash Soup Recipe
Butternut Squash chicken soup combines the heartiness of chicken thighs with the warmth of homemade soup. Great for a chilly evening, this one-pot meal is both nourishing and flavorful.
Print Recipe
Ingredients
1

tablespoon

olive oil

1

medium onion

chopped (~2 cups)

1

medium red bell pepper

chopped (~1 cup)

1

teaspoon

ground cumin

4

cloves

garlic

minced or pressed

1

pound

boneless skinless chicken thighs

or chicken breasts

6

cups

butternut squash*

peeled and cut into cubes (2 pounds)

1

teaspoon

Kosher salt

more to taste

½

teaspoon

black pepper

4

tablespoons

lemon juice

2

tablespoons

fresh parsley

chopped, plus more for garnish

2

tablespoons

pumpkin seeds

optional, for garnish
Instructions
Heat olive oil in a large, heavy bottom pot over medium-high heat. Add in onion, pepper, and cumin. Cook, stirring occasionally, until vegetables are softened, 5-6 minutes.

Stir in the garlic and cook, stirring constantly, for 1 more minute.

Add in the chicken, cubed butternut squash, chicken stock, salt and pepper. Give it a stir.

Put the lid on and bring it to a boil. As soon as it comes to a boil, turn down the heat to low, put the lid back on, and let it simmer for 20-25 minutes or until the chicken is fully cooked. Feel free to stir it once or twice during the cooking process.

Using a slotted spoon, remove the chicken from the soup and shred it (or cut it into cubes). Set the now-shredded chicken aside.

Ladle 4-5 cups of the soup mixture into a large heatproof bowl. Using an immersion blender, blend until smooth.

Transfer the pureed soup back into the pot along with the shredded chicken. Taste for seasoning and add more if necessary.

Bring the soup to one last boil.

Stir in the lemon juice and parsley. Ladle into bowls, garnish with the additional parsley and pumpkin seeds (if desired), and serve with lemon wedges on the side.
Notes
Yields:

This soup makes 6-7 cups of soup, which is ideal for 6 servings. The nutritional values below are per serving.

Storage: To store leftovers, cool completely and transfer to a large airtight container. Store in the fridge for up to 5 days.
Squash: While we used butternut squash in this recipe, you can pretty much use any squash you have on hand, including pumpkin, acorn squash, kabocha squash, and even delicata squash.
Nutrition
Calories:
284
kcal
|
Carbohydrates:
28
g
|
Protein:
23
g
|
Fat:
10
g
|
Saturated Fat:
2
g
|
Polyunsaturated Fat:
2
g
|
Monounsaturated Fat:
5
g
|
Trans Fat:
0.01
g
|
Cholesterol:
78
mg
|
Sodium:
750
mg
|
Potassium:
1018
mg
|
Fiber:
4
g
|
Sugar:
8
g
|
Vitamin A:
15646
IU
|
Vitamin C:
63
mg
|
Calcium:
97
mg
|
Iron:
3
mg
Like this recipe? Consider sharing: