I don't know about you, but I am a big fan of cooking seafood during the week. I love that fish cooks faster than any other meat. Plus, it is healthier. Luckily, we have a great fishmonger in our small town that sells super fresh fish at affordable prices. Sometimes they even offer sales on the fish that is currently in season. Last week, cod was on sale so I picked up a few fillets to make this Breaded Fish Recipe.
I initially published this recipe back in 2016, but after testing it once again I thought it needed a facelift with a few new photos and helpful information. Since this is my go-to breaded baked fish recipe, I thought it would be nice to share some of my tips to help you if you want to give it a try in your own kitchen.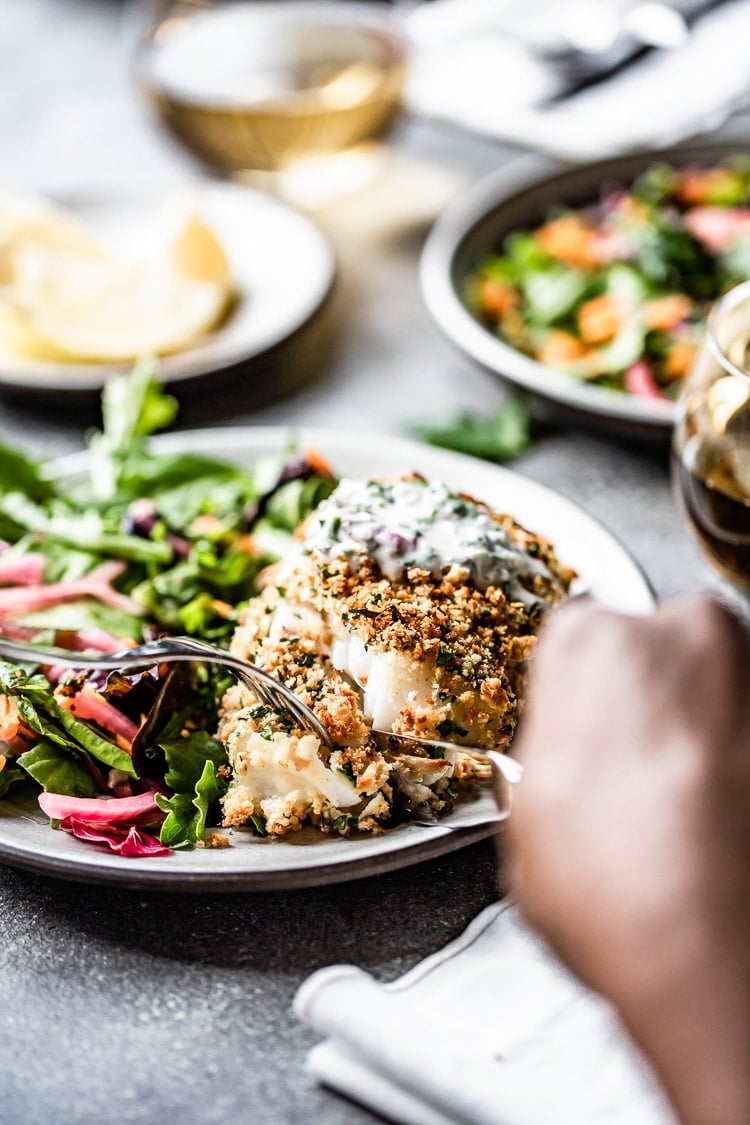 Before I talk about cooking cod in the oven, I want to mention that in the past I have also made this recipe with haddock and pollock and it worked beautifully.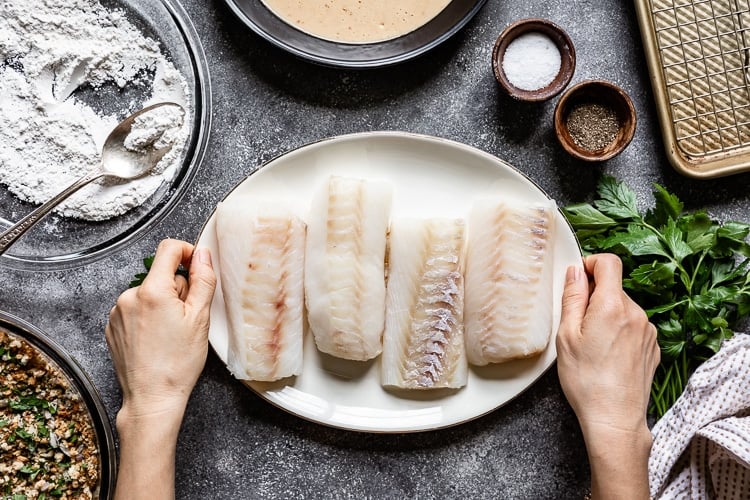 I picked cod here, because (1) it was on sale, (2) I love that it carries the flavoring agents (in our case, homemade fish breading) so well, and (3) it is so soft and flavorful after it is baked.
The important thing to pay attention while purchasing fish is to make sure that all of the fish fillets are in similar thickness so that they will bake evenly and at the same time.
How To Make Breaded Fish

?

This baked breaded fish recipe has 3 folds:
Prepare the breading: Prep the breadcrumbs, eggs, and flour
Bread the fish
Bake in the oven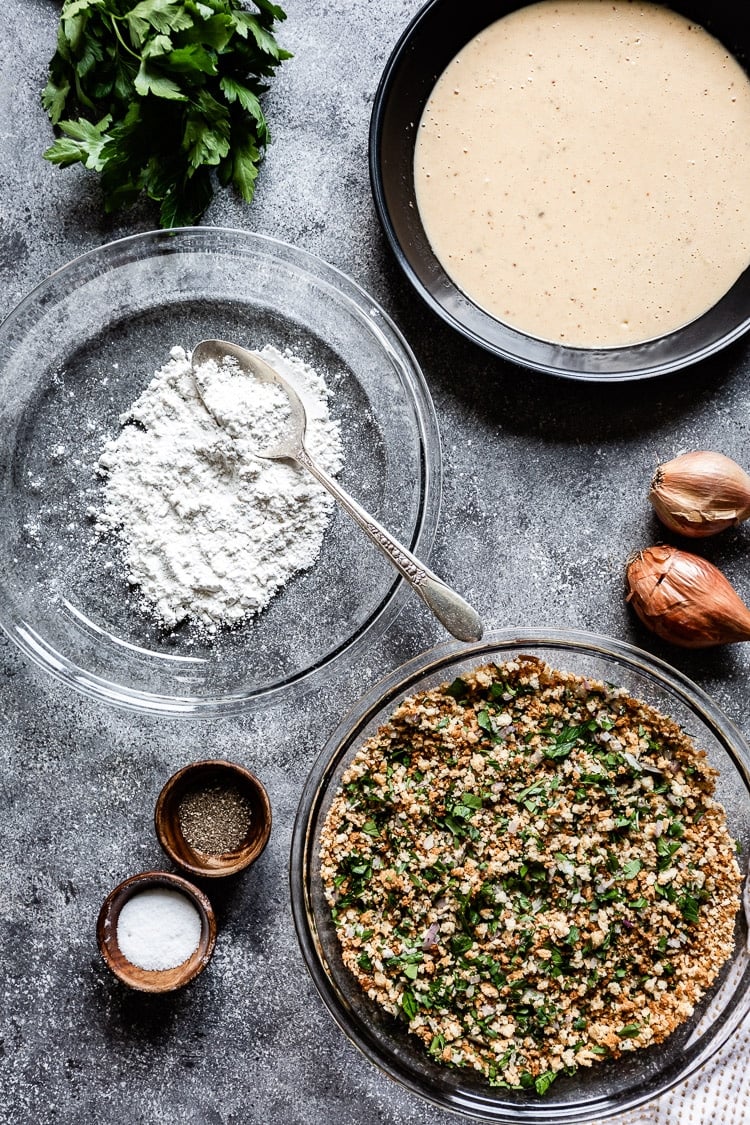 How To Batter Fish For Baking

?
Prepare and Bake the Breading
The first step to batter the fish is to make the homemade breadcrumb mix (aka the "crunchy" part of the recipe). To prepare the breadcrumbs for fish fillets:
Pulse some white sandwich bread (whole grain bread would work too), melted butter, minced shallot, garlic, and fresh parsley in your food processor.
Spread the mixture onto a parchment-lined sheet pan and bake it for 10-12 minutes for all the crunchy goodness. Let it cool for a few minutes and transfer onto a shallow dish.
Now, I know that it might look like an extra step to get the food processor out and turn the oven on, but I promise you that it is worth it. I found that this is the best way to infuse the delicious flavors coming from the shallot, garlic and butter into the fish.
Prep Flour, Egg Mixture and Baking Pan
Next step is to prep the fish for breading. As in all breaded fish recipes, it is imperative to make sure that your fish is as dry as possible. I usually pat-dry fish fillets throughly using paper towels.
Once your fish is ready, start the breading process. To do so:
Prepare the breading ingredients: Fill a shallow plate (i used a 9-inch pie plate) with flour and another one with eggs mixed with mayonnaise, paprika, and cayenne (optional).
Get your sheet pan set up ready: Before you start breading your fish, I highly recommend getting your sheet pan ready. In order to ensure even baking, I place an oven safe cooling rack that is lightly sprayed with oil spray. Using a cooling rack lets air to circulate all around the fish and ensure even baking.
Though I can't guarantee that same kind of crunch, you could still make this recipe without it. However, I find that using an oven-safe cooling rack is a great tool when you want to crisp breaded meat and vegetables without drying them in the oven. The one I use is this Oven Safe, Heavy Duty Stainless Steel Baking Rack & Cooling Rack (affiliate link). If you need more convincing, check out this oven-baked chicken parmesan recipe.
Now that you have your flour, egg mixture, homemade fish breading, and baking sheet ready, we can start breading our cod fillets.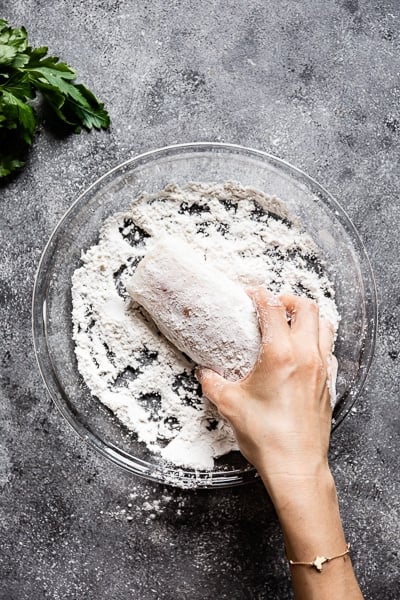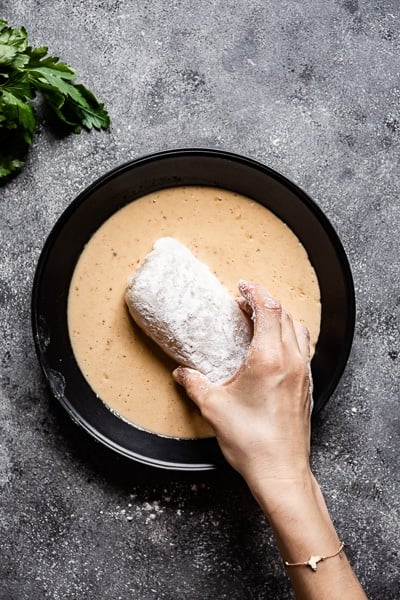 How To Bread Fish

?

There are 4 steps to breading the fish:
Dredge it in flour on all sides.
Dip it in the egg mixture.
Coat it well with the fish breading mix that you prepared earlier
Place on the baking sheet inserted with the oven-safe cooling rack
Repeat the same steps for the other fillets before baking.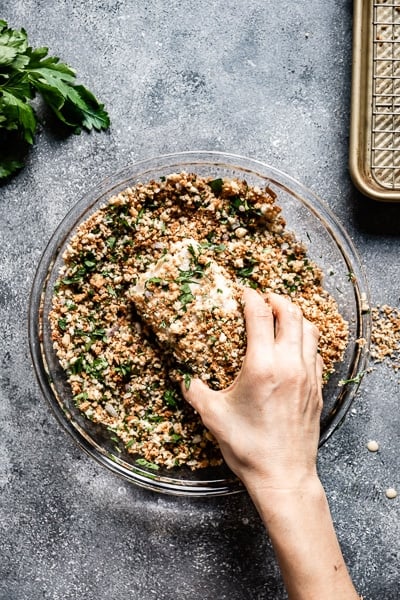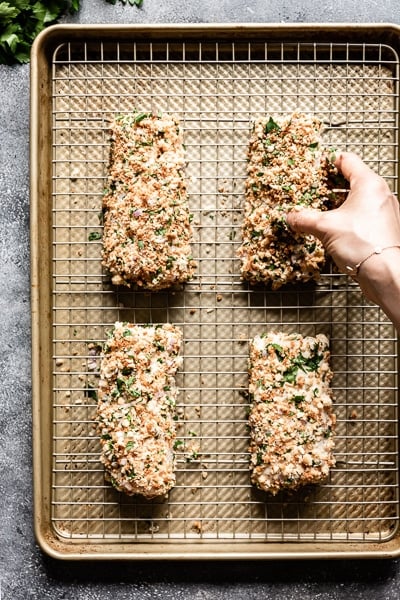 How Long Do You Bake Breaded Fish

?

It takes 20-25 minutes at a 425 F degree oven for breaded fish fillets to cook. The breading turns golden brown as it bakes, which is a good sign of doneness.

However, for foolproof testing, I recommend using a thermometer. Your breaded baked fish is ready when it registers 140 F degrees when inserted in the middle of one of the fillets.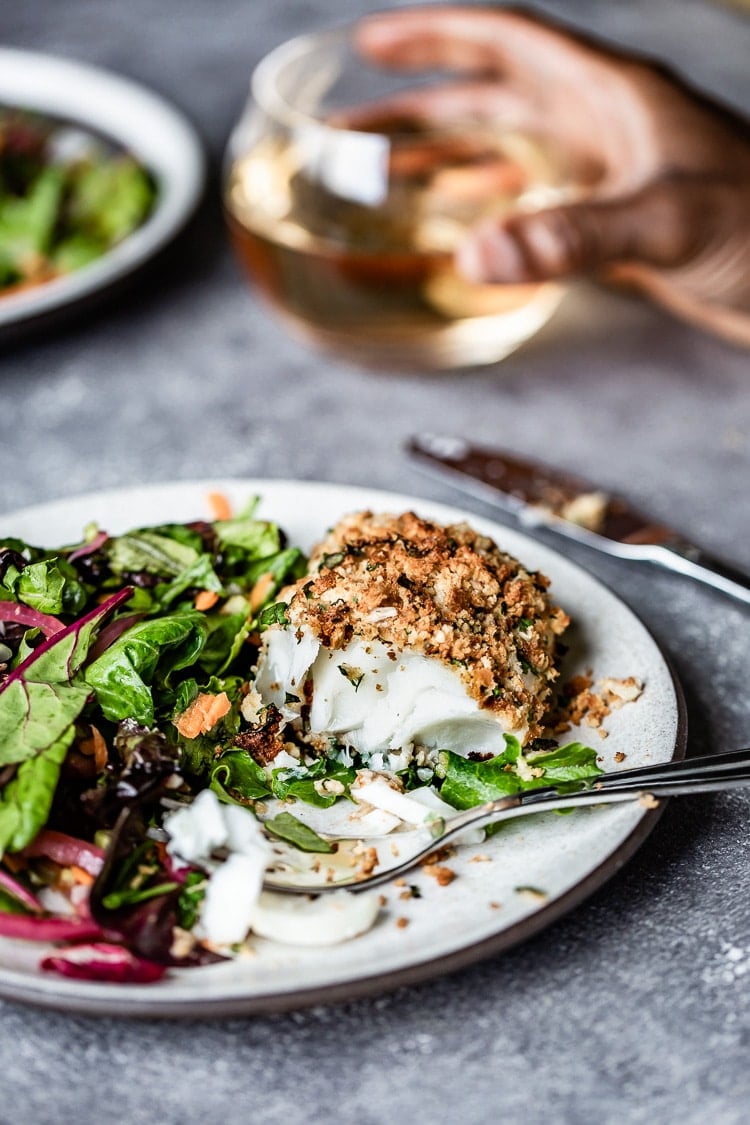 Best Way To Serve This Breaded Fish Recipe
I served my baked cod with wedges of lemon, a big green salad (or any other one of my salad recipes would also work), and a glass of crisp Chardonnay. However, using this recipe you can make breaded fish tacos and serve your fish in corn tortillas (if you need a recipe – here is my Homemade Corn Tortilla recipe) along with guacamole and salsa.
How To Reheat Breaded Fish

& How To Store?

Leftovers will still be fresh on the next day as long as they are kept in an airtight container in the fridge.

To reheat breaded fish, pre-heat the oven to 325 F Degrees, cover a sheet pan with parchment paper, place the fish on the pan and lightly spray the top with oil spray. Bake until it is thoroughly warm, usually 7-10 minutes.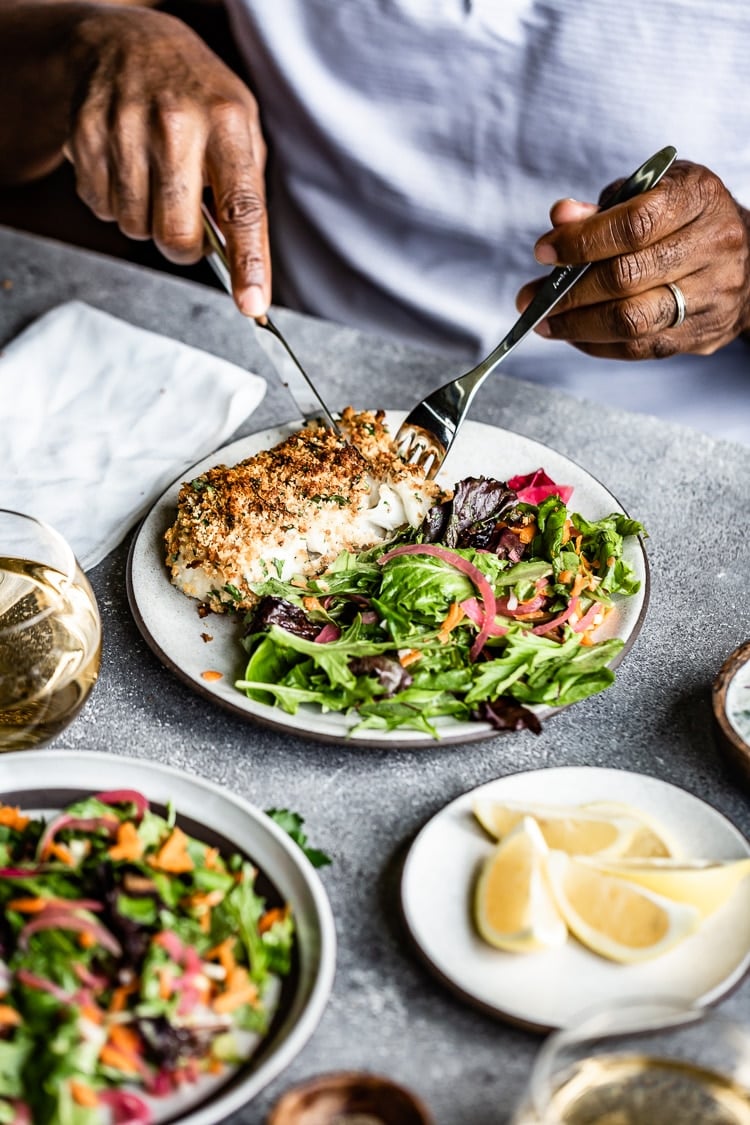 I know some of you might think you can't beat the deliciousness of fried breaded fish. While I, too, am a big fan of fried food, I also argue that the taste of this baked version is just as good.
Plus, in my humble opinion, the convenience and ease when it comes to cleaning are by themselves good reasons to give this healthier version of the breaded fish recipe a try.
Other Seafood Recipes You Might Like:
Breaded Fish Recipe (Baked In The Oven)
My "foolproof" recipe for Baked Crunchy Breaded Fish Recipe with all my tips and tricks. While I used cod as my breaded fish fillet, this exact recipe also works with haddock as well. The "crunchy" part of the dish comes from the homemade fish breading made with breadcrumbs flavored with shallots, garlic, and fresh parsley. It all comes together in less than an hour and is a healthy fried fish recipe that you can serve to everyone in your family.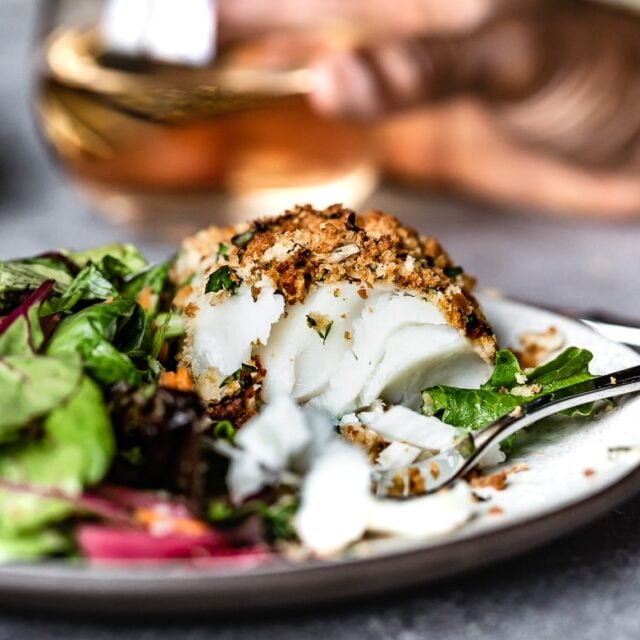 Print Recipe
Ingredients
4

large slices white sandwich bread

torn into smaller pieces

2

tablespoons

unsalted butter

melted

½

teaspoon

Kosher Salt

¼

teaspoon

black pepper

2

tablespoons

Italian Parsley

chopped

1

small shallot

minced

2

cloves

of garlic

minced

¼

cup

plus 5 tablespoons all purpose flour

divided

2

large eggs

3

tablespoons

veganaise or mayonnaise

½

teaspoon

paprika

¼

teaspoon

cayenne pepper

(optional)

1 ¼

pounds

4 pieces skinless cod fillet, or other thick white fish fillet, 1 to 1 1/2 inches thick

Lemon wedges

to serve with
Instructions
Pre-heat the oven to 350 degrees.
Prepare the breading set up for fish fillets:
Pulse bread, butter, ¼ teaspoon salt and ¼ teaspoon pepper in a food processor 8-9 times. Transfer it onto a baking sheet and bake until golden brown 12-13 minutes, stirring twice during the baking process. Let it cool on the counter for 10 minutes. Transfer crumbs into a pie plate and stir in the parsley, shallot, and garlic. Set aside. Increase the oven temperature to 425 degrees.

Place ¼ cup flour into a second pie plate and set aside.

Whisk together the eggs, veganaise, paprika, and cayenne pepper in a third pie plate. Stir in the flour into the egg mixture and whisk until thoroughly combined.

Spray a wire rack with non-stick cooking spray and place it inside a baking sheet. Dry fish fillets thoroughly with paper towels.
Bread the fish one by one:
First, dredge a fish fillet in flour; shake off excess. Second, dip it in the egg mixture. Lastly, coat all sides of the fish with the bread-crumb mixture. Gently press to make sure that crumbs adhere to the fish. Place the breaded fish on wire rack.

Repeat the same process for the other 3 fillets.
Bake and serve:
Bake breaded fish fillets for 18- 25 minutes or until it register 140 degrees when inserted with an instant thermometer.

Serve with lemon wedges on the side.
Video
Notes
How to store and reheat leftovers for breaded fish fillets? Leftovers will still be fresh on the next day as long as they are kept in an airtight container in the fridge.
To reheat breaded fish, pre-heat the oven to 325 F Degrees, cover a sheet pan with parchment paper, place the fish on the pan and lightly spray the top with oil spray. Bake until it is thoroughly warm, usually 8-12 minutes.
Nutrition
Calories:
326
kcal
|
Carbohydrates:
21
g
|
Protein:
32
g
|
Fat:
12
g
|
Saturated Fat:
5
g
|
Cholesterol:
160
mg
|
Sodium:
603
mg
|
Potassium:
676
mg
|
Fiber:
1
g
|
Sugar:
2
g
|
Vitamin A:
590
IU
|
Vitamin C:
6
mg
|
Calcium:
105
mg
|
Iron:
2
mg
This recipe is adapted from a recipe in America's Test Kitchen with minor changes.
Like this recipe? Consider sharing: