I received Sockeye Salmon from Copper River Salmon to create this recipe. As always, all opinions are mine.
It is getting cold up here in Vermont. The leaves are all gone, the weather is frigid and the holiday season is coming. With that in mind, I am always looking for healthy recipes I can toss together easily, but that are filling and comforting at the same time.
That brings us to this Salmon Nicoise Salad. It's just what I need after a long, brisk walk in the cold Vermont air. And makes me feel as if I'm on the mountain tops of France.
I love to serve this easy salmon salad warm, right from the oven. But it makes a beautiful cold spring and summer salad, too. All you need is a chilled glass of white wine and you'll feel like your in the countryside of France! Bon Appetit!
What Does Nicoise Mean?
The Nicoise definition is the French word for "in the style of Nice." In other words, it is any dish that is made in the cooking style of Nice, which are recipes that predominantly feature black olives, tomatoes, and anchovies.
What is Nicoise Salad?
Nicoise salad (sometimes spelled nissua or niswa) is a dish that originated from Nice, France. It is traditionally made with tomatoes, Nicoise olives, anchovies and dressed with olive oil. Today, we are making the Nicoise salad with a bit of our own personal touch.
Salmon Nicoise/Niswa Salad Ingredients
The ingredients for the Salmon Nicoise recipe comes in 3 parts: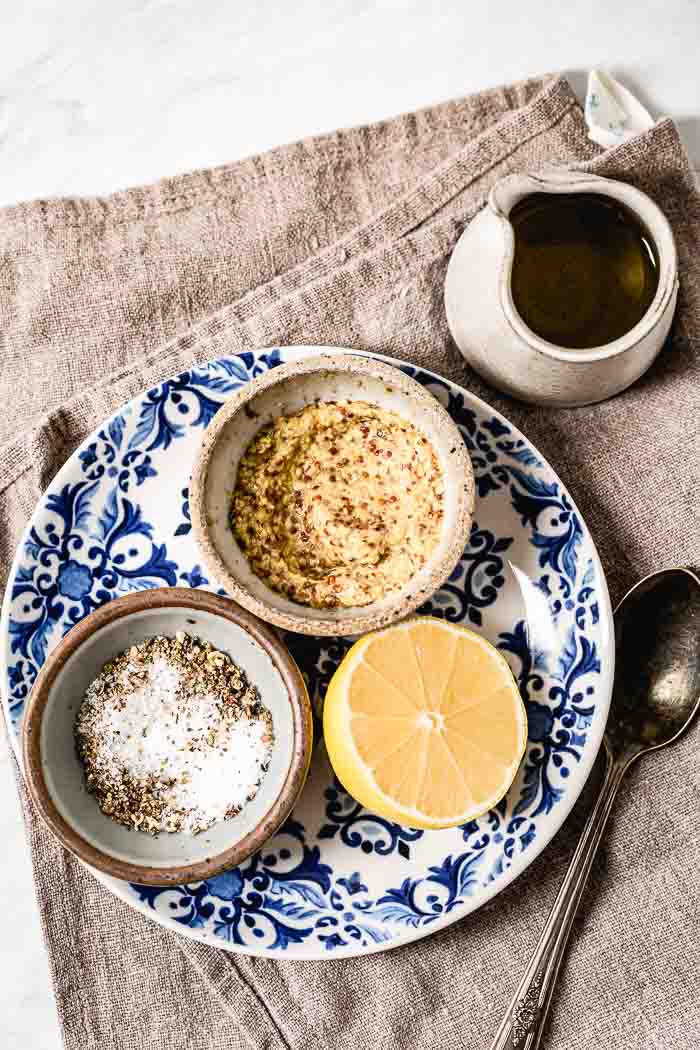 Dressing
Olive Oil: Fruity, Extra-Virgin Olive Oil is best for any and all salad dressings.
Dijon Mustard: Either regular or Country Dijon mustard work. I prefer the Country Dijon because it includes whole mustard seeds and adds a bit of texture.
Lemon Juice: Use freshly squeezed lemon juice for the best flavor. You will need 1 lemon for the salad dressing recipe (plus 1 more for the salmon, but more on that later).
Kosher Salt and Pepper: Season according to the recipe, then taste and adjust accordingly. Remember, the dressing will be tossed with the remaining ingredients, so make sure to taste by dipping with a green bean or two.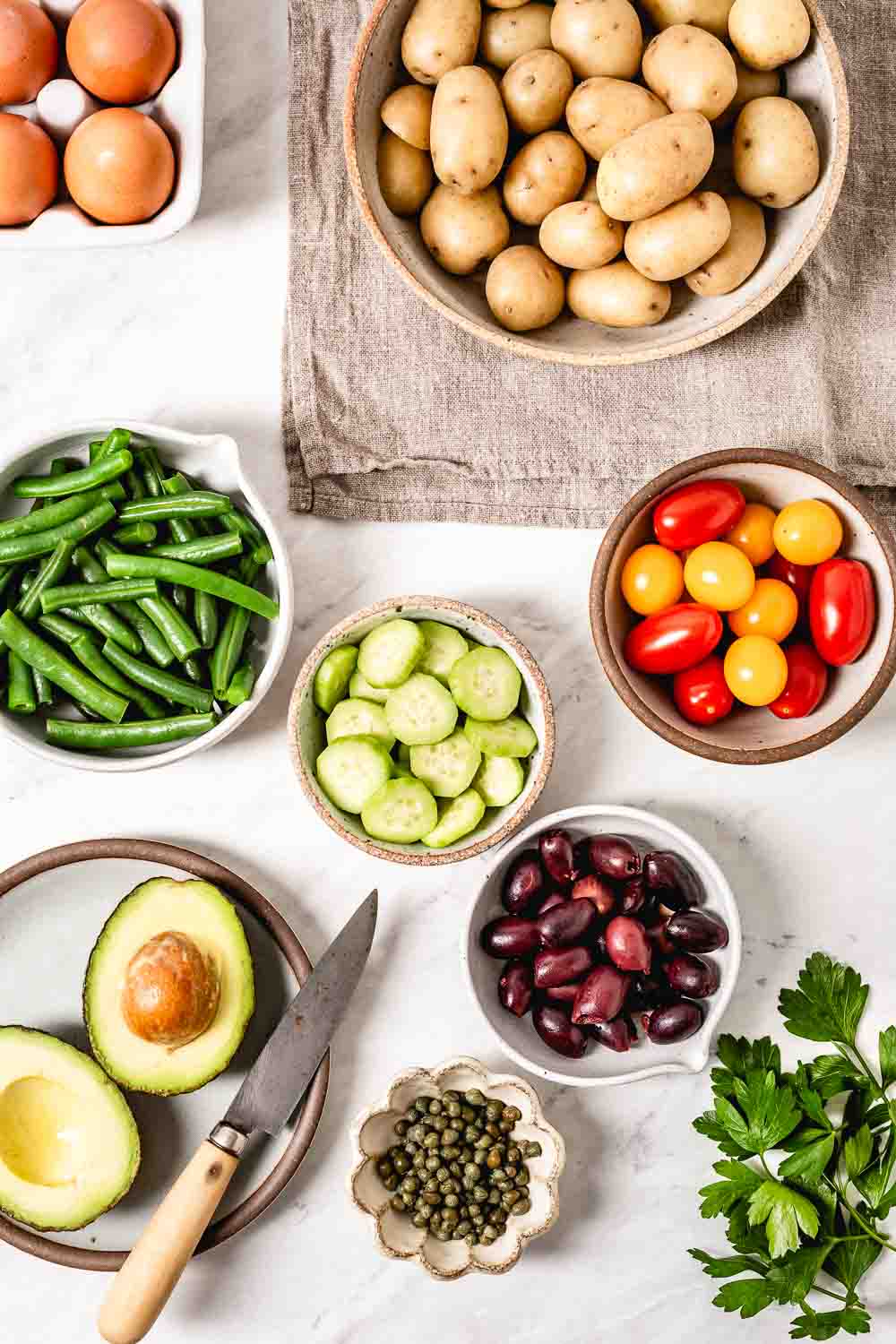 Nicoise Salad
Baby Potatoes: Baby Yukon Gold or a mix of Baby New Potatoes work wonders. If you find some of your potatoes are much larger than others, simply slice them in half so they all cook evenly.
Eggs: This is the fun part. My preferred method is Barefoot Contessa's Hard Boiled Eggs (which I use to make my Avocado Deviled Eggs) since it works every time. However, if you want a runny yolk, follow Budget Byte's 6-Minute Egg for a soft, golden center.
PRO TIP: If you go the soft-boiled egg route, omit from topping onto the salad and add on the side when ready to serve. If you toss it all together, you will lose half the yolk to the remaining salad ingredients.
Green Beans: Trim the ends of the fresh green beans and cut in half for a more elegant presentation. If you want to go all-out French, use Haricot Verts. These are thinner, French green beans that are a bit more tender. Shorten the cooking time to 2 minutes to avoid overcooking.
Persian Cucumber: Small but crisp and fresh, it adds a subtle, crunchy bite to the Nicoise salad.
Cherry Tomatoes: I don't know what it is about cherry tomatoes, but they always seem to be bright red and beautiful, even in the middle of winter. Cut in half to release their juices.
Kalamata Olives: Since Nicoise olives can be hard to find, the more popular Kalamata olives are the perfect substitute. Purchase pitted Kalamatas and roughly chop at home.
Avocado: Another untraditional ingredient, but one I think brings so much creamy, luscious flavor. It is optional, but you get all the benefits of those healthy fats, too!
Capers: Salty, briny and bursting with flavor, capers add that extra special touch. You can omit them, of course, but trust me when I say, they bring so much flavor to this salad! Use either salt-packed capers, which need to be rinsed, or capers soaked in vinegar, which need to be drained, before mixing.
Parsley: Fresh and green, it's the perfect finishing touch.
Salmon
We are so fortunate to live in a town with a great fishmonger that bring most of its fish from the Massachusetts area. However, the salmon I used in this niçoise salad came from Copper River, all the way in Alaska.

You might know the folks behind Copper River Salmon from their Instagram account, where they share the most beautiful Alaska views every day. Located in the South-East of Alaska, Copper River Prince William Sound Marketing Association is a non-profit that presents 540 fishing families and helps them share their stories and salmon with the world.
They are proud to handle the journey of their salmon with extreme care from the net to the plate. Lucky for us, they were so generous to send me Sockeye salmon (also known as Red Salmon). This variety of salmon is in season during this time of the year. It is robust and rich in flavor, which makes it versatile for any cooking method. If you can get your hands on it, be sure to try it because it is SO good.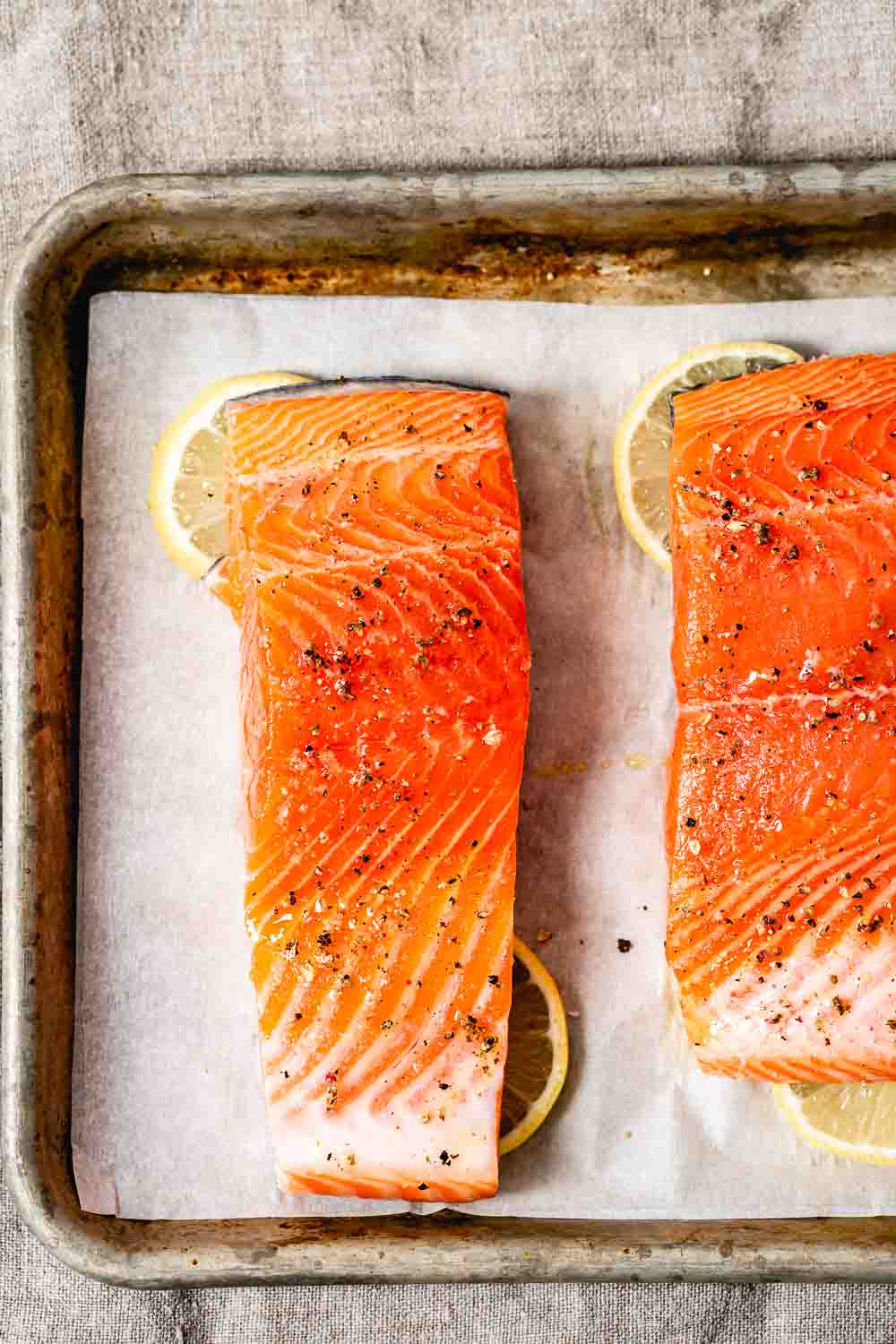 Center-Cut, Skin-On Salmon Fillets: If you can't get your hands in Sockeye Salmon, I recommend purchasing the highest quality that you can get from your local fish market. When you have salmon fillets that are of exceptional quality, you don't have to worry about undercooking it by a few minutes. We will talk more about how to cook salmon in a bit!
Olive Oil: Use the same Extra Virgin Olive Oil you used to make the dressing.
Kosher Salt and Pepper: Season according to the recipe. You can always add more salt and pepper at the very end if needed.
Lemon: The lemon adds an aromatic flavor and acts as a bed for our salmon fillets. Thinly slice about ½ inch thick and place the fillets right on top. The lemon juice naturally soaks into the salmon as it cooks – yum!
How to Make Nicoise Salad Dressing Recipe
Make the traditional dressing for salad nicoise by placing all the salad dressing ingredients in a small mason jar and give it a good shake. Set it aside until ready to use. You will need to shake up the salmon salad dressing once more before tossing, as the lemon juice and oil will separate.
How to make Salad Nicoise
The Niçoise salad ingredients can be prepared in 3 folds.
First, prepare the potatoes by placing them in a medium pot. Cover with enough cold water by an inch, stir in 1 Tablespoon Kosher salt and bring to a boil over medium heat. Reduce to medium-low heat and cook the potatoes until knife tender, 20-25 minutes. Remove the potatoes from the pot with a slotted spoon, dress with half the salad dressing and do not discard the water.
Second, turn the heat back up to medium-high and place the green beans in the hot potato water for 3 minutes (2 minutes for haricot verts). Drain and set aside.
Third, prepare the eggs by placing them in a small saucepot. Add enough cold water to cover. Bring the water to a boil and immediately turn off the heat. Let the eggs sit in the pot for 12-15 minutes. Transfer the eggs to a bowl with a slotted spoon and cool slightly. Crack each egg on all sides, peel and set aside.
How to Cook Salmon For Salad
The best salmon salad can be made by following the low and slow cooking method. Preheat the oven to 300 degrees, line a baking sheet with parchment paper and place the lemon slices in two sections on the baking sheet where the fillets will go.
Pat the entire surface of the salmon fillets with paper towels (this soaks up any excess moisture and creates a better exterior), brush lightly with olive oil and season with salt and pepper. Bake 13-15 minutes, or until the thickest part of the salmon registers 125 degrees on an instant-read thermometer. The time will vary depending on the thickness.
Alternatively, if you have an air frier, try this Salmon in the Air Fryer recipe.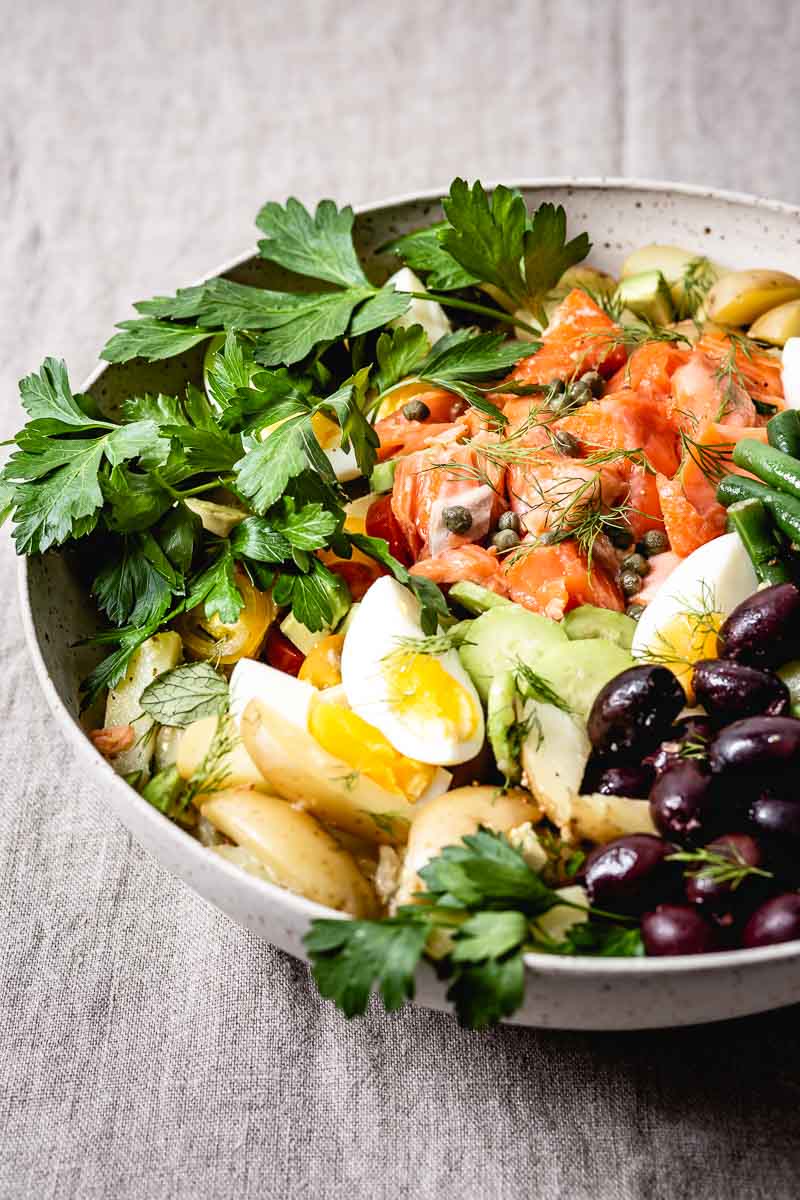 How to Assemble Salmon Nicoise Salad
A French Nicoise salad is technically a composed salad, where each individual ingredient is placed on the plate in its own section. However, I feel this takes away from the texture and flavors you get when you mix it all together.
To assemble, drizzle half of the dressing over the potatoes while they are still warm (this helps them to absorb more flavor). Then, mix in the green beans, cucumbers, tomatoes, olives, avocado, and capers. Use two forks to break apart the cooked salmon into smaller, bite-sized pieces and place on top of the salad.
Slice the eggs, add them to the bowl, drizzle with the remaining salad dressing, garnish with parsley and enjoy!
What to Serve with Salad Nicoise?
Since it is a complete meal all on it's own, all this salmon Nicoise salad needs is a chilled glass of white wine to wash it all down.
How Many Calories in a Nicoise Salad?
The Nicoise salad calories are somewhat low (for such a gorgeous meal), coming in at only 406 calories per serving. I'd say that's a light and wonderful weeknight meal.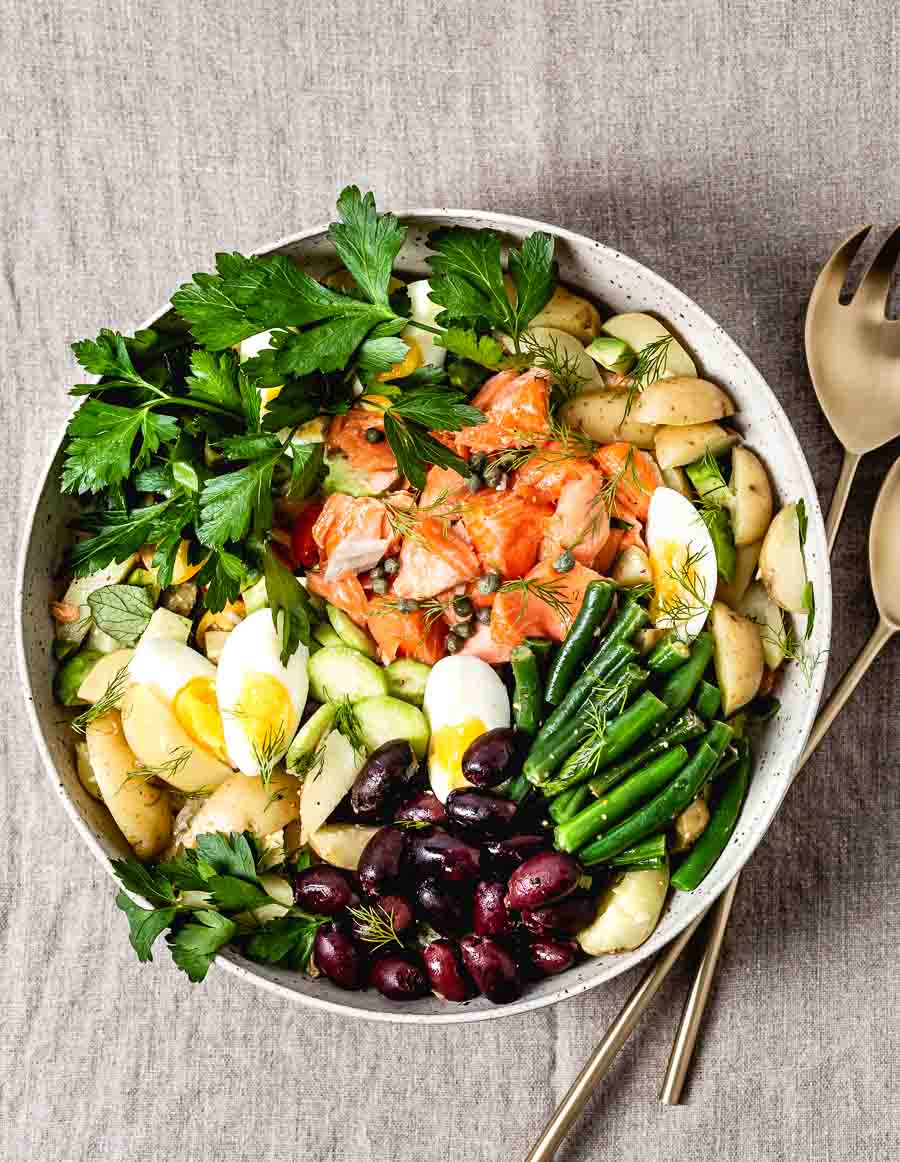 Take This Salmon Salad Up A Notch
There are a number of tips and tricks to take this traditional Nicoise salad up a notch:
Serve a warm salmon Nicoise salad during the fall and winter months for a comforting meal.
Follow Gordon Ramsey's method and make a warm salmon salad with crispy potatoes by lightly sauteeing the boiled potatoes and green beans in 1 Tablespoon olive oil before tossing with the remaining ingredients. To do so, place a large nonstick skillet over medium heat. Heat 1 tablespoon oil, add potatoes and cook turning until they are lightly brown and crispy. Right before you are done, add in the green beans and saute until they are lightly browned, 30-45 seconds. Add in all the other ingredients for an out-of-this-world niçoise salad.
Alternatively, follow Jamie Oliver and serve it as a cold salmon salad with vinaigrette by placing it in the fridge for at least 1 hour before serving during the spring and summer.
A Few Tips For The Best Salmon Nicoise Salad:
For even more flavor-punch (and to follow the traditional method), add 1 teaspoon minced anchovies to the salmon Nicoise salad dressing.
Want a creamy Nicoise salad dressing? Add 1-2 Tablespoons creme fraiche to the salad dressing for a silky, tangy bite.
During the spring and summer, add even more fresh produce such as sliced sweet bell peppers, blanched green peas, basil, and tarragon.
Other Salmon Recipes You Might Like
Salmon Salad – Made with Chopped Salmon by Primavera Kitchen
Other Seafood Recipes You Might Also Like
Salmon Nicoise Salad Recipe
This Salmon Nicoise salad recipe is a main-dish salad that is perfect for a weeknight meal. Packed with crispy vegetables, briny olives, and homemade mustard olive oil vinaigrette, it is not only delicious but also visually pleasing.
Print Recipe
Ingredients
For The Dressing:
¼

cup

olive oil

1

tablespoon

Dijon mustard

3

tablespoons

of lemon juice

freshly squeezed

1

teaspoon

kosher salt

½

teaspoon

ground black pepper
For The Nicoise Salad:
1

pound

baby potatoes

rinsed

4

large eggs

½

pound

green beans

ends removed cut in half

1

Persian cucumber

peeled and cut into cubes

½

cup

cherry tomatoes

halved

½

cup

Kalamata olives

pitted and roughly chopped

1

avocado

sliced (optional)

1

tablespoon

capers

optional

¼

cup

chopped parsley
For the Salmon:
2

center-cut and skin-on salmon fillets –

~9-10 oz. each

1

tablespoon

olive oil

1

teaspoon

kosher salt

½

teaspoon

ground black pepper

1

lemon sliced

½-inch thick
Instructions
Start by making the dressing. To do so, place all dressing ingredients in a jar, put the lid on, and give it a vigorous shake. Set it aside.

To cook the potatoes: Place them in a medium-sized pot and add in water just enough to cover them by an inch. Stir in 1 tablespoon kosher salt. Bring it to a boil over medium-high heat. Then turn down the heat to medium-low and cook until a knife inserted into a potato comes in and out easily 20-25 minutes. Remove the potatoes from the pot with a slotted spoon and place them in a bowl. Do not discard the water just yet. We will cook the green beans in it. 

To par-cook the green beans, place them in the hot potato water and cook for 3 minutes until they are softened but still crunchy.  Drain and set them aside.

Cook the eggs while potatoes are cooking. ** To do so, bring 1-inch water to a boil in a small saucepan over high heat. When it comes to a boil, add in the eggs (right out of the fridge is fine). Put the lid on and cook for exactly 7 minutes. Meanwhile, prepare an ice bath by filling up a bowl with cold water and ice. After 7 minutes are completed remove eggs from the pot and place them into the ice bath to stop cooking. When they are cool enough to handle (5-7 minutes later), peel them and set aside. 

To roast the salmon: Preheat the oven to 300 F degrees. Line a baking sheet with parchment paper and set aside. Using a sheet of paper towel, pat-dry the salmon fillets. Brush them lightly with olive oil and season with salt and pepper on each side. Place fillets onto the baking sheet skin side down. Arrange two slices of lemon underneath each salmon fillet (as shown in the photos.) Bake for 13-15 minutes in the oven or until it registers 125 degrees when the thickest part of the fish is inserted with an instant thermometer.

To assemble the salad: 

Drizzle half of the dressing over the potatoes while they are still hot so that they can absorb some of it. Add in reserved green beans, cucumber, tomatoes, olives, sliced avocados, and capers into the bowl. 

Using two forks, gently break apart the now-cooked salmon into smaller (bite-sized) pieces. Place it on top of the salad.

Slice the eggs and add them to the bowl.

Drizzle the salad with the rest of the salad dressing. Garnish with parsley and serve.
Nutrition
Calories:
371
kcal
|
Carbohydrates:
21
g
|
Protein:
18
g
|
Fat:
25
g
|
Saturated Fat:
4
g
|
Cholesterol:
140
mg
|
Sodium:
1093
mg
|
Potassium:
927
mg
|
Fiber:
6
g
|
Sugar:
3
g
|
Vitamin A:
606
IU
|
Vitamin C:
29
mg
|
Calcium:
56
mg
|
Iron:
2
mg
Like this recipe? Consider sharing: