This Sesame Crusted Seared Ahi Tuna Salad recipe is an adaptation from this Asian Tuna Salad that was published back in 2013. I also like to think of it as a fancier tuna recipe when compared to the classic Tuna Melt Sandwich or Chickpea Tuna Salad.
An original Barefoot Contessa recipe, it is one of our favorite salads. Since a lot of people loved the Salmon Nicoise Salad I published a while back, I thought it would be fun to share our other favorite seafood dinner, Sesame Tuna Salad.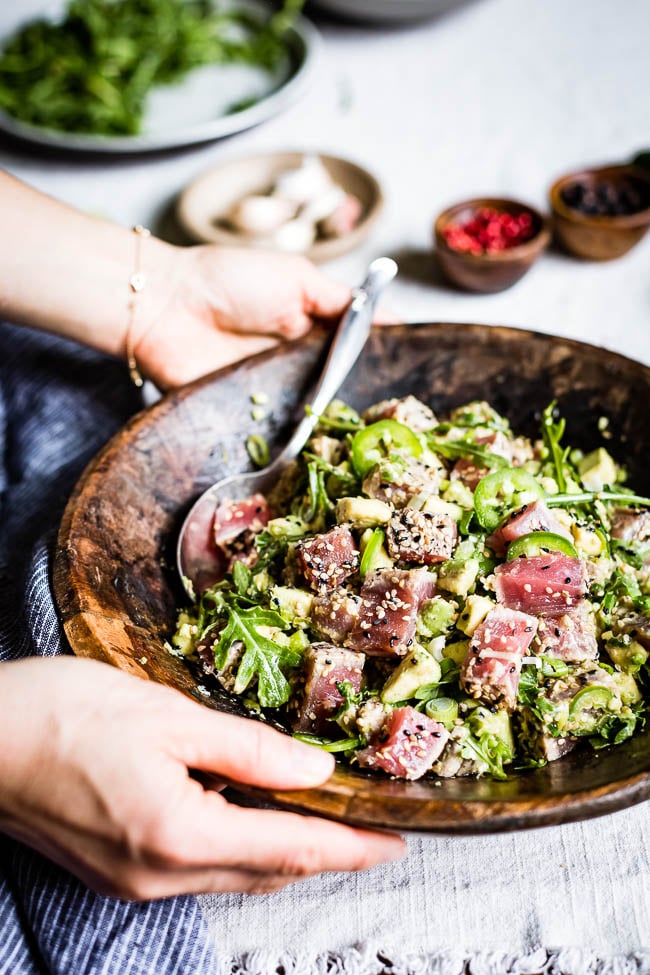 Since one of my goals for this year is to incorporate more seafood recipes into my diet, it was time to recreate a classic.
So the other day when I saw these beautiful yellowfin tuna steaks at our local supermarket, I thought this would be the perfect opportunity to revisit this recipe. However, this time, with a little more detailed information on how to pick the freshest tuna and a fresh and flavorful recipe.
Ingredients for Asian Ahi Tuna Steak Salad Recipe
The ingredients you need to make this tuna steak salad come in three parts – the Asian dressing, the sesame-crusted tuna, and the mixed greens.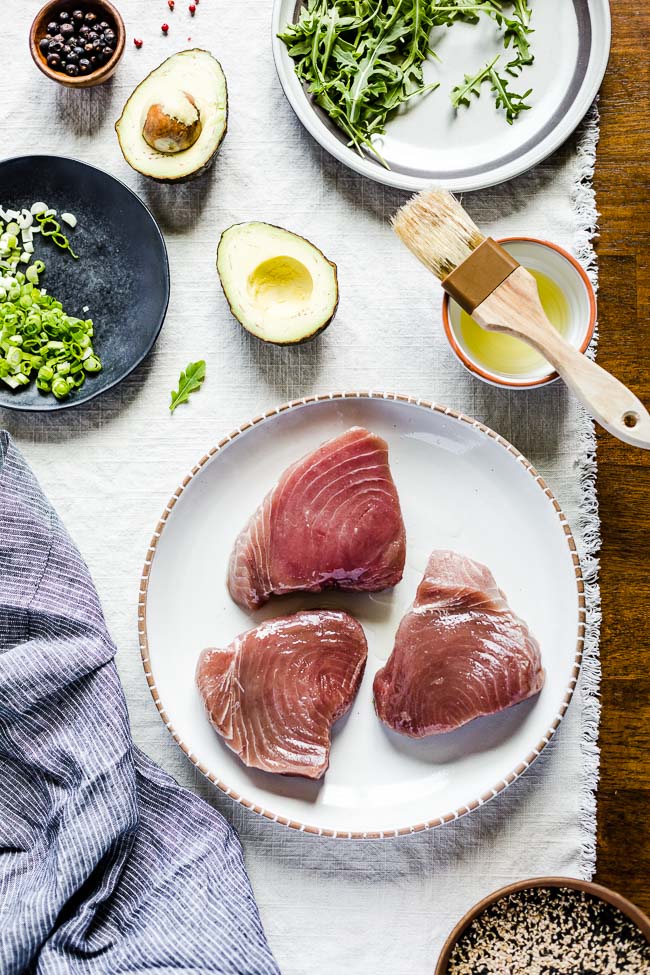 The Dressing: For the Asian seared tuna salad dressing, you will need zest and juice of two limes, soy sauce, Sriracha, garlic and olive oil.
PRO TIP: Make sure to zest the limes with a Microplane before you juice them (a step I sometimes forget). It's much easier to zest the rind of a whole lime rather than one that has already been cut in half and squeezed.
The Ahi Tuna: For the sesame-crusted tuna, gather together the tuna steaks, kosher salt, black pepper, and black + white sesame seeds.
The Salad Ingredients: Then, prep the salad ingredients including baby arugula, avocado, scallions, and jalapeno.
A Word on Yellowfin (Ahi) Tuna:
I would love to take a moment and talk about what ahi tuna is before we talk about how to season, cook, and serve it in this sesame seared tuna salad recipe.
There are a number of tuna varieties, but the one we are cooking today is yellowfin (also known as ahi) tuna. This is an important distinction as tuna varieties vary in taste, texture, and fat content (the reason why some tuna fish are better for canning, whereas others are better for sushi or searing).
Yellowfin tuna is less expensive when compared to bluefin tuna, but just as exceptional in quality. It is also more widely available in supermarkets or local fish markets. The steaks I used today were sushi-grade ahi tuna steaks that were 1-inch thick with a deep pink in color and mild flavor.
If you need more information on how to pick the freshest tuna, you can find all my tips below underneath the recipe card.
PRO TIP: Frozen sushi-grade fish does not mean it's not fresh. In most cases, the fish was frozen at the peak of freshness. As always, purchase from a reputable source and ask questions!
Prepping the tuna steak
The trick to perfectly seared tuna is cold tuna steaks and a dry surface. The contrast between the cold tuna and the hot skillet creates that beautiful outer sear and raw center.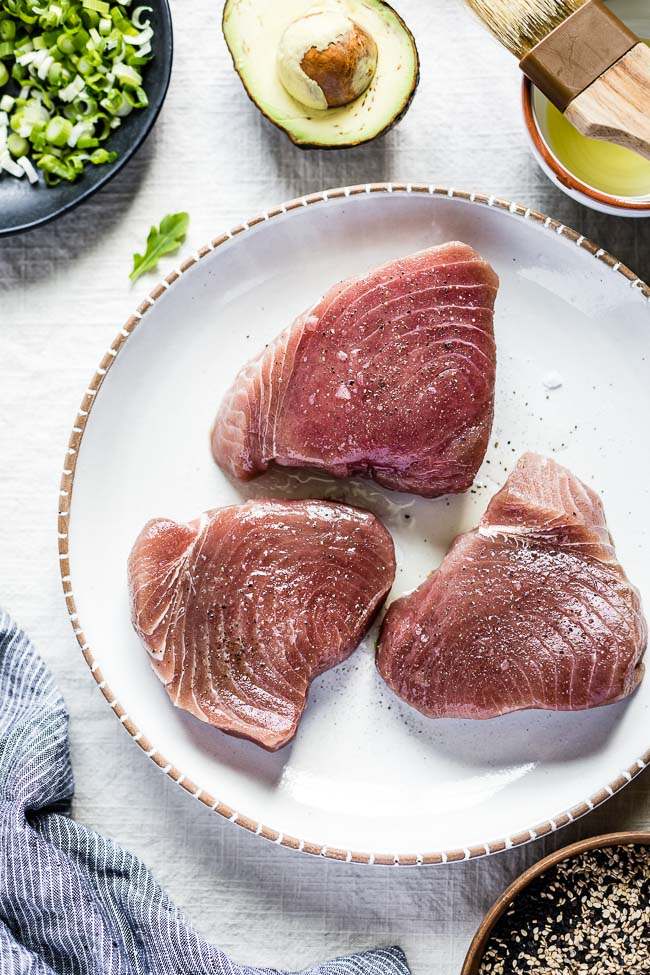 I recommend prepping all your ingredients first, then removing the tuna from the fridge just before you are ready to cook.
Remove the tuna from the package, pat the entire surface dry with paper towels and coat in the seasoned sesame seeds.
How to sear tuna steak
Since yellowfin tuna has low-fat content, it can easily dry out if cooked all the way through.
The solution: searing.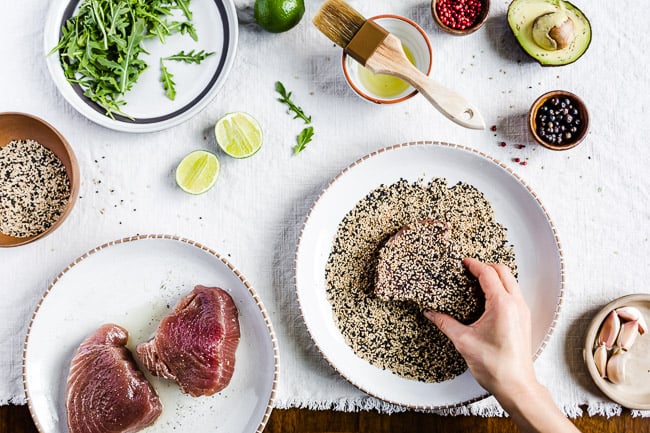 Searing the tuna for just 1-2 minutes on each side in a super hot skillet ensures a golden-brown crust and creamy center. It's a simple technique that produces restaurant-worthy tuna every time.
As you will read in the recipe below, after I coat the steaks with toasted sesame seeds, I lightly sear them in a non-stick skillet, only 1-minute on each side.
Plus, just with ceviche recipes, the acid in the Asian ahi tuna salad dressing I am using here will continue to cook the seared tuna steak.
That being said, if you prefer it cooked medium or medium-well, you can sear it up to 2 minutes on each side and let it sit in the sauce for a bit longer. I wouldn't go over 30 minutes, however, as the tuna will cook all the way through and you'll lose that ultra-creamy texture.
How to slice seared tuna?
To properly slice seared tuna, slice the fillet against the grain into 1/4 inch thick pieces with a sharp slicing knife. Rather than sawing at the fish, apply gentle pressure with the knife and drag your knife in one, long stroke all the way through.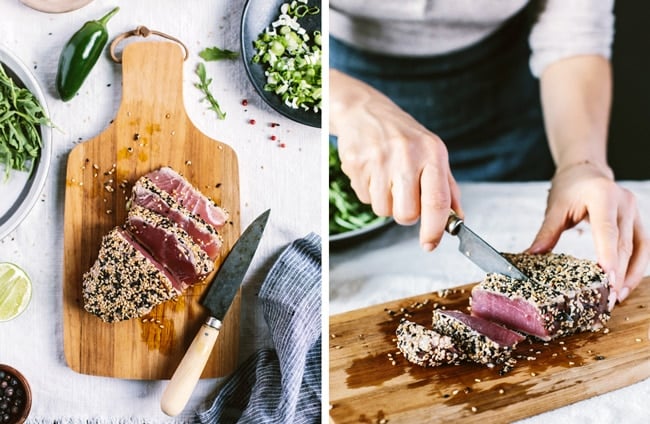 Can you eat ahi tuna raw?
In my opinion, the whole reason for buying the best quality tuna and paying a premium price is to enjoy its creaminess while it is served semi-raw. But I know there is much skepticism about whether or not tuna is safe to eat raw.
According to this article by Healthline, the FDA considers it safe to eat raw tuna by first freezing and then defrosting in the refrigerator before consumption. But properly freezing and defrosting takes time and knowledge.
My recommendation – purchase tuna from a reputable source who is knowledgeable about the origin of the fish and how it is handled.
Keep reading for more info on how to buy the freshest tuna available.
How to make Pan Seared Ahi Tuna Salad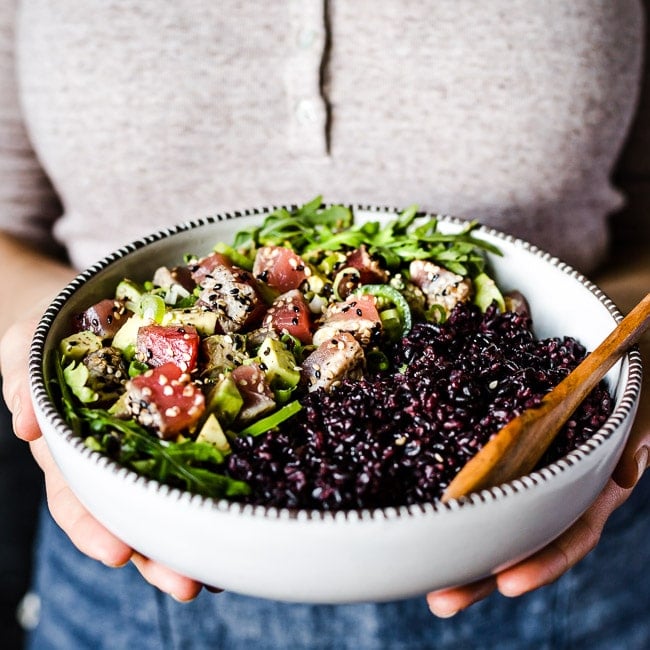 This Asian ahi tuna salad is prepped and ready in a few simple steps. Simply:
Make the Asian dressing for seared tuna. In a medium bowl, mix together the lime zest lime juice, soy sauce, Sriracha, garlic, and olive oil.
Prepare the tuna. Pat the tuna steaks dry with paper towels, brush all over with vegetable oil and season generously with salt and pepper. Spread the sesame seeds out on a large plate and gently press both sides of the tuna in the sesame seeds to coat.
Pan sear the tuna. I find that the best way to sear tuna starts with a very hot skillet.
Heat the olive oil in a non-stick skillet over medium-high heat or until it just begins to smoke. Gently add the tuna steaks (making sure there is space between each) and cook for 1-minute for medium-rare (2 minutes for medium). Flip with tongs and cook for one more minute. Immediately remove from the skillet and place it on a cutting board. Cut into cubes.
Marinate the seared tuna. Transfer the cubed tuna to the mixing bowl with the prepared dressing. Cover with plastic wrap and place in the refrigerator for 10-15 minutes (or up to 30 minutes for medium to medium-well).
Prep the salad. Place the arugula, avocados, scallions, and jalapeno in a large salad bowl. When ready, add the marinated tuna and all of the juices and gently toss to combine. Taste for seasoning and adjust if necessary.
Serve! Portion the tuna salad evenly into four bowls. Enjoy!
How To Serve Ahi Tuna Salad
I love to serve this Asian tuna steak salad recipe just as is, with a crisp glass of white wine.
But another option is to serve it as a tuna salad bowl over a bed of forbidden rice. The earthy and nutty tones of this kind of rice complement the salad very well.
You can also try any other starch like brown, wild rice, quinoa or even white rice. This is optional, but extremely satisfying on those days when you want a meal a bit more substantial.
Similar Salad Recipes Served In Bowl
Sesame Crusted Seared Tuna Salad Bowl
This Sesame Crusted Seared Tuna Salad is light, fresh, and colorful with hints of sweet and savory flavors from an Asian-style dressing. It's a quick and easy weeknight salad recipe that requires a one-minute sear for delicately creamy tuna every time.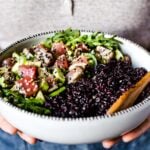 Print Recipe
Ingredients
For the sauce:
5

tablespoons

of lime juice from 3-4 limes

freshly squeezed

Zest of 2 limes

2

teaspoons

soy sauce

1

teaspoon

Sriracha

or any other hot sauce you like (i.e. Tabasco)

2

cloves

of garlic

finely minced

3

tablespoons

of olive oil
For the Sesame Crusted Tuna:
1 1/2

pounds

2-3 pieces of Yellow Fin Tuna Steak, pat-dried with paper towels

3

tablespoons

vegetable oil

1 1/2

teaspoon

Kosher salt

1/2

teaspoon

freshly ground black pepper

or peppercorn mix

1

cup

of black & white sesame seeds
For the salad:
2

cups

of baby arugula

rinsed and dried

2

ripe avocados

pitted and cut into smaller cubes

5

stalks of scallions

chopped

1

jalapeno

seeded and chopped

For the Bowl:

optional

4

cups

of cooked forbidden

black or brown rice
Instructions
To make the sauce: Mix all the sauce ingredients in a bowl and set it aside.

To make the Sesame Crusted Seared Tuna Steaks: Brush both sides of each tuna steak with 1/2 teaspoon (each) vegetable oil. Season them with salt and pepper. Place the sesame seeds on a large plate and gently press both sides of tuna steak in sesame seeds to coat.

Heat 1 tablespoon of olive oil over medium-high heat in a large non-stick skillet until it is just beginning to smoke. Add tuna steaks (make sure they are not touching each other) and cook for 1 minute* without moving them. Using tongs flip the steaks and cook for another minute. Place the steaks on a cutting board and slice into cubes. Transfer them in a mixing bowl and pour the reserved sauce over the steaks. Cover with plastic wrap and place in the fridge for 10-15 minutes.

To make the salad: Place baby arugula, avocados, scallions, and jalapeno in a salad bowl. Add in the marinated tuna steaks into the salad (with all of its juices) and give it a gentle stir. Taste for seasoning and add if necessary.

To serve: When ready to serve, place a cup of forbidden rice at the bottom of a bowl. Spoon some of the salad and its juices on top. Continue with the rest of the bowls. Serve immediately.
Notes
If you prefer it cooked medium or medium-well, you can sear it up to 2 minutes on each side and let it sit in the sauce for a bit longer. I wouldn't go over 30 minutes, however, as the tuna will cook all the way through and you'll lose that ultra-creamy texture.
What to do with leftovers? This is one of those dishes that is best on the day it is served. However, if you have leftovers, you can place them in an airtight container and store in the fridge up to one additional day.
The nutritional values below do not include the calories coming from the optional black rice.
Nutrition
Calories:
607
kcal
|
Carbohydrates:
13
g
|
Protein:
43
g
|
Fat:
44
g
|
Saturated Fat:
14
g
|
Cholesterol:
65
mg
|
Sodium:
1146
mg
|
Potassium:
1016
mg
|
Fiber:
8
g
|
Sugar:
2
g
|
Vitamin A:
4285
IU
|
Vitamin C:
25
mg
|
Calcium:
58
mg
|
Iron:
3
mg
This recipe post was originally published in May 2016. It has been updated with some new helpful information in June 2020. No changes have been made to the originally published recipe other than adding a few notes to clarify the steps further.
What to look for buying tuna and how to know that it is fresh?
As you may already know, tuna steaks are expensive. So it is important to know how to pick the freshest tuna. Today, we are talking about yellowfin tuna. It's the perfect tuna for this recipe and widely available.
Here are a couple of things to look for while buying tuna:
Look at the color: The color of the tuna should be rich red or pink. If it is grey-ish pink, then it is not fresh. It is important to note that as the tuna sits at room temperature, it will take on a darker color. This is okay when left out for a few minutes at home, but always purchase tuna that is bright red when purchased at the store. This is an indication the tuna steak is fresh and has been held at the appropriate temperature.
Smell it: It should have a light, pleasant fishy smell, similar to the smell of the ocean. If it smells too strong and its color is darker or grey-ish pink, do not waste your money.
Press on it with your index finger: When lightly pressed with your index finger, it should be firm and bounce back. It should also be resilient and somewhat hard. If it creates a dent, it is probably not fresh. Although you will not be able to press on the tuna steak at the store, you can certainly ask your fishmonger to do it for you.
Buy it from a trusted resource: This is the most important tip of all. Believe it or not, but some people in the tuna industry pump carbon monoxide into the fish to turn it back to its original color. The carbon monoxide turns it into a beautiful red color that makes it hard to know if the fish is fresh or not. Although considered safe, I always purchase fresh tuna from a trusted source.
Like this recipe? Consider sharing: