Get your grill game on! We are making tacos. Topped off with fresh pico de gallo and guacamole, these easy-to-make Grilled Flank Steak Tacos are juicy, bright and super flavorful.
This post has been sponsored by American Greetings. All thoughts and opinions are my own.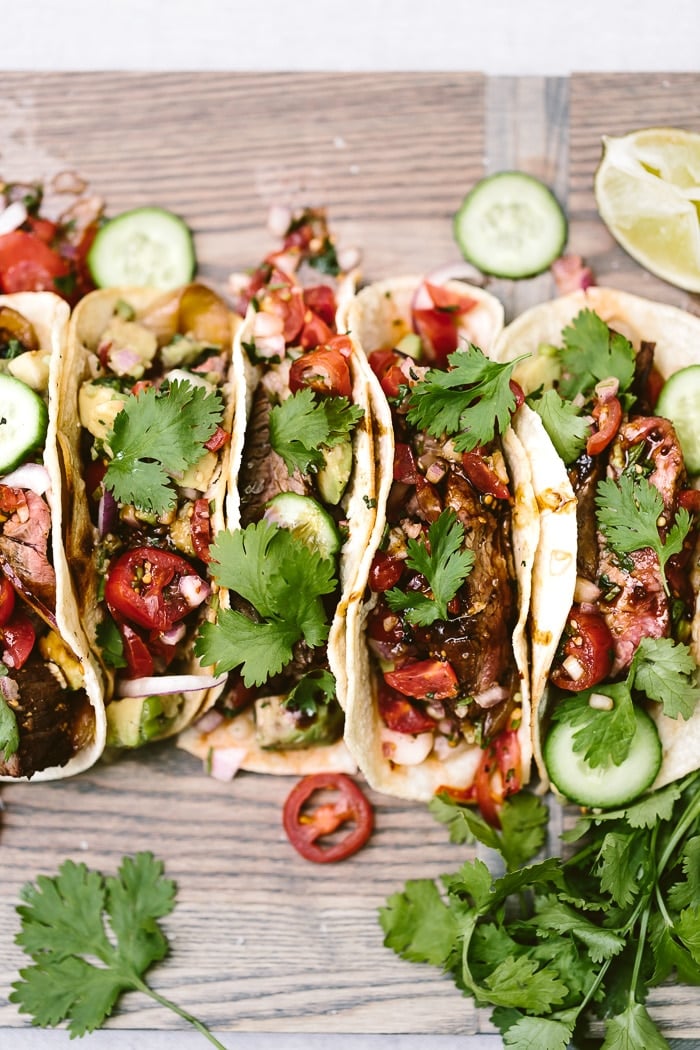 This year's Father's Day is going to be extra special because my father is visiting us from Turkey. Saying that I am thrilled is an understatement. It has been over 4 years since the last time we saw each other. Yes, we do talk on Facetime, but you know, it is not the same thing. Since my mother's passing in 2012, we both had our share of sadness and helped each other cope with that sudden loss. Now almost 5 years later, the yearning is still there, but we are both grateful to have each other. Therefore, it is important to me that he feels the love and that we have a fun day this year on Father's Day. And as you might have already guessed, my way of showing love is by feeding people, so we are grilling flank steak and making tacos!
Well, the idea of grilling was not mine. It was a mutual decision between my husband and dad. They told me that they wanted to grill some steak in the backyard. It was a "duh" moment on my part as I should have thought about it. The good thing was that I already had some flank steak in the fridge, so we decided to marinade it overnight to use for turn it into tacos for the next day.
The Secret is in The Marinade:
Even though it has a reasonable price-tag, flank steak can be a tougher cut of meat. My secret to turning it into a flavorful and tender dinner is using a marinade that I learned from a friend years ago. Throughout the years, I made a few changes to her original recipe to alter it for our taste. Nowadays, it is my go-to marinade for flank steak. As you will see in the recipe below, it is a combination of vegetable oil, soy sauce, balsamic vinegar, garlic, lemon juice, and grainy mustard. I usually mix everything up in a large plastic bag (like Ziplock) and place the meat in there to let it marinade for at least 4 hours, or ideally, overnight. Keeping it in a plastic bag not only helps with the clean up, but also takes less space in the fridge.
One thing I recommend when it comes to grilling is to make sure that your grill is very hot before you place the meat on it. Ideally, you want to cook it only 3-4 minutes on each side for it to be medium. Once it is cooked, place it on a cutting board and cover it loosely with aluminum foil. Allow it to sit for 10 minutes to let the juices come back into the meat so that it will be moist and tender.
Flank Steak for Tacos:
The initial plan was to grill the meat and serve it along with a big green salad with some fresh farm vegetables, but then Dwight suggested that we make tacos. I loved the idea as I think this marinated flank steak is the best cut of meat for tacos. As you can see in the photos, I served my tacos along with a big bowl of guacamole, pico de gallo and fresh cilantro.
Delivering The Message with A Thoughtful Card:
As a part of my table set up, I surprised my dad with a gift greeting card that I bought from Target. It was the perfect card for such a daddy's girl like me as it said, "A Girl Never Outgrows Her Dad." I don't know about you, but I cannot imagine a better gift than a thoughtful hand written card with a beautiful design. Like in every occasion when I need a card, I go to Target as its card section offers a variety of cards helping me deliver my message in a thoughtful way. Whether you want to express yourself in a humorous way or in more of a serious and emotional tone, it is easy to find what you are looking for in there.
If you are planning on purchasing cards, here are a few Cartwheel Offers you can use in Target: 15% off (expires on 06/17/07) and 10% off (expires on 06/10/2017).
I know we are still a few weeks away, but starting with my own dad, I am wishing all the fathers out there a happy Father's Day. I am sending you big virtual hugs. We can never thank you enough for all you do for us. ♥
Other Posts You Might Like
Slow Cooked Beef Brisket Tacos
Thai Grilled Beef and Herb Salad
Guacamole Burgers with Roasted Onions and Sweet Potato
Lessons I learned from my Father
Print
Grilled Flank Steak Tacos
Author:
Prep Time:

25 min

Cook Time:

15 min

Total Time:

40 minutes

Yield:

12 tacos

Category:

Main Dish

Method:

Grilling

Cuisine:

Mexican
Ingredients
For the marinade:
½ cup vegetable oil ( I used grapeseed oil)
1/3 cup soy sauce
¼ cup balsamic vinegar
2 tablespoons lemon juice, freshly squeezed
1 ½ tablespoons Worcestershire sauce
1 tablespoon grainy mustard
5 cloves of garlic, minced
½ teaspoon black pepper, freshly ground
1 ½ pounds flank steak
For pico de gallo:
1 cup cherry tomatoes, chopped
½ red onion, chopped
2 cloves of garlic, minced
¼ cup red onion, chopped
2 tablespoons lime juice, freshly squeezed
3 tablespoons fresh cilantro, chopped
½ teaspoon salt
¼ teaspoon pepper
For the Guacamole:
½ red onion, chopped
2 ripe avocados, cut in cubes or mashed
1 jalapeno pepper, deseeded and chopped
4-5 cherry tomatoes, chopped (optional)
2 cloves of garlic, minced
Juice of a lime
¼ teaspoon cumin
½ teaspoon salt
¼ teaspoon pepper
For the Tacos:

12 small corn tortillas, store-bought or homemade
1 small cucumber, thinly sliced
¼ cup fresh cilantro, with leaves torn as garnish
Instructions
To make the marinade, mix together all the ingredients in a plastic bag with a resalable mouth or an airtight container. Place the meat in the marinade, seal and place it in the fridge for at least 4 hours or overnight.
To make the pico de gallo, place all the ingredients in a bowl, season generously with salt and pepper and set aside.
To make the guacamole, place the red onion, avocado, jalapeno, tomatoes, garlic, and limejuice in a bowl. Season with cumin, salt and pepper. Give it a gently mix and set it aside.
When you are ready to serve, heat your grill until it is very hot, 10-15 minutes. Place the meat on the grill grate and grill until well-seared and dark brown on one side, 4-5 minutes. Using thongs, flip the steak and continue to grill until the interior meat is slightly less done than you want it to be when you eat it, 3-4 minutes for medium or 2-3 for medium-rare. Transfer the meat onto a cutting board, loosely cover with aluminum foil, and let it rest for 7-10 minutes. Slice it on bias against the grain.
While the meat is resting, warm the corn tortillas on the grill until they are softened, 1 minute or so on each side.
When ready to assemble your tacos, place a few slices of meat at the bottom of a corn tortilla and top it off with a few tablespoons of guacamole and pico de gallo.
Garnish it with sliced cucumbers and cilantro leaves. Repeat the same process with the rest of the tacos and serve.
Nutrition
Serving Size:

1 taco

Calories:

307

Sugar:

2.9g

Sodium:

665mg

Fat:

19.7g

Saturated Fat:

3.4g

Trans Fat:

0.1g

Carbohydrates:

19g

Fiber:

4.5g

Protein:

15.3g

Cholesterol:

38.6mg