Whether you are growing them in your garden or getting them from your local farmer's market, if you are blessed with an abundance of cherry tomatoes, be sure to also try our Tomato Mozzarella Salad. It is a colorful, crisp, and light dish that uses juicy cherry tomatoes to bring out its garden-fresh taste. Alternatively, you can whip up my Black Eyed Peas Salad for a delicious bean salad that allows the cherry tomatoes to shine.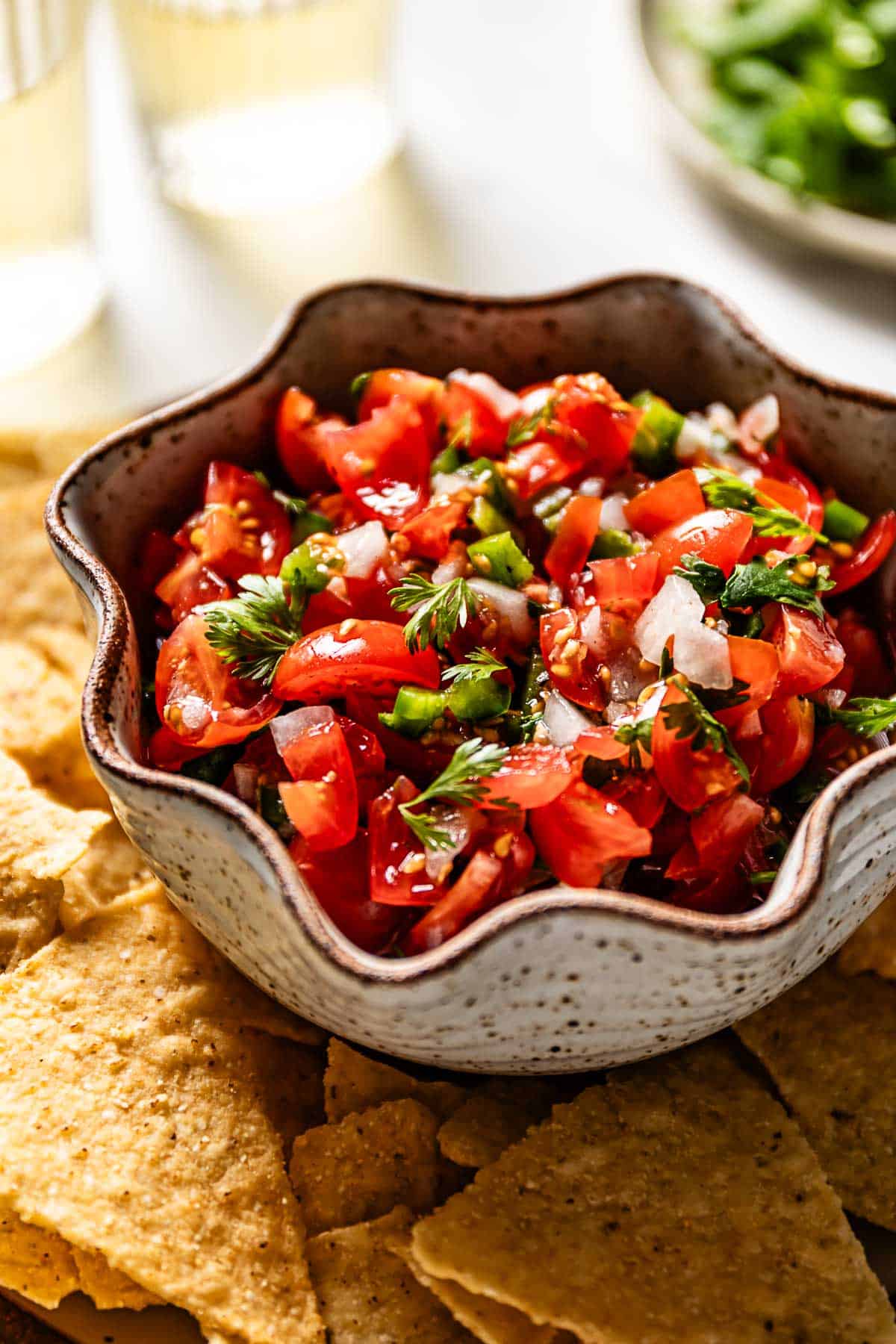 Ingredients
This cherry tomato salsa recipe only uses the most flavorful, simple ingredients to get its signature freshness. To make this tasty mix, you'll need the following: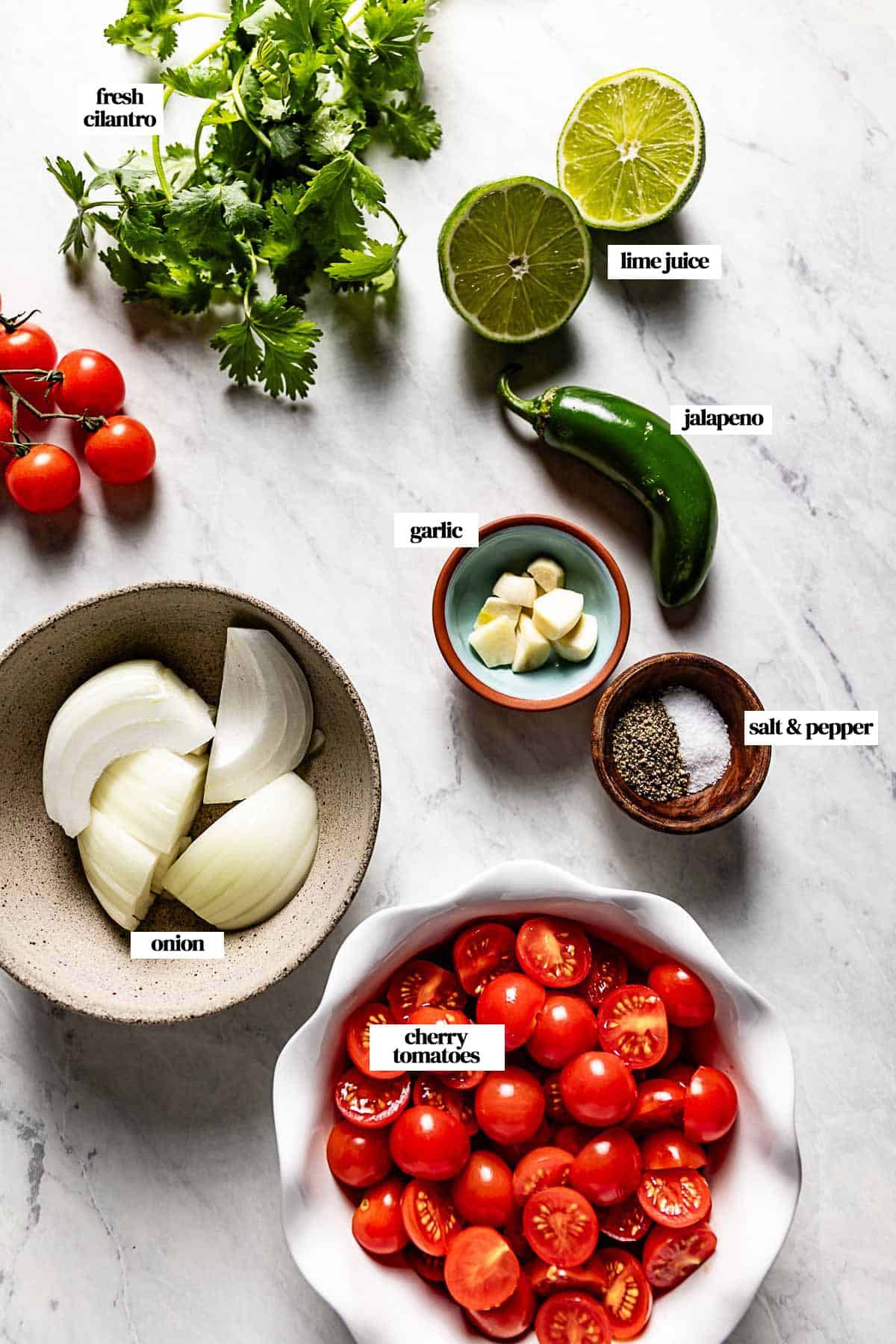 Cherry tomatoes: I prefer fresh cherry tomatoes or grape tomatoes in this recipe due to their bright, tart flavor. With very minimal difference between the two varieties, both types of tomatoes would work here. Additionally, you can make this simple recipe using any other tomato—heirloom, Roma, colorful cherry tomatoes, or beyond.
Onion: I use roughly-chopped white onions in my version, but you can also use red onion for a mild salsa. You can also use green onions (or a combination of both!) if you prefer a less intense flavor profile.
Fresh Garlic Cloves
Jalapeno: Jalapeno is a spicy, garden-fresh ingredient perfect for adding heat and color to this homemade salsa. If you prefer it to be less spicy, be sure to remove the seeds from your jalapeno prior to chopping.
Cilantro: Lemony and bright, chopped cilantro leaves is a classic ingredient in this recipe. However, if you're not a fan of cilantro, you may either omit the ingredient or substitute it with other fresh herbs, such as parsley, oregano, or mint.
Lime juice: Fresh lime juice is best when making your salsa due to its brilliant, citrusy flavor. While it is not traditional, lemon juice can also be used. If you don't have any limes (or lemons) on hand, you may also use bottled lime juice in this recipe.
Seasonings: Only salt and ground black pepper are necessary to give this fresh salsa recipe its rich taste. For a warmer, nuttier profile, you may also add a pinch of ground cumin.
Olive oil: You'll need olive oil only if you are for making roasted cherry tomato salsa.
How to Make Salsa with Cherry Tomatoes?
Making salsa with cherry tomatoes is a great way to add bright tomato flavor to your favorite recipes. These simple instructions will teach you how to make salsa in two ways: by hand and in the food processor.
Make it by Hand
Whether it's your first recipe or your hundredth, preparing fresh cherry tomato salsa—also known as salsa fresca—is an easy way to add light, zesty flavor to your table. Plus, it only takes 10 minutes!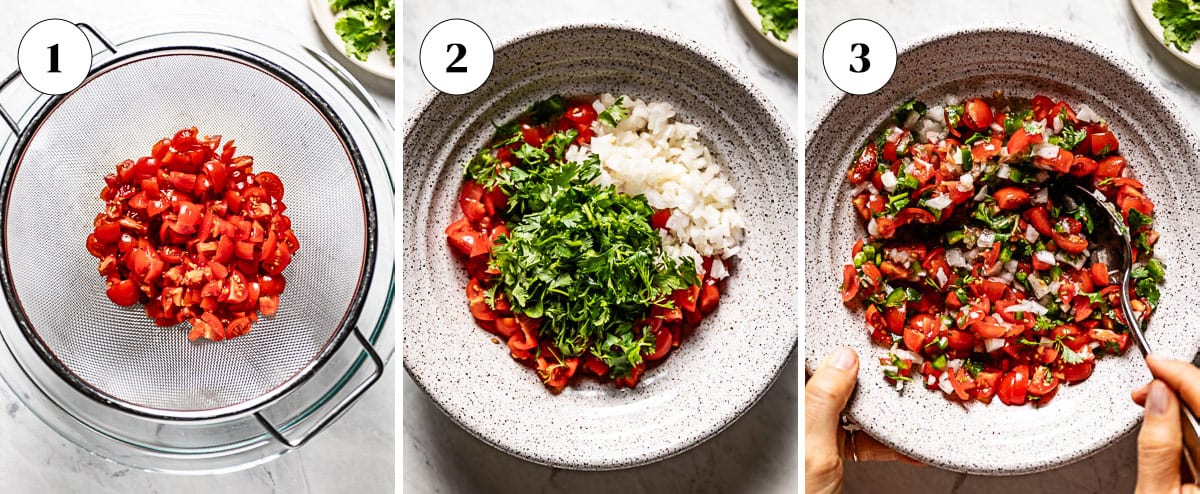 Prepare the tomatoes: Place a colander in another bowl and set the two aside. Then, use a sharp knife to cut the cherry tomatoes into smaller pieces and add them to the colander. Let their juices drain while you prepare the remaining ingredients.
Combine the ingredients: Transfer the cut tomatoes to a medium bowl once drained. Add the chopped onion, garlic, jalapeno, and cilantro.
Add the lime: Drizzle the mixture with lime juice, and sprinkle it with salt and pepper.
Mix and serve: Stir the ingredients until thoroughly combined. Taste for seasoning and add more if necessary. When ready, serve the salsa fresca with chips or on the side of your main dish.
In the Food Processor or Blender
When serving a crowd, the last thing you want to do is spend hours in the kitchen prepping your ingredients. With this simple method, you can make salsa from cherry tomatoes with little prep time.
Blend the veggies: Add the onion, garlic, and jalapeno to the bowl of your food processor. Pulse the ingredients 6-7 times to give them a rough chop.
Add the tomatoes: Place the cherry tomatoes in the food processor, along with the other ingredients, and process the mixture for 10-15 seconds, depending on your preferred texture.
Drain: Place a colander over a bowl, and pour the mixture into the colander. Use the back of a spatula to remove as much excess liquid as possible.
Add seasonings: Transfer the drained veggies into a medium-sized bowl. Add the lime juice, salt, and pepper, and stir until combined.
What if I Want to Roast Tomatoes?
Roasted cherry tomato salsa adds irresistibly smoky, rich undertones to traditional pico de gallo recipes. Below, I'll show you how to make a delicious roasted salsa that comes together in no time.
Heat the oven: Preheat the oven to 450 degrees F.
Prep the tomatoes: Arrange the cherry tomatoes on a baking sheet, and drizzle them evenly with a tablespoon of olive oil.
Bake the tomatoes: Roast the tomatoes in the preheated oven for 10-12 minutes, flipping them halfway through the cooking process. Cook until the tomatoes slightly burst. For a fire-roasted cherry tomatoes version, turn on the broiler for the last 2-3 minutes of the cooking time.
Cool the tomatoes: Let the roasted tomatoes rest and cool for 15 minutes. Then, transfer them to a cutting board and chop them to your desired size.
Drain the tomatoes: Place the roasted tomatoes in a colander, and set the colander in another bowl. Once the excess liquid drains away, transfer the tomatoes to a medium bowl.
Add the remaining ingredients: Add the chopped onion, jalapeño, cilantro, lime juice, salt, and pepper to the chopped tomatoes. Stir until combined.
Taste and serve: Taste the mixture for seasoning, adding more if preferred, then serve.
How to Store the Leftovers?
It's best to serve homemade salsa with cherry tomatoes the day of, as this condiment tends to get watery as it sits. Therefore, I recommend serving it as-is and draining any excess liquid before plating your sauce.
However, if you need to store your leftover salsa, place it in an airtight container in the fridge for up to three days. If necessary, add freshness to the mixture by draining it and adding more tomatoes and extra seasoning.
How to Serve?
Pico de gallo with cherry tomatoes is one of the most versatile condiments in my recipe book. Zesty and fresh, this salsa makes a delicious pair with everything from tacos to shrimp.
Chips: No one can resist a classic—especially one as simple as this! Serve up your salsa alongside your favorite tortilla chips for the ultimate crowd-ready appetizer, snack, or side dish.
Grilled or roasted meat and seafood: If you love grilled meats' succulent, savory taste, these salsa-friendly recipes are for you! Serve your homemade salsa atop a tender fillet of Grilled Sockeye Salmon or marinated Shrimp Kabobs for a five-star meal perfect for the summer months. You can also add a helping of salsa with my Baked Chicken Kabobs if you're looking for a tender, healthy meal you can make all year round.
Tacos: Want to make an authentic, party-ready Mexican menu with your grape tomato salsa? My Beef Brisket Tacos are packed with savory richness, while my Black Bean Quinoa Tacos recipe is a vegan-friendly and oh-so-delicious alternative.
Quinoa or burrito bowls: Few weeknight dinners are as hearty or flavor-packed as a traditional burrito bowl. My Mexican Quinoa (and Instant Pot Mexican Quinoa!) load your favorite fresh, Mexican ingredients into every serving. Or, for a meal better than Chipotle, whip up a Homemade Burrito Bowl that will satisfy your cravings and save money.
Eggs: My favorite way to serve a hearty, flavor-packed breakfast is with a side of this light homemade salsa recipe. I love adding this iconic salsa recipe to Mexican breakfast staples like Huevos Rancheros and Mexican Breakfast Casserole.
Soups and Chilis: Take your soup game to the next level by adding a dollop of this cherry tomato mixture. This salsa pairs beautifully with soups like Mexican Street Corn Soup and Chicken Tomatillo Soup. It also adds a robust tomato finish to hearty chili recipes like my Quinoa Chili and Easy Chicken Chili.
Nachos: No nacho recipe is complete without a helping of salsa. This classic salsa recipe makes a great topping for savory fan favorites like Chicken Nachos and Beef Nachos.
Expert Tips
This salsa recipe with cherry tomatoes is easy for any chef to prepare in a snap. These pro tips will ensure that your sauce comes out effortlessly delectable regardless of your experience level.
Don't skip on draining: To keep your salsa from becoming too watery, it's essential to let your chopped tomatoes rest and drain before adding them to your salsa mixture. Also, be sure to add the seasoning and lime (or lemon) juice only after you drain the mixture, which will result in a perfectly seasoned salsa.
Let it rest: While it is an optional step, if you do have the time, I highly recommend making your salsa a few hours in advance and letting it sit in the fridge. The resting time allows the flavors to marinate and develop into a restaurant-quality salsa recipe.
Adjust the texture: Salsas come in dozens of different textures, from chunky to pureed. Because the fineness of your chopping doesn't affect the overall taste of your condiment, feel free to chop your ingredients according to your preference. I recommend a small chop or a food processor for a saucier texture. For a chunkier salsa, cut your ingredients into larger pieces.
Taste for seasoning: Any salsa—whether it's a cherry tomato pico de gallo or an heirloom tomato salsa—needs salt to bring out the ingredients' natural flavors. Don't skimp on salt and pepper when seasoning your salsa to ensure your recipe is as flavorful, fresh, and complex as possible.
FAQs
Can you make salsa out of cherry tomatoes?
Yes! Cherry tomatoes have a bright, tart flavor that exquisitely balances the flavors of other salsa ingredients. Plus, their size makes them easy to chop to your desired thickness, resulting in a perfectly tailored mixture.
Do you need to peel cherry tomatoes for salsa?
When you use cherry tomatoes for salsa, there's no need to peel your tomatoes before adding them to your blend. Cherry tomatoes have a thin skin, which won't affect the overall texture of your condiment once mixed.
Can I freeze cherry tomato salsa?
Though you technically can freeze this salsa recipe, I don't recommend it. Freezer salsa with cherry tomatoes may become mushy and watery, and it tends to lose its flavor the longer it remains in storage. However, if you freeze your salsa, place it in an airtight container before storage and thaw it in the refrigerator overnight or until it reaches your desired consistency. I also suggest draining out any excess liquid and tasting for seasoning before serving.
Can I use this recipe for cherry tomato salsa for canning
Unfortunately, this salsa recipe won't work for canning. Canning requires that you boil your ingredients (and jars) before transferring them to mason jars, and this recipe only uses fresh and/or roasted ingredients.
Other Fresh Tomato Recipes You Might Also Like:
If you try this Cherry Tomato Salsa recipe, please take a minute to rate the recipe and leave a comment below. It is a great help to others who are thinking of making the recipe. And if you took some pictures, be sure to share them on Instagram using #foolproofeats so I can share them on my stories.
Cherry Tomato Salsa Recipe
This Homemade Cherry Tomato Salsa is the ultimate Mexican party food! This easy recipe is wonderful with chips on the side or to serve as a topping with nachos, tacos, soups, stews & more.
Print Recipe
Ingredients
3

cups

cherry tomatoes

½

cup

onion

roughly chopped

2

cloves

garlic

roughly chopped

1

jalapeno

seeded and roughly chopped

½

cup

cilantro

chopped

4

tablespoons

lime juice

1

teaspoon

Kosher salt

¼

teaspoon

ground pepper
Instructions
Make it by Hand:
Place a colander in a bowl and set it aside. Cut up the tomatoes into smaller pieces and place them in the colander. Let the juices drain while you are working on the rest of the ingredients.

Drain tomatoes and then transfer them to a medium-sized bowl. Add in the chopped onion, garlic, jalapeno, and cilantro.

Drizzle it with lime juice and sprinkle with salt and pepper.

Stir to combine. Taste for seasoning and add more if necessary. Serve it with chips on the side.
Food processor version:
Place onion, garlic, and jalapeno in a food processor. Pulse 6-7 times to give them a rough chop.

Add the cherry tomatoes and process for 10-15 seconds, depending on your preferred chunkiness.

Pour the mixture into a colander set over a bowl. Using the back of a spatula, remove as much liquid as you can.

Transfer to a medium bowl; add lime juice and seasoning. Stir to combine.
Notes
Yield:

This recipe yields around 2 cups of salsa that should be good for 4 servings as an appetizer. If you need to serve a crowd you can multiply it as many times as you need. The nutritional values below is per serving.

Storage of leftovers:

To

store your leftover salsa, place it in an airtight container in the fridge for up to three days. When ready to serve, add freshness to the mixture by draining it and adding more tomatoes and extra seasoning.

Texture difference:

We prefer the method made by hand, but if you are serving this salsa to a large crowd you can use the food processor method. However, please be aware that, while it tastes similar, the version made in the food processor has a more liquidy texture.

Roasted Cherry Tomato Salsa:

If you prefer to make your salsa with roasted cherry tomatoes, place them on a baking sheet and drizzle them with a tablespoon of olive oil. Roast for 10-12 minutes in a 450-degree F. preheated oven, making sure to flip them halfway through. Let them drain in a colander and follow the rest of the recipe as written.
Nutrition
Calories:
36
kcal
|
Carbohydrates:
8
g
|
Protein:
2
g
|
Fat:
0.2
g
|
Saturated Fat:
0.03
g
|
Polyunsaturated Fat:
0.1
g
|
Monounsaturated Fat:
0.03
g
|
Sodium:
596
mg
|
Potassium:
317
mg
|
Fiber:
1
g
|
Sugar:
4
g
|
Vitamin A:
728
IU
|
Vitamin C:
37
mg
|
Calcium:
24
mg
|
Iron:
1
mg
Like this recipe? Consider sharing: