This recipe is sponsored by Vermont Creamery, but as always all opinions are my own.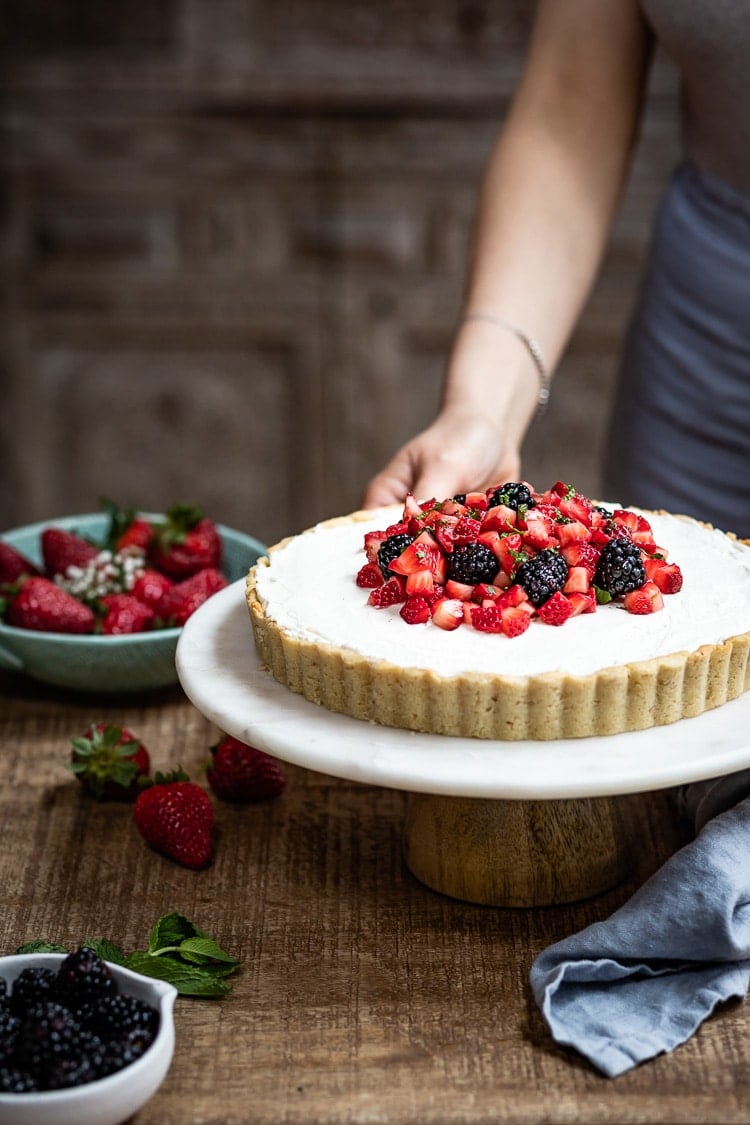 We are just a few days away from Mother's Day and I am here to sneak in one last recipe that you can make for your mom. This Gluten-Free Strawberry Mascarpone Tart recipe is light, airy, mildly sweet and more importantly stupid-easy to make. It also is one of my go-to recipes that I make as soon as the strawberry season starts.
About The Strawberry Mascarpone Tart Recipe
The recipe has 3 components:
Gluten-Free Almond Flour Crust
Mascarpone Whipped Cream Filling
Strawberry Topping
While it might seem like too many steps, it comes together rather quick. Even with the time in between waiting for the crust to cool down and the assembled tart to harden in the fridge, it takes less than 2 hours to make from start to finish. Additionally, all of these 3 components can be made in advance.
Now, let's talk about each of them in detail.
Gluten-Free Almond Flour Tart Crust
If you have been following me for a while, you know that I am a big fan of almond flour recipes. In the past, I used to make this tart with all purpose flour. However, I have been experimenting with almond flour tart crust for some time now and I finally found a good recipe that is "foolproof". So I thought why not change things up and make the tart dough with almond flour instead.
At first, I was not sure how it would turn out, but after the first bite I was glad that I gave it a try. The nutty flavor of the crust ended up complimenting the creamy mascarpone filling so well.
The best part of this tart crust recipe is that you can make it both with almond flour and almond meal. As a matter of fact, if you look at the photos you will see that the crust is lighter in color than the version I made it in the video. That is because the crust of the tart in the video is made with almond meal.
Additionally, you can make the tart dough upto 2 days in advance. Simply cover the dough with plastic wrap and keep it in the fridge until you are ready to use it.
The baking time is no more than 10-12 minutes. The important thing here is to make sure that it completely cools down to room temperature before you fill it with the mascarpone whipped cream filling.
And for some reason, if you are out of almond flour (or meal), you can easily make your own at home. If you want to learn how I do it, feel free to give this How To Make Almond Flour At Home post a read.
Mascarpone Whipped Cream Filling
Have you ever made Mascarpone Whipped Cream Filling? If not, this recipe is a good one to start. In my opinion, creamy mascarpone cheese whipped with heavy cream, maple syrup and vanilla extract is truly an indulgence. It is a creamy and soft filling that literally melts in your mouth.
I prefer my Strawberry Mascarpone Tart to get its sweetness from strawberries so I added just a little bit of maple syrup into the filling, but if you like it sweeter you are more than welcome to add more.
When it comes to mascarpone cheese, I always look for Vermont Creamery's Mascarpone Cheese as I think it is currently the creamiest mascarpone cheese that is sold in supermarkets. Having visited their farm and production facility during their yearly Vermont Cheese Camp back in 2016, I know first hand that every one of their products are the highest quality you can get your hands on. Their mascarpone cheese is no exception to that. It is perfect for using in your cooking, baking, or even just to spread on a toast in the morning.
When it comes to making the filling, the important thing is to make sure that both your cream and mascarpone cheese are cold. I used a standing mixer with the whisk attachment, but a hand mixer would also work.
To make the filling, place the mascarpone cheese into the bowl and pour in the heavy cream mixture while it is whisking in slow speed. Once you pour in the whole mixture, you can increase the speed and whisk it for 1-2 minutes or until soft peaks form. It should be thick enough to hold itself up when the whisk attachment is removed and turned upside down. At the end, I also folded in a zest of a lime as I love the fresh and citrusy flavor it gives to the filling.
You can make the whipping cream a day in advance, cover it with stretch film, and keep it in the fridge until you are ready to use.
As you will see in the recipe below, the ratio for mascarpone cheese to heavy cream is 1 to 2. The recipe below makes just enough filling to fill the tart crust, but if you want to make more and use it in other recipes feel free to use this ratio to make more.
The Strawberry Topping:
Once the tart is assembled, all you have to do is to top it off with strawberries. If it is the strawberry season, you can cut them in half and place it on top. If it is not, you can slice them into small pieces and mix them with a tablespoon of maple syrup to make them a little sweeter.
With that being said, you can certainly use other fruits. If you are making it during the holidays, you can top it off with sugared cranberries (like I used in this The Ultimate Chocolate Bundt Cake recipe) or pomegranate seeds to make it colorful and festive.
As we are just one day away from Mother's Day, starting with my own mother (in heaven), I am wishing all the mothers out there a happy Mother's Day. I am sending you big virtual hugs. I hope you will have a wonderful day with all your loved ones.
Strawberry Mascarpone Tart
Recipe for a spring inspired Strawberry Mascarpone Tart. This gluten-free and maple-sweetened tart is made with almond flour crust, filled with creamy and mildly sweetened mascarpone cream filling and topped off with fresh strawberries.
Print Recipe
Ingredients
For the Almond Flour Tart Crust:
2

tablespoons

coconut oil

plus more for greasing the pan

2

cups

plus 2 tablespoons

7.46 oz. or 212 grams almond flour or meal

¼

teaspoon

kosher salt

1

tablespoon

maple syrup

1

large egg
For the Mascarpone Whipped Cream:
For the Strawberry Topping:
1

cup

strawberries

hulled cut into small chunks

1

tablespoon

maple syrup

optional

4-5

leaves

of fresh mint

sliced thinly

Handful of blackberries

optional
Instructions
To make the almond flour tart crust:
Pre-heat the oven to 350 degrees. Generously grease a 9-inch tart pan (preferably with a removable bottom) with coconut oil. Set aside.

Place almond flour (or meal) and salt in the bowl of a food processor and process for 5 seconds or until combined.

Add in the 2 tablespoons coconut oil, maple syrup, and egg and process until the mixture forms a ball.

Transfer the mixture into the tart pan. Using your fingers, press the dough into the pan evenly. Bake in the oven for 10-12 minutes or until golden brown.

Set aside to cool completely.
To make the Mascarpone Whipped Cream:
Mix together heavy cream, maple syrup, and vanilla extract in a cup.

Place mascarpone in the bowl of a standing mixer fitted with the whisk attachment. Turn the mixer on in medium-low speed and slowly pour in the heavy cream mixture. Whisk until it is light and fluffy. To test, remove the whisk attachment and turn it upside down. If it is able to hold up, it is good to go.

Gently fold in the zest of a lime. Keep it in the fridge as you are prepping the fruit mixture.
To make the Strawberry Topping:
Place them in a bowl, drizzle with maple syrup and add in the mint. Give it a stir.
To assemble the Strawberry Mascarpone Tart:
Gently remove the tart crust from the tart pan onto a plate or cake stand.

Spread the Mascarpone whipped cream evenly in the tart crust smoothing out towards the edges with a spatula. Place the tart in the fridge for 1 hour up to 4 hours.

Garnish it with strawberry mixture and blackberries. Slice and Serve.
Nutrition
Calories:
392
kcal
|
Carbohydrates:
15
g
|
Protein:
8
g
|
Fat:
35
g
|
Saturated Fat:
15
g
|
Cholesterol:
73
mg
|
Sodium:
100
mg
|
Potassium:
79
mg
|
Fiber:
3
g
|
Sugar:
8
g
|
Vitamin A:
645
IU
|
Vitamin C:
11
mg
|
Calcium:
114
mg
|
Iron:
1
mg
Did you make this recipe?
Tag @foolproofliving on Instagram and hashtag it #foolproofeats
The almond flour crust portion of this recipe is adapted from the cookbook Sweet Laurel
.
Like this recipe? Consider sharing: