Why You Should Try This Recipe?
You won't believe how much there is to love about this healthy overnight muesli. Nutritious, fruity, and delicious to boot, this simple breakfast, adapted from my Homemade Muesli Recipe, is a great way to use uncooked oats. It is definitely worth adding to your collection of breakfast bowl recipes.
Only 10 minutes of prep and 3 simple steps are necessary to make this simple vegan breakfast.
Endlessly customizable, this easy recipe can be made in a thousand different ways. Whether you want to make dairy-free overnight oats or use a variety of fresh fruit, there's a version for you!
This healthy breakfast recipe will keep you full and satisfied all morning, helping you feel full without sacrificing an ounce of flavor—just like my recipes for Fruit and Yogurt Parfait, Apple Cinnamon Oats and Chia Seed Oatmeal!
Packed with fiber and antioxidants, oats are healthy whole grains that have even been proven to lower cholesterol and improve blood sugar.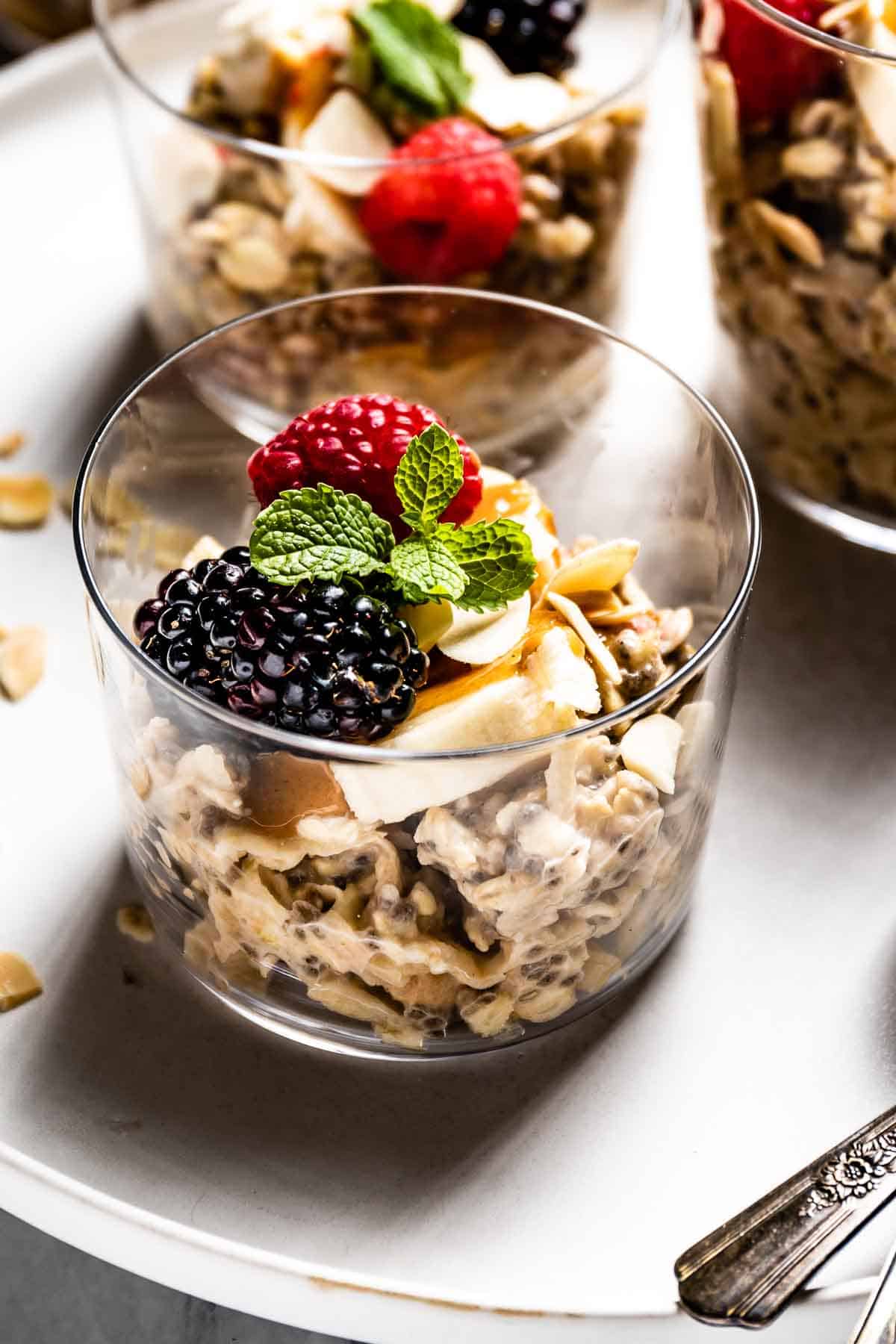 What Is Bircher Muesli?
Bircher muesli is what many consider to be the first overnight oats recipe. Developed by 20th-century Swiss physician Maximilian Bircher-Benner, this dish was created to support the health of patients with an uber-nutritious mix of filling and natural ingredients.
The original Bircher muesli recipe calls for raw oats and grated apple, mixed with condensed milk, nuts, lemon juice, and honey. Since then, however, people have found hundreds of delicious ways to customize this popular breakfast, from making overnight muesli vegan to incorporating seasonal fruit, aromatic spices, and even homemade sweeteners!
Ingredient Notes
The traditional Swiss bircher muesli recipe consists of rolled oats, grated apple, condensed milk, nuts, lemon, and honey. However, use my simple muesli formula below for endlessly customizable (and always scrumptious!) flavor combinations: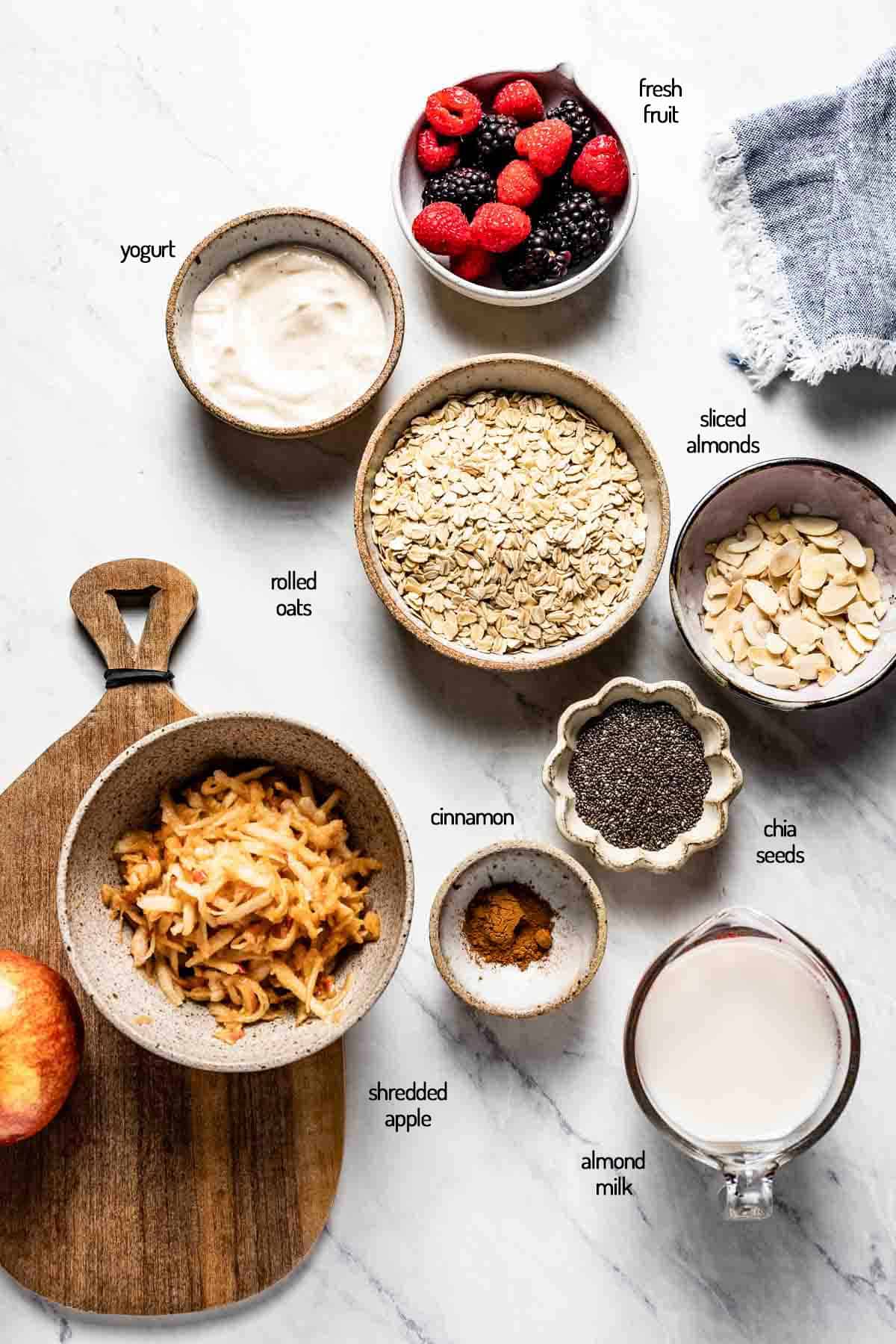 Oats: You'll need old-fashioned rolled oats for this recipe. I would not recommend using other types of oats, like quick-cooking oats as it would deliver a mushy end product.
Seed and nuts: I used chia seeds and sliced almonds in my version. However, hemp seeds, flax seeds, and even leftover almond pulp are other delicious options.
Milk: You can choose your favorite milk to use in your muesli mixture. I made my Bircher oats with almond milk, though oat milk and cashew milk also work for dairy-free overnight oatmeal. And if you want you can have cow's milk as well.
Yogurt (optional): Vegan yogurt—such as almond yogurt—or Greek yogurt both work to give this dish its irresistible tanginess. Plus, you can play around with which flavors you use, like vanilla, peach, and raspberry.
Fruit: Any fruit will work for your Bircher muesli ingredients, whether it's mixed in or added on top! I used shredded apple, but you can also use anything from fresh berries to a ripe banana, or even a few tablespoons of my homemade Unsweetened Applesauce.
Sweetener: Maple syrup, brown sugar, and a drizzle of honey are all options to give your overnight muesli recipe a sweet flavor.
Optional spices: I used ground cinnamon in my muesli. However, cardamom, nutmeg, and pumpkin pie spice can also give your oats a robust flavor.
Other optional toppings: Nut butter—such as peanut butter and almond butter—pack this dish with rich, creamy protein. You can also include fresh herbs, like mint, for color and taste.
How To Make
Effortless and budget-friendly, this soaked muesli recipe is just what you need on busy weekday mornings. In 10 minutes and 3 steps, your hearty breakfast will be ready to eat the next day!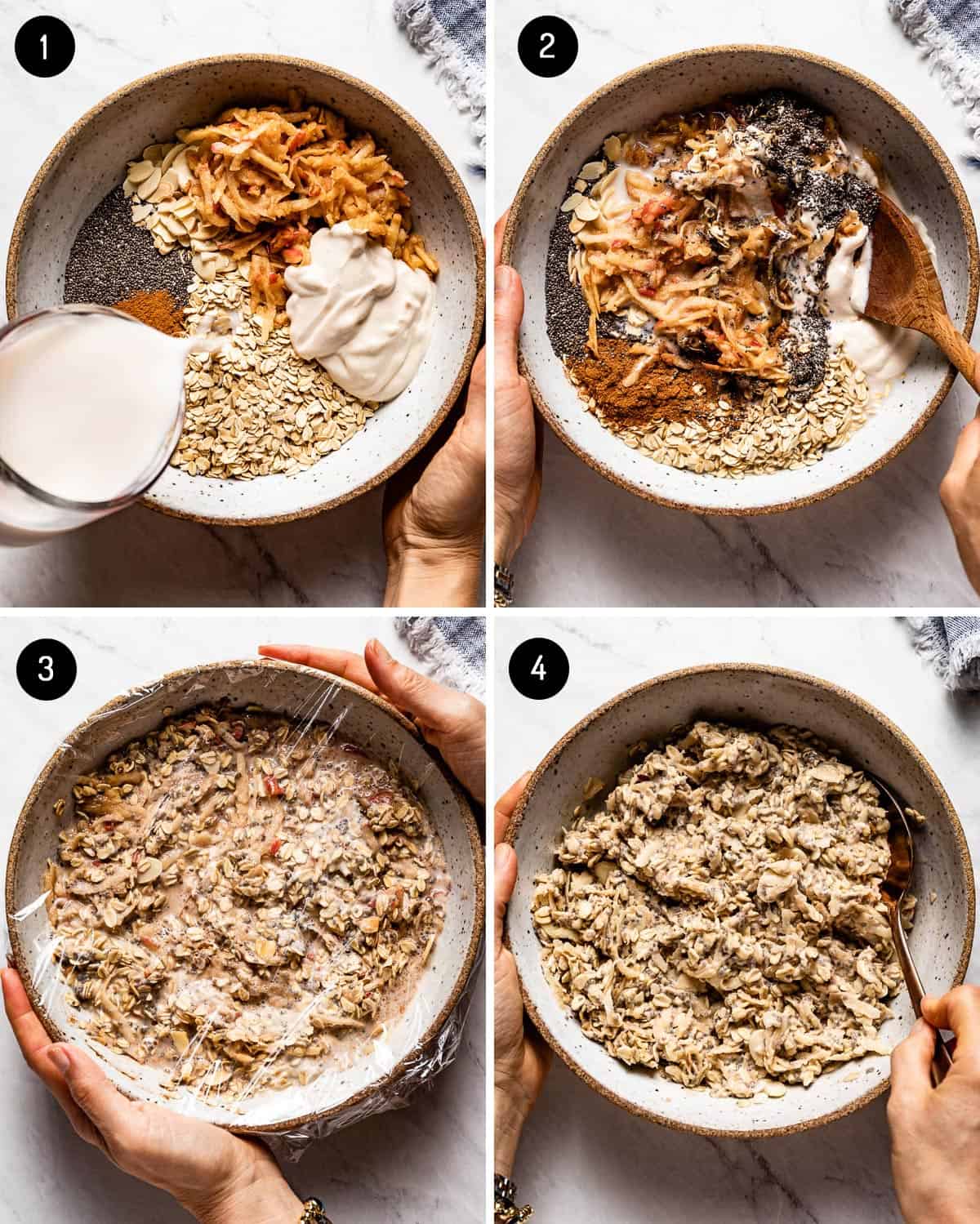 Combine the ingredients: In a large bowl, mix oats, shredded apples, chia seeds, sliced almonds, almond milk, almond yogurt, cinnamon, and maple syrup.
Give it a stir: Stir to make sure all ingredients are fully incorporated.
Refrigerate: Once the ingredients are fully combined, cover the bowl and refrigerate it overnight.
Serve: The next morning, equally divide the soaked muesli among four bowls. If desired, top each off with berries, fresh mint leaves, and a drizzle of maple syrup.
How to Store?
Storage: To store your muesli yogurt breakfast, place the dish in a large airtight container and keep it in the refrigerator for up to 4 days. You can also store your muesli in mason jars for an easy grab-and-go option.
Freeze: You can freeze this muesli recipe in an airtight container for upto a month.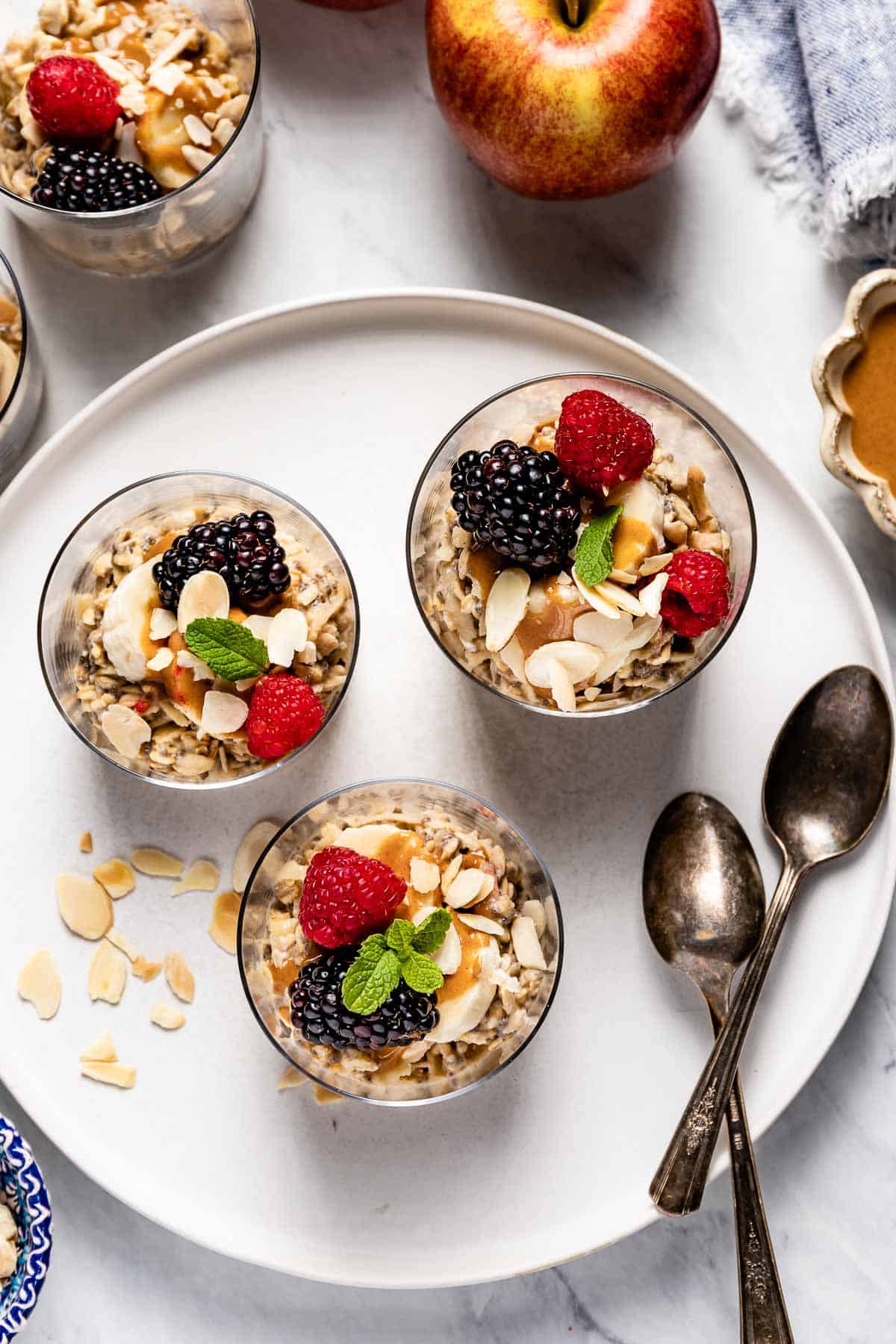 FAQs:
Overnight muesli with almond milk is a cinch to make, but these helpful tips make it even easier. Turn your old-fashioned oats into a delicious breakfast every time without the extra guesswork.
Do you eat overnight oats cold?
Many prefer eating this dish straight from the fridge for a cold muesli breakfast. However, you can also make your morning extra cozy by heating this dish before you serve it.
Do you heat up overnight muesli?
It's up to you whether you eat your muesli hot or cold. To heat it, either pour in some hot milk of your choice or microwave the dish for 30 seconds at a time until it reaches your desired temperature. Just remember to stir!
How long can you keep overnight muesli in the refrigerator?
Overnight muesli is good for up to 4 days in the refrigerator when stored in an airtight container.
What type of oats to use for overnight oats?
I recommend using old-fashioned rolled oats for this recipe. Because instant and quick oats are rolled extra-thin, they often get too mushy. And if you are following a gluten-free diet, be sure to purchase gluten-free certified oats.
Expert Tips:
Multiply the recipe: If you are serving this to a crowd feel free to multiply it as many times as you want. Or you can do what I do and make a few bacthes on Sunday night and enjoy it throughout the week.
Mason Jars to the rescue: For a quick grab&go breakfast divide your muesli in mason jars and be sure to tighten it with the lid.
Additional protein: For some extra protein, feel free to top it off with a dollap of your favorite nut butter.
Have nut alergies? Omit almonds and use sunflower seeds instead.
Other Healthy Breakfast Bowl Recipes You Might Like
If you try this Overnight Muesli recipe or any other recipe on Foolproof Living, please take a minute to rate the recipe and leave a comment below. It helps others who are thinking of making the recipe. And if you took some pictures, be sure to share them on Instagram using #foolproofeats so I can share them on my stories.
Overnight Muesli Recipe
This Overnight Muesli is the original overnight oats recipe. Made with almond milk, rolled oats, and chia seeds, it is endlessly customizable and easy to make. With only 5-minutes of hands on time, it makes a healthy, nutritious, and filling breakfast that you can serve your family.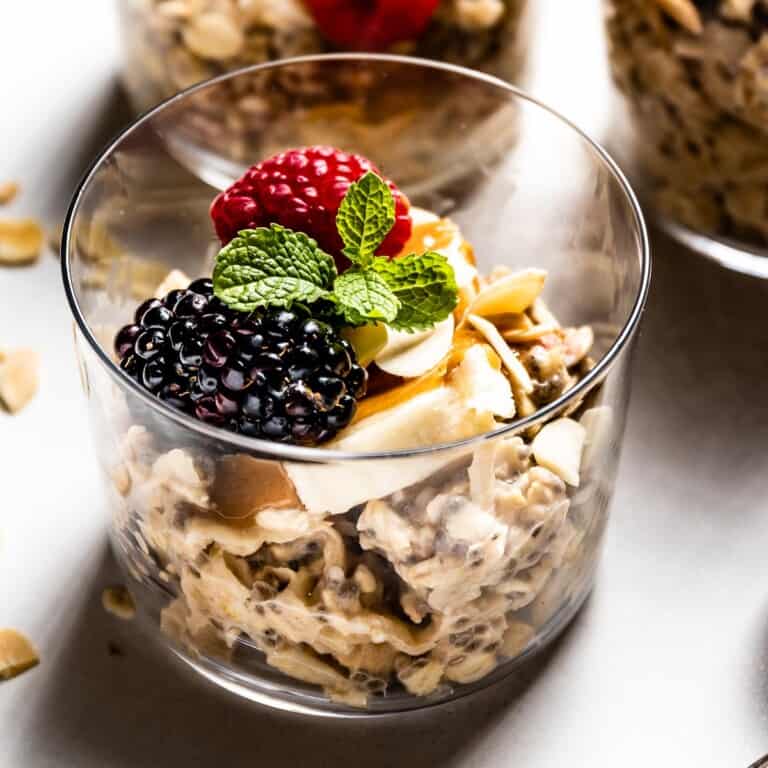 Print Recipe
Ingredients
1

cup

Shredded apples

from 1 large or 2 small apples

1

cup

old fashioned rolled oats

gluten-free certified

2

tablespoons

chia seeds

2-3

tablespoons

sliced almonds

or more if you want

1

cup

unsweetened almond milk

or any other milk of your choice

2/3

cup

unsweetened almond yogurt

or any other yogurt of your choice, like soy, coconut, milk, etc.

½

teaspoon

ground cinnamon

2

tablespoons

maple syrup

½

cup

mixed berries

or any other seasonal fruit

a few fresh mint leaves as garnish

optional
Instructions
Place the shredded apples, oats, chia seeds, sliced almonds, almond milk, almond yogurt, cinnamon, and maple syrup in a bowl. Mix to combine.

Cover and refrigerate overnight.

When ready to eat, divide the muesli in between 4 bowls, top them off with berries and garnish with a few fresh mint leaves.
Video
Notes
This recipe would serve 4 people in 1/2 to 2/3 cup portions. If you are serving a crowd, feel free to double the recipe.
The beauty of this recipe is that it is endlessly customizable. In place of milk and yogurt, you can use any plant-based milk or yogurt you like (or even cows milk and yogurt). Similarly, you can use any nuts and fruits.
How long does muesli last?

As long as it is kept in an airtight container, this healthy overnight muesli will keep fresh for up to 4 days.

Do you eat overnight oats cold?

Many prefer eating this dish straight from the fridge for a cold muesli breakfast. However, you can also make your morning extra cozy by heating this dish before you serve it.
Nutrition
Calories:
234
kcal
|
Carbohydrates:
40
g
|
Protein:
6
g
|
Fat:
7
g
|
Saturated Fat:
1
g
|
Sodium:
140
mg
|
Potassium:
263
mg
|
Fiber:
8
g
|
Sugar:
18
g
|
Vitamin A:
49
IU
|
Vitamin C:
5
mg
|
Calcium:
203
mg
|
Iron:
2
mg
Like this recipe? Consider sharing: