With this step-by-step tutorial, you will learn 6 easy ways to cut zucchini: trimmed, rounds, spears, diced, matchsticks, and thinly sliced. Follow our easy steps and gain all the confidence you need to use zucchini in all your favorite recipes.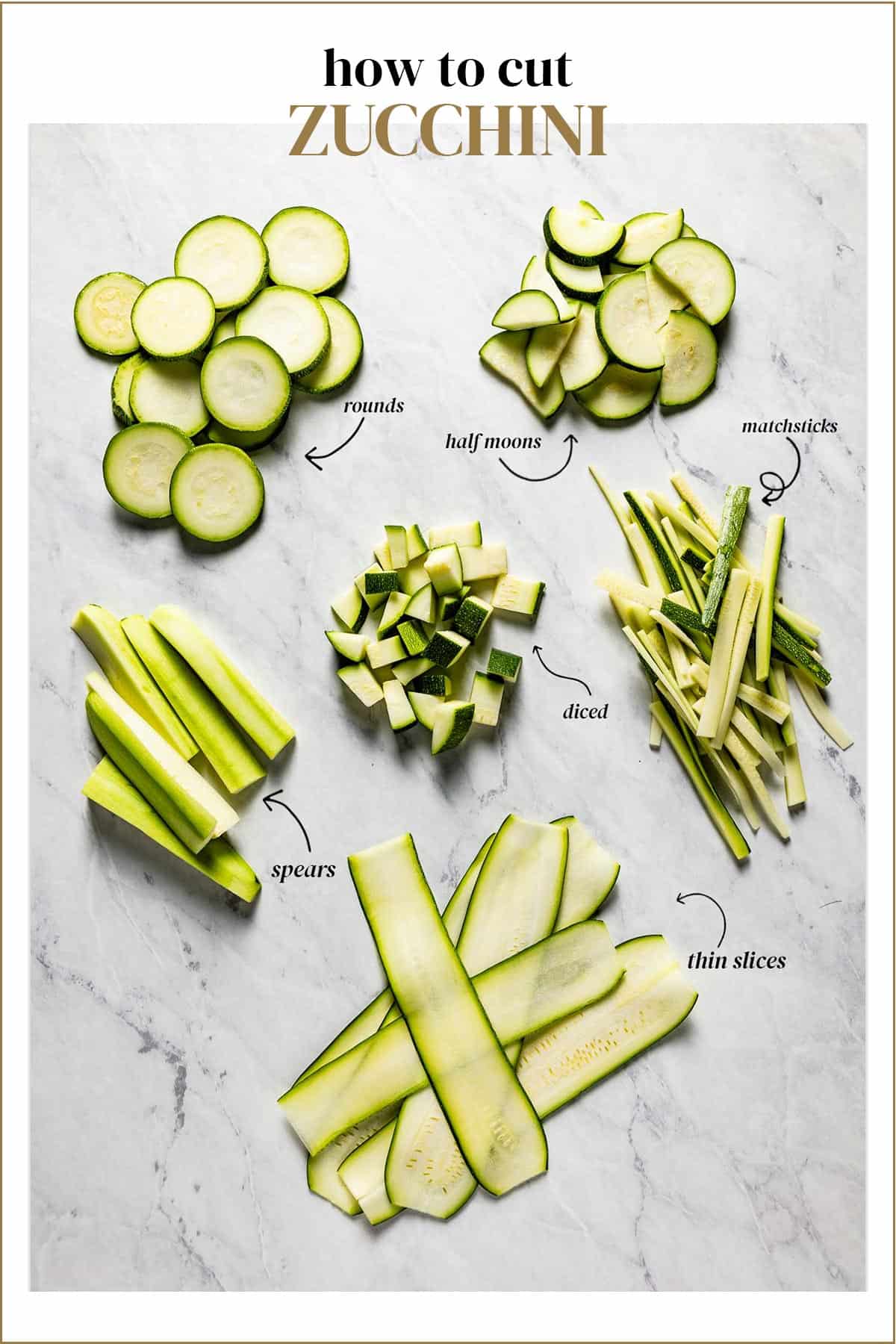 How to Trim Zucchini?
The key to proper zucchini meal prep is ensuring your veggies are clean, unblemished, and fresh before slicing them. In just two simple steps, you can transform this summer vegetable into dozens of low-carb meals, from a hearty stew to a savory stir-fry.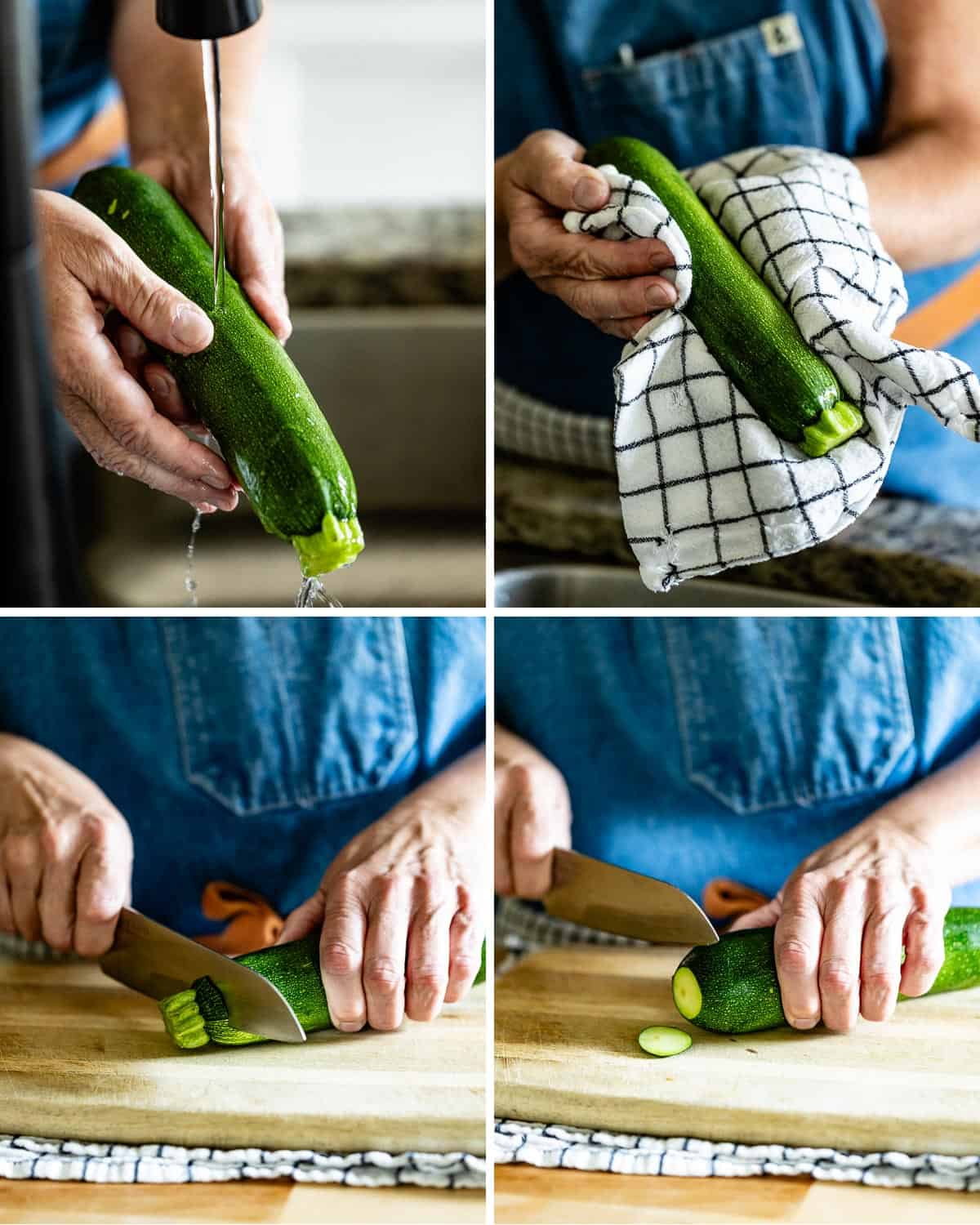 Wash and dry: Wash the zucchini under cold water, using your hand to remove dirt and debris. Use a clean kitchen towel to dry the veggie fully.
Trim zucchini: Use a sharp paring knife to remove any remaining blemishes or bruises. Then, trim off the top and bottom of the squash—both the stem end and the base—cutting off about ½ inches on either side. Discard the chopped-off bits.
Do You Peel Zucchini Before Slicing?
It's completely up to your preference when deciding whether or not to peel your zucchini before cutting.
I personally like to keep the skin on before chopping. The skin is soft, thin, and perfectly edible—especially when the squash is in season. Plus, the skin often contains the highest concentrations of antioxidants and potassium, which may account for its ability to help bring down blood sugar and insulin levels.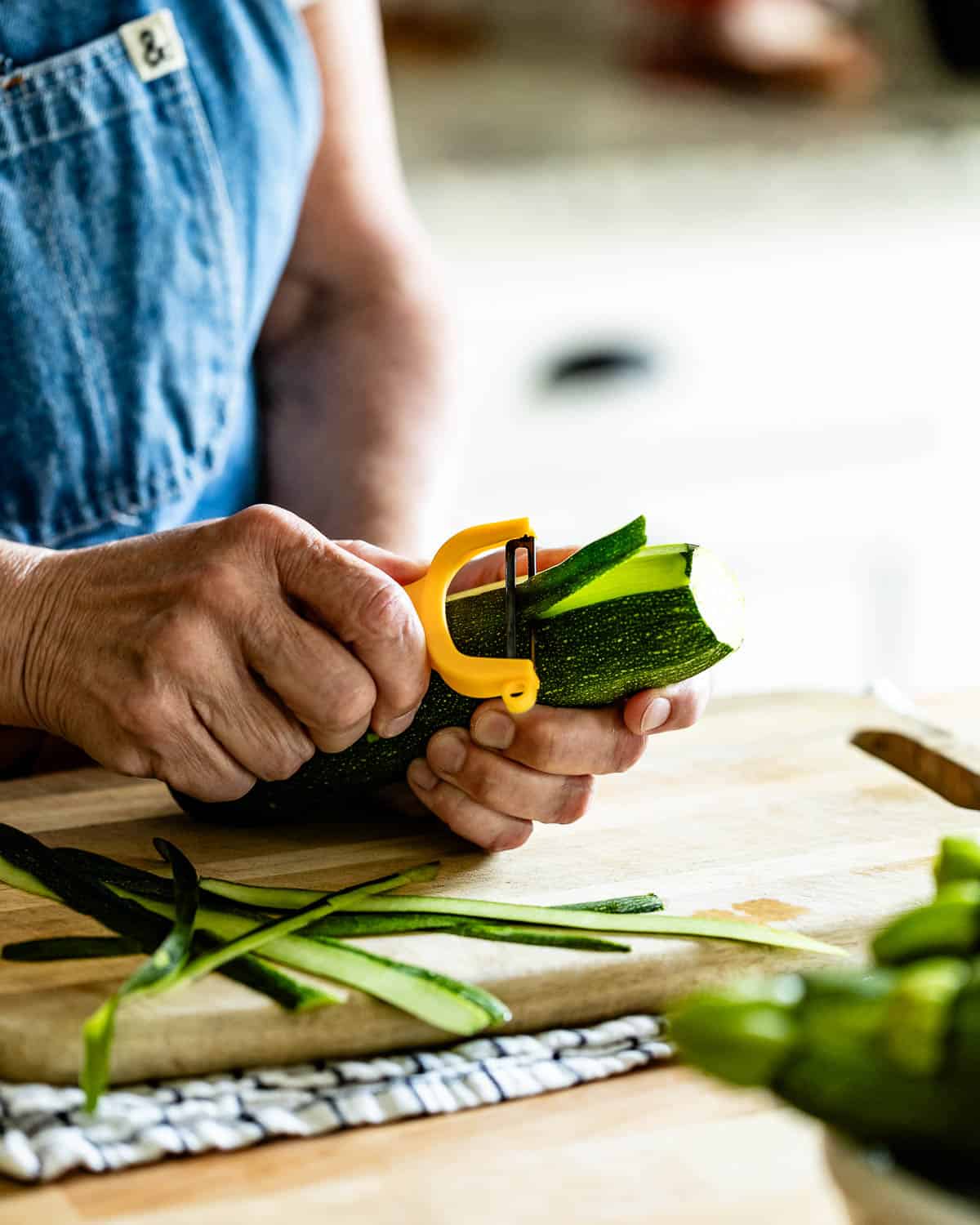 However, if you prefer, you can peel the zucchini skin. To do so, hold your trimmed zucchini firmly in one hand and use a vegetable peeler to remove the skin. Be sure to rotate the zucchini as you work your way around its surface until all of the skin is peeled.
How to Cut Round Zucchini?
Zucchini rounds make the perfect cut for many of my favorite preparation methods. Add olive oil to your frying pan and sautee panko-crusted veggie coins for a savory sautéed zucchini side, or fire up the grill and prepare yourself for smoky and tender vegetable kabobs. No matter how you cook it, zucchini makes the perfect summer vegetable to serve on the side of a main dish.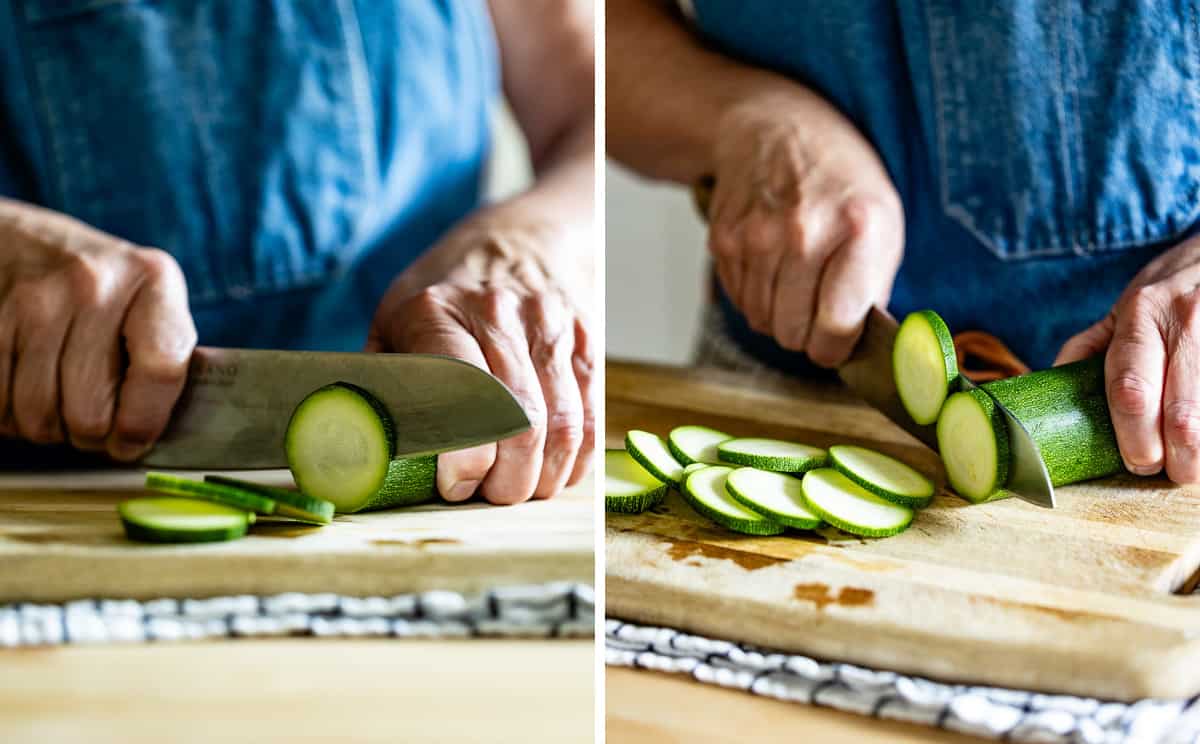 However, remember that the ideal thickness of your rounds will depend on your recipe. For instance, cutting zucchini thickly is best when making kabobs, as the veggies will better withstand the grill's high heat and the kabob skewer. However, sautéed zucchini works best with thinner slices to ensure thorough cooking.
How to Cut Zucchini Rounds? Use a sharp knife to chop the veggie perpendicular to its length. Beginning at one end of the squash, slice round pieces in your desired thickness.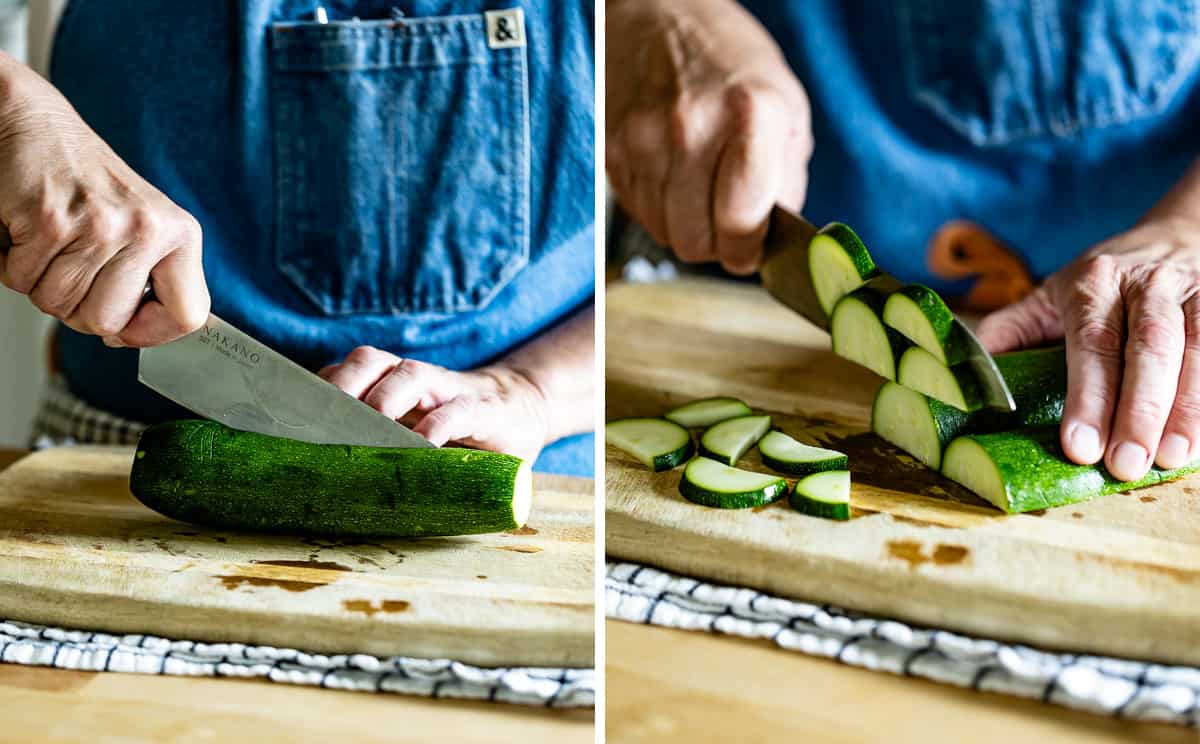 How to Cut Zucchini into Half-Moons?

Slice the zucchini down its middle: Halve the zucchini, cutting lengthwise down its body.
Cut half moons: Lay the zucchini halves on their long edges next to one another. Arrange them perpendicularly to your knife, and chop half-moon cuts in your preferred thickness from one end of the zucchini to the other.
How to Cut Zucchini Spears?
If you've ever wondered how to cut zucchini fries or what shape to cut your zucchini for optimal grilling, this guide to slicing spears is just what you need. This shape is sturdy enough to take the heat of grilling and roasting, and it makes an irresistible side when coated in a panko-parmesan mixture and baked or air-fried.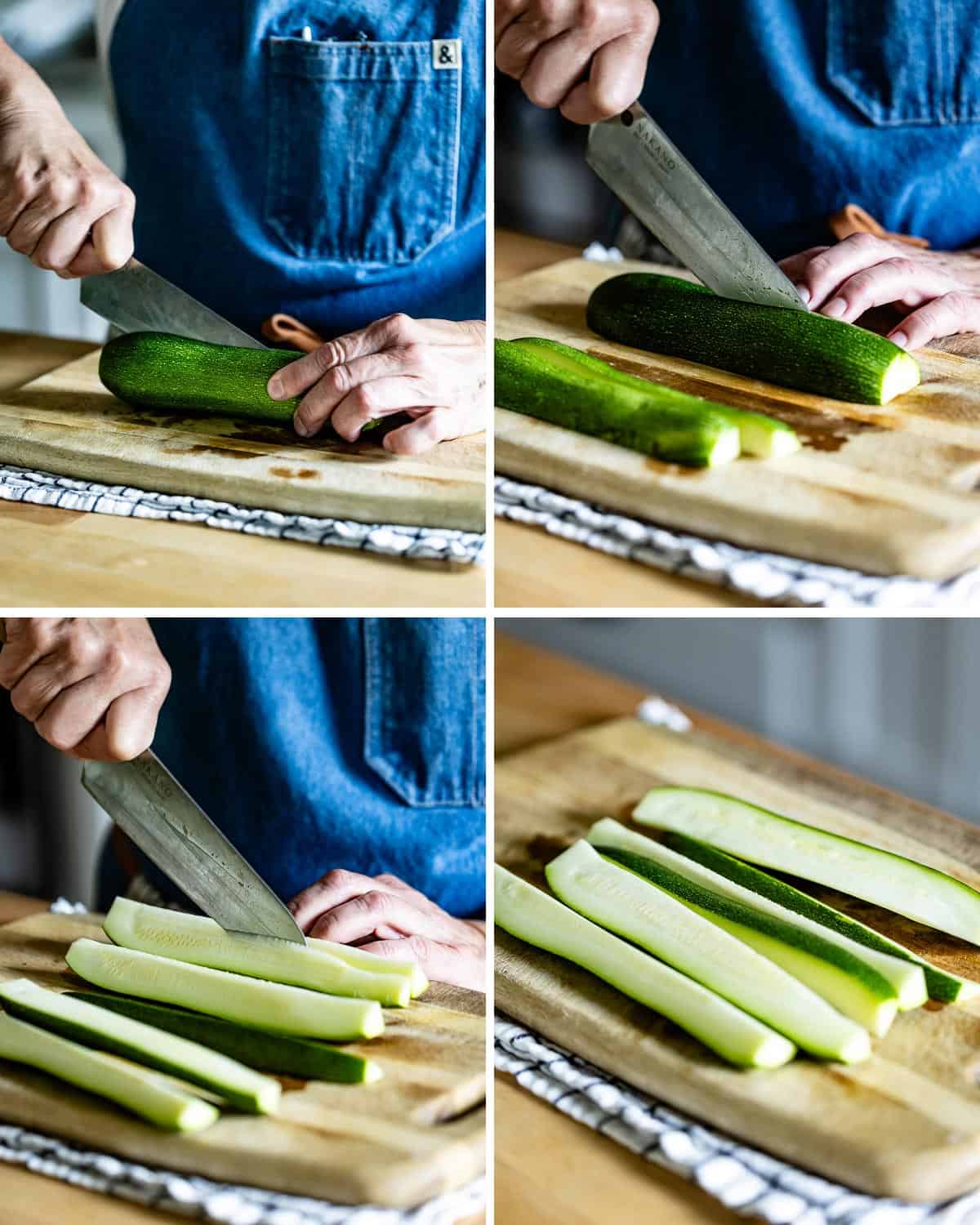 Cut the zucchini in half: Slice your zucchini lengthwise into two halves.
Slice the spears: Cut lengthwise along each half, slicing each into three equal pieces.
Trim: If necessary, cut your spears into shorter or thinner pieces to match your recipe.
Again, don't be afraid to cut your spears to your desired length. For instance, if we are making roasted zucchini spears, we cut each zucchini in half, then cut each half into three equal slices—a great way to get firm, long strips of squash. However, you may prefer to chop the zucchini spears into smaller lengths should you prefer a more snack-friendly recipe such as zucchini fries.
How to Dice Zucchini?
Cubed zucchini—also known as diced zucchini and chopped zucchini—is a must-have for dozens of tasty recipes.
Because of the bite-size pieces that result from this cutting method, it's perfect for vegetable soups or stews—my favorite being a creamy, vegan-friendly Zucchini Soup! You can make the ultimate healthy side dish in minutes with just a handful of ingredients.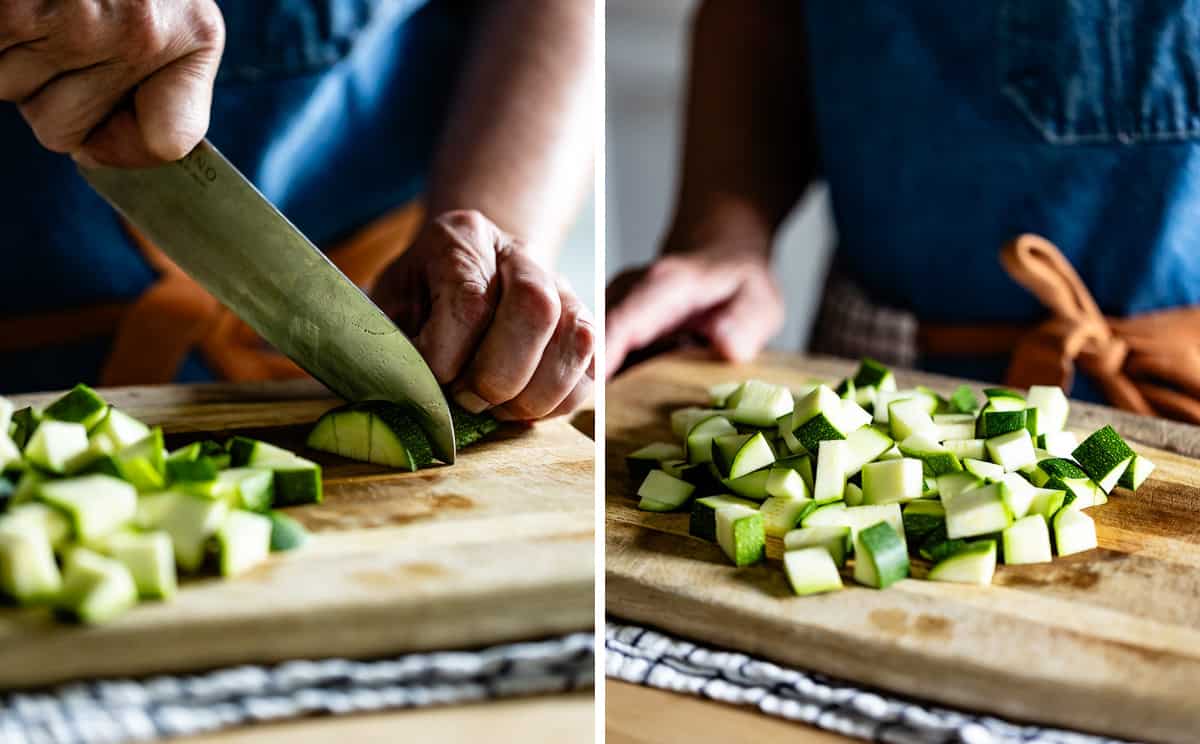 Slice the zucchini in half: Cut your zucchini in half lengthwise.
Cut spears: Draw your knife lengthwise along each half of the zucchini. Each half should yield about three equal spears, depending on your desired thickness.
Cube the zucchini: Align your spears perpendicularly to your knife and dice the zucchini into your desired cube size.
How to Cut Zucchini into Matchsticks?
There's no need to stress when you want how to cut zucchini for stir fry. This matchstick cutting method—also known as a julienne cut—results in beautiful, thin strips of zucchini that make the ideal addition to dozens of stir-fry recipes.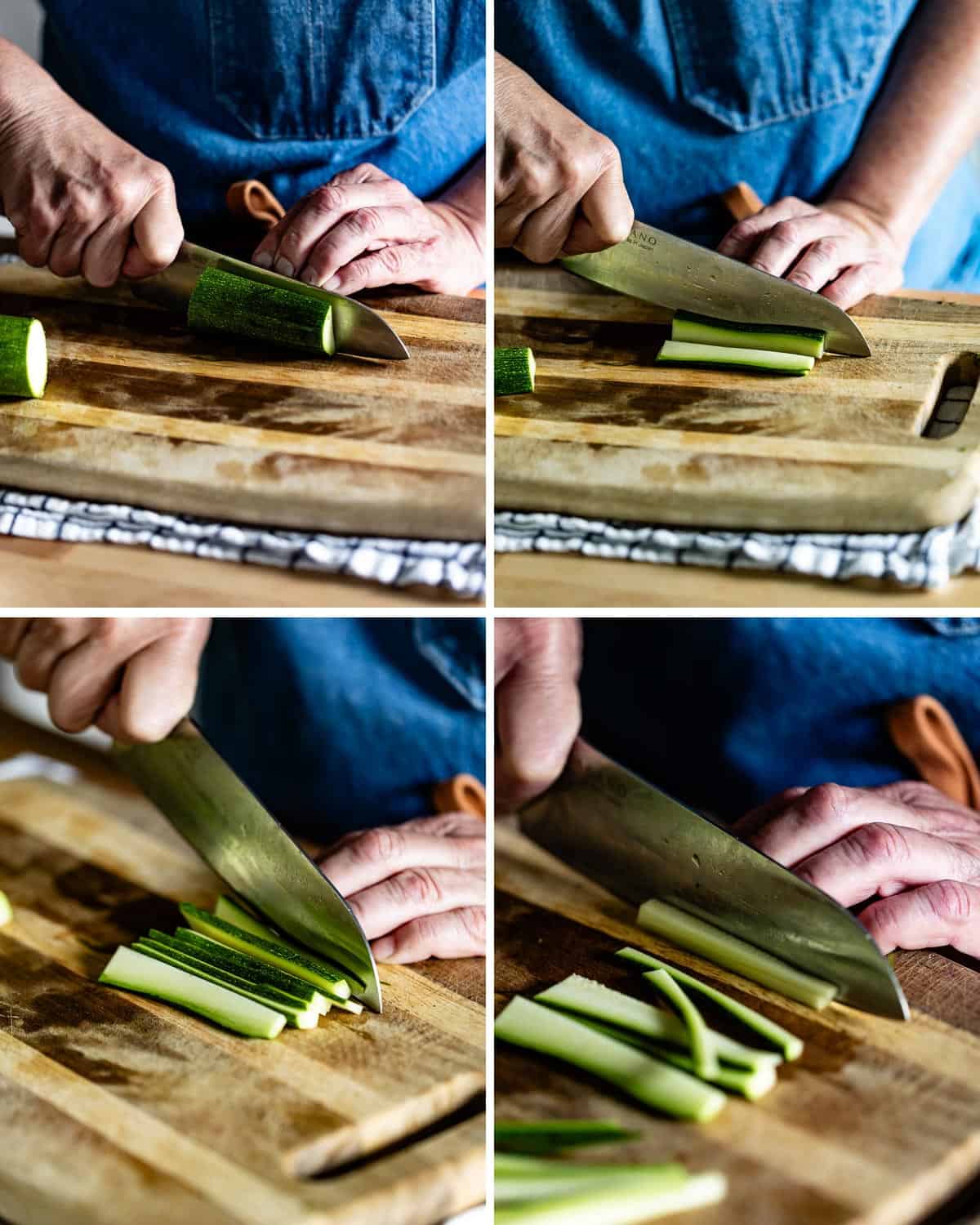 Halve the zucchini: Slice the zucchini lengthwise to get two halves.
Cut it into strips: Cut each piece lengthwise, slicing each half into smaller, thinner strips. If any strip is too large, you may cut it even more finely.
How to Thinly Slice Zucchini
Slicing zucchini thin is a perfect way to get exquisitely fine veggie strips, sheets, or ribbons.
The delicate, tender slices of thinly sliced zucchini are great for baked squash dishes. This cutting method is especially convenient when you need to slice zucchini for lasagna recipes with gooey cheese and a robust pasta sauce like my Zucchini Lasagna and Zucchini Lasagna rolls. They also make a great addition to delectably light salads, like my Zucchini Kale Salad.
I recommend using a sharp vegetable peeler when making these thin slices—ideally, a Y peeler if you have one. However, a sharp knife would also work to make zucchini ribbons, though getting uniform slices might be more difficult.
Shave the zucchini: Hold one end of the zucchini firmly in one hand. Use your free hand to grate your vegetable lengthwise with your vegetable peeler.
Transfer to a cutting board: The zucchini will become too thin to hold as you start coming to the end of your peeling. When you can no longer easily grip your veggie, lay it on your cutting board and use the surface as support as you slice the final thin ribbons.
You can also slice your zucchini with a mandoline slicer to produce similarly thin, equal strips of vegetables. However, keep in mind that unless you have a protective glove (affiliate link), it may be difficult to get your veggies to stick to the blades while performing the slicing motion. Still, this easy kitchen tool is incredibly helpful when you have gloves on hand—even without a mandoline guard!
FAQs
Learning how to cut a zucchini is a no-brainer when for beginner-friendly kitchen skills. However, this easy FAQ will answer any remaining questions, from how to store zucchini to ideal cooking methods.
How to cut zucchini for grilling?
The best way to cut zucchini for grilling is to slice it into spears. This cutting method is sturdy enough to withstand high heat and will result in perfectly tender, cooked pieces when grilling zucchini.
Can zucchini be frozen?
Yes! If you want to cut zucchini ahead of time, I highly recommend blanching your slices before placing them in the freezer. Blanching helps avoid flavor loss, discoloring, or unwanted texture changes—no one likes mushy, watery zucchini! To store your squash in the freezer, cut them into your desired shape, preferably at least ½-inch thick. Then, place the pieces into a large pot of unsalted, boiling water for 1-3 minutes or until they turn bright green, being careful not to overcook them. Immediately use a slotted spoon or colander to transfer the zucchini into an ice bath and stir until the veggies cool. Then, place the slices in a single layer on a baking sheet lined with parchment paper and paper towels. You may also use another sheet of paper towel to pat dry the tops of the veggies gently. Once you eliminate the excess moisture, transfer the baking sheet to the freezer for a few hours or until frozen. Then, portion the veggies into your desired amounts and place them in an airtight container or freezer-safe bag with as much air removed as possible. You can then store your zucchini in the freezer for up to six months.
How do I store cut zucchini in the fridge?
To keep your sliced zucchini in a refrigerator, cut your vegetable into your preferred shape and size. Then, place your veggie pieces into an airtight container or a Ziploc bag, squeezing out as much air as possible. Your zucchini will stay fresh—preferably in your fridge's crisper drawer—for 3-4 days. Also, because zucchini tends to release excess water during storage, be sure to drain your pieces before using them in your recipe.
Similar How-To Guides
Need a refresher on sharpening your knife skills when cutting veggies? Here are a few more how-to guides you might also like:
How To Cut Zucchini (6 Ways!)
Learn how to cut zucchini in 6 different ways: trimmed, cut into rounds, spears, diced, mathcsticks, and sliced thinly. Follow this easy step-by-step guide to sharpen your knife skills and use zucchini with confidence in your recipes.
Print Recipe
Instructions
Rinse the zucchini under cool water. Use your hand to remove dirt and debris, then dry with a clean kitchen towel.

Use a sharp knife and sturdy cutting board to slice off the top and bottom ends of the zucchini. Slice off any blemishes or bruises. Discard the removed pieces.

Cut the zucchini according to your preferred method below.
Zucchini Rounds
Cut the zucchini in half lengthwise.

Beginning at one end, cut the zucchini perpendicularly to its length. Slice round pieces in your desired thickness.
Zucchini Half-Moons
Halve the zucchini down the length of its body.

Set the two halves next to one another, cut-side down and perpendicular to your knife. Begin at one end to slice down the veggie halves, cutting half-moon pieces in your preferred thickness.
Zucchini Spears
Cut the zucchini lengthwise into two halves.

Slice each half lengthwise into three equal pieces.

If desired, cut the spears into shorter or thinner pieces.
Diced Zucchini
Slice the zucchini in half down its length. Cut each half lengthwise into three equal slices.

Rotate the slices so they lie perpendicularly to your knife. Begin at one end and dice the zucchini into cubes of your preferred size.
Zucchini Matchsticks
Halve the zucchini lengthwise.

Cut each half along its length into your desired thickness. If desired, you may cut your slices shorter to match your recipe.
Thinly Sliced Zucchini
Firmly grasp one end of the zucchini in hand. With your other hand, draw a vegetable peeler (you can use a regular vegetable peeler or Y peeler) lengthwise along the vegetable.

Lay the zucchini on the cutting board when it becomes too thin to hold. Use the surface as a support to finish peeling down its surface.
Notes
Peeling zucchini is optional, as zucchini skin is edible. If you decide to peel your zucchini, be sure to trim it first. Then, f

irmly hold one end of the zucchini in one hand. Use a vegetable peeler to remove the skin, rotating the vegetable as you work your way around its surface.

Mandolin Slicer: You can also slice your zucchini with a mandoline slicer to produce similarly thin, equal strips of vegetables. However, keep in mind that unless you have a protective glove, it may be difficult to get your veggies to stick to the blades while performing the slicing motion. For that reason, we prefer a vegetable peeler instead of a mandolin slicer for cutting thinly zucchini slices (to make our Zucchini Lasagna recipe.)
Like this recipe? Consider sharing: