I want to talk about a "feeling" today. You know, how a song, a taste or a smell can instantly take you back to a particular time of your life. When that happens, everything stops for a second and you realize how everything in your life has changed and how you are a different person than you used to be. I felt that way when I first took a bite of these Nutella Sandwich Cookies. It took me back to my high school days.
When I was in high school, a packaged version of this cookie, Çokoprens, was my favorite desert after lunch. Every single day…
I would never want to eat or, even try, anything else. This was "it" for me…
Imagine a super rich chocolate spread in between two shortbread cookies. It is the kind of taste that will make you want more. So much time has passed from those days but I still remember how much I enjoyed the taste of that cookie.
While I was looking for a similar taste, as usual, Ina Garten came to my rescue with a recipe called, Chocolate Hazelnut Cookies. Probably the closest homemade version of Çokoprens. If not, better.
To me, still to this day, this is the best cookie of all times.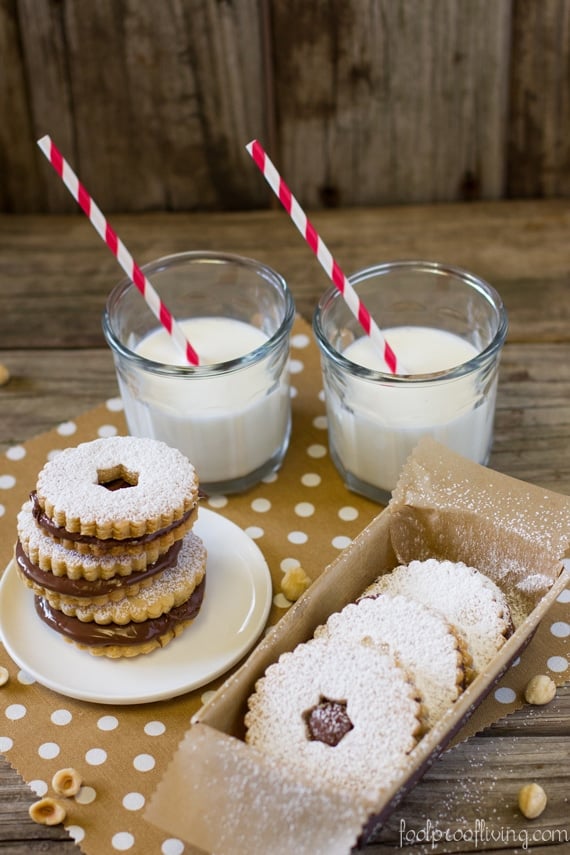 The best part about these cookies is that you can make them in advance and spread the Nutella spread right before serving. As long as you keep them in an airtight container, they are good for 5 to 6 days. You can share or just eat all of them yourself.
I shared. Therefore, I have some very happy friends.♥
If You Liked This Nutella Sandwich Cookies Recipe, You Might Also Like
Chocolate Peanut Butter Globs
Flourless Chocolate Cupcakes
Really Good Chocolate Chip Cookies with Sea Salt
Chocolate Almond Bark
Moist Chocolate Bundt Cake Recipe
Doubletree Hotel's Chocolate Chip Cookies
Nutella Sandwich Cookies
Ina Garten's chocolate hazelnut cookies turned into Nutella Sandwich Cookies. Simply put, it is made by spreading a hazelnut cookie generously with nutella and then placing another one on top for a delectable chocolate "sandwich". Serve with a glass of milk for kids or treat yourself with a cup of coffee.
Print Recipe
Ingredients
1/2

cup

whole hazelnuts

3

sticks

12 oz. unsalted butter, at room temperature

1

cup

(7 oz.) granulated sugar

1

teaspoon

vanilla extract

1

teaspoon

almond extract

3 1/2

cups

(17 1/2 oz.) all-purpose flour, sifted

1/2

teaspoon

kosher salt

1

cup

Nutella

2

tablespoons

confectioners' sugar – for dusting
Instructions
Pre-heat the oven to 350 °F.

Spread hazelnuts on a sheet pan and roast them for 10 minutes. Set them aside and let them cool.

Place them in a food processor, fitted with steel blade, and pulse for 10 times (2 seconds each), or until finely ground. Do not pulse too many times as it quickly turns into hazelnut butter.

Mix flour and salt in a bowl and set aside.

In the bowl of an electric mixer (with paddle attachment) mix the butter and sugar on low speed until combined (about 1 minute), scraping down the bowl if necessary.

While it is running on low speed, add vanilla and almond extracts, mix for 30 seconds.

Still on low speed, gradually add the flour and salt mixture. Scrape down the bowl to make sure that there are no big lumps at the bottom of the bowl.

Add the hazelnuts and mix until the dough comes together.

Place the dough onto a floured bowl and shape it into a disk. Wrap in plastic and refrigerate (chill) for 30 minutes.

On a floured board, cut the dough into half. While working with the first batch chill the second batch in the fridge. It is easier to handle it when the dough is cold.

Roll the dough 1/4 inch thick.

Cut 18 (2 3/4-inch) rounds with a fluted cutter. (You can use whatever cutter is your favorite. If you like other shapes or if you do not have this shape cutter, it is no problem.)

Use a 3/4-inch cutter to cut a small circle out of the middle of half of the cookies. Repeat this process with the second batch.

Line two sheet pans with parchment paper and place all the cookies on them and chill for 15 minutes.

Bake each sheet separately for 20 minutes, rotating once, until the edges of the cookies turn brown. Let it cool to room temperature.

Spread 1 1/2 tablespoon (or more!!!) Nutella Spread on the flat side of each solid cookie and place the cutout cookies on top.

Lightly dust with confectioners' sugar and eat!
Nutrition
Calories:
255
kcal
|
Carbohydrates:
44
g
|
Protein:
4
g
|
Fat:
7
g
|
Saturated Fat:
5
g
|
Sodium:
73
mg
|
Potassium:
117
mg
|
Fiber:
2
g
|
Sugar:
23
g
|
Vitamin A:
3
IU
|
Vitamin C:
1
mg
|
Calcium:
25
mg
|
Iron:
2
mg
Adapted from Ina Garten's, Chocolate Hazelnut Cookie
Like this recipe? Consider sharing: