The first time I heard about this cookie recipe was when Pure Green Magazine's Celine Mackay interviewed the famous blogger Tara O'Brady about her new cookbook – Seven Spoons: My Favorite Recipes for Any and Every Day
.
It was a great and informative listen, where she mostly talked about how she became a cook, started her blog and how this book came to be. But the part of the interview that stayed with me, even after several weeks of listening, was when she talked about the process of creating the recipe for these cookies.
Towards the end of the interview, while explaining the time and effort spent on certain recipes over the course of 18 months, she mentioned having baked 700 cookies to end finally with this recipe. SEVEN HUNDRED cookies!!
I did the math. If this recipe yields 28 cookies and you divide 700 by 28, it would be 25. Meaning that she made (more or less) TWENTY-FIVE batches of (variations) of this cookie dough just to come up with the best chocolate chip cookie recipe.
It made me think, what recipe could be more foolproof than this one? So I bought the book and made it for myself. And it didn't disappoint.
To be honest, until I made these cookies I didn't believe that a cookie could taste good without some type of nuts in it. I thought that the one and only recipe that I ever needed was the DoubleTree Hotel's famous Chocolate Chip Cookies, which happens to be one of the most popular recipes on this blog. But then after I made a batch of Tara's version, I was happily surprised.
I knew that the combination of sea salt and dark chocolate would not disappoint, but wasn't sure that they would be enough to compete with DoubleTree Hotel's recipe without any nuts in it. But they did. And in an incredibly delicious way.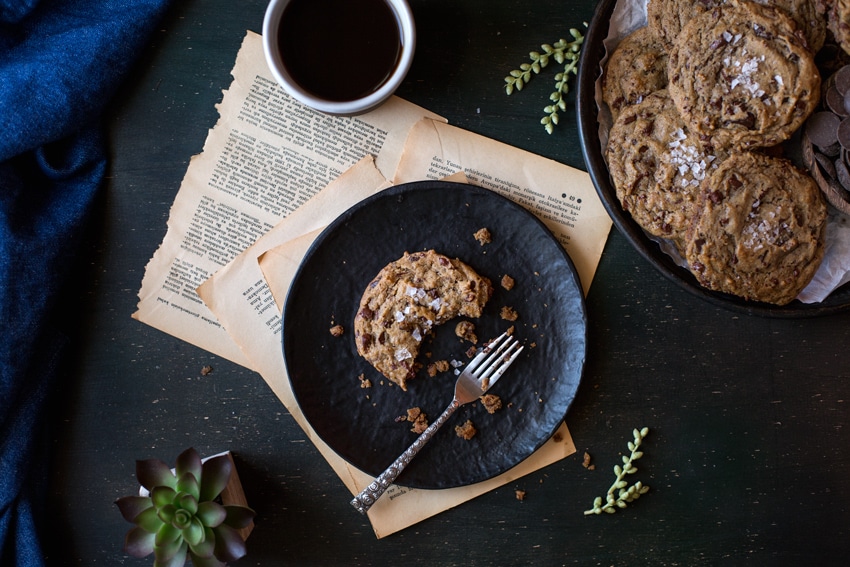 On a final note, even though in the recipe below, it instructs you to bake them right away, I almost never bake cookies on the same day. Instead, I cover the baking sheet with stretch film and let it rest in the fridge overnight. Over the years of baking, I learned that letting the batter rest overnight deepens the flavor immensely. And not just for cookie recipes, I do this for cake batters as well.
Also, I never bake all of the cookies on one day. After I let them sit in the fridge overnight, I place them in a large Ziplock bag and keep them in the freezer. That way whenever I want cookies, I can quickly bake some. If you do the same thing, make sure to take them out of the freezer 45 minutes prior to baking and increase the baking time 3-4 minutes.
Really Good Chocolate Chip Cookies with Sea Salt
Really Good Chocolate Chip Cookies with Sea Salt
Print Recipe
Ingredients
8

ounces

2 sticks unsalted butter

3 1/4

cups

(16.25 ounces) all-purpose flour

1 1/4

teaspoons

baking powder

1

teaspoon

baking soda

1 1/2

teaspoon

Kosher salt

I used Diamond brand

1 1/2

cups

(10.5 ounces) light brown sugar

1/2

cup

(3.5 ounces) granulated sugar

2

large eggs

2

teaspoons

vanilla extract

12

ounces

70% baking chocolate

chopped (I used Varlhona brand)

Flaky sea-salt

I used Maldon Salt
Instructions
Pre-heat the oven to 360 F degrees. Line three baking sheets with parchment paper. Set aside.

Place butter in a saucepan and heat in medium-low heat until it is melted. Do not let it boil or sizzle. All you want is for it to completely melt. Take off the heat and set aside for it to cool.

Meanwhile, sift the flour, baking powder, baking soda, and salt in a mixing bowl. Set aside.

In a separate large mixing bowl, whisk the sugars and melted butter. Whisk in the eggs one at a time. Stir in the vanilla extract.

Switch to a silicon spatula (or a wooden spoon) and fold in the dry ingredients. Mix just until incorporated.

Add in the chopped chocolate and mix until equally distributed throughout the dough.

Using an ice cream scoop (I used 2" ice cream scoop), divide the dough into smaller portions. Arrange them on baking sheets, leaving 3 inches in between each.

Sprinkle each cookie with sea salt. Bake on sheet at a time, until the tops are cracked and lightly golden, but they are still soft in the center, 10-12 minutes. Also, make sure to rotate the pan halfway through the baking process.

Once baked, let them rest in the sheet pan for 2-3 minutes and then transfer to a wire rack. Let them cool for 20-25 minutes. Serve.

Keep the cookies in an airtight container for them to keep their freshness up to a week.
Nutrition
Calories:
238
kcal
|
Carbohydrates:
31
g
|
Protein:
4
g
|
Fat:
13
g
|
Saturated Fat:
8
g
|
Cholesterol:
29
mg
|
Sodium:
195
mg
|
Potassium:
138
mg
|
Fiber:
2
g
|
Sugar:
16
g
|
Vitamin A:
219
IU
|
Calcium:
38
mg
|
Iron:
3
mg
Adapted from Tara O'Brady's Seven Spoons: My Favorite Recipes for Any and Every Day
.
Like this recipe? Consider sharing: