Even though I was very young when she died, there are just a couple of things I remember about my grandmother (babaanne). One of which is the wonderful smell of her kitchen. During summers, my parents would drop me off at my grandparents' house and I would spend my days playing in the kitchen while she was cooking. As a mother of 5 and a wife of a very demanding husband, she would spend most of her days in the kitchen cooking for them.
When I say cooking, I mean full-blown restaurant quality dishes for every meal. Every meal would have a salad, a meat dish, and a grain dish. The grain would either be bulgur or white rice flavored with meat stock and lots of butter. According to my father, the grain was the most important part of the meal, mostly because it served as a sponge for the flavors of the main dish.
When I look back and think as to why, I can only think of the time I spent with her to explain the reason for my love for bulgur. I feel like the amazing smell of a pot of bulgur made with butter and homemade stock is the only connection I have with my grandmother.
That is why when I decided to try Jerusalem's Chicken with Caramelized Onions with Cardamom Rice recipe, I couldn't help but make it with bulgur instead of rice.
This dish is a great representation of some of my favorite Middle Eastern spices like cardamom, cloves, and cinnamon. However, I must add, I don't think they would shine as much if it were not for the sweetness that comes from caramelized onions and currants. The crispy browned chicken, slowly cooked in a bath of spices and bulgur, wouldn't hurt, either.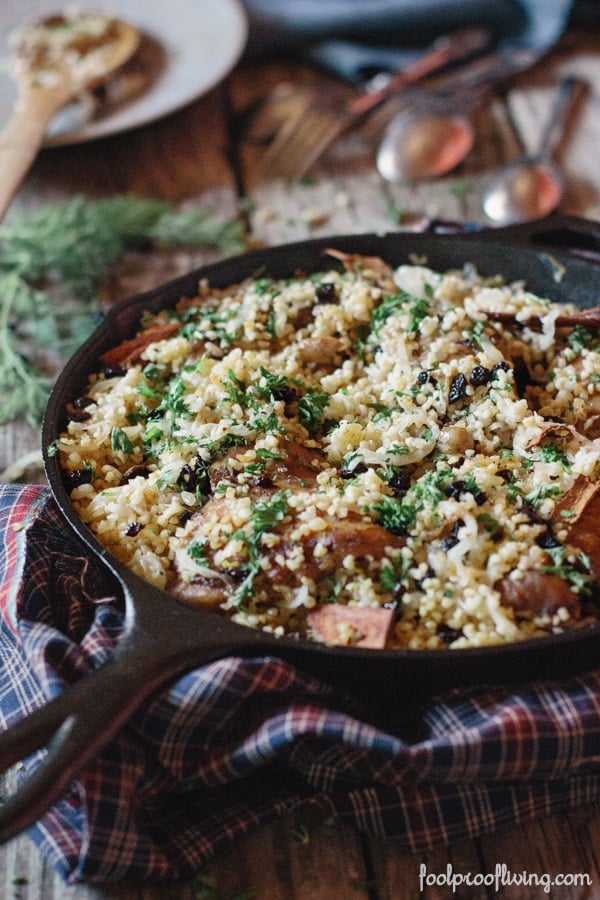 Bulgur in this dish, basically serves as a sponge for all the spices and their aromas. That, probably, explains why my husband, who is a "big-time" chicken lover, surprisingly asked for more bulgur, second time around, instead of more chicken.
The fact that it is a one-pot dish that is easy to make in less than an hour make it an ideal candidate for a weeknight meal. I made it in my 12-inch cast iron skillet but any skillet will do.Left overs are just as good the next day and it is a perfect dish to freeze. I recommend that you put individual portions in containers and cover them tightly before you freeze them.
Oh also, I should warn you about the smell that fills your house when you make this dish. The first thing that my husband said when he came home the day I made it was "What are you making?!!? It smells amazing here…"
Music to my ears… ♥
One-Pot Chicken with Cardamom Bulgur
Print Recipe
Ingredients
3

tablespoons

currants

2

tablespoons

lemon juice

freshly squeezed

4

tablespoons

olive oil

2

medium onions

thinly sliced

2

cloves

of garlic

pressed through a garlic press (or minced)

2

pounds

bone-in chicken thighs

pat-dried with paper towels

Salt and black pepper

freshly ground

10

cardamom pods

1/4

teaspoon

whole cloves

2

cinnamon sticks

1 1/2

cup

coarse bulgur

picked through and washed

2

cups

of boiling water

1

cup

Italian Parsley

chopped

1/2

cup

Dill

chopped
Instructions
Place currants in a small bowl and add lemon juice. Set aside.

Place the chicken thighs in a large bowl. Stir in 2 tablespoons of olive oil, cloves, cardamom, 1/2 teaspoon salt, and 1/4 teaspoon black pepper. Set aside and let it marinade.

In a 12-inch skillet with a lid (I used my cast iron skillet), heat 1-tablespoon olive oil over medium heat. Add onion slices and cook, stirring frequently with a wooden spoon, until it turns golden brown, 15-16 minutes. At the very last minute add the garlic and cook for a minute. Be careful, garlic can burn easily. Transfer the onion on a plate and set aside. Do not wash the skillet.

Return the skillet back on the stove, add the chicken thighs and cook 4-5 minutes on each side. Once cooked, transfer chicken on to a large plate, cover with aluminum foil, and set aside.

Discard the juices on the skillet. It is okay for some of the left overs of the spices to be on the skillet.

Drain currants.

Add bulgur, and cook for 5 minutes, stirring constantly, over medium heat.

Stir in the chicken, onion, currants, and cinnamon sticks to the skillet. Distribute the chicken equally in the skillet, ensuring that each piece is buried in bulgur.

Pour 2 cups of boiling water over it. Season it with 1/2 teaspoon salt and 1/4 (or more) black pepper. Turn down the heat to low, close it with a lid, and cook for 30 minutes.

Take the skillet off the heat. Remove the lid. Place a sheet of paper towel over it and put the lid back on. Let it sit for 10-15 minutes.

Stir in the herbs. Taste for seasoning and add, if necessary.

Serve immediately.
Nutrition
Calories:
811
kcal
|
Carbohydrates:
61
g
|
Protein:
40
g
|
Fat:
47
g
|
Saturated Fat:
11
g
|
Cholesterol:
189
mg
|
Sodium:
180
mg
|
Potassium:
974
mg
|
Fiber:
14
g
|
Sugar:
10
g
|
Vitamin A:
1867
IU
|
Vitamin C:
34
mg
|
Calcium:
132
mg
|
Iron:
5
mg
This recipe is adapted (with changes) from Jerusalem's
Chicken with Caramelized Onions with Cardamom Rice recipe.
Like this recipe? Consider sharing: