This year marks the 7th anniversary of my mom's passing. While time heals and eases the pain of her loss, I think about and miss her every day and find comfort in cooking some of her signature dishes.
Today's recipe, Bulgur Pilaf with Vermicelli, was one of her epic recipes. This vegetarian side dish was her go-to recipe whenever she was serving a meat dish like Turkish Meatballs or Beef Stew.
Nowadays, it surprises me every time when I hear my American friends tell me that they don't know what to do with bulgur and therefore don't use it as much in their cooking. The truth is that it is not much different than cooking rice, quinoa, and even wild rice.
If you feel the same way, want to know more about how to prepare and cook bulgur, then this post is for you. Below, I will share how to cook bulgur wheat along with my mom's tips and tricks.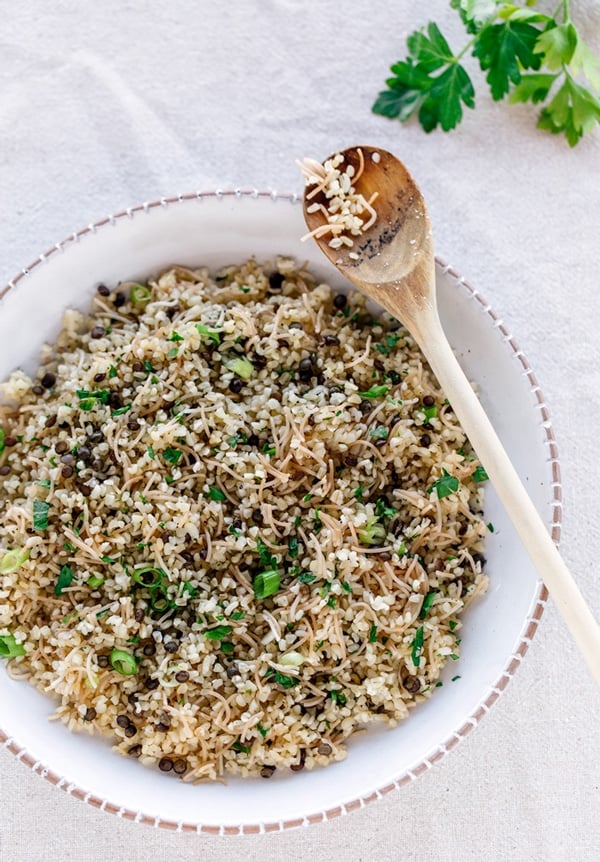 How to cook bulgur wheat
This process for this Bulgur Wheat Pilaf Recipe has 3 parts.
First, you sauté vermicelli with a little bit of butter and vegetable oil. While you can make bulgur pilaf without using vermicelli, I am a big fan of this version as I think toasted vermicelli adds a really nice earthy flavor to the end product.
The important thing here is to make sure to sauté vermicelli until it turns golden brown. It might look like it is burning towards the end, but this step is necessary for it to release all its nutty and earthy flavors.
Second, you add in the bulgur and sauté it with vermicelli until it is fully dried, 7-10 minutes. When it comes to cooking bulgur, this step is crucial as it dries the bulgur completely, prepares it for cooking, and enhances its earthy flavors.
Once it is fully dried, you add in your seasoning (i.e. salt and pepper) and pour in boiling hot water until it fully covers the bulgur. You give it a mix, turn down the heat to low, and let it cook for 15-18 minutes or until all of the liquid is absorbed.
How to Prepare Bulgur Wheat for Bulgur Pilaf
Here you might ask, do I need to wash the bulgur wheat before cooking it. There is really no right or wrong answer here other than it being a personal preference.
I know a lot of people who do not think that it is necessary to wash bulgur wheat before cooking. However, I prefer to give it a quick rinse before I cook as I believe doing so gets rid of any of the preservatives or dust on the wheat. Also because my mom used to wash hers.
I think the last part of this recipe, letting it fully rest, is the most important part. Once the liquid is fully absorbed you put a sheet of paper towel on top and cover it with the lid. Doing so allows the paper towel to absorb the steam and results in a fluffy bulgur pilaf.
MY MOM'S TIPS FOR THE BEST BULGUR RECIPE
Like I mentioned earlier, this bulgur pilaf recipe was one of my mother's signature dishes. After bread, it was a staple in our house. Growing up, she would tell me that every woman should know how to make a good bulgur pilaf.
Below are a few of her "secret" tips to make the best bulgur pilaf recipe:
Use butter: Even though you can certainly make bulgur pilaf with only vegetable oil, she thought that using butter was the key to a good-tasting pilaf. She used 2 tablespoons of butter per 1-cup of bulgur.
With that being said, if you want to make a vegan version of this bulgur pilaf recipe, you can omit the butter and use only vegetable oil instead.
Add pasta noodles like vermicelli or orzo: While you can make bulgur without vermicelli, when toasted with butter vermicelli turns golden brown and adds a beautiful color and a delicious flavor to the end product. That is why she always recommended making bulgur pilaf with vermicelli.
Sauté bulgur wheat before adding the water until it is fully dried: According to my mom, this was the most important step. Sautéing bulgur with butter and toasted vermicelli would not only allow flavors to combine, but also pre-cook it.
Use boiling water and/or homemade stock: Instead of using cold (or room temperature) water, she would use boiling water. Also, if we had it available, she would substitute 1 cup of the 2 cups of liquid with chicken or vegetable stock.
Let it rest: This was another big step. Once all the liquid was absorbed, she would remove the lid, cover it with a paper towel, and put the lid back on to rest for at least 15 minutes before serving. Then she would fluff it with a fork, taste it for seasoning, and add more if necessary.
While my mother usually served this bulgur wheat pilaf recipe as a side dish next to her meat or chicken dishes, nowadays, as you can see in the photos here, I also serve it by itself with adding a cup of cooked green lentils and a handful of chopped green onions.
Though if you were to go to Turkey, you might witness people serving bulgur pilaf with a drizzle of Tzatziki sauce on top too.
What kind of bulgur is best for this Turkish bulgur pilaf recipe
If you do a quick Google search, you will quickly find out that bulgur comes in 4 different grades: fine, medium, coarse, and very coarse.
One of the most popular Middle Eastern dishes Tabbouleh (Mixed Herb Salad made with bulgur) is made with fine bulgur, which also considered as quick-cooking bulgur. You can find the recipe for the best Tabbouleh recipe in my FREE Salads That Satisfy e-book.
For this bulgur pilaf recipe, I used coarse bulgur, which is usually sold in the bulk section of most supermarkets. You can also use very coarse bulgur for this recipe.
If you can't find coarse bulgur in your local supermarket, you can buy it on Amazon. This Turkish brand coarse bulgur (affiliate link) is the one I use and recommend.
A Few FAQs answered for the best bulgur pilaf
Can I make a big batch of this bulgur wheat pilaf and freeze it for later? Yes, you can. Simply, bring it to room temperature, place it in an airtight container, and freeze up to 2 months.
How many calories in a cup of bulgur wheat? According to Nutrifox (the calorie count software I use), one serving of this cooked bulgur recipe provides 180 calories, 6.3 grams of fat, 4.9 grams of dietary fiber (about 20% the recommended daily value), and 4.7 grams of protein.
You can find more information on Bulgur's nutrition facts underneath the recipe card below.
Other bulgur recipes you might like
Other Turkish recipes you might like
Turkish Bulgur Pilaf Recipe
Yields:
4
servings (3 cups of cooked bulgur)
Learn how to make the best Turkish bulgur pilaf recipe with my mom's tips and tricks. 
Print Recipe
Ingredients
2

tablespoons

unsalted butter

or vegetable oil – if you prefer a vegan version

1/4

cup

vermicelli

1

cup

coarse bulgur

picked over, rinsed, and drained

2

cups

water

boiling water

1

teaspoon

salt

1/4

teaspoon

ground black pepper
Garnishes
1

cup

cooked green lentils

2-3

stalks of scallions

chopped

handful of Italian

or flat leaf parsley, chopped
Instructions
Heat butter in a medium size saucepan in medium-heat. Add in the vermicelli and stir constantly under it turns golden brown, 4-5 minutes.

Stir in bulgur and cook, while stirring constantly, for 6-7 minutes.

Pour in the boiling water and salt. Give it a big stir and cover it with the lid.

Let it come to a boil and turn the heat down to low. Cook for 15-18 minutes or until all liquid is absorbed.

Remove from the heat. Remove the lid, put a sheet of paper towel over the top and put the lid back on. Let it rest for 15-20 minutes.

When ready to serve, fluff it with a fork, sprinkle with black pepper, and if preferred, garnish it with lentils, scallions, and parsley.
Nutrition
Calories:
295
kcal
|
Carbohydrates:
51
g
|
Protein:
10
g
|
Fat:
6
g
|
Saturated Fat:
4
g
|
Cholesterol:
15
mg
|
Sodium:
623
mg
|
Potassium:
378
mg
|
Fiber:
11
g
|
Sugar:
1
g
|
Vitamin A:
235
IU
|
Vitamin C:
2
mg
|
Calcium:
34
mg
|
Iron:
3
mg
Did you make this recipe?
Tag @foolproofliving on Instagram and hashtag it #foolproofeats
This post was originally published in September 2015 and updated with additional helpful information in March 2019.
Like this recipe? Consider sharing: