I was on the verge of crying from happiness when I saw fennel in our little supermarket on Virgin Gorda. This wasn't the first time that I saw it available, but usually by the time it makes it to the shelves it does not look very appealing to me. So I never attempted to buy it.
However, this time it was looking so fresh that you could easily think they were picked up in the morning.
Ignoring the $4.99/bulb price tag, I immediately grabbed two of them. I had no idea what to make but I knew this was a once in a lifetime opportunity.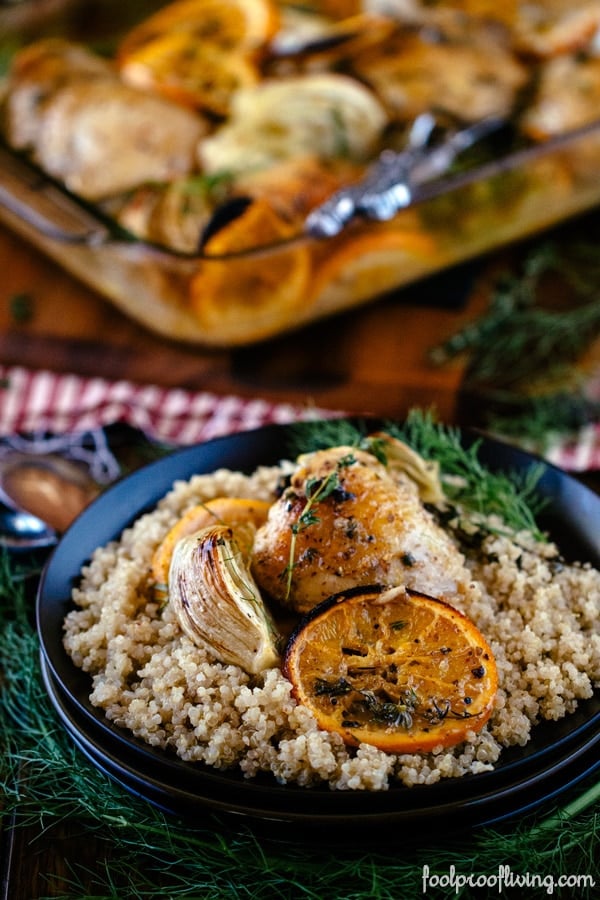 First I though about making a fennel salad with oranges. However, I would rather make that salad with blood oranges, and finding blood oranges on Virgin Gorda is close to impossible.
Sticking to the idea of fennel and oranges, I decided on this chicken recipe.
And I am so glad I did because it ended up being perfect.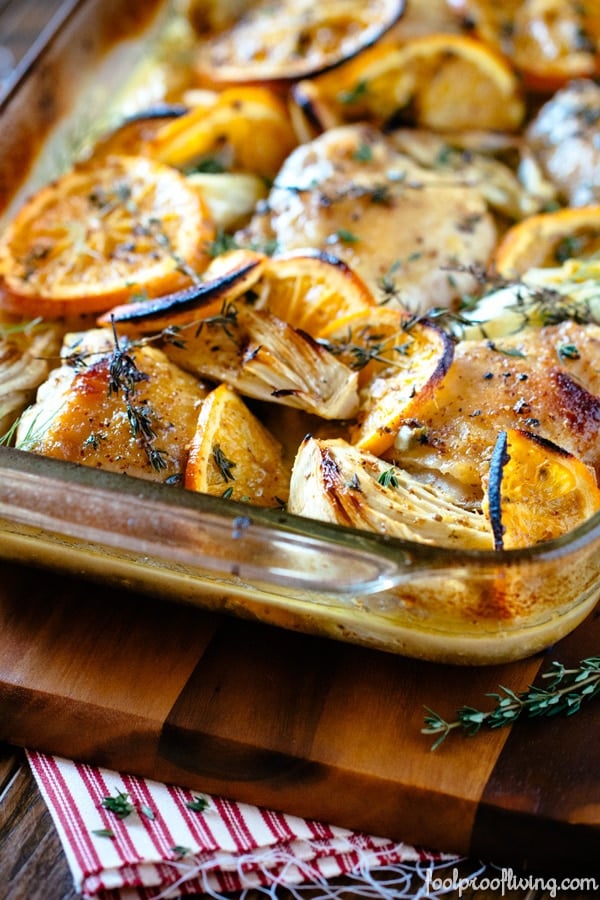 To make it, I started with a quick marinade made up of Pernod, olive oil, orange juice, lemon juice, mustard, brown sugar, salt and pepper. I placed the chicken thighs, fennel wedges, and orange slices in the marinade. To give it more flavor, I added fennel seeds and fresh thyme. I let it sit in the fridge for a couple of hours  (overnight would work too) so that they can all mingle and release their magical flavors.
Then all I had to do was to put it in the oven. It took 40 – 45 minutes for everything to cook through, but when it came out of the oven it was nothing short of perfection. The sugars of oranges almost caramelized as they roasted and created a delicate combination with the licorice aromas of fennel bulbs.
To serve it, I made a bed of cooked bulgur (1 cup) on a dinner plate. I placed a piece of chicken thigh in the middle and decorated both sides of the chicken with a couple of slices of oranges and fennel bulbs. Last but not least, I poured a couple of tablespoons of the juices that I reduced to give them all a shine. To finish it up, I sprinkled it with some chopped fresh thyme and fennel fronds.
As I was setting the table for dinner that night, I decided to open a bottle of wine. My husband looked at me and asked if we were celebrating something that he was not aware of.
We weren't, but I guess if we were I couldn't imagine a better dish to do so with.
Print
Oven-Roasted Orange Chicken with Fennel
Prep Time:

15 minutes

Cook Time:

45 minutes

Total Time:

1 hour

Yield:

4
Ingredients
1/3 cup Pernod
4 tablespoons olive oil
3 tablespoons orange juice, freshly squeezed
3 tablespoon lemon juice, freshly squeezed
2 tablespoons grainy mustard
3 tablespoons brown sugar
2 teaspoons salt
1 1/2 teaspoons black pepper, freshly ground
2 1/2 lb. chicken thighs, bone-in
2 medium fennel bulbs, washed and cut into 6 equal wedges
3 oranges, sliced horizontally into 1/4 inch slices
1 tablespoon fresh thyme leaves, chopped finely
3 teaspoons fennel seeds
1-tablespoon fennel fronds – as garnish
Instructions
Mix Pernod, olive oil, orange juice, lemon juice, mustard, brown sugar, salt and pepper in a large mixing bowl.
Pat-dry chicken thighs with paper towel.
Add the chicken thighs, fennel wedges, orange slices, thyme, and fennel seeds into the mixture. Stir well.
Cover it with plastic wrap and let it marinade at least for 2 hours or overnight.
Pre-heat the oven to 475 F Degrees. Place the chicken thighs (skin side facing up), in a single layer, into a large ovenproof glass pan (I used a 11"X15" Pyrex). Distribute all the fennel wedges and orange slices equally around the chicken thighs. Pour the marinate juices over it.
Place it in the oven, and roast for 40-45 minutes.
Transfer the chicken thighs, fennel wedges, and orange slices into a serving plate. Cover with aluminum foil to keep warm. Set aside.
Pour the juices into a small saucepan. Bring it to a boil, over medium-high heat. Then turn down the heat to low, and allow it to simmer until it is reduced to 1/3 cup.
Pour over the sauce over the chicken. Garnish it with fennel fronds.
Serve.
Fairly heavily adapted from  Jerusalem
's Roasted Chicken with Clementines & Arak recipe.