Lately, roast chicken has been my go-to dish. I love it, because it is somewhat easy to put together and requires very little hands on time for such a beautiful end product that takes care of dinner for a couple of nights in our household. This recipe is a combination of several recipes and techniques that I tried and perfected over the last couple of months.
Prior to finding this method, I always had the same issue with roasting chicken: breast meat that was dry and flavorless. The problem was that after being exposed to a really high temperature in the oven, the breast meat would cook much earlier than the other parts, which resulted in most of the moisture being drawn out of the meat.
To prevent that, I tried some popular methods like rotating the bird in the middle of the process, browning it beforehand and continue with roasting it in lower temperatures, etc. But for some reason, none of those methods gave me what I was looking for.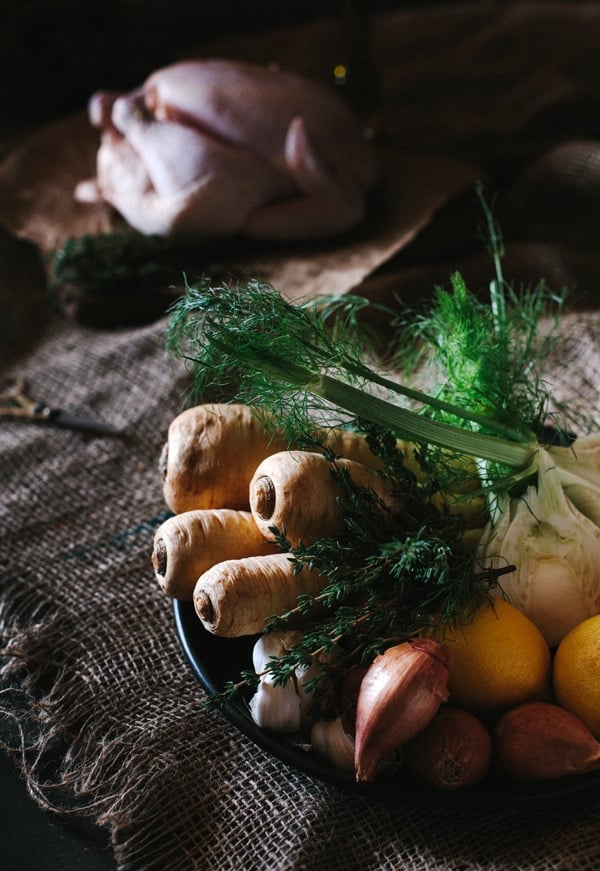 Finding a Technique That Works
The solution came from America's Test Kitchen (aka ATK). What they did was to roast the chicken in a pre-heated hot skillet for half an hour in a 450-degree oven (which is higher than many recipes suggest), then turn the oven off, and let the bird continue to roast for another 30 minutes or so. Turning off the oven when the meat was halfway roasted allowed the chicken to finish cooking gently without drying out.
I tried this technique and it was magical. While the breasts were moist and soft, the rest of the chicken was roasted perfectly. The only thing that I didn't like was the fact that the skin wasn't as crisp as I would have liked. When I looked into it, I found that there were many ways to get a super crisp skin. Brining the chicken for an hour was the most popular method. But, I didn't want to wait for an hour. Another popular method was drying the bird using paper towels and letting it air-dry (some people even suggested putting it in front of a fan) on the kitchen counter. Once it was thoroughly dried, they seasoned it with a little bit of oil and salt and pepper. And that was what I did.
Adding Vegetables to Boost Flavor
As I was thinking about incorporating some vegetables into the recipe, I had to alter the technique of the ATK a little bit. Since I wanted to line the bottom of the pan with vegetables, I had to find a way to jump-start the roasting process. To do that, I browned both sides of the chicken on the stove for a couple of minutes. I transferred it on a plate while pre-cooking the vegetables to bring out their flavors. Then I placed the browned chicken on top of the vegetables (with all of its juices) and put it in the oven. I roasted it for 30 minutes, turned the oven off, and let it continue roasting for another 25-30 minutes. At the end, the chicken was evenly roasted and the vegetables, infused with the juices of the chicken, were tender and flavorful.
In terms of vegetables, I used parsnips, fennel, shallots, and lemon. But really, you can use any vegetable combination you like. Other options like carrots, potatoes, and onions would also work just as well.
More Chicken Recipes You might Like
Cuban Roast Cornish Game Hens
Braised Chicken Thighs with Mushrooms and Almond Puree
Chicken Rice Pilaf with Pine Nuts, Currants, and Herbs
Southwestern Chicken Salad with Creamy Avocado Dressing
Quick Chicken Stir Fry with Roasted Broccoli
---
Skillet Roast Chicken with Parsnips and Fennel
The title may say Skillet Roast Chicken with Parsnip and Fennel, but this is more than a recipe. It is a technique perfected to make the most flavorful and moist chicken every time. Whole chicken lightly browned in a cast-iron skillet and roasted on a bed of vegetables.
Print Recipe
Ingredients
4

lbs.

whole chicken

1

+ 1 tablespoons of olive oil

divided

1

tablespoon

kosher salt

1/2

teaspoon

black pepper

preferably freshly ground

2

shallots

peeled and chopped

1

fennel bulb

sliced 1/2 inch thick slices

3-4

parsnips

peeled and cut into 1/2-inch thick rounds

2

cloves

of garlic

minced

Zest of a lemon

1

lemon

sliced 1/4 inch thickness (plus more for serving)

2-3

sprigs of fresh thyme
Instructions
Pre-heat oven to 450 degrees.

Using paper towels pat dry the whole chicken and let it air dry on the kitchen counter for 20-25 minutes. Rub it with 1 tablespoon of oil and season it generously with salt and pepper inside and out. Tie legs together with kitchen twine and tuck wing tips behind back. Set aside.

Heat a 10-inch cast iron skillet (or an oven-safe skillet) in medium heat for 2-3 minutes (The pan should be really hot). Place the chicken in the middle of the hot skillet breast side down and let the skin brown for 2 minutes. Using tongs, gently (being careful to not to tear the skin) rotate the chicken to brown the other side for 2-3 minutes. Transfer the chicken and all the juices onto a plate. Do not wash the skillet.

Heat 1 tablespoon of olive oil in the same skillet. Add the shallots, fennel slices, and parsnips. Cook, stirring occasionally 2-3 minutes. Stir in the garlic and lemon zest, and cook for 30 seconds.

Distribute the vegetables on an even layer and place the chicken in the middle, breast side up.

Place the lemon slices and sprigs of thyme around the chicken.

Transfer to the pre-heated oven.

Roast chicken until breasts register 130 degrees when a thermometer is inserted from the side, 30-35 minutes.

Turn the oven off and let the chicken continue to roast in the oven for another 25-30 minutes or until breasts register 160 degrees.

Let the chicken rest for 15 minutes before cutting. Serve chicken and vegetables with fresh lemon slices.
Nutrition
Calories:
735
kcal
|
Carbohydrates:
20
g
|
Protein:
58
g
|
Fat:
46
g
|
Saturated Fat:
13
g
|
Cholesterol:
227
mg
|
Sodium:
1404
mg
|
Potassium:
1076
mg
|
Fiber:
6
g
|
Sugar:
5
g
|
Vitamin A:
491
IU
|
Vitamin C:
34
mg
|
Calcium:
90
mg
|
Iron:
4
mg
The inspiration for using parsnips and fennel as vegetables came from this recipe.
Like this recipe? Consider sharing: