Are you ready to up your Meatless Monday game? If so, I've got you covered. This high-protein, plant-based, vegan Quinoa Power Bowl is easy-to-make, quick to put together, and a great way to sneak vegetables into your diet.
This post has been sponsored by Gardein™ and Earth Balance products. All thoughts and opinions are my own.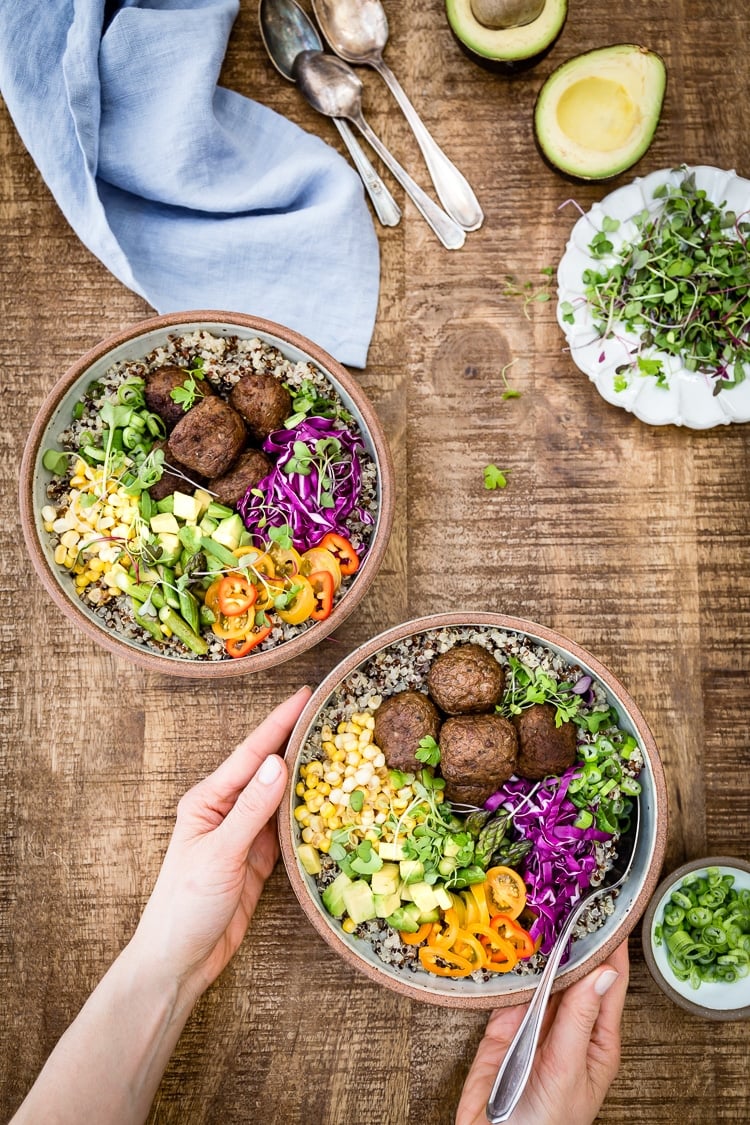 The temperatures are still below freezing, but thankfully spring started showing its face in our local Whole Foods Market. Every time I go there, colorful and beautifully laid-out vegetables are making me feel hopeful that warmer days are ahead. Consequently,  I find myself leaving the store with all kinds of colorful vegetables.
Today's recipe, Quinoa Power Bowl, happened as a result of one of those visits. This plant-based, protein-packed, gluten and dairy free vegan bowl is our current favorite meal.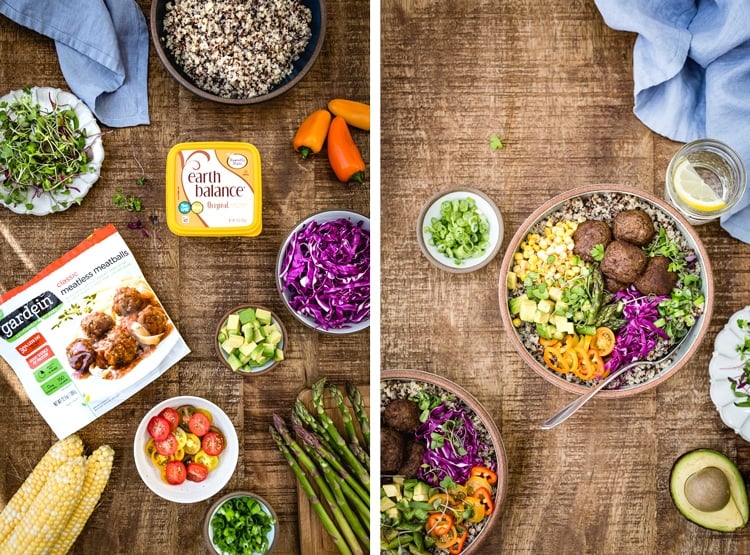 About This Quinoa Power Bowl:
As the name suggests, the base of this bowl is quinoa. If you are a fan of this seed like I am, you know that quinoa is very high in protein. It is no secret that it is a powerhouse by itself. However in this recipe, to make it even more "powerful", I topped it off with Gardein Classic Meatless Meatballs.
I was introduced to this vegan alternative to "meatballs" by a friend, who has been a big fan for sometime now. She recently served them at a gathering as an appetizer and since then I have been meaning to give them a try. So in my last visit to Whole Foods Market, I picked up a few packets for us to try at home. I have to say, they did not disappoint.
These meatless meatballs are sold at the frozen section of the supermarket. They are so convenient in that you don't have to worry about thawing them. You can easily bake them in the oven, cook in the microwave, or sauté (like I did)  to serve them in less than 15 minutes. With Gardein and Earth Balance, it's easier to choose plant-based food without giving us taste, convenience, or quality.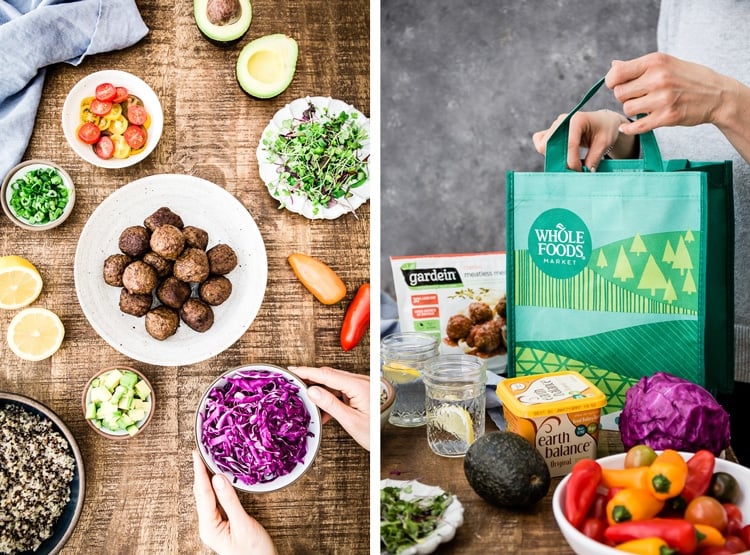 Speaking of sauteing, I used Earth Balance Original Buttery Spread® to cook the meatballs. I have seen a lot of vegan blogger friends use it as an alternative to butter so I wanted to give it a try.  I was surprised to find out that it had a surprisingly smooth taste for a dairy-free butter.
Best Toppings For Quinoa Power Bowl:
To top off the quinoa, in addition to Gardein Classic Meatless Meatballs, I used colorful vegetables. I love that they are not only super healthy, but also visually appealing for those of us who eat with their eyes.
While you can use whatever vegetable you have on hand, I used bell peppers, red cabbage, sprouts, avocados, asparagus, and fresh corn. I sauteed the corn and asparagus just a little bit with Earth Balance Buttery Spread after I finished cooking the meatballs. Using the same pan helped with infusing the oregano and fennel flavors of the meatballs into the vegetables to create a cohesive flavor profile throughout the dish.
A Few Helpful Tips:
As it is in most layered bowl recipes, seasoning each component of the recipe is important for a delicious end product. I recommend giving each ingredient a taste for seasoning as you layer your bowls.
After I assembled my quinoa power bowls, I drizzled them with a little bit of olive oil and sprinkled them with a pinch of sea salt. Though it is totally optional, I thought it was a game changer.
Since I wanted to keep it simple, I used a little bit of freshly squeezed lemon juice to flavor the quinoa. However, last night I made the same bowl, but this time I drizzled it with some leftover Green Cashew Sauce I had in the fridge. It was such a great alternative. I bet my Creamy Avocado Salad Dressing would also work very well, especially if you are an avocado fan.
Print
Quinoa Power Bowl
This high-protein, plant-based, vegan Quinoa Power Bowl is easy-to-make, quick to put together, and a great way to sneak vegetables into your diet.
Author:
Prep Time:

10 min

Cook Time:

30 min

Total Time:

40 minutes

Yield:

4-6 servings

Category:

Dinner

Method:

Cooking

Cuisine:

American
Ingredients
To Make The Quinoa:
1 ½  cups quinoa, rinsed well

3 cups water or vegetable broth

1 teaspoon salt

1 tablespoon Earth Balance Original Buttery Spread
To Make The Power Bowl:
3 tablespoons Earth Balance Original Buttery Spread, divided

1 package of Gardein Classic Meatless Meatballs

1 cup fresh corn

10-12 stalks of asparagus, rinsed and cut into small (1 inch pieces)

¼ teaspoon salt

Pinch of black pepper

1 cup scallions, chopped

2 tablespoons lemon juice

½ cup sprouts (or salad greens)

½ cup red cabbage, chopped

1 ripe avocado, cut into small cubes

4-6 baby bell peppers

Drizzle of olive oil, optional
Instructions
To make the quinoa:

Place quinoa, water (or vegetable broth), salt, and Earth Balance Original Buttery Spread in a saucepan over medium-high heat. Give it a mix, put the lid on, and bring it to a boil. Once it comes to a boil, turn the heat down to low and cook for 12-14 minutes or until the liquid is full absorbed. Turn off the heat and let it cool for 15-20 minutes. Fluff it with a fork.

To cook the meatballs:

Heat 2 tablespoons Earth Balance Original Buttery Spread in a 10-inch skillet over medium heat. Add in the frozen Gardein Classic Meatless Meatballs and sauté for 15-17 minutes, turning often. If your skillet is a small one, you may have to do it in 2 batches. Transfer the now-cooked meatballs from the skillet to a plate and cover with foil to keep them warm. Do not turn the heat off

Add in the remaining 1 tablespoon Earth Balance Original Buttery Spread into the skillet and sauté  fresh corn and asparagus over medium heat for 5-6 minutes or until they are soft. Season with salt and pepper. As you are sautéing the corn and asparagus, use a wooden spoon and scrape the bits of the meatballs (if there are any) to mix them with the vegetables.  

To assemble the Quinoa Power Bowls:

Add in scallions and lemon juice into the cooked quinoa. Taste for seasoning and add in, if necessary.

Divide quinoa amongst 4 large bowls and top them off with cooked meatballs*, asparagus, corn, sprouts, red cabbage, and avocado. If preferred, drizzle each bowl with 1 teaspoon of olive oil and serve immediately.
Notes
Each package comes with 12 meatballs so it should 3 meatballs per serving. Each serving of meatballs is 150 calories.
Find your local Whole Foods market HERE, and be sure to purchase the Gardein Classic Meatless Meatballs, and Earth Balance Buttery Spread and save using this coupon offer.