I love roasting various kinds of squash in the fall and winter months, as this vegetable family is so versatile and always caramelizes beautifully in the oven. If you're like me and can't wait to roast squash this season, be sure to also try my other favorite squash recipes; Roasted Butternut Squash or Roasted Delicata Squash.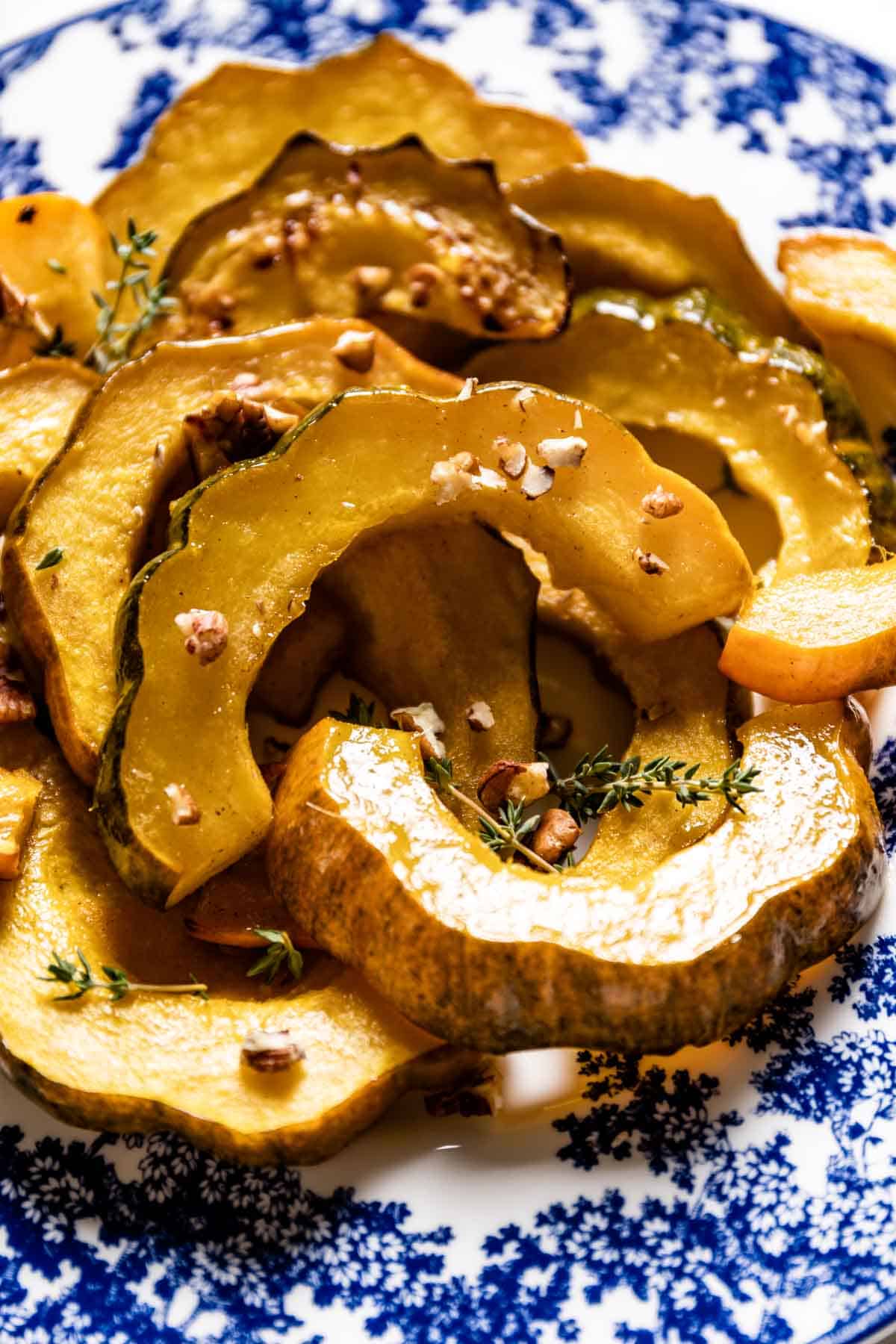 Similar to those recipes, this roasted acorn squash recipe is vegan, gluten-free and low-carb friendly, which is ideal if you are serving people with multiple dietary restrictions.
Ingredients
We're using lots of classic fall flavors in this recipe for roasted acorn squash. The maple and cinnamon mixture complements the nutty, buttery flavors of the squash, and a pinch of salt and pepper adds a savory element that perfectly highlights the sweetness of this recipe. All you need are a few simple ingredients:
Acorn squash: Green, white, and even golden acorn squash would work just fine for this paleo acorn squash recipe, or you can even use the smaller variation called "carnival squash" for roasted carnival squash slices. Try to choose a squash between 1 and 1 ½ pounds, which will yield about 4-5 slices. When selecting your squash at the store, look for one with skin that's green and orange in color with a smooth, slightly dull appearance. Give the flesh of the squash a squeeze to ensure it's firm, and choose one that feels heavy for its size.
For the olive oil-maple syrup mixture, gather olive oil, pure maple syrup, ground cinnamon, kosher salt, ground black pepper, and (optional) chopped pecans or pumpkin seeds and chopped fresh herbs such as sage leaves, thyme, or parsley.
Substitutions, Seasoning Ideas, Optional Toppings
These oven-roasted acorn squash slices are delicious with just their simple maple-olive oil topping, but you can also dress up your slices with various fall-inspired toppings or spices to give them a little extra flair. I've included some topping suggestions here, along with a few simple ingredient swaps:
Oil: While I used olive oil in this healthy acorn squash recipe, you could also use coconut oil or avocado oil. For an extra rich flavor, try using melted butter instead.
Maple Syrup: I chose maple syrup for the sweet component of this recipe so that everyone, including my vegan friends, can enjoy this vegan roasted acorn squash! However, if you're not vegan and don't have any maple syrup on hand, feel free to use honey instead.
Seasoning: If you're itching to use those warm autumn spices, like ground cloves, allspice, or nutmeg, add them to the maple syrup mixture before brushing it on the slices for an extra cozy flavor.
Topping ideas: To add an extra nutty crunch and take this caramelized acorn squash to the next level, try topping the slices with nuts or seeds like pumpkin seeds, walnuts, or pecans. I recommend roasting your nuts or seeds in the oven or in a pan to really bring out their flavor. Simply add your desired toppings to the roast sliced acorn squash once it comes out of the oven.
Fresh herbs: It's amazing how a just sprinkle of fresh herbs can perfectly complement the nutty flavor of this slow-roasted acorn squash recipe. If desired, garnish your oven-roasted acorn squash slices with fresh thyme, sage, or parsley after the baked squash slices come out of the oven.
Brown sugar: Brown sugar is often paired with similar golden acorn squash recipes to add a touch of sweetness. We like to stray away from refined sugars here on the blog; unfortunately, brown sugar falls into that category. While you're free to dust your squash slices with brown sugar if desired, I recommend using coconut sugar instead. They have a very similar flavor profile, and coconut sugar still provides that warm sweetness! Dust a tablespoon of coconut sugar over the slices while they're warm.
How Do You Cut Acorn Squash into Slices
Cutting a squash may seem like a daunting task because of the vegetable's size, but this easy step-by-step guide will help you prepare your squash slices for roasting in no time. Here's how to cut up acorn squash:
Cut off the top of the squash: Identify the top of the squash, which is where the stem is located. Lay the squash on its side on a cutting board and, holding firmly with one hand, cut off the top. I recommend using a sawing motion while gently applying pressure with a sharp knife.
Slice the squash in half: Position the squash on the flat surface you created by the cut so that the bottom of the squash faces up. Cut it in half down the center.
Scoop out the seeds: Use a melon baller or a large spoon to remove all the seeds.
Cut the squash into slices: Lay down the squash halves and cut into 1-inch thick slices. The slices should resemble inch-think half-moons. Alternatively, you can skip step 2 and cut the slices into circles after removing the top of the squash. From there, you can use a knife or cookie cutter to remove the seeds so that the slices resemble acorn squash rings.
How to Bake Acorn Squash Slices
Once you prepare acorn squash by cutting it into slices, all you have to do is brush on the maple syrup-olive oil mixture and roast your acorn squash slices in the oven. Plus, your kitchen will smell heavenly while these are baking! Here's how to roast acorn squash slices:
Preheat the oven: Set your oven to 400 degrees F. Line a baking sheet with parchment paper.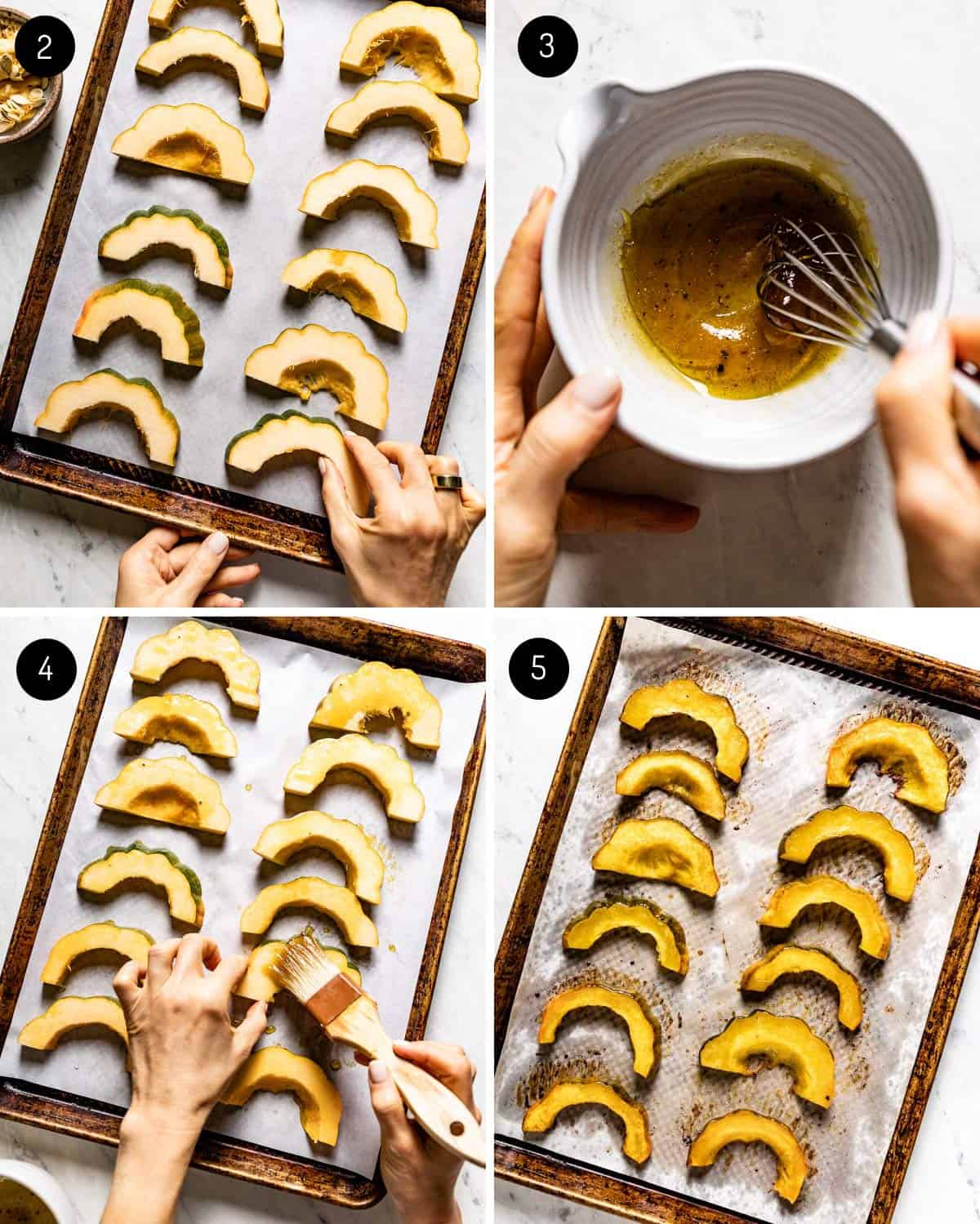 Add the squash slices: Place your slices of acorn squash on the parchment-lined sheet pan, taking care to arrange them in a single layer. Use two sheet pans to avoid overcrowding, if needed.
Prepare the topping: Combine all the ingredients for the maple syrup mixture in a small bowl.
Brush squash slices: Using a pastry brush, apply the mixture to each sliced acorn squash evenly. If you're left with extra mixture, set it aside for later.
Roast: Roast the slices in the preheated oven for 15 minutes. Remove the cookie sheet from the oven, flip the slices, and bake for another 15 minutes or until they appear lightly golden brown. Remove the sheet pan acorn squash and let cool for about 5 minutes.
Add remaining topping: If you have any of the olive oil-maple syrup mixture left over, brush it on the warm squash slices. Arrange the slices on a large plate or serving platter.
Garnish and serve: Top the slices with toasted nuts, seeds, or fresh herbs, if desired. The slices are delicious when served warm or at room temperature.
What to Serve it With
These roast acorn squash slices are the perfect addition to a fall salad or a beautiful complement to a number of fall and winter main dishes. If you're still wondering what to do with your roasted squash slices, see below for some inspiration:
How to Store Leftovers
Store leftover sliced roasted squash in an airtight container in the fridge for up to 3-4 days.
You can technically freeze baked acorn squash, but I find that it loses its texture after it is thawed. Therefore I would not recommend freezing it.
How to Make This Recipe Savory
While the flavor profile of this recipe is definitely on the sweet side, did you know that you can also make these baked acorn squash slices savory? If your dinner table or holiday spread requires a savory side dish, here's how you can make this recipe less sweet but equally delicious:
Omit the maple syrup: Since the syrup mixture gives this recipe a kick of sweetness, simply omit the syrup for a sugar-free acorn squash recipe. Doing so also lets the squash's natural sweetness shine through and gives you a more savory baked acorn squash flavor.
Switch up the spices: Instead of using ground cinnamon, which is usually paired with sweet flavors, try seasoning acorn squash with ¼ teaspoon of each chili powder (or paprika) and garlic powder.
Add some cheese: The nuttiness of parmesan cheese perfectly complements the caramelized flavors of roasted squash and gives it a more savory flavor profile. Add some chopped fresh herbs and sprinkle on 2-3 tablespoons of parmesan cheese for herb roasted parmesan acorn squash.
FAQs
Do you have to peel acorn squash?
The skin of an acorn winter squash is edible, so there's no need to peel. This is especially true after roasting, which softens the peel and makes it more palatable.
What temperature do you cook acorn squash?
After testing this recipe, I've found that the best temperature for roasted acorn squash is 400 degrees Fahrenheit. Roasting acorn squash at this temperature yields a perfect caramelization.
How long to cook acorn squash?
The cook time for acorn squash depends on the temperature of your oven. The higher the oven temperature, the shorter the cooking time. If you're wondering what temperature is best to bake acorn squash, I've put together an easy guide to make baking acorn squash slices a breeze. Acorn squash roasting time would be:

40-45 minutes if roasted at 350 degrees F.
35-40 minutes if roasted at 375 degrees F.
30 minutes if roasted at 400 degrees F.
20-25 minutes if roasted at 425 degrees F.
Other Squash Recipes You Might Like
If you try this Roasted Acorn Squash Slices recipe or any other recipe on Foolproof Living, please take a minute to rate the recipe and leave a comment below. It helps others who are thinking of making the recipe. And if you took some pictures, be sure to share them on Instagram using #foolproofeats so I can share them on my stories.
Roasted Acorn Squash Slices Recipe
These Roasted Acorn Squash Slices are beautifully caramelized in the oven and generously coated in a maple-cinnamon mixture for warm, fall flavors in every bite. Serve them on salads, add them to recipes that call for squash, or bring them to your next holiday gathering!
Print Recipe
Ingredients
2

small acorn squash

1 to 1 ½ pounds each rinsed and dried

2

tablespoons

olive oil or coconut or avocado oil

2

tablespoons

maple syrup

or honey

⅛

teaspoon

ground cinnamon

½

teaspoon

kosher salt

Pinch

of black pepper
Optional Toppings:
¼

cup

chopped pecans or pumpkin seeds *

1-2

tablespoons

fresh herbs such as sage

thyme, or parsley, chopped
Instructions
Preheat the oven: Set the oven to 400 degrees F. Line a rimmed baking sheet with parchment paper and set it aside.

Cut the squash: Start by cutting the top of the squash (where the stem is located) while holding it firmly with your other hand. It is best to use a sawing motion while gently applying pressure with your knife. Lay squash down using the now-flat surface created by the cut. Cut it in half from the center. Scoop out the seeds using a melon baller or a large spoon. Then lay each half down and cut it into 1-inch slices.

Add the squash slices: Transfer acorn squash slices onto the parchment-lined baking sheet and arrange them in one layer. If needed, you may have to divide them into two sheet pans.

Make the maple topping: Mix olive oil, maple syrup, ground cinnamon, salt, and black pepper in a bowl.

Coat the squash slices: Brush each acorn squash slice with the maple syrup mixture on both sides. Depending on the size of your squash, you might be left with some, don't throw it away.

Roast: Roast in the oven for 15 minutes. Remove from the oven, flip each slice and bake for another 15 minutes or until lightly browned. If you are using two sheet pans, be sure to rotate the sheets as well.

Let cool: Remove from the oven and let it cool for 5 minutes.

Add the remaining topping: Brush each slice with the remaining olive oil-maple syrup mixture. Arrange the roasted acorn squash slices on a large plate.

Garnish and serve: If preferred, garnish with toasted nuts (or seeds) and/or fresh herbs like sage or parsley. Serve warm or at room temperature.
Notes
Toasting pecans/pumpkin seeds

: If you do have the time, I highly recommend toasting the nuts (or seeds) you use as this quick step will make them taste better and compliment the caramelized flavors of your roasted acorn squash. Simply place pecans (or pumpkin seeds) in an empty skillet over medium heat. Toast for 4-5 minutes. Be sure to keep a close eye on it and stir frequently. It should be ready when it starts smelling and changes its color slightly.

Storage:

Leftovers can be kept in an airtight container

in the fridge for up to 3-4 days.

How to make it savory?

To make this roasted acorn squash recipe a savory side dish:

Omit maple syrup.

Use ¼ teaspoon chili pepper (or paprika) and ¼ teaspoon garlic powder in place of ground cinnamon.

After it is roasted, sprinkle it with 2 tablespoons of parmesan cheese or top it off with ¼ cup of crumbled goat cheese.
Nutrition
Calories:
437
kcal
|
Carbohydrates:
60
g
|
Protein:
5
g
|
Fat:
23
g
|
Saturated Fat:
3
g
|
Polyunsaturated Fat:
4
g
|
Monounsaturated Fat:
15
g
|
Sodium:
598
mg
|
Potassium:
1603
mg
|
Fiber:
8
g
|
Sugar:
12
g
|
Vitamin A:
1758
IU
|
Vitamin C:
50
mg
|
Calcium:
177
mg
|
Iron:
4
mg
Like this recipe? Consider sharing: