Squash season is in full bloom in Vermont. I recently discovered a small pumpkin farm right down the street from where we live and have been making daily trips over there to stock on all kinds of squash to test in recipes. Last week, I picked up a few acorn squash and made this easy vegan side dish. We loved it so much that I thought it should be shared here on the blog.
This Roasted Vegan Stuffed Acorn Squash recipe is made with stuffing roasted acorn squash with a quinoa filling flavored with apples, cranberries, and pecans. Aka all the autumn flavors we all love.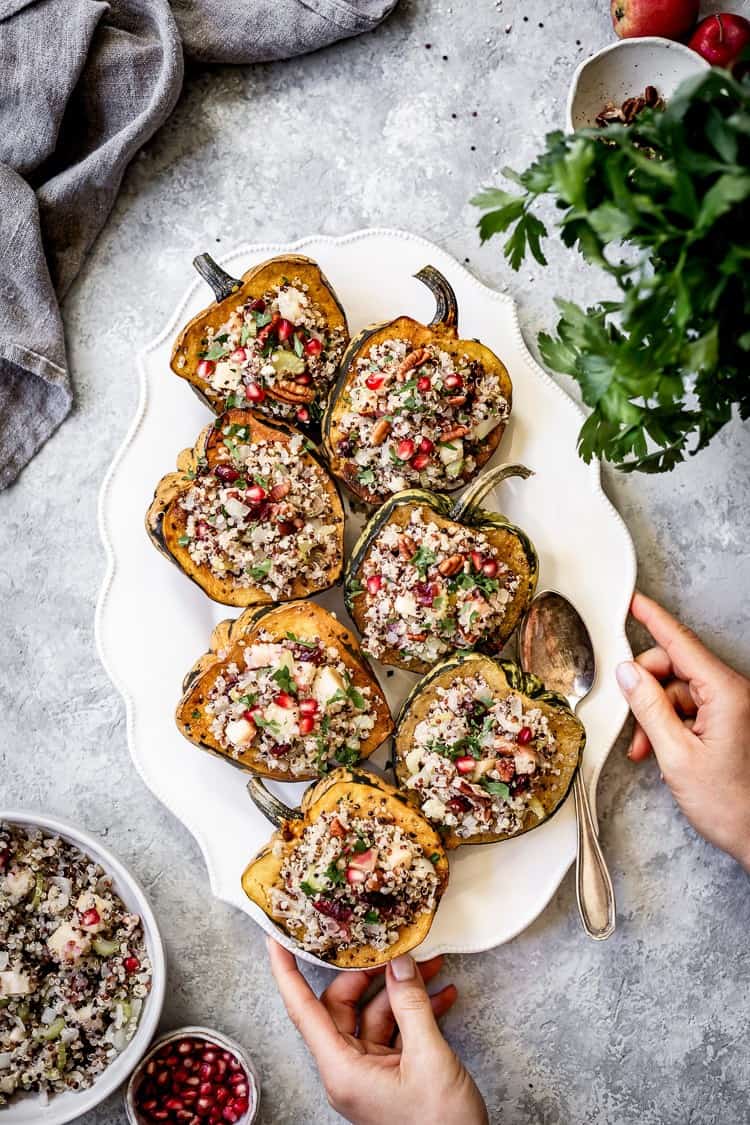 From start to finish, it takes less than an hour to make and it can be prepared a day in advance. You can serve it both warm, room temperature, or right out of the fridge, which IMHO makes it an ideal dish for your upcoming Thanksgiving menu.
Intrigued? Read on…
How To Make Roasted Vegan Stuffed Acorn Squash
The recipe has 3 folds.
First, you start with roasting acorn squash. While it is roasting, you make the quinoa and apple filling. Last but not least, you fill the roasted acorn with the stuffing.
How To Make Acorn Squash
I find that the best way to cook any squash is to roast it. I think roasting brings out their earthy flavors more than any other method of cooking. Acorn squash is no different.
To roast acorn squash, you first cut it in half or into quarters. You can do it the way I did and cut it in lengthwise, but cutting it crosswise would also work.
Next, you scoop out all the seeds and drizzle the inside (the flesh) with olive oil. I recommend using your clean fingers to distribute all the oil to make sure that it coats all the flesh. Then you sprinkle each half with a generous amount of salt and pepper.
The amount of seasoning used depends on the size of your acorn squash, but for the ones you see in the photos I used a little less than ¼ teaspoon kosher salt and ⅛ teaspoon black pepper.
Then you place the squash halves cut side down on a sheet pan lined parchment paper and roast them in a preheated 400 F degree (204 C.) oven for 40-45 minutes or until a knife inserted in the flesh comes in and out easily.
For this recipe, I used 5 small-ish acorn squash, which yielded 10 halves, but you can also use 3 large ones and cut them into quarters.
How Long Does Acorn Squash Last
Uncooked acorn squash will last up to a month in a cool and darkroom. If you plan to cut it and consume it in smaller amounts, then it is best to cover the raw squash with stretch film (or place it in an airtight container) and store it in the fridge.
If you want to make this quinoa stuffed acorn squash recipe a day in advance, you can roast the squash, bring it to room temperature, place in an airtight container, and store in the fridge until you are ready to stuff it with the filling.
How To Make the Quinoa Stuffing for Stuffed Acorn Squash Recipe
To stuff the acorn squash, I made a sweet and savory stuffing by cooking onions, celery, and garlic with apples, cooked quinoa, cranberries and pecans. The earthy flavors mixed in with sweet fruit is truly a great filling for the sweet roasted acorn squash.
The stuffing recipe below yields 3-4 cups of filling, but if for some reason you have some leftovers, you can enjoy it as a side dish or a quick lunch on the next day. It can also be served just by itself as a side dish.
Similar to the squash, you can make this quinoa stuffing a day in advance as well. Just be sure to store it in an airtight container in the fridge.
How To Serve Quinoa Stuffed Acorn Squash
Like I mentioned earlier, you can serve this dish warm, room temperature or cold. If you are not a fan of serving it cold, you can heat it in a 300-degree oven for 10-15 minutes or until it is warmed thoroughly.
What To Serve With Acorn Squash
While this vegan stuffed squash recipe can be served by itself, it would also be a great side dish to serve along with turkey, chicken or pork dishes, especially while acorn squash is in season.
If you decide to serve it with animal protein, I would recommend incorporating some of the juices of the meat dish into the stuffing. Perhaps, by drizzling some of the juices over the stuffed acorn squash right before serving.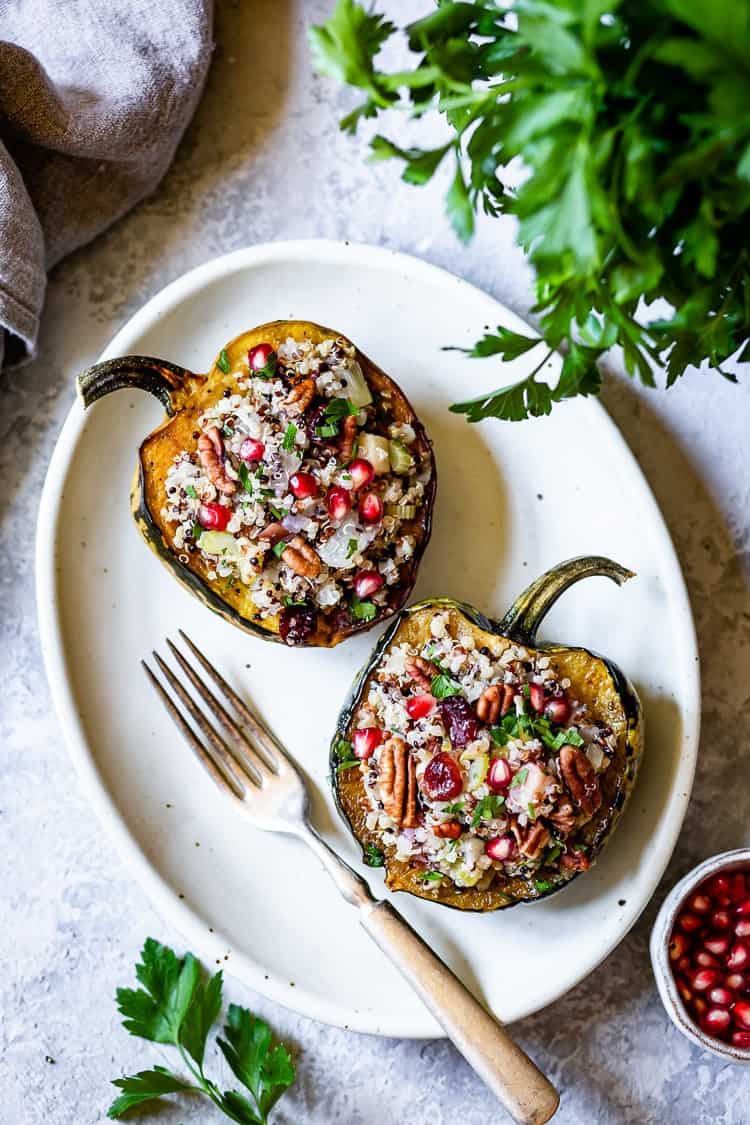 A Few Tips For The Best Acorn Squash Recipe
Make Ahead Instructions: If you are planning to make this dish ahead, I recommend roasting the acorn squash and preparing the quinoa-cranberry filling a day in advance and storing them separately in airtight containers in the fridge. If you are planning to serve them cold, you can assemble them right before serving. If you want to serve them warm, I recommend placing the squash in a preheated 300-degree oven for 10-15 minutes and warming up the filling on the stove top right before assembling.
Add Feta To Make it Even Better (for Vegetarian Stuffed Acorn Squash): If you don't mind it being a vegetarian dish, you can also garnish it with a handful of crumbled feta cheese.
A Word on the Seasoning: This is one of those dishes that I highly recommend tasting as you go, especially when it comes to the stuffing. I tend to like the stuffing on the saltier side as I think it brings out the sweet (caramelized) flavors of roasted acorn squash, but it also depends on your personal preferences so give it a taste to make sure that the seasoning is to your liking before serving.
Acorn Squash Nutrition Facts: A serving of cooked acorn squash contains a total of 115 calories. It is a fiber and vitamin C rich vegetable that is high in antioxidants. (Source)
If You Liked This Quinoa Stuffed Acorn Squash, You Might Also Like
Other Thanksgiving Side Dishes You Might Like
Other quinoa recipes you might like:
Roasted Vegan Stuffed Acorn Squash
Roasted Acorn Squash filled with hearty and gluten free quinoa stuffing flavored with cranberries and pecans. Add this Vegan Stuffed Acorn Squash recipe to your Thanksgiving dinner menu to serve your vegetarian or vegan guests.
Print Recipe
Ingredients
To Roast the Acorn Squash
2

tablespoons

of olive oil

3

large

or 5 small acorn squash, cut in half and seeds removed

Salt and pepper
To Make the Stuffing:
1

tablespoon

olive oil

1

medium onion

chopped

3

stalks of celery

¾ cup, chopped

1

large apple

peeled and cut into small cubes

2

cloves

of garlic

minced

2 1/2

cups

cooked quinoa

from 1 cup uncooked quinoa

¾

cups

dried cranberries

½

cup

pecans

coarsely chopped

1

teaspoon

salt

½

teaspoon

black pepper

¼

cup

fresh parsley

chopped plus more as garnish

A handful of pomegranate arils as garnish

optional
Instructions
To roast the acorn squash:
Pre-heat the oven to 400 F degrees. Line a baking sheet with parchment paper.

Drizzle the insides of acorn squash with olive oil. Using a brush (or clean fingers) spread the oil all over the flesh. Sprinkle each half with a large pinch of salt and pepper (depending on the size of your squash).

Place the squash cut side down and roast for 40 minutes or until a knife comes in and out easily when inserted in the flesh of one of the squash. Let it cool on the counter 5 minutes before stuffing.
To Make the Stuffing:
Meanwhile to make the stuffing, heat olive oil in a large pot in medium high heat. Add in the onion and celery and cook, stirring frequently, until translucent, 5-6 minutes. Add in the apple and cook 3-4 more minutes or until apples are softened.

Stir in the garlic and cook for 30 seconds.

Add in quinoa, cranberries, pecans, and salt and pepper. Give it a large stir and turn the heat to medium low. Let it cook for 7-8 minutes, stirring a few times to make sure that it is moist. If you feel like it is drying stir in a few tablespoons of water.

Taste for seasoning and add in if necessary. At the last minute stir in the parsley.

To assemble: Fill each acorn squash half with the stuffing and garnish it with parsley and pomegranate arils if using.

Serve.
Video
Nutrition
Calories:
370
kcal
|
Carbohydrates:
59
g
|
Protein:
6
g
|
Fat:
15
g
|
Saturated Fat:
2
g
|
Sodium:
404
mg
|
Potassium:
993
mg
|
Fiber:
8
g
|
Sugar:
15
g
|
Vitamin A:
1027
IU
|
Vitamin C:
30
mg
|
Calcium:
101
mg
|
Iron:
3
mg
Like this recipe? Consider sharing: