Whether you serve it as a healthy snack or a luxurious side dish, this roasted delicata squash recipe is an autumn classic that will impress.
This post is sponsored by ABRAMS books, as a part of the ABRAMS Dinner Party, but as always all opinions are my own.
Everytime I go to the farmer's market, while browsing through farmers' stands, I find myself wanting to buy everything. Truth be told, in the past there have been some instances where I purchased more than we can consume. Sadly, things ended up going bad and later in the trash. Nowadays, I go there with a list and ideas as to what I want to make for the week, but the urge is still there.
I was not supposed make delicata squash this week. At least until I overheard two ladies talking about how yummy they are as a healthy snack at the farmstand. I had never roasted them before, but after witnessing them purchase a handful of them I decided to give it a go. Coincidently, on the same day I received Athena Calderone's new cookbook, Cook Beautiful
, in the mail and the first recipe that got my attention was her roasted delicata squash agrodolce. Talk about a sign from above.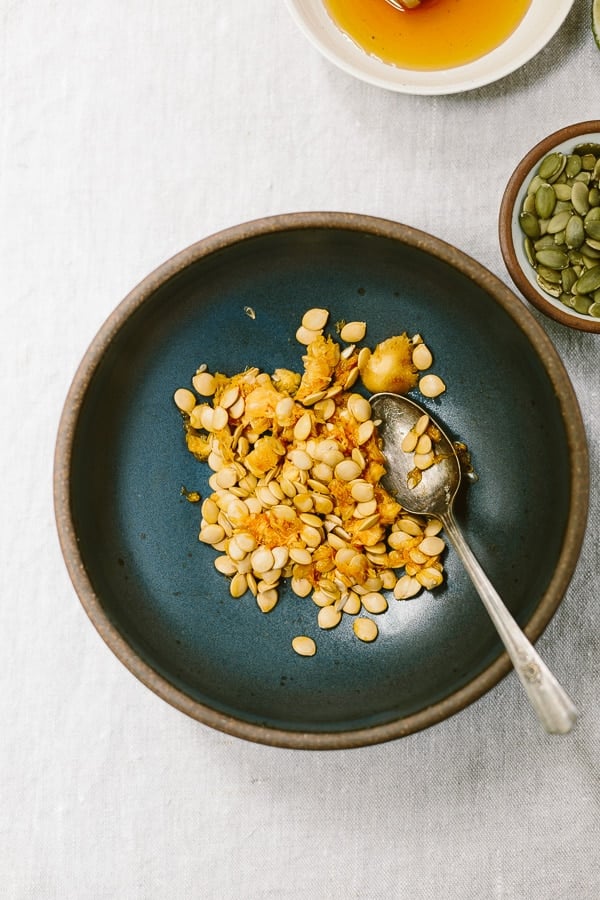 How to Roast Delicata Squash:
The biggest difference between delicata squash and other squash like butternut, acorn or pumpkin is that you can eat its skin. Thus you don't need to worry about peeling it. But when it comes to roasting it, it is pretty much the same. All you have to do is to slice it with the skin on, remove the seeds, drizzle it with some olive oil, salt and pepper, and roast it in a 375 degree oven for 15- minutes on each side. As it roasts it gets soft, sweet, and creamy making it a great snack or a side dish.
While simply roasting it would do it, there are a few ways to take it to the next level. My favorite one is to add a few tablespoons of honey (or maple syrup would work too) into the dressing. The added sweetness mixed in with the already sweet delicata squash helps it get caramelized during the roasting process and brings out its nutty and sweet flavors even more.
Another way to truly up your roasted delicata squash game is to drizzle it with agrodolce sauce as Athena Calderone did in her book, Cook Beautiful. To be honest when I first saw the recipe I didn't know what "agrodolce" meant. Come to find out, it is a traditional Italian sauce made by reducing sour and sweet elements like vinegar and sugar. In her recipe, Athena drizzles the freshly roasted delicata slices with this traditional sauce. In her version of agrodolce, she uses a minced habanero chili, white wine vinegar, and honey.
While you might think of this sauce as an unnecessary step, I beg to differ. The sweet, sour and spicy sauce elevates the humble roasted delicata squash to a restaurant quality dish.
Whether you want to enjoy it as a healthy snack or serve it as a side dish in your upcoming holiday parties, this easy-to-make roasted delicata squash recipe is guaranteed to impress.
Print
Roasted Delicata Squash
Whether you serve it as a healthy snack or a luxurious side dish, this roasted delicata squash recipe is an autumn classic that will impress.
Author:
Prep Time:

10 min

Cook Time:

30 min

Total Time:

40 minutes

Yield:

4 servings (as a side dish)

Category:

Side Dish

Method:

Roasting and Cooking

Cuisine:

American
Ingredients
For the roasted squash:
2 Delicata squash (1 pound each), rinsed, seeds removed and cut into ½-inch slices

3 tablespoons extra virgin olive oil

2 tablespoons of honey

¾ teaspoon kosher salt

¼ teaspoon black pepper
For the sweet & sour (agrodolce) drizzle sauce: (optional)
1 small (½ teaspoon) red habanero (or any other hot) chili, minced

⅓ cup white wine vinegar

Zest of a lime

Juice of a lime (2-3 tablespoons), freshly squeezed

Pinch of salt

2 tablespoons pepitas (aka pumpkin seeds)
Instructions
Pre-heat the oven to 375 degrees. Line a baking sheet with parchment paper.

Place the squash onto the baking sheet. Drizzle it with olive oil and honey. Sprinkle it with salt and pepper. Toss to coat evenly. Make sure that all the delicata squash slices are evenly distributed throughout the sheet pan.

Bake for 12-15 minutes on each side (25-30 min. in total), flipping the squash halfway through the baking process.

If prefered, while the squash is baking make the sweet and sour drizzle sauce. Place the chili, vinegar, zest and juice of a lime, and salt in a small saucepan and heat in medium heat. Let it come to a boil, turn down the heat to medium-low and simmer until the mixture is syrupy, 10-12 minutes.

When ready to serve, arrange the slices roasted delicata squash in a large plate, drizzle it with the sweet and sour sauce, and sprinkle it with pepitas.

Serve immediately.
Nutrition
Serving Size:

1

Calories:

253

Sugar:

17.2g

Sodium:

440.3mg

Fat:

13.7g

Carbohydrates:

32.5g

Fiber:

5.3g

Protein:

6.4g

Cholesterol:

0g
This recipe is adapted from Athena Calderone's cookbook with minor changes, Cook Beautiful
.