Nothing makes me happier than receiving a cookbook as a gift.
Last week, as my friend Lisa and I were hanging out at Barnes and Noble drooling over some of the cookbooks and talking about ways to create new recipes, we both found ourselves spending the most time on Yotam Ottolenghi and Sami Tamimi's cookbook, Jerusalem. Which is why it was the nicest surprise when she gifted me with the book the very next day.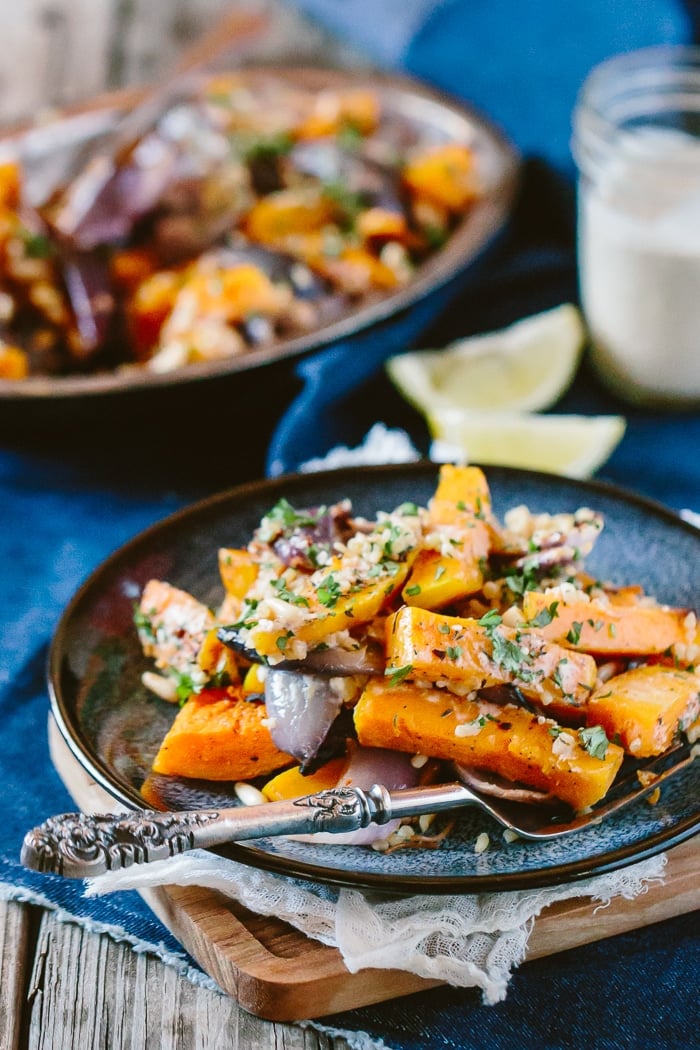 The book is made up of recipes that are Mediterranean and Middle Eastern in origin. The best part of it is that almost every single recipe is made with at least one of my favorite ingredients like eggplant, tahini, yogurt, bulgur, cumin, and sumac. In addition, for every recipe, the authors give background information on its history and origin. In some dishes, they even talk about how that particular dish (eg. hummus) plays an important role in today's contradictory political arena of Jerusalem.
For me, reading Jerusalem was like time traveling back to my childhood. Growing up in Turkey, my mother and both grandmothers repeatedly made some of the dishes in this book using very similar techniques. After reading the book, it was clear to me that without knowing, those ladies stuck to the main philosophy of Middle Eastern cooking: using simple techniques and easily found ingredients to create big flavors.
About this Roasted Butternut Squash Salad with Bulgur and Tahini Dressing Recipe
This Roasted Butternut Squash Salad with Tahini Dressing is from Jerusalem. Though I made some minor changes to it to make it more of a meal-worthy salad such as adding bulgur to it, I stayed true to the recipe of the dressing. Because, in my opinion, the tahini dressing with za'atar is what makes this salad so extraordinary.
New to using bulgur wheat in your cooking? If so, I highly recommend giving my basic bulgur pilaf recipe a read. It is not much different than cooking any other grain dishes and it is a great addition to all kinds of salads and soups.
If you are one of those people who has never heard of the spice "za'atar" before, don't feel bad. From what I've read on the Internet, most people were introduced to za'atar at the same time this book became popular. Za'atar is a spice mixture made up of sesame seeds, sumac, thyme, and oregano. Most people may not have za'atar in their spice cabinets but they usually have the spices that make up of za'atar. And even if you are missing some of these spices, it is not the end of the world. At least for this salad…
[/su_column][/su_row]
This salad is a perfect vegan lunch (or dinner) option and is very easy to put together. All you need to do is to roast butternut squash and red onions together, make the dressing, and mix them with your favorite starch (bulgur, cous cous, quinoa,etc.).
If you want to try a similar salad with quinoa, I would highly recommend checking out my Butternut Squash Quinoa Salad as well.
In the months and years to come, I know that I will be cooking (and sharing) a lot from Jerusalem. This one is just the beginning. So stick around for more…
Roasted Butternut Squash Salad with Bulgur and Tahini Dressing
This vegan Roasted Butternut Squash Salad with Bulgur and Tahini Dressing is a festive salad recipe that is made with the famous ingredients and flavors of the Middle Eastern. With its gorgeous colors and rich flavors, make this salad to brighten your holiday table.
Print Recipe
Ingredients
For The Vegetables:
2

lbs

– large butternut squash

peeled and cut into cubes

2

medium-size red onions

peeled and cut into wedges

3

tablespoon

olive oil

Salt & Black Pepper
For The Tahini Dressing:
3

tablespoon

tahini paste

1

tablespoon

lemon juice

freshly squeezed

1

tablespoon

water

2

garlic cloves

pressed through a garlic press
For The Salad:
2

tablespoon

pine nuts

toasted

1

tablespoon

za'atar *

1

tablespoon

Italian parsley

chopped

1

cup

cooked bulgur

sea salt and freshly ground black pepper
Instructions
To roast the vegetables: Pre-heat the oven to 475 Degrees F.

Place butternut squash and red onion wedges in a large bowl. Drizzle it with olive oil. Sprinkle it with 1-teaspoon salt and 1/4 teaspoon freshly ground black pepper. Toss well, making sure that all vegetables are coated with olive oil and seasoning.

Transfer it to a baking sheet lined with parchment paper. Spread them evenly skin side facing down.

Roast in the oven for 30-35 minutes. Keep a close eye on it as onions may roast before butternut squash. That being said, I allowed my onions burn just a little bit for them to give a caramelized flavor to my salad.

Take it out of the oven and set aside to cool.

To make the dressing: Whisk tahini paste, lemon juice, garlic, and water in a small bowl.

To assemble the salad: Once vegetables are cooled down, place them in a large salad bowl. Add the bulgur and gently stir.

Drizzle with the dressing over the salad. Give it a very gentle stir. Sprinkle it with za'atar, toasted pine nuts, and chopped parsley. Taste for seasoning and if necessary, add more.

Serve it immediately in individual plates.
This recipe is adapted (with changes) from the cookbook: Jerusalem by Yotam Ottolenghi & Sami Tamimi (affiliate link.)
Like this recipe? Consider sharing: