This post was created in partnership with California Figs, but as always all opinions are mine.
I think we can all agree that there is nothing better than Thanksgiving food. I'll be honest; I do love turkey but I live for the side dishes. And as we all know, not all sides are created equal. While I am a big fan of my buttery mashed sweet potatoes, roasted sweet potatoes and brussels sprouts, and vegetarian cornbread stuffing, I think it is essential to make room for a delicious and healthy salad on the table.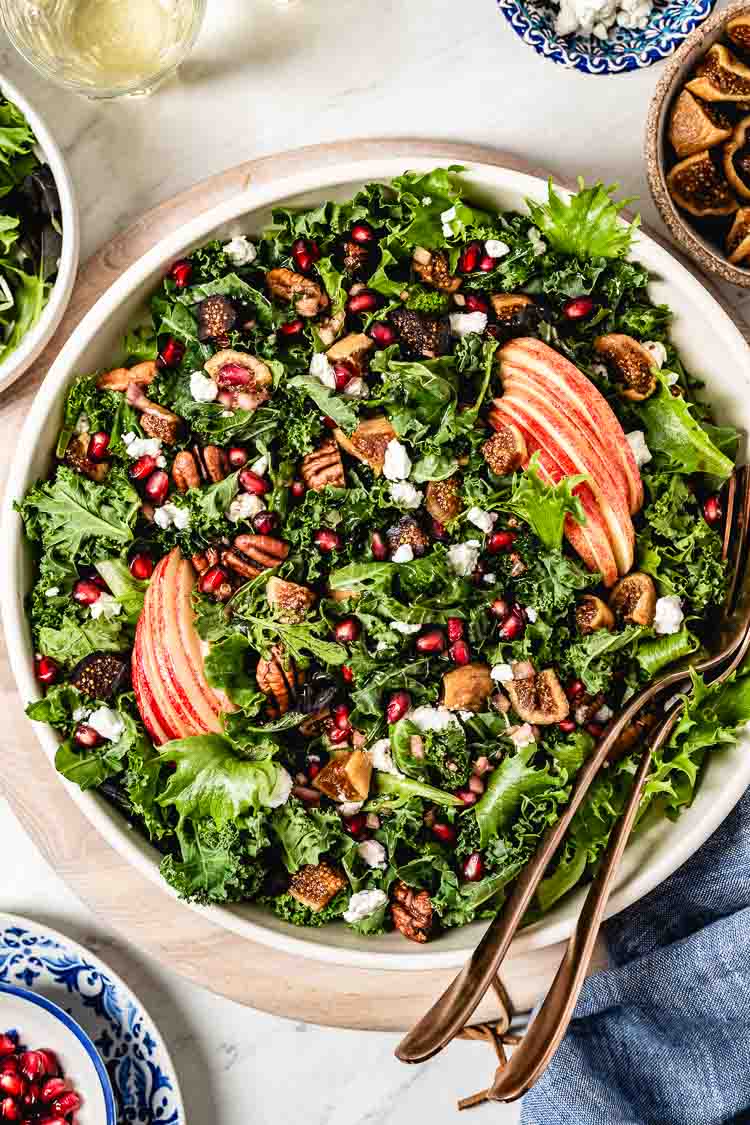 But not just any salad. One that has the perfect balance of sweet, salty, crispy, nutty and creamy. If you agree, then you need this harvest green salad in your life. Made with a combination of apples, dried California figs, pomegranate seeds, goat cheese, pecans, and a homemade fall salad dressing, it is a rather easy side dish you can make in less than 20 minutes.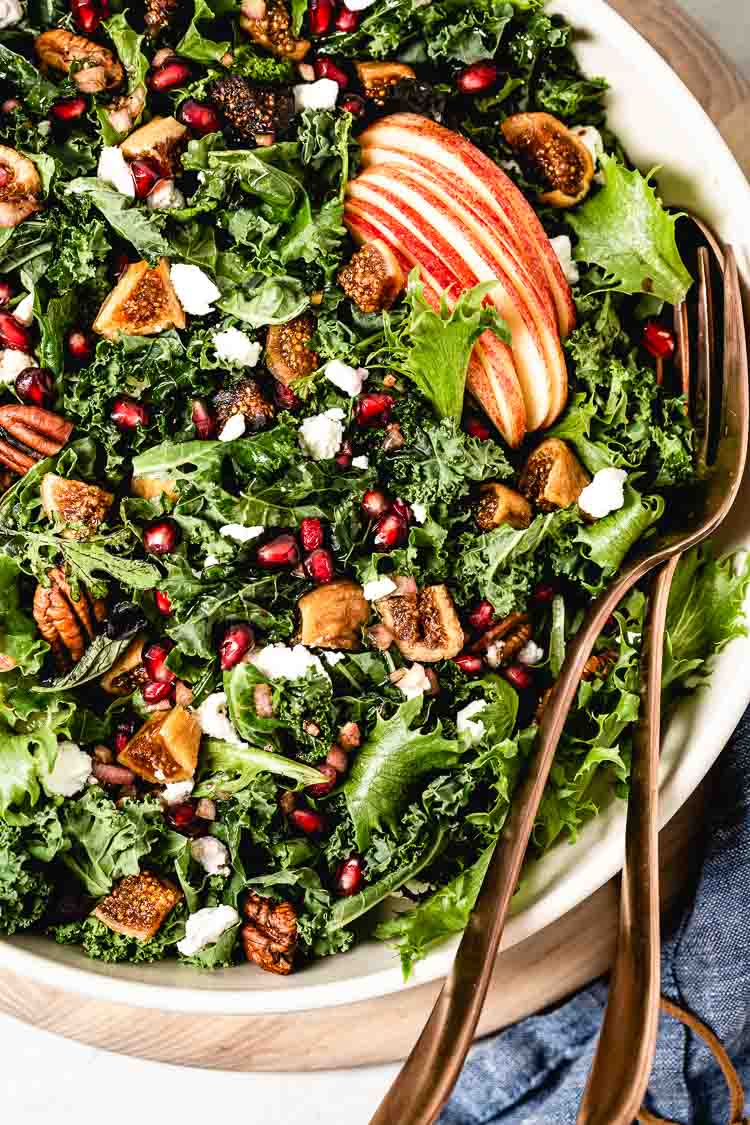 How to make fall harvest salad?
The process of making this harvest fall salad recipe has 2 folds.
First, make the harvest salad dressing. I opted for a balsamic and olive oil-based dressing made by whisking together olive oil, balsamic vinegar, lemon juice, maple syrup with a small chopped shallot, and salt and pepper. Simply put them in a jar, put the lid on, and give it a shake.
This happens to be my go-to sweet and sour salad dressing, but below I will share a few other vinaigrette recipes you can also use in this fall kale salad.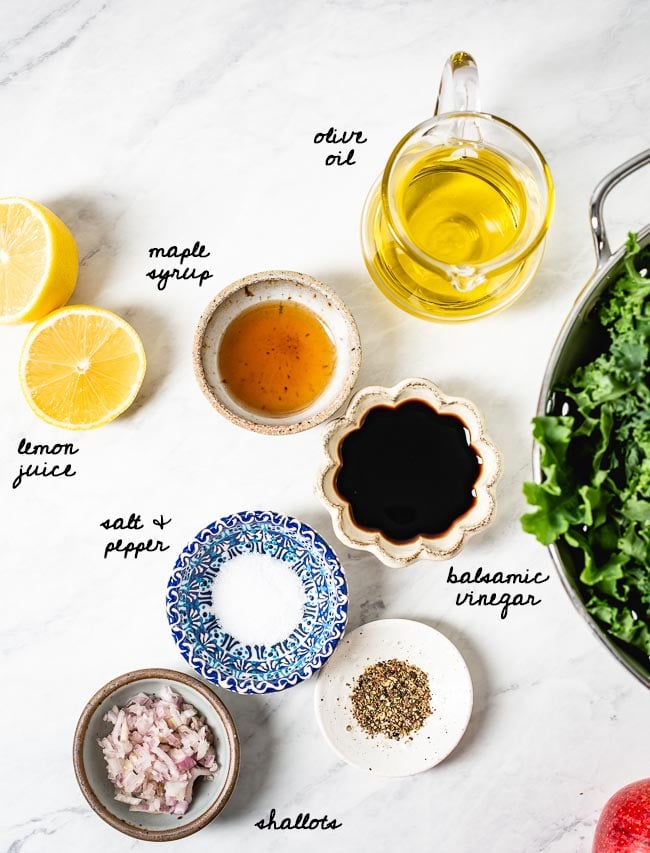 Second, prepare the harvest salad ingredients. In this salad, I mixed raw kale leaves with thinly sliced Honeycrisp apple, juicy pomegranate arils, roasted pecans, crumbled goat cheese, and chopped dried figs.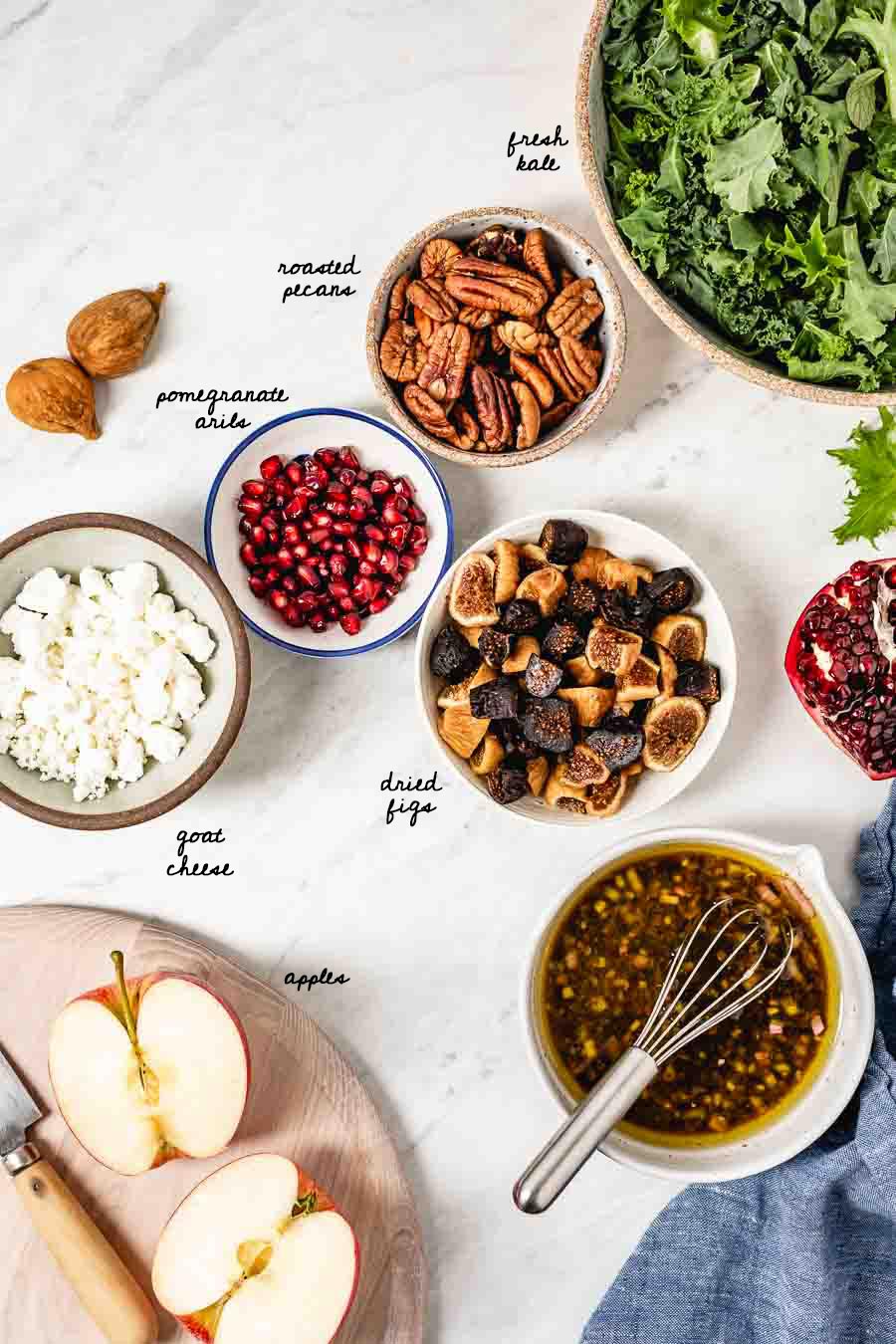 Speaking of dried figs, I have to tell you. I am a huge fan of incorporating California figs into my holiday dishes. I love that they are naturally so sweet that using just a few them easily sweeten a dish and take it up a notch. I used a combination of Golden and Mission dried figs, but if you can get your hands on fresh figs, they would also work perfectly in this recipe.
I also think that they have such a distinctive flavor that compliments all kinds of sweet and savory recipes. Lucky for us, the folks over at California Figs put together a brand new cookbook with over sixty recipes ranging from snacks to sauces to pasta and meat dishes. The recipes in the book are beautifully crafted to inspire you to get your creative juices flowing and incorporate more of this delicious fruit into your daily cooking.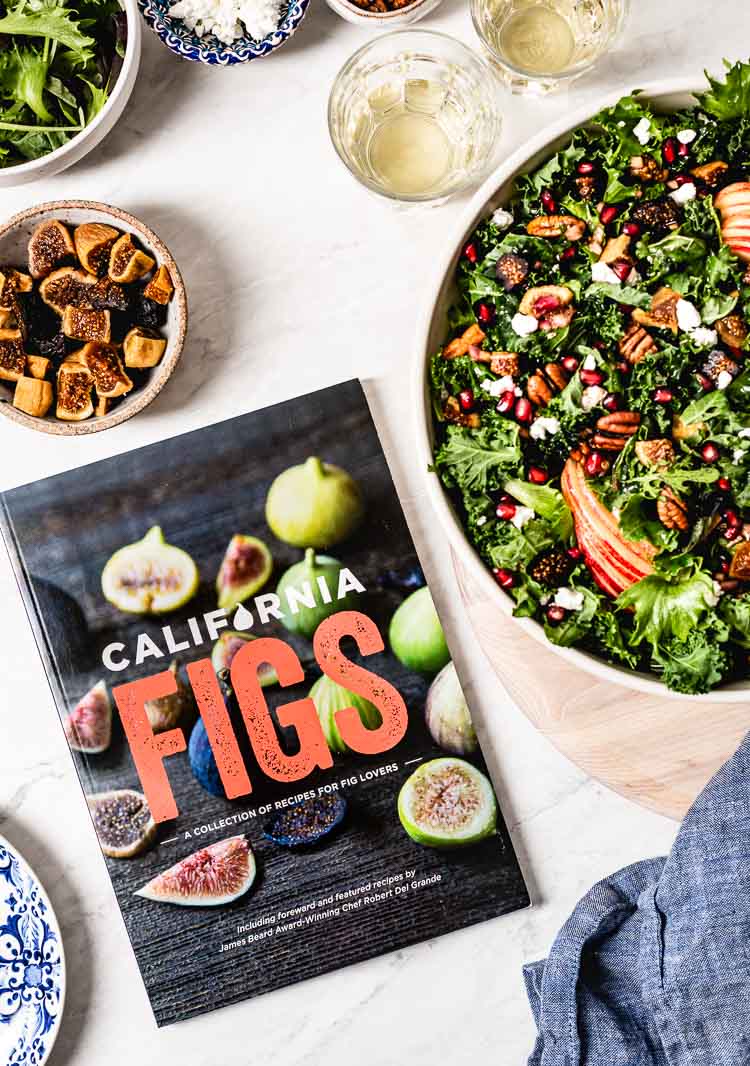 Variation for this autumn kale salad recipe:
Having been a blogger for over 6 years now, I know many of you love that I share variations for my recipes. Because we all know that holiday meals mean entertaining a large number of people with various likes and dislikes. The good thing is that this harvest kale salad is one that you can change up easily. Below are a few variations to help you please your guests:
Swap Kale with Lettuce: During the colder months, I love using kale (especially massaged kale) as I think it pairs so well with all the fruits and vegetables in season. It also does a good job of standing up on its own when there are all kinds of flavors mixing together in one big bowl as it is happening in this Thanksgiving kale salad recipe.
However, if you are not a fan of kale you can certainly swap it with lettuce or any other salad greens you like. Simply use 2-3 cups more of salad greens to compensate.
Use Other Types of Cheese: I am a huge fan of creamy goat cheese in this salad, but if you are not, you can swap it with feta, blue, or even parmesan cheese.
Use a Pear Instead of Apple: Don't get me wrong. I love fall salads with apples, but a thinly sliced slightly ripened pear would also be great in this recipe.
Guests with Nut Allergies: If you have guests who cannot tolerate nuts, you can either omit using them or swap pecans with pumpkin seeds.
Variations for the harvest salad dressing recipe
While I love the simple balsamic vinaigrette I used in this salad, I sometimes switch it up with other fall salad dressings. Below are my two other favorite homemade salad dressings you can also use in this recipe:
Harvest Salad with Maple Tahini Dressing: For a delicious Mediterranean/Middle Eastern twist, you can use my creamy maple tahini dressing.
My Go-To Maple Tahini Dressing Recipe:
¼ cup tahini (sesame paste)
2 tablespoons of maple syrup (or more to taste)
2 tablespoons extra virgin olive oil
2 tablespoons freshly squeezed lemon juice
2 tablespoons water to thin it out (adjust to your liking)
1 teaspoon kosher salt
¼ teaspoon ground black pepper
Simply whisk together the ingredients listed below. Give it a taste and add in more seasoning to your liking.
Harvest Salad with Apple Cider Vinaigrette: If you want an alternative to continuing the fall flavors you can also try my apple cider vinegar-based dressing that I based on my Maple Dijon Vinaigrette.
My Go-To Apple Cider Vinaigrette Recipe:
¼ cup extra virgin olive oil
¼ cup all cider vinegar
2 tablespoons honey or maple syrup
1 clove of minced garlic
1 teaspoon kosher salt
¼ teaspoon ground black pepper
Whisk everything in a small bowl or a jar. Give it a taste and add seasoning to your liking.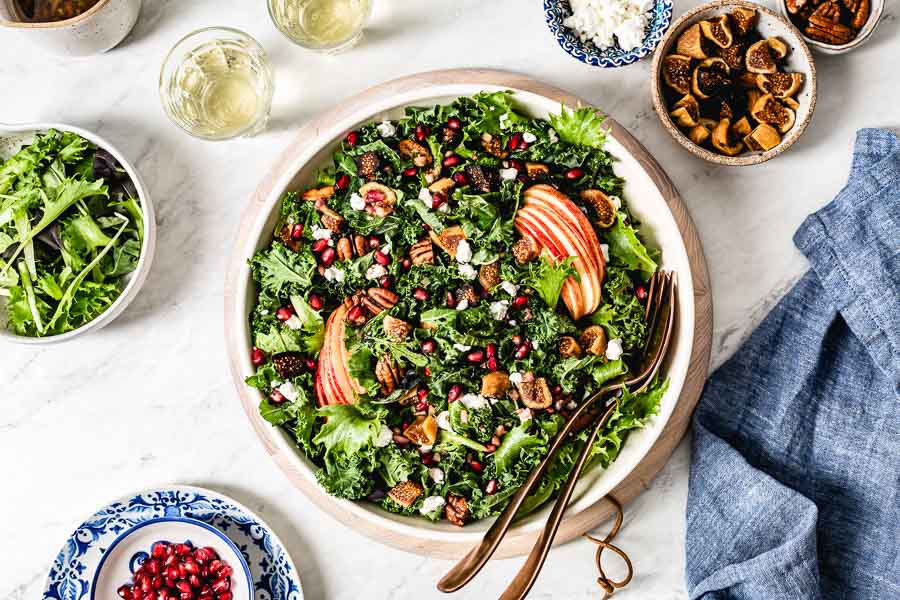 PRO TIP: I think we can all agree that a salad that is not dressed properly is not all that enjoyable to eat. What good homemade salad dressing does if it is not fully coating the greens? But worry no more because below is my foolproof step-by-step method for dressing salads to perfection:
Rinse and spin-dry your salad greens (kale, lettuce, spring mix, etc.)
Drizzle half of your salad dressing into an empty large salad bowl.
Add in the greens. Gently toss the greens with a salad tong to ensure that they are covered with the dressing as much as possible.
Add in the rest of your ingredients and drizzle the salad with the rest of the dressing.
Toss gently with your salad tong. Give it a taste and add in more seasoning if necessary. Serve.
Tips on making the best fall harvest salad
Making this fall kale salad recipe for a crowd? As it is with salad recipes, this kale apple salad can be multiplied easily.
Make-Ahead Instructions: You can make the salad dressing two days in advance, place in a jar with a lid, and keep it in the fridge.
I find that it is easier and faster to use a salad spinner to wash my kale (or salad greens) right before serving. However, you can also wash and spin dry them a day ahead, gently roll the leaves in a large sheet of paper towel (or a kitchen cloth) and keep in the fridge.
How To Store Leftovers? This salad makes the perfect lunch the next day. Place the leftovers in an airtight container and place in the fridge.
Want to turn this into a vegan kale salad? If you want to turn this into a vegan kale salad simply omit using goat cheese.
Other fall salads with apples you might like:
Other simple fall salad ideas you might also like:
Fall Harvest Salad Recipe
This Fall Harvest Salad recipe is a healthy kale-based salad packed with apples, figs, and pecans and brought together with a homemade maple balsamic dressing.
Print Recipe
Ingredients
For The Dressing:
¼

cup

extra virgin olive oil

2

tablespoons

balsamic vinegar

1

small shallot

chopped

2

tablespoons

maple syrup

agave or honey would also work

2

tablespoons

lemon juice

freshly squeezed

1

teaspoon

kosher salt

½

teaspoon

ground black pepper
For The Salad:
1

large bunch kale

washed, stemmed and shredded (6 cups)

1

apple

sliced thinly

1

cup

dried California figs

cut into small pieces

½

cup

pomegranate arils

1

cup

pecans

lightly toasted

½

cup

goat

feta, or blue cheese, crumbled
Instructions
To make the dressing: Place all dressing ingredients in a jar, put the lid on and give it a vigorous shake. Set it aside.

To make the salad: Drizzle the bottom of a large salad bowl with half of the dressing. Add in the kale and give it a toss.* Make sure that all the kale leaves are coated with the dressing.

Add in the sliced apple, figs, pomegranate arils, and pecans. Drizzle it with the rest of the dressing and give it a gentle toss.

Top it off with the cheese and serve immediately.
Notes
*Alternatively, you can massage the kale with clean hands to soften the leaves and make sure that the dressing is fully coated all the leaves.
Nutrition
Calories:
493
kcal
|
Carbohydrates:
50
g
|
Protein:
6
g
|
Fat:
33
g
|
Saturated Fat:
4
g
|
Cholesterol:
3
mg
|
Sodium:
611
mg
|
Potassium:
636
mg
|
Fiber:
8
g
|
Sugar:
36
g
|
Vitamin A:
1522
IU
|
Vitamin C:
26
mg
|
Calcium:
154
mg
|
Iron:
2
mg
Like this recipe? Consider sharing: