This Roasted Butternut Squash Quinoa recipe was created by a friend of mine who we celebrated Thanksgiving with this past year. But it was just so simple and delicious I had to come up with a recipe of my own.
Love treading yourself with a cup of cold quinoa salad similar to this one? If so, be sure to try my quinoa tabouli and southwestern quinoa salad recipe or choose one for yourself amongst all other Quinoa Salads we have on the blog.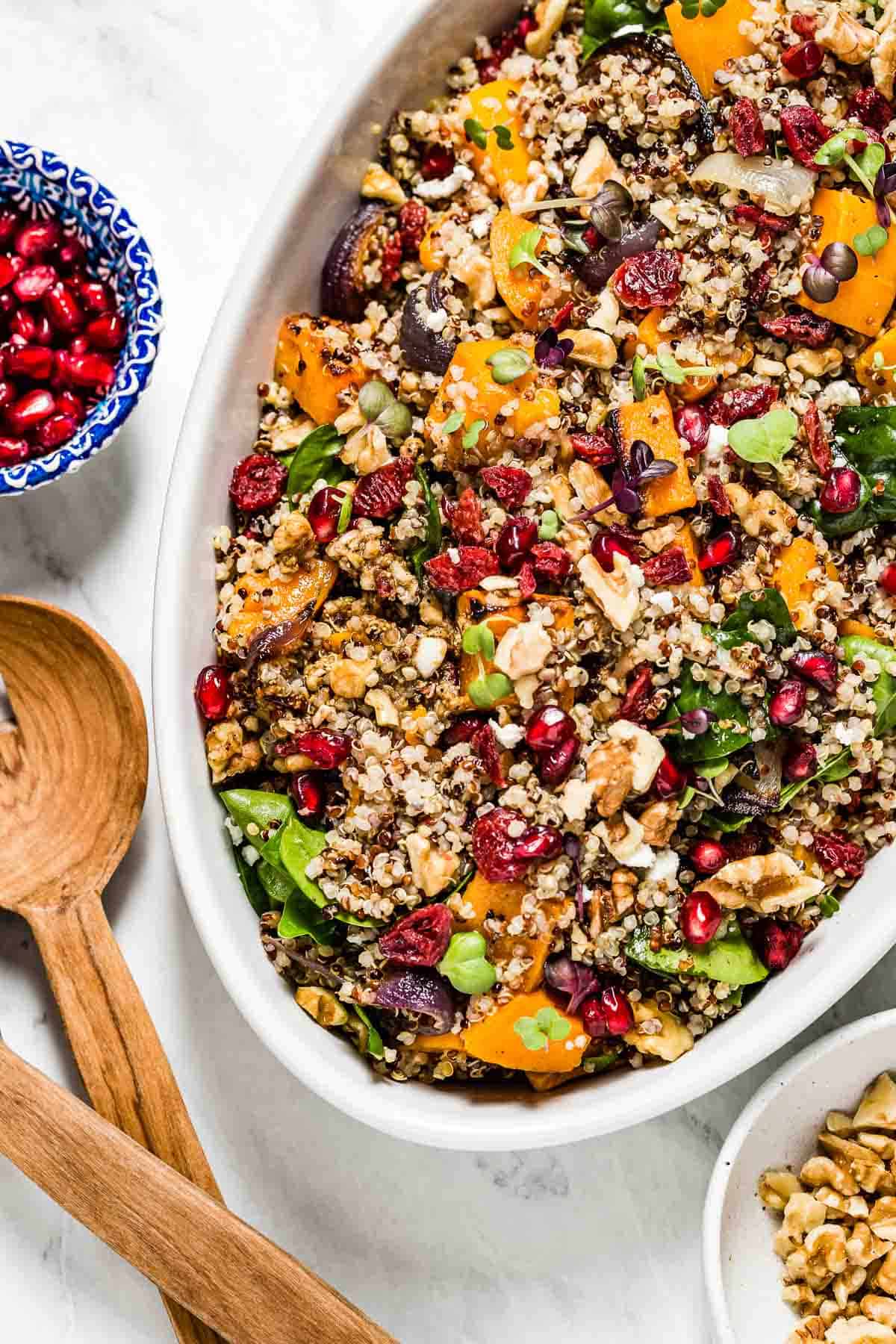 I love this fall quinoa salad because it has hints of my Roasted Butternut Squash Salad with Bulgur and Tahini Dressing, but with much more simplicity behind it.
It is easy to make, offers a ton of flavor, can be made ahead, and it's wonderful served warm or cold. I especially like to enjoy leftovers for lunch throughout the week for a healthy, vegan, plant-powered meal that will keep me full until dinner.
I was going to wait until the next holiday season to share this recipe, but I thought it best to share it now so you have it in your recipe book when the holiday season gets here!
Ingredients for butternut squash quinoa salad
This quinoa squash salad has three sets of ingredients – the roasted vegetables, the dressing, and the salad. You will need the following:
Roasted Vegetables:
Butternut Squash – I love the flavor of butternut squash in this salad, but any of your favorite squash varieties will do. Try Pumpkin, Honey Nut or Kabocha. The only one I do not recommend is Spaghetti squash. Due to its stringy texture, it will ruin the final result of the salad. If you are new to cooking butternut squash, be sure to check out our helpful posts on How to Cut Butternut Squash, Air Fryer Butternut Squash Cubes, and basic Roasted Butternut Squash Cubes.
Red Onion – I like the sweetness of the red onion, but yellow, white or Vidalia will work, too.
Vegetable Oil – Use any mild-flavored vegetable oil, such as olive, grapeseed or avocado oil.
Salt + Black Pepper – For seasoning. Remember, you are layering the roasted vegetables with additional ingredients, so you can always adjust the seasoning at the very end.
Butternut Squash Salad Dressing:
Extra Virgin Olive Oil – Fruity and light, I use Extra Virgin for all my salad dressing recipes.
Balsamic Vinegar – Make sure to purchase real balsamic vinegar from Modena. This is the good stuff and will make all the difference in your salad dressing recipe. Alternatively, you can use an equal amount of apple cider vinegar or, in a pinch, freshly squeezed lemon juice.
Dijon Mustard – I prefer stone-ground Grey Poupon, but a whole grain dijon mustard would add a nice texture and a stronger mustard flavor.
Maple Syrup – Grade A, Dark Amber maple syrup is my go-to choice. Honey or agave can also be used if that is all you have in the pantry.
Garlic – A small clove of fresh garlic goes a long way. Just make sure to mince it to the finest you can.
Kosher Salt + Black Pepper – Whisking or shaking the salad dressing in a mason jar vigorously will ensure the salt and pepper blend into the ingredients.
Salad:
Baby Spinach – Purchase fresh baby spinach from the store the day you are going to serve. This way you know your roasted squash quinoa salad will be as fresh as can be.
Cooked Quinoa – I used tri-color quinoa, but feel free to use white, red or black. Below is a more detailed explanation of how to cook each variety of quinoa.
Dried Cranberries – The cranberries add both color and sweetness. I prefer orange juice sweetened cranberries from Trader Joe's. Dried cherries or pomegranate seeds would be a great garnish, as well.
Walnuts – I used walnuts, but pecans, almonds, and pumpkin seeds would also work.
I like to toast my walnuts before adding to the butternut squash cranberry quinoa salad. For best results, place them on a rimmed baking sheet in a 350-degree oven for 7-9 minutes, or until light golden brown in color. Transfer to a plate and allow to cool before chopping.
Optional: Feta Cheese or Goat Cheese – A little cheese never hurts, but you can simply omit it to keep it a vegan quinoa salad recipe.
Tips for perfect quinoa every time
Quinoa, contrary to popular belief, is a seed, not a grain. Actually, it's a pseudo grain – it appears like a grain, but biologically speaking, it is a seed (source.) This super versatile grain-like seed grows in a variety of colors. White, red and black are the most common, but believe it or not, there are purple and orange, too!
How To Remove The Bitter Taste?
Quinoa gets a bad rep because many people complain it has a bitter taste. This is because quinoa has an outer coating that contributes to its bitter flavor. A little trick – rinse your quinoa for a few minutes under cool running water. This will remove that bitter flavor.
Are you having trouble with making your quinoa dishes taste good? If so, the two posts below might help:
How Long Does It Take To Cook Quinoa?
Note the cooking times for quinoa will vary based on the color you use. Cook the quinoa as directed below.
White Quinoa: 15 minutes
Red Quinoa: 18 minutes
Black Quinoa: 20 minutes
If you decide to purchase rainbow or tri-color quinoa, check for doneness at the 18-minute mark. If the grains are still a bit crunchy, add a few more minutes to the cooking time. You know the quinoa is cooked through when you can see little curled "tails" emerge from the tiny seeds.
How To Cook Quinoa?
The grain to liquid ratio is 1:2, but I cook mine in a ratio of 1:1 ¾ for a fluffier end result. Toasting the quinoa over medium heat in 1 Tablespoon oil for 1-2 minutes prior to adding the liquid brings out more of its nutty, savory flavor.
As soon as the liquid comes up to a boil, season with ½ teaspoon Kosher salt for every 1 cup liquid, reduce to simmer and cover. Cook according to the times above.
Need more information? Be sure to check out my comprehensive post on How to Cook Quinoa?
As soon as the quinoa is fully cooked, spread the grains out on a large-rimmed baking sheet to cool completely. This prevents the quinoa from overcooking and produces the fluffiest grains possible.
How to make roasted butternut squash quinoa salad
This Butternut Squash Quinoa Spinach Salad comes together in a few easy steps. Simply:
Roast the vegetables. Preheat the oven to 425 degrees. Line a large baking sheet with parchment paper, add the prepared butternut squash and red onion and season with oil, salt, and pepper. Roast in the oven for 25-30 minutes, or until the butternut squash is easily pierced with a knife. It should be fork-tender and somewhat caramelized. Set aside to cool.
Make the dressing. In a small bowl or mason jar, mix together the olive oil, balsamic vinegar, dijon mustard, maple syrup, garlic, salt, and pepper.
Assemble the salad. In a large serving bowl, add the spinach, quinoa, and now-cooled roasted vegetables. Drizzle with ¾ of the vinaigrette (reserving the remainder for the table) and toss. Garnish with cranberries, walnuts and enjoy!
How To Make Ahead and Store Leftovers?
Make-Ahead Instructions: Roast the vegetables and cook quinoa. Bring them to room temperature, place them separately in airtight containers and store in the fridge. Make the dressing and keep it in a mason jar in the fridge. When ready to serve, assemble the salad as it is written in the recipe.
Storage Instructions: If you have leftovers of this cold butternut squash salad, place them in an airtight container in the fridge for up to 4 days. Leftovers are just as delicious, if not more so, since the flavors have time to meld together. I like to enjoy it as a light, healthy lunch throughout the week.
Freezing Instructions: I would not recommend freezing this salad.
Variations
This roasted squash salad can be made a number of ways to suit your cravings. Some variations include:
Try with different types of cheese: Add ½ cup crumbled Feta or Goat cheese at the very end for a deliciously creamy addition.
Use Different Fresh Herbs: A few tablespoons of chopped fresh parsley, tarragon and chives add a bright, savory finish to this beautiful Fall and Winter quinoa salad.
Try it with Pumpkin, Honeynut or Any Squash Variety: Substitute the butternut squash for any of your favorite squash varieties.
Add a can of beans to increase the protein: Feel free to add a can of chickpeas (or even black beans) to make it even more filling.
Swap the dressing and try my Warm Cider Vinaigrette: Take some inspiration from Roasted Butternut Squash Salad with Warm Cider Vinaigrette and replace the balsamic dressing with a warm Fall dressing.
Warm Squash Salad: Rather than cooling the vegetables, first prepare the salad ingredients and dressing, then roast the vegetables and toss them immediately with the remaining ingredients. The heat from the roasted vegetables will gently wilt the spinach and warm the quinoa through. As a bonus, the dressing soaks up even more into the warm vegetables – yum!
Quinoa Butternut Squash Kale Salad: For more of a harvest quinoa salad, add 1 diced apple, a few leaves of thinly sliced kale, and 2 Tablespoons toasted pepitas to really bring out all those Fall flavors. I recommend massaging kale for a few minutes before adding it to the salad. Alternatively, you can also use blanched kale for a warm kale salad with quinoa and kale.
Tips for the best roasted squash and quinoa salad
Use any of your favorite greens! Sub out all or half the spinach with another green of choices, such as arugula, baby kale or Mesclun.
Want to serve it as a quinoa Thanksgiving side dish? Double the recipe to serve a crowd! This is also a fan favorite amongst all our Friendsgiving recipes.
For meal prep, simply portion out into individual containers for a fast grab-and-go meal.
FAQs
How To Use Quinoa In Salad?
One of the main questions I get from readers is how to use quinoa in a salad. The easiest approach – for each individual portion, simply toss ½ cup cooled, cooked quinoa in a large bowl with your favorite greens and lightly dress with your salad dressing of choice. It adds a pleasantly earthy, delicate bite and an ample amount of plant-based protein for a well-balanced meal.
What brings out the flavor of butternut squash?
Roasting butternut squash is an easy way to bring out its sweet and earthy flavors.
Other Roasted Squash Recipes You Might Also Like:
If you enjoyed this Butternut Squash Pomegranate Quinoa Salad, please leave a rating and a comment. Doing so helps others who are thinking about making the recipe. If you have a couple of extra minutes, be sure to take a picture and share it on social media and tag @foolproofliving so that we can see and share your creations in our channels.
Butternut Squash Quinoa Salad Recipe
Roasted Butternut Squash Quinoa Salad with Cranberries and Spinach. Drizzled with balsamic vinaigrette, this thanksgiving quinoa salad is the perfect side dish for your holiday table.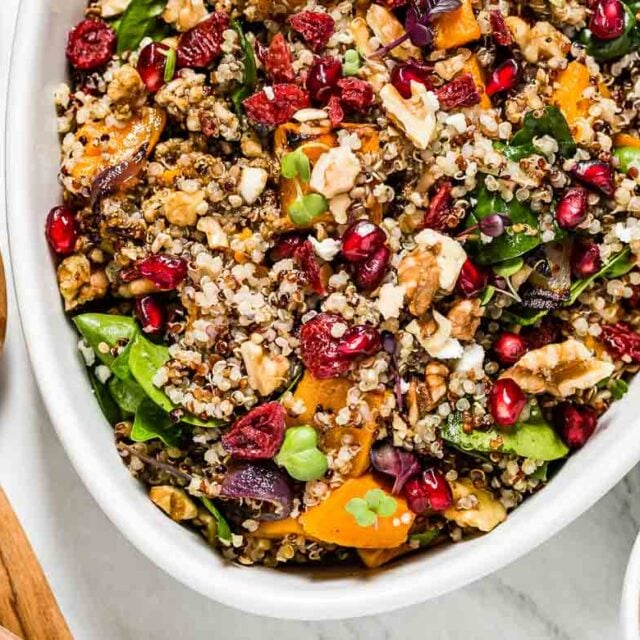 Print Recipe
Ingredients
For The Roasted Vegetables:
2

lbs.

Butternut squash

peeled and cut into 1-inch cubes

1

large red onion

peeled and cut into chunks

2

tablespoons

vegetable oil

1 ½

teaspoons

salt

½

teaspoon

ground black pepper
For The Balsamic Vinaigrette:
¼

cup

extra virgin olive oil

4

tablespoons

balsamic vinegar

1

tablespoon

dijon mustard

2

tablespoons

maple syrup

1

clove

of garlic

minced

1

teaspoon

kosher salt

¼

teaspoon

black pepper
For The Salad:
2

cups

baby spinach

rinsed and spin dried

3

cups

of cooked quinoa

1

cup

dried cranberries

roughly chopped

Handful of pomegranate arils

optional

1

cup

walnuts

roughly chopped
Instructions
Preheat the oven to 425 F Degrees. Line a sheet pan with parchment paper.

Place the squash and red onion in the baking sheet. Drizzle it with oil and sprinkle it with salt and pepper. Give it a toss.

Roast in the oven for 25-30 minutes or until a knife inserted in a cube of butternut squash comes in and out easily. Set aside to cool.

To Make the vinaigrette: Whisk together oil, balsamic vinegar, dijon mustard, maple syrup, garlic, and salt and pepper.

To assemble: Place baby spinach, quinoa, and roasted vegetables in a large salad bowl. Drizzle it with the salad dressing. Give it a gentle toss.

Top it off with the cranberries, pomegranate arils (if using), and walnuts. Toss and serve.
Notes
New to cooking with butternut squash? Here are my helpful tutorials on How to cut butternut squash and How To Roast Butternut Squash Cubes.
To store leftovers: Store the leftover butternut quinoa salad in an airtight container in the fridge for up to 4 days. Leftovers are just as delicious, if not more so since the flavors have time to meld together. I like to enjoy it as a light, healthy lunch throughout the week.
Nutrition
Calories:
521
kcal
|
Carbohydrates:
64
g
|
Protein:
9
g
|
Fat:
29
g
|
Saturated Fat:
7
g
|
Sodium:
1022
mg
|
Potassium:
868
mg
|
Fiber:
8
g
|
Sugar:
23
g
|
Vitamin A:
17010
IU
|
Vitamin C:
35
mg
|
Calcium:
129
mg
|
Iron:
4
mg
Like this recipe? Consider sharing: