I always experience a little bit of sadness when things come to an end. Even if it is for a short amount of time…
Yesterday was the last day of the season. The resort that my husband works at closed its doors until mid October. This morning, during my morning beach walk, it felt like I am all alone on Virgin Gorda.I know it is hard to believe, but over the next 2 months, I literally will have all the beautiful beaches of this island to myself.
It sounds amazing right? Well…
If you were to ask me what is the one thing I learned living on a gorgeous island in the middle of the Caribbean, I would say that all this beauty doesn't mean much unless you share it with others.
So it is somewhat of a bummer to be here during the closing, but luckily we booked our vacation to leave in the middle of September for almost 2 weeks.
Needless to say, I cannot wait.
After last week's visit to Good Moon Farm, I spent the rest of the week making dishes using the produce I got from there. This Soba noodle dish is made with the bok choy Mr. Drake picked for us.
As I was trying to decide what to make, at first I thought about adding sautéed bok choy to an Italian style tomato sauce and tossing it with spaghetti. But then, while I was looking for spaghetti in the cupboard, I saw the soba noodles and changed my mind. For some reason, an Asian noodle sounded better.
To make it, I sautéed bok choy and added it to the noodles. I flavored it with a quick miso-tahini sauce. And to serve, I garnished it with chopped scallions and black sesame seeds.
Got some extra bok choy to use up? Try This Bok Choy Salad from my friend Gina of Running to the Kitchen.
It ended up being a simple, healthy, and quick dish that you can make in less than 20 – minutes. It could be eaten anytime of the day. I personally like to eat my soba cold (almost like a salad), but it tastes just as good when it is warm.
Soba Noodles with Bok Choy and Garlicky Miso-Tahini Sauce
This Soba Noodles with Bok Choy is a vegan noodle recipe flavored with quick miso tahini sauce for a nutritious and wholesome meal. Packed with umami flavors, it is a simple yet creative soba noodle dish that is ready in just about 20 minutes.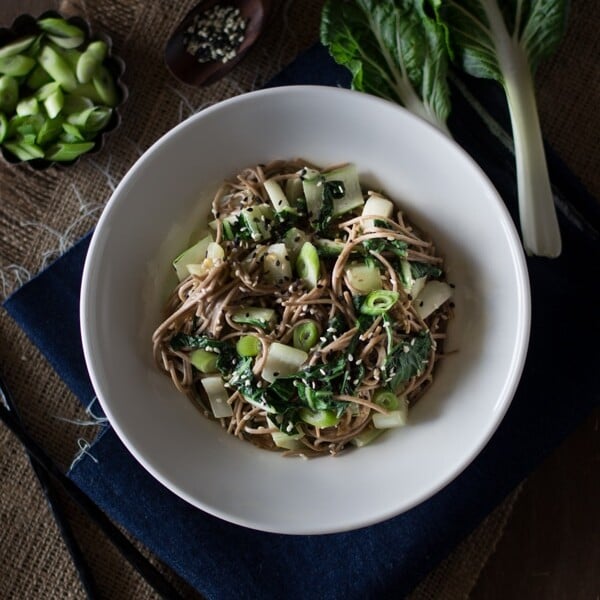 Print Recipe
Ingredients
8

ounces

soba noodles

1

bunch Bok Choy

sliced into 1 1/2 inch strips

1

tablespoon

sesame oil
For the sauce:
1/4

cup

tahini

sesame paste

2

teaspoons

white or brown miso paste

3

cloves

of garlic

pressed through a garlic press

2

teaspoons

sesame oil

2

teaspoons

rice vinegar

1/2

teaspoon

dry mustard

2

stalks green onions

chopped

2

teaspoons

black sesame seeds
Instructions
Bring a large pot of water to a boil. Add the noodles and cook 3-4 minutes (or follow the instructions on the packaging). Place it in a large bowl.

Heat a tablespoon of sesame oil in a large skillet. Sautee bok choy until lightly wilted, 4-5 minutes.

Make the sauce by mixing tahini,miso paste, garlic, sesame oil, rice vinegar, and dry mustard in a bowl.

Add the bok choy and sauce in the bowl with the soba noodles. Gently toss until everything is combined.

When ready to serve, top each portion with slices of green onions and sprinkle it with black sesame seeds.
Nutrition
Calories:
748
kcal
|
Carbohydrates:
105
g
|
Protein:
30
g
|
Fat:
30
g
|
Saturated Fat:
4
g
|
Sodium:
1408
mg
|
Potassium:
1533
mg
|
Fiber:
6
g
|
Sugar:
6
g
|
Vitamin A:
18885
IU
|
Vitamin C:
194
mg
|
Calcium:
559
mg
|
Iron:
8
mg
---
Like this recipe? Consider sharing: