I am always looking for fun and interesting ways to incorporate more vegetables into my diet. So this week, I took some inspiration from Cook's Illustrated's cookbook, Vegetables Illustrated (affiliate link) and my own Turkish background to share a modern version of Muhammara and share it with you.
My aunt was the queen of Muhammara sauce! It was a vegetable dip I grew up eating. We literally put it on everything – pasta, eggs, vegetables – and brought it to all our special occasions. Pita and muhammara was our version of bread and butter.
If you've never heard of this Middle Eastern pepper sauce, prepare to be amazed! Similar to its simpler version roasted red pepper walnut dip, it is robust in flavor with pomegranate molasses added to it to make it closer to its traditional version.
All you need is a food processor and 30 minutes for a Meditteranean-inspired dip that is bright in both color and flavor! Intrigued? Let's break it down.
What is muhammara?
Muhammara is a traditional Middle Eastern red pepper dip or condiment typically served a dip or sauce with warm pita bread. It is claimed by many countries, but the actual origin is from Aleppo, Syria.
Also called Muhumra or Marmara, the dip is popular throughout Lebanon, Turkey, Armenia, the Middle East, and Meditteranean. It's one of those recipes that's very widely adapted according to the region and personal taste.
How do you pronounce Muhammara?
Muhammara is the formal pronunciation and it sounds like it is written (though the "h" is slightly sibilant, almost as if you are exhaling through a sore throat). Not so easy to get right! Mm'hamara is a more idiomatic version. It also means roasted or burnt (made red), sharing the same etymological root as the word red (Ahmar).
Ingredients
To make this Mediterranean red pepper sauce, you will need the following ingredients: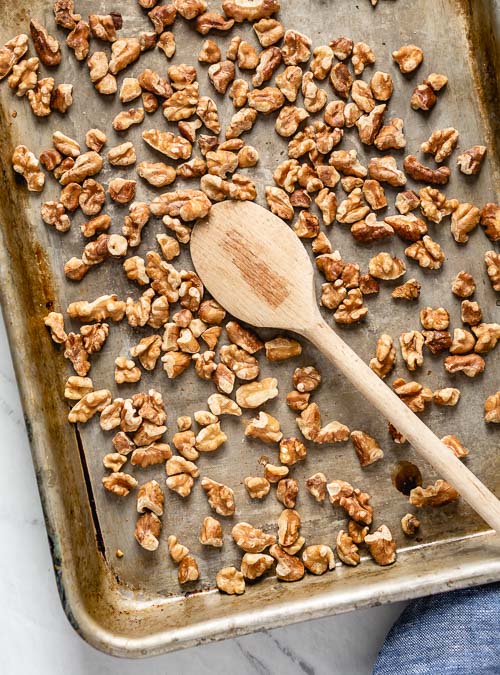 Red Bell Peppers – Purchase fresh, organic, sweet red bell peppers the day you are going to prepare the dip for the best flavor. If you're in a pinch, jarred roasted red peppers can be substituted, however, it's worth noting that the flavor of homemade roasted red peppers is much sweeter than using ones from a jar and the texture is softer.
Walnuts – Toasting the walnuts beforehand brings out more of their nutty, creamy flavor. I like to purchase a bulk of walnuts and toast them in a single layer on a large baking sheet in a 350-degree oven until light golden brown (about 7 minutes) as soon as I get home from the store, then cool completely and store them in an airtight container in the freezer. That way I have toasted walnuts at the ready any time I need them!
Crackers – The traditional muhammara recipe is made with bread crumbs. In this modern version, I followed in the footsteps of the authors of the Vegetable Illustrated and used crackers instead. You can use any type of lean crackers, such as the simple water cracker. However, for even more flavor variation, use a cracker scented with rosemary, thyme, flax seeds or sesame seeds. For best results, gently crack the crackers in a zip-top bag and finish crushing with a rolling pin.
Scallions – Use both green and white parts and be sure to roughly chop prior to adding to the bowl of your food processor.
Extra Virgin Olive Oil – This is a raw, uncooked sauce, so a good-quality Extra Virgin Olive Oil makes all the difference. My favorite is California Olive Ranch (affiliate link).
Pomegranate Molasses – If you are not familiar with pomegranate molasses, it is a slightly sweet, slightly tart syrup made from boiling down pomegranate juice (similar to the way balsamic glaze is prepared). It is a very popular ingredient in Middle Eastern cuisine and an authentic ingredient for this red pepper spread. Nowadays most supermarkets sell pomegranate molasses, but you can also purchase it online. This (affiliate link) is the brand I use.
Lemon Juice – A hint of fresh acidity goes a long way and locks in the color of those beautiful roasted red peppers.
Paprika – I prefer sweet paprika over hot since the spice factor will come from the cayenne.
Cumin – Although not typically included, I like the punch of savory, smoky goodness cumin brings to this dip. It complements the fire-roasted red peppers so well.
Kosher Salt – Use the amount called for in the recipe and adjust the taste to your liking at the very end. I also recommend finishing it off with some flaky sea salt.
Cayenne Pepper – A slight kick from the cayenne pepper transforms it into a healthy spicy capsicum dip (capsicum is another word for pepper). If you are not into spiciness, you can simply omit it.
Alternatively, if you can get your hands on it, you can swap cayenne pepper with Aleppo red pepper flakes.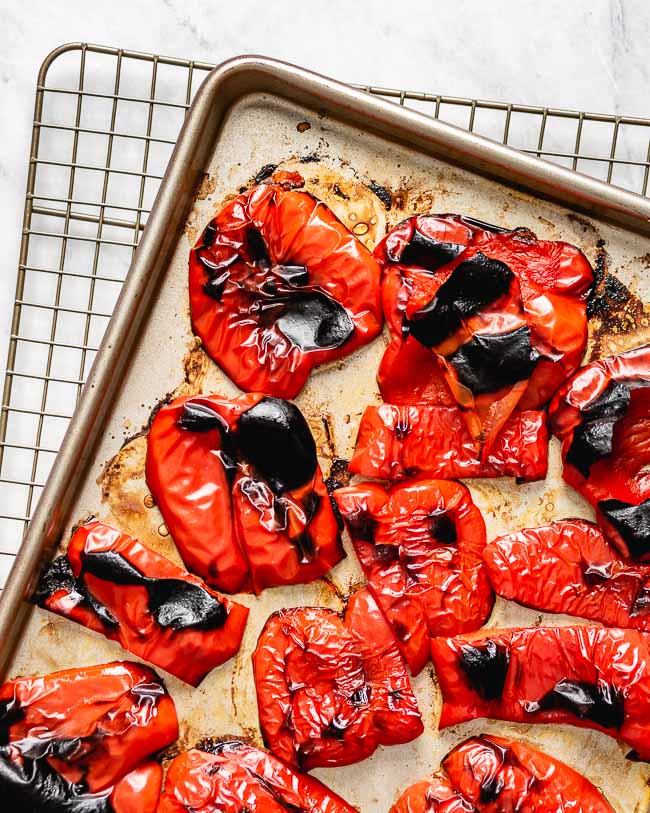 How to make roasted red pepper dip
To make this Middle Eastern pepper sauce, simply: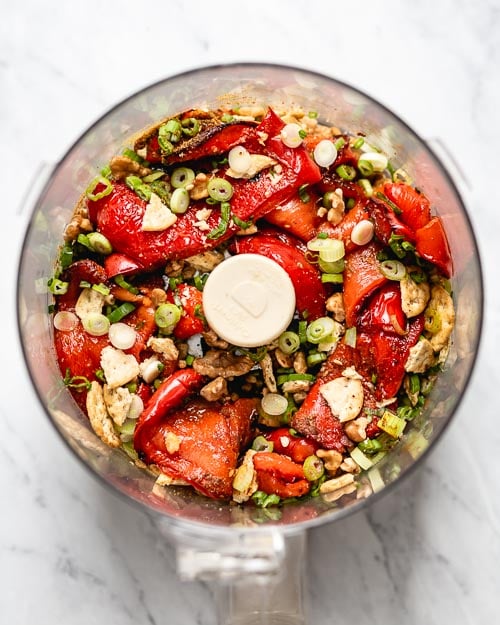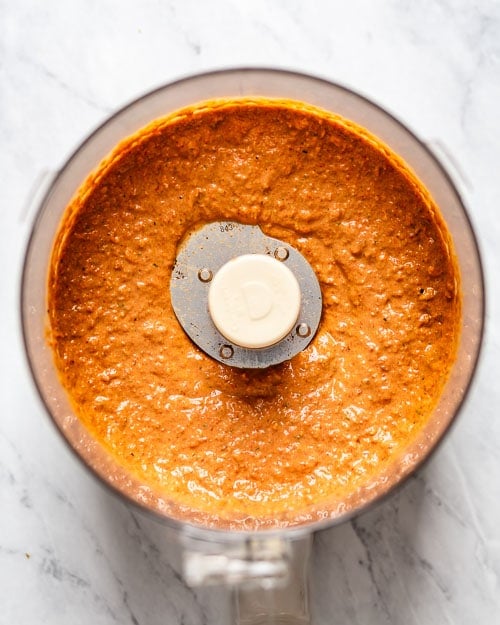 Roast the red bell peppers. Prepare the bell peppers by slicing off the stem end, removing the seeds and core with a spoon, slice in half and cut each half in three pieces. Remove the stem from the end and slice the end into large chunks. Transfer to a parchment-lined baking sheet and broil for 10 minutes, or until skins are well charred, making sure to rotate halfway through.
Steam the bell peppers. Once roasted and charred, transfer the red bell peppers to a large bowl and cover with plastic wrap to steam for 10 minutes (this makes it easier to remove the skins). At this point, you can either leave the skins on for extra charred flavor or remove them.
Crush the crackers. Place the crackers in a plastic bag, seal tight and gently crush with your hands. Finish crushing the crackers into coarse crumbs by rolling over with a rolling pin.
Process all the ingredients. In the bowl of your food processor, add the roasted red peppers, walnuts, crackers, scallions, olive oil, pomegranate molasses, lemon juice, paprika, cumin, salt, and cayenne and process until smooth, about 15-20 seconds, scraping down the sides of the bowl halfway through.
Garnish and serve. Transfer to a serving bowl, garnish with fresh dill, scallions, sesame seeds, and a drizzle of olive oil. Serve with more crackers, pita or crudites.
Ways to serve this Syrian pepper sauce recipe
There a number of ways to serve, such as:
Dip: Definitely the most authentic, serve it as a dip with more crackers, pita bread, or fresh sliced vegetables.
Spread: Slather it on sandwich bread or your morning toast!
Pasta Sauce: Prepare your favorite pasta and toss it in a large bowl with the muhammara and a bit of pasta water – no additional cooking required!
Pizza Sauce: Replace the tomato sauce on pizza with muhammara – such a fun, Meditteranean twist!
How many calories?
This recipe makes 1 1/2 cups and easily serves 4 people. And one serving of it is only 240 calories! When you pair the dip with fresh sliced vegetables, it's even better for you. So go ahead, eat your veggies!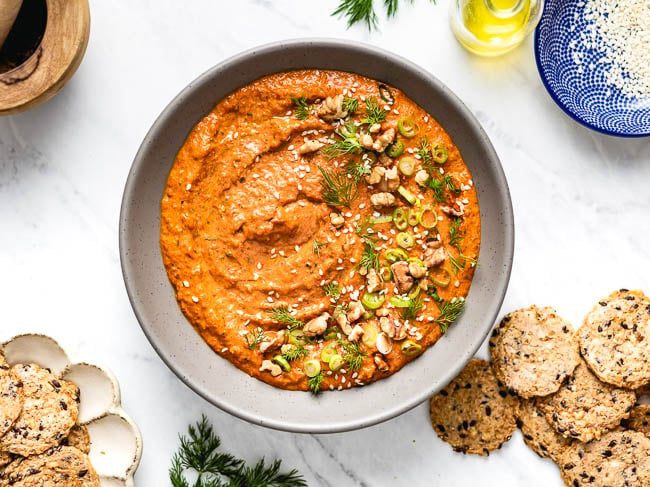 Tips for the best muhammara recipe:
Best way to store: You can store this roasted red pepper dipping sauce recipe in an airtight container in the fridge for up to 3 days.
Don't have crackers on hand? Substitute ¼ cup plain breadcrumbs, which is actually more traditional. The crumbs are necessary to absorb extra moisture so the finished dip isn't runny.
Want an even more smoky flavor? Replace the sweet paprika with an equal amount of smoked paprika.
For a vegan red pepper dip, make sure to purchase crackers that are vegan compliant.
Add a clove of garlic: While it is not a traditional ingredient, I sometimes add in a clove of minced garlic into the food processor for additional garlicky flavor as I did in this Vegan Red Pepper Dip recipe.
Other sauce/dip recipes you might also like:
Muhammara
Yields:
6
servings (1 1/2 cups)
Muhammara is a traditional Syrian red pepper dip made with roasted red peppers, walnuts, and pomegranate molasses. This recipe is easy to make, vegan and gluten-free. Serve as a dip, spread, or even as a pasta sauce. It is deliciously addictive!
Print Recipe
Ingredients
2

medium-sized red bell peppers

½

cup

walnuts

lightly roasted

⅓

cup

crackers

any type of lean cracker can be used

3

scallions

chopped (both green and white parts)

¼

cup

extra virgin olive oil

1 ½

tablespoons

pomegranate molasses

4

teaspoons

lemon juice

freshly squeezed

1 ½

teaspoons

paprika

1

teaspoon

ground cumin

½

teaspoon

kosher salt

⅛

teaspoon

cayenne pepper
Instructions
To roast the bell peppers: Line a rimmed baking sheet with parchment paper. Slice the tops of the bell peppers and remove the stems from the tops. Using a paring knife (or a spoon) take out the core. Cut the bell pepper into three pieces. Place them on the sheet pan skin side up. 

Adjust oven rack 3 to 4 inches from the broiler element (or at the top rack) and heat broiler. Broil until the skin is well charred, 10 minutes. Be sure to rotate the sheet pan halfway through.

Place the now-charred peppers in a bowl, cover with plastic wrap and let it steam for 10 minutes. At this point, it is up to you to whether or not remove the skin. If you like the charred flavor, feel free to keep the skins on. If not remove and discard them. You should end up with approximately 1 cup of roasted bell peppers.

Place crackers into a ziplock bag and crush them with a rolling pin.

Place roasted peppers, walnuts, cracker crumbs, scallions, olive oil, pomegranate molasses, lemon juice, paprika, ground cumin, salt, and cayenne pepper into the bowl of a foods processor. 

Process until pureed, 15-20 seconds scraping down the sides of the bowl halfway through processing. 

Transfer to a bowl and serve with crackers, pita bread, and/or crudites.
Video
Nutrition
Calories:
176
kcal
|
Carbohydrates:
7
g
|
Protein:
2
g
|
Fat:
16
g
|
Saturated Fat:
2
g
|
Sodium:
227
mg
|
Potassium:
149
mg
|
Fiber:
2
g
|
Sugar:
2
g
|
Vitamin A:
1358
IU
|
Vitamin C:
55
mg
|
Calcium:
25
mg
|
Iron:
1
mg
Did you make this recipe?
Tag @foolproofliving on Instagram and hashtag it #foolproofeats
This recipe has been adapted (with minor changes) from Vegetables Illustrated (affiliate link).
Like this recipe? Consider sharing: