It may come as a shock to you to hear that I had my first peanut butter and jelly sandwich when I first moved to the U.S. Even more shocking, I didn't even know that such a combination existed.
As I took the first bite of my very first peanut butter and jelly sandwich, the combination of sweet and salty flavors of peanuts and grape jelly tasted very familiar.
You know why?? Because back home, in Turkey, I grew up eating the Middle Eastern version of peanut butter and jelly, tahini paste and grape molasses. Growing up, my mother would mix half a cup of tahini paste with a quarter cup of grape molasses and serve it as a spread over bread for breakfast.
This explains why, today when I serve tahini paste and grape molasses to our friends for breakfast they usually tell me that it tastes like peanut butter and jelly.
Another very Middle Eastern way of using tahini paste is to make helva. Helva is made up of mixing sugar, tahini paste and sometimes pistachios. It is a very popular dessert served after dinner with Turkish coffee, especially after a seafood meal.
These tahini cookies taste like somewhere between helva and a peanut butter cookie. With every bite you get to enjoy the earthy flavors of tahini complimented with a pistachio without being overly sweet.
When I first made these cookies, I baked the first batch without pistachios. After I tasted it, I felt like it needed something else to balance the sweetness and nuttiness. That something, I decided later, was some chopped pistachios. So I went ahead and added ¼ cup of chopped pistachios to the second half of the batter. They ended up tasting phenomenal but they did not look as good as the ones in the pictures. They did not retain their shape and looked like they are cracked.
In my second try, instead of using chopped pistachios I used one whole pistachio for each cookie. The result was just perfect. They tasted and looked very good.
Still, if you do not mind the way they look you can certainly add chopped pistachios.
Once you mix all the ingredients it is so easy to put it together.
I used a tablespoon measure to ensure that they are all the same size. I rolled each cookie between the palms of my hands to make small balls, and placed them on a baking sheet.
To make them look pretty, I used the spiked surface of my meat tenderizer and pushed them down lightly to flatten them.
Last but not least, I placed a whole pistachio in the middle of each cookie and gently pushed it down with my index finger.
This batter makes 36 cookies. Since 18 cookies were more than enough for me and my husband, I placed the second batch (the whole dough) of the batter in the freezer. I defrosted it out on the kitchen counter 15 minutes before I was ready to bake them. They were just as good as the unfrozen version. So if you do not feel like baking them all at the same time, feel free to freeze the second half of the batter to bake for another time.
As long as they are kept in an airtight container, they taste fresh for 3 days. But, of course, that is never a problem in our house because between my husband and me, they don't last more than a day.
Got more cookie cravings? Here are a few more recipes:
Tahini Cookies with Pistachios
Turkish Tahini Cookies with pistachios: A mix between shortbread and sugar cookie, these tahini cookies with pistachios are an additive melt in your mouth cookie. If you have never tried incorporating tahini in your cookie recipes, this easy cookie recipe is a great one to try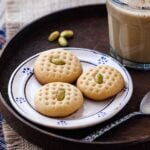 Print Recipe
Ingredients
2/3

cup

superfine sugar*

(4.5 ounces)

2/3

cup

unsalted butter, at room temperature

(5.3 ounces)

1/2

cup

tahini paste

(3.9 ounces)

1/2

teaspoon

vanilla extract

5

teaspoons

heavy cream

(0.85 fluid ounces)

2

cups

all-purpose flour

+ (1 1/2) tablespoon (in total 9.5 ounces)

1/2

cup

pistachios

shelled
Instructions
Pre-heat the oven to 400 F degrees.

Line 2 baking sheets with parchment paper. Set aside.

Place sugar and butter in the bowl of a stand in mixer fitted with the paddle attachment. Mix them in medium speed for 1 minute.

While the mixer is running add tahini paste, vanilla, heavy cream, scraping down the bowl in the middle.

Turn down the speed to low and slowly add the flour.

Mix until combined. (You may need to scrape down the bowl a couple of times.)

Transfer it to the kitchen counter and knead it until smooth.

Using a tablespoon measure, pinch a 1-tablespoon piece and roll it in between your palms. Place it on the baking sheet lined with parchment paper. Continue to do this for the rest of the dough, spacing cookies 1.5 inches apart from one another.

Using the back of a fork (or the spiked surface of a meat tenderizer) push down the balls lightly to slightly flatten them.

Place a pistachio in the middle of each cookie and gently push down with your index finger.

Bake for 15-17 minutes or until golden brown.

Transfer the cookies on a wire rack as soon as they come out of the oven to stop the cooking.

Let them cool for 5-10 minutes and serve.
Notes
Note 1: : If you bake them in 2 batches, second batch bakes faster. So keep a close eye on it.[br]Note 2: : To make superfine sugar, I process same amount of granulated sugar in a food processor for a minute.
Nutrition
Calories:
104
kcal
|
Carbohydrates:
11
g
|
Protein:
2
g
|
Fat:
6
g
|
Saturated Fat:
3
g
|
Cholesterol:
10
mg
|
Sodium:
2
mg
|
Potassium:
41
mg
|
Fiber:
1
g
|
Sugar:
5
g
|
Vitamin A:
125
IU
|
Vitamin C:
1
mg
|
Calcium:
9
mg
|
Iron:
1
mg
This recipe is adapted from Ottolengi and Tamimi's cookbook Jerusalem
.
Like this recipe? Consider sharing: