While I was in Chicago, I went to a place called Publican Quality Meats. It was a small bakery/butcher/coffee shop/market with a seating area. A little bit of everything in one place…
The first time I went there, I was looking for a quick bite to eat. All I wanted was a small sandwich with a cold beverage. The menu on the large wall listed a little bit of everything, ranging from cheese & charcuterie plates to different kinds of sandwiches. Even though the butcher's daily cheese plate sounded amazing, I had my mind set on getting a sandwich so I went with the one that was called The Perks of Being a Cauliflower.
See, I love cauliflower just as anyone else, and quite frankly I don't use it enough in my cooking. But I was intrigued, because the name was so creative. I decided that I wanted to find out about the perks of being a cauliflower.
And boy, did I love it…

I thought it was SO delicious. I would have never thought that using romesco sauce and cauliflower "steaks" together, flavoring them with lemon aioli sauce, and wrapping everything up in a garlic ciabatta bread would yield such a tasty sandwich.
On my last day in Chicago, I went there one last time to get the same sandwich so that I had something really good to eat in the plane on my way back home. I also wanted to look at it closely so that I could try to create something similar in my own kitchen.
So my version of that sandwich is this Cauliflower Steak Sandwich with Romesco Sauce. But this one is vegan and somewhat healthier, perfect for those of you who are calorie-conscious.
The original version was made with artisan-style garlic ciabatta bread. I made my own ciabatta bread, but you can easily find it in a bakery, supermarket, or in a neighborhood artisanal bread shop, if there is one close by.
Once you have the bread, there are 4 easy steps to making it:
Make the Romesco sauce:
Romesco sauce is a sauce made with processing sandwich bread, almond slices, red peppers, sherry vinegar, with spices in a food processor. In my opinion, the secret to really good romesco sauce is using lightly toasted almond slices.To toast sliced almonds, all you have to do is to heat them in a non-stick skillet in medium heat for 10 minutes or so. Keep a close eye on them as they can burn easily.
Make a quick coleslaw:
The original sandwich was served with a salad that was similar to coleslaw. I made my coleslaw with a couple of tablespoons of vegenaise, because I wanted my sandwich to be vegan. But if you don't have it and you are not vegan, feel free to substitute it with mayonnaise or a combination of mayonnaise and yogurt, for lighter calories.
My secret ingredient to delicious coleslaw is celery seeds. They not only give it a distinctive flavor, but also add a nice crunch to the overall salad.
Sear the Cauliflower "steaks":
I looked for many recipes to figure out how to make cauliflower steaks. Most of them suggested searing them in a skillet first, and then letting them roast in the oven for a short amount of time. I am sure it would be great to do it that way, but I choose to only sear them in a skillet and skipping the time in the oven. Because I didn't want it to be a long process with several steps. And it worked perfectly. It took 8-10 minutes in medium heat on each side for them to soften and become tender.
Assemble the sandwich:
It was fairly easy to assemble the sandwich. Below is a quick stop-motion video for you to watch how I assembled it.
If you have an electric grill (like George Forman), you can press them for a couple of minutes to warm them up. This step is an optional step, but if you have it I recommend not skipping it, as in my opinion, warming it up takes it to a whole other level.
Finally, if you are calorie-conscious and prefer not to eat too much bread, instead of eating both halves of the bread you can also make these as open-faced sandwiches.
OTHER HEALTHY CAULIFLOWER RECIPES YOU MIGHT LIKE
Cauliflower Steak Sandwich with Romesco Sauce
Yields:
4
2 large or 4 small sandwiches
A vegan Cauliflower Steak Sandwich with romesco sauce. Simply put, a head of cauliflower sliced into "steaks", sauteed in a pan, placed on a sandwich bread smeared with homemade romesco sauce and coleslaw. This easy vegan sandwich recipe is a great sandwich if you are looking for something healthy and delicious.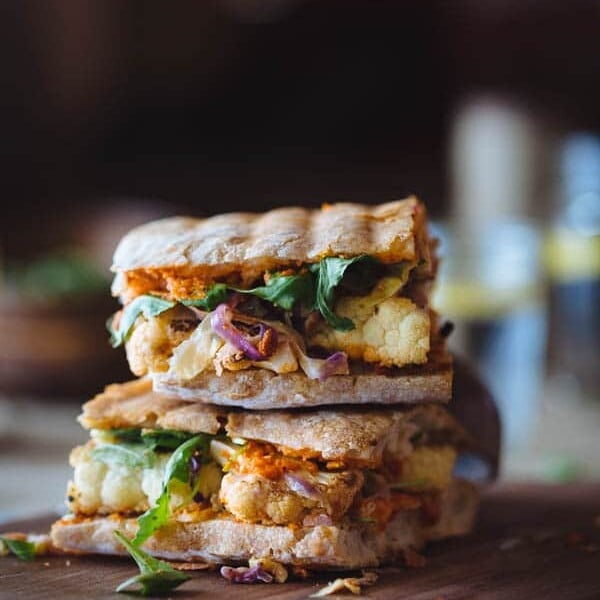 Print Recipe
Ingredients
For The Romesco Sauce
2

slices

white sandwich bread

crust removed – lightly toasted and cut into cubes

3

tablespoons

sliced almonds

lightly toasted

1 3/4

cups

jarred roasted red peppers

1

small ripe tomato

cut into slices

2

tablespoons

olive oil

1 1/2

tablespoon

sherry vinegar

2

cloves

of garlic

peeled and minced

1/4

teaspoon

cayenne pepper

or more, if you like it hot

1 1/2

teaspoon

coarse salt

1/4

teaspoon

black pepper

freshly ground
For The Vegan Coleslaw
1 1/2

cup

of red cabbage

sliced thinly

1 1/2

cup

of green cabbage

sliced thinly

1

cup

of carrot

shredded

3

tablespoons

of vegenaise

1

tablespoon

Dijon mustard

1

teaspoon

sherry vinegar

1/2

teaspoon

celery seeds

1/4

teaspoon

black pepper

freshly ground
For The Cauliflower Steak Sandwich
1

medium-size head of cauliflower

washed and dried

2

tablespoons

olive oil

2

cloves

of garlic

peeled and minced

2

loaves of ciabatta bread

cut in half to make 4 small sandwiches

1

cup

of arugula

washed and spin-dried
Instructions
To make the romesco sauce:
Place the bread and almonds into the bowl of a food processor. Process until finely ground, 15-20 seconds.

Add in the peppers, tomato, olive oil, vinegar, garlic, cayenne pepper, salt and pepper, and process until it reaches a consistency of mayonnaise, 25-30 seconds.

Taste for seasoning and add if necessary.

Place it in a jar, close it with a lid, and set it aside. (if you are making this in advance, keep it in the fridge.)
To make the coleslaw:
Place all ingredients in a bowl and gently stir to combine. Set aside.

Place the cauliflower, stem side down, on a cutting board. Cut it into 3/4-inch thick "steaks". Discard the ends. You should have 4 steaks (slices).

Heat 1 tablespoon of olive oil in a large skillet in medium heat. Once the oil is hot, add in 1 clove of minced garlic and stir for 15-20 seconds.

Transfer 2 of the cauliflower steaks into the skillet and cook 8-10 minutes on each side. Once cooked, place them on a plate lined with paper towels. Repeat the same process for the other 2 steaks using the leftover olive oil and garlic.

Repeat the same process for the second sandwich.
To assemble:
Cut the ciabatta bread lengthwise. Spread 2-3 tablespoons of romesco sauce on each half. Place a cauliflower steak (and florets to fill in – for a visual, watch the video) on the bottom half. Top the steaks off with 3-4 tablespoons of coleslaw and some arugula. Press top half over the bottom.

Using a serrated knife cut each sandwich into two pieces. Serve it with the leftover coleslaw on the side.

Optional: I grilled my sandwiches using a George Forman grill. If you have one (or some other type of grill), I highly recommend grilling it for a few minutes (5-6 minutes in 325 degrees).
Nutrition
Calories:
897
kcal
|
Carbohydrates:
134
g
|
Protein:
28
g
|
Fat:
29
g
|
Saturated Fat:
4
g
|
Sodium:
3060
mg
|
Potassium:
931
mg
|
Fiber:
11
g
|
Sugar:
8
g
|
Vitamin A:
6489
IU
|
Vitamin C:
134
mg
|
Calcium:
176
mg
|
Iron:
3
mg
The recipe for the romesco sause is adapted from The Cook's Illustrated Cookbook.
Like this recipe? Consider sharing: