Ever since I fell in love with Golden Turmeric Milk and started making my own Turmeric Paste, I have been trying to create recipes to allow turmeric and all its health benefits shine. This has also allowed me to incorporate more vegetables into my diet and put my focus on "meatless" meals.
That was the inspiration for this Indian Cauliflower Curry. It is a simple cauliflower curry recipe for those of you who want to add a punch of plant-based flavor and nutrition into your weeknight meals. I know you might be intimidated by the long list of spices, but I can assure you, this vegetable curry with coconut milk is 100% foolproof!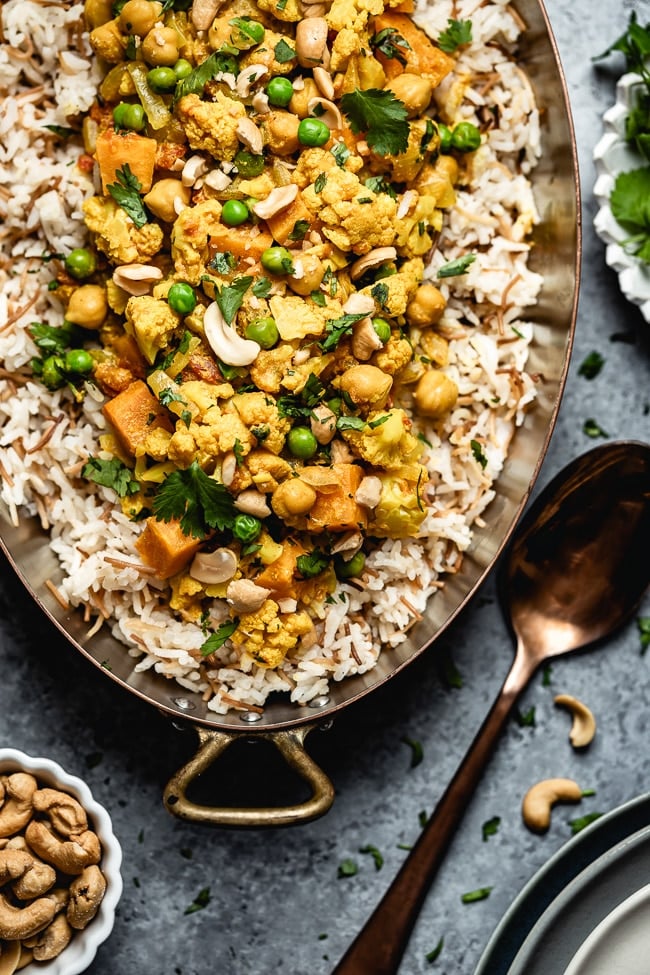 How to prepare?
The actual cooking time for this vegan chickpea curry is less than 30 minutes, but with the preparation of the ingredients included, it can be ready in under 45 minutes.
As soon as I get home from the market, the first step I take is to wash all my produce and prep it according to the recipe. The onion chopped, the cauliflower cut into florets, and the sweet potatoes cubed. This ensures a seamless cooking process from start to finish.
How to cook gobi curry?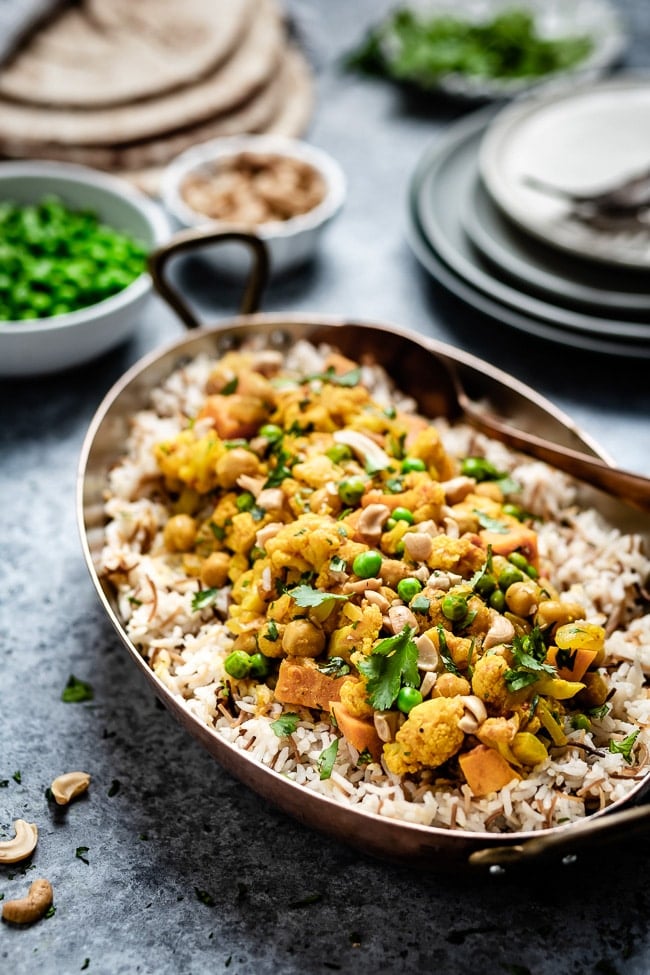 Cauliflower curry, also known as Gobi curry in India, comes together in 3 folds.
First, prep your ingredients. I will admit, there is a little bit of chopping involved, but it is totally worth it. I would recommend getting everything ready before starting the cooking process.
To start cooking, add the oil and add the spices coriander, cumin, curry powder, turmeric, and cinnamon (more on these later!), along with the onion in a large dutch oven set over medium heat. Constantly stir the mixture, to prevent the spices from burning, until the onion has softened, about 4-5 minutes. Add in the ginger, cook for 1 minute, then finish with the garlic, and cook for 30 seconds.
Don't be alarmed if the mixture looks like it needs some liquid. This is a part of the process of building flavor, so it is normal.
Second, add the tomatoes, coconut milk, vegetable broth, cauliflower florets, sweet potatoes, chickpeas, and salt.
Scraping the bottom bits of the pot give it a stir, cover, and bring it to a boil. Once it comes to a boil, reduce the heat to medium-low and simmer until the sweet potatoes are softened about 20-25 minutes.
Finally, stir in the green peas and cilantro at the very end. Serve in shallow bowls over a bed of rice ( I used basmati rice, but brown rice would also work) and garnish with fresh cilantro and lightly salted cashews.
PRO TIP: Adding the green peas and fresh cilantro at the very end of cooking will help to preserve their bright green color and fresh flavor.
Only have frozen blanched peas on hand? The heat from the cauliflower curry will gently warm the green peas from frozen, which means there is no need to thaw!
A Quick How To Video:
Ingredients:
I know some of you may be wondering, what exactly goes into a vegan cauliflower curry recipe? The truth is, every Indian curry recipe is different based on the region of India it stems from.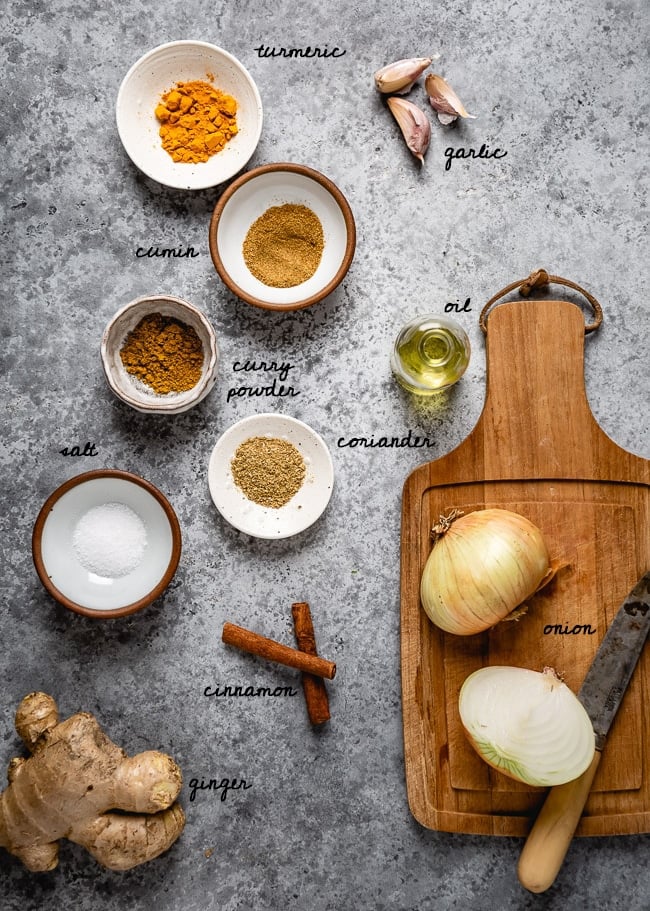 However, every curry recipe includes warm, fragrant spices with the inclusion of aromatics such as onions, ginger, and garlic. The spices in our cauliflower coconut curry include:
Coriander – the seed of cilantro, with a bright, citrus flavor
Cumin – a small seed that is smokey and robust
Curry Powder – an essential mix of fragrant Indian spices, with the inclusion of turmeric, that comes in mild, medium, or hot varieties
Turmeric Powder – slightly bitter and aromatic with a high amount of antioxidants and health benefits (With the help of the curry powder, turmeric is what gives this curry dish its beautiful yellow color, which is why some people also refer to this dish as yellow cauliflower curry)
Cinnamon – slightly sweet and warm to give it that special touch
But these are just a few of the spices in the vast array of Indian spices. If you were interested in adding more fragrant spices, you could also try:
Garam Masala – a sweeter mix of aromatic Indian spices that includes cinnamon, nutmeg, and cardamom, but no turmeric, transforming this dish into a gobi masala curry recipe
Allspice – a small berry that is slightly sweet and warm
Cardamom – a staple in Indian cuisine with a citrusy, minty, and herbal flavor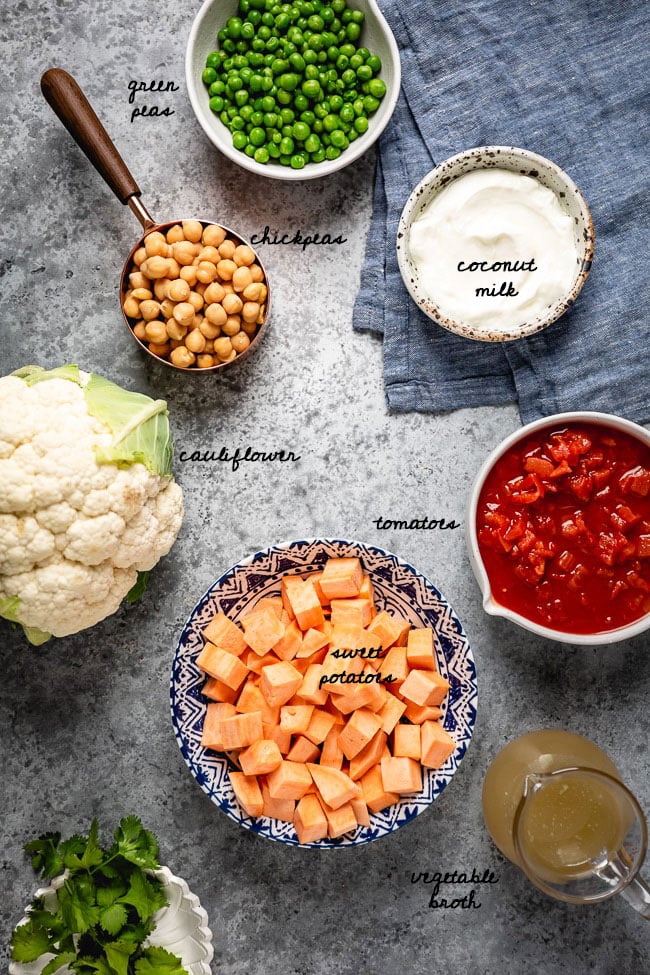 For the vegetable ingredients in this gobi curry recipe (gobi means cauliflower in India), the sweet potato and cauliflower florets are the stars. We also add in chickpeas and green peas to make it even more nutritious and colorful.
With that being said, if you don't like any of these ingredients, simply omit them. Or swap in an equal amount of any of your favorite vegetables such as green beans, eggplant, or carrots. That's what makes this easy curried cauliflower with coconut milk so versatile!
Is curry vegan?
Yes, this cauliflower chickpea curry recipe is vegan. But the real answer to this question really depends on what you put in it. Because we are using tomatoes, coconut milk, and vegetable broth as the base, this is an entirely meatless meal.
Looking for a coconut milk substitute? I know some of you are allergic to coconut. If this is you, simply replace it with 1 cup Plain, Whole Milk Yogurt. Obviously, adding yogurt will no longer make this dish vegan, but the taste indifference will be minuscule.
Is this recipe healthy?
Yes, this cauliflower coconut curry is extremely healthy with the abundance of spices and produce all packed into one pot. Not only does turmeric provide anti-inflammatory and antioxidant benefits, but it transforms this vegetable curry with coconut milk into a creamy vegan yellow curry that is so pleasing to the eye. Serve this to your family, and they won't be able to get over that bright yellow color!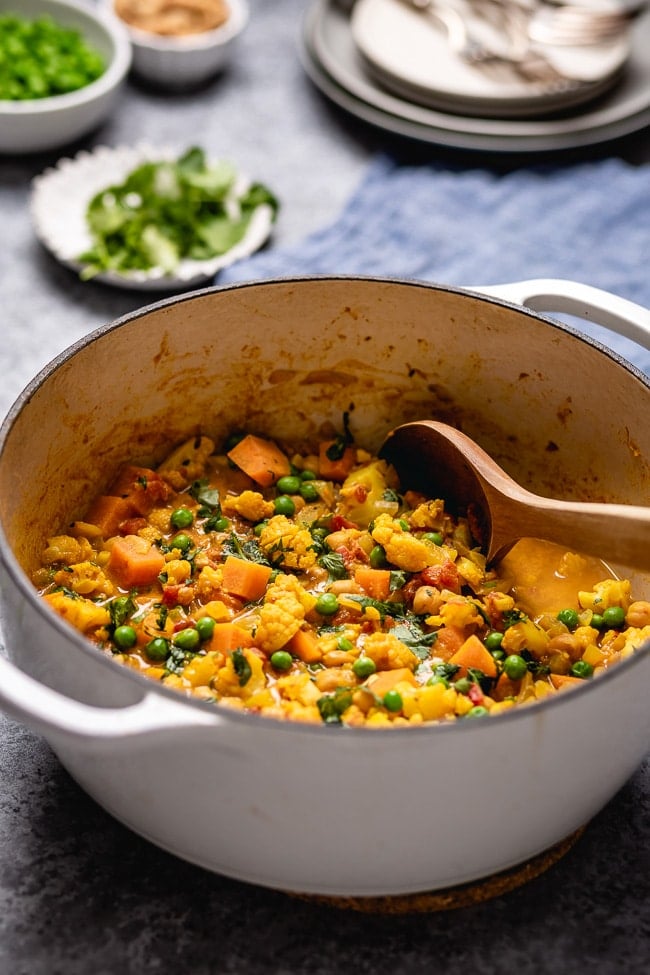 Is it spicy?
Our Indian style cauliflower curry is not spicy, but the spice factor can certainly be enhanced with the right ingredients. To make a creamy, spicy curry, there are a few options:
Purchase the hot variety of your favorite store-bought curry powder blend.
Add ½ tsp Cayenne Pepper when you add the spices.
Add 1 sliced Indian green chile or Thai Bird chile when you add the vegetables.
PRO TIP: The spice in fresh chiles lies mostly in the seeds and ribs. Since Indian green chiles and Thai Bird chiles are long and slender, it is hard to remove the seeds and ribs to dial down the spice factor.
If you still want some heat, but not too much, simply use half the chile. Save the remaining half as a garnish, for more spice, or the next time you make this cauliflower curry bowl.
When working with fresh chiles, don't forget to wash your hands, cutting board, and knife immediately after slicing the chile. It's not so fun when you wipe your eye with chile hands – ouch!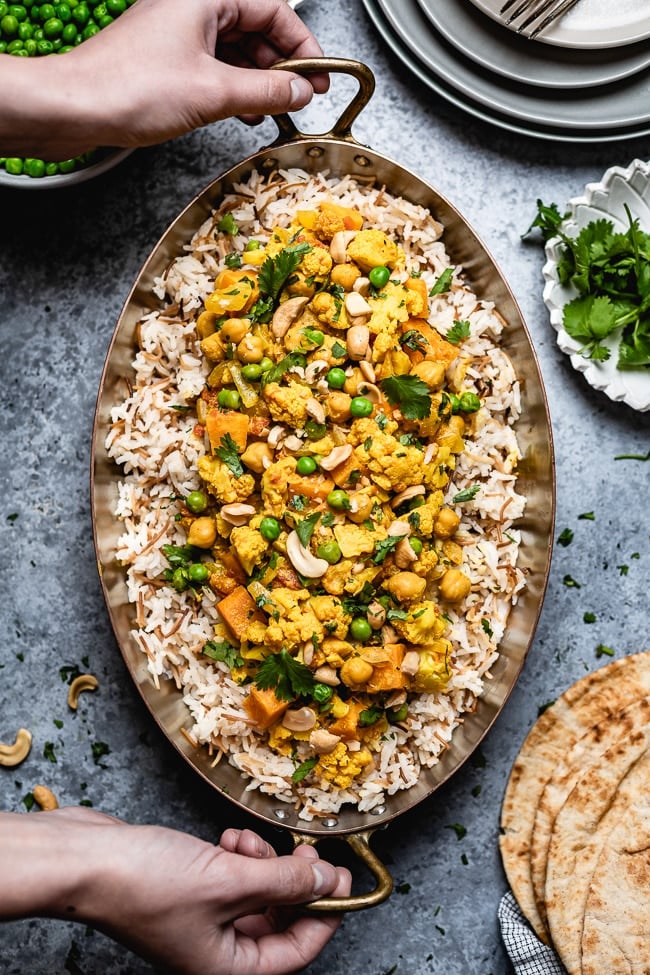 What to serve it with?
I find the best way to serve this cauliflower coconut curry is over a bed of freshly made basmati rice (or brown rice for greater nutrition). I also love serving it with my mom's bulgur pilaf.
The sauce from the cauliflower turmeric curry seeps into the rice, creating a luscious, comforting meal. And if you find you still have some leftover yellow curry sauce in the bottom of your bowl, warm, toasted Naan bread acts as the perfect utensil to sop up all those juices!
A Few tips and variations:
Here are a few helpful tips and a few recipe variations you can follow for making the best cauliflower curry
Don't have sweet potatoes, but still want the naturally sweet flavor? Use an equal amount of regular potatoes + 1-2 tsp maple syrup.
Add 1 Tablespoon of Homemade Turmeric Paste when you add the liquid ingredients to make it an even brighter Indian yellow curry.
Want to make this cauliflower curry recipe low carb? Omit the green peas for a simple sweet potato chickpea curry.
Want a Cauliflower Chickpea Spinach Curry? Add in 1-2 cups fresh spinach leaves at the end of cooking for additional flavor and nutrition.
Looking to enjoy this vegan cauliflower curry throughout the week? Reheat individual portions in a microwave-safe bowl on HIGH in 1-minute intervals, stirring in between, until thoroughly warmed through.
Alternatively, reheat over medium heat in a small saucepan with the lid on until it reaches a gentle boil. If the Indian cauliflower dish seems a bit too thick, add 1-2 Tablespoons water to loosen it up.
Want to freeze the leftovers? Go for it! This cauliflower sweet potato curry freezes beautifully. As a matter of fact, I use my favorite 2-compartment meal prep containers (affiliate link) to fill one side with this curry and the other (smaller) side with rice and freeze it to serve later when I don't feel like cooking.
Other veggie-packed vegan dinner recipes you might like:
Other curry recipes you might like:
Vegan Cauliflower Curry With Coconut Milk
This Indian Cauliflower Curry Recipe is an easy, vegan, one-pot meal that can be ready in under 45 minutes. The warm, Indian spices and creamy coconut milk transform this vegan curry into a vibrant and flavorful dish. Serve it over rice for a complete meal to enjoy any night of the week.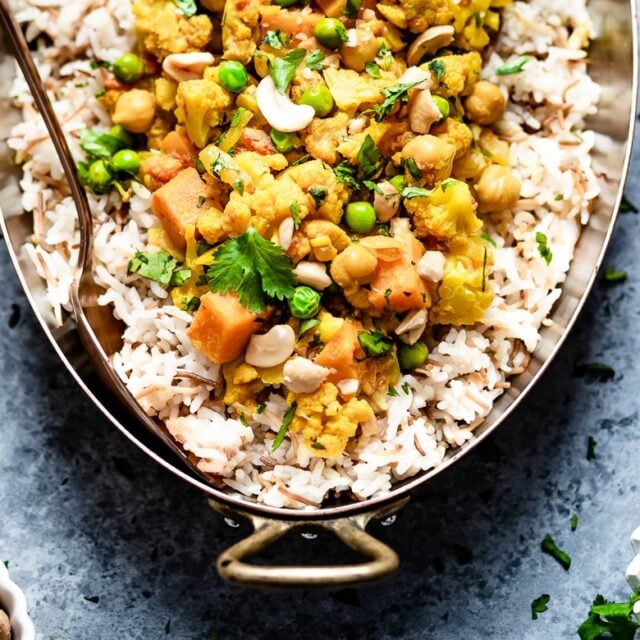 Print Recipe
Ingredients
1

tablespoon

vegetable oil

1

teaspoon

ground coriander

1

teaspoon

ground cumin

1

tablespoon

curry powder

1

teaspoon

ground turmeric

¼

teaspoon

ground cinnamon

1

medium sized onion

chopped (approximately 1 cup)

1 ½

teaspoons

ginger

minced

3

cloves

of garlic

minced

1

15 oz. can diced tomatoes

1

15 oz. can unsweetened coconut milk (or 1 cup plain whole milk yogurt)

¾

cup

vegetable broth

A small head of cauliflower

cut into 1-inch florets (approximately 3-4 cups)

1

large

or 2 small sweet potato, cubed (approximately 2 cups)

1

cup

cooked chickpeas

1

teaspoon

kosher salt

¾

cup

green peas

frozen or fresh (no need to thaw if using frozen)

1

tablespoon

cilantro

chopped - more as a garnish

A handful of salted cashews as garnish

optional
Instructions
Heat oil in a large heavy bottom pan (such as a Dutch Oven) over medium heat. Add in the ground coriander, ground cumin, curry powder, ground turmeric, ground cinnamon, and onion. Sauteé, stirring constantly, until onion is softened, 4-5 minutes.

Add in the ginger and cook for 1 minute or until fragrant.

Stir in the garlic and cook for 30 seconds. At this point, it should be a thick mixture that looks like it needs some liquid.

Add in the tomatoes, coconut milk, vegetable broth, cauliflower florets, sweet potatoes, chickpeas, and salt. Give it a gentle stir.

Put the lid on and bring it to a boil. Once it comes to a boil, turn the heat down to medium low and let it simmer for 20-25 minutes or until sweet potatoes are softened.

Stir in the green peas and cilantro.

Garnish with cilantro and chopped cashews (if using). Serve over rice.
Video
Nutrition
Calories:
420
kcal
|
Carbohydrates:
38
g
|
Protein:
9
g
|
Fat:
29
g
|
Saturated Fat:
24
g
|
Sodium:
784
mg
|
Potassium:
916
mg
|
Fiber:
10
g
|
Sugar:
9
g
|
Vitamin A:
712
IU
|
Vitamin C:
29
mg
|
Calcium:
104
mg
|
Iron:
5
mg
This Indian Cauliflower Curry Recipe was originally published in June 2019. It has been updated with additional helpful information and no changes to the originally published recipes in September 2020.
Like this recipe? Consider sharing: