Last week I made a flatbread pizza called Spinach, Tomato, and Olive Flatbread, and shared it on my blog. I made it by using ingredients that are considered healthy and nutritious.
This "Cauliflower Risotto" recipe is a continuation of my mission of learning about ingredients that are considered as "superfoods". My goal here is to understand their benefits, how to use them to create healthy recipes, and share them with you here on my blog.
Before I continue, I must confess that I did not expect this dish to turn out as creamy and delicious as it did. Prior to eating this, I have never, knowingly, had nutritional yeast, miso paste, and tahini together in a dish. Come to find out they go very well together.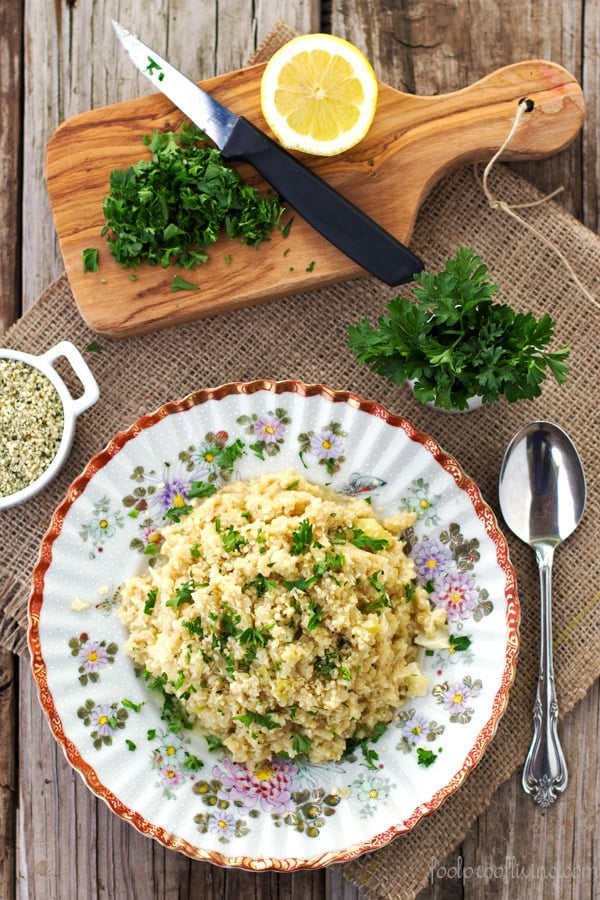 Surprisingly, with the help of nutritional yeast and miso paste, without using any heavy cream, milk, and cheese, I was able to get the creamy texture and the cheesy flavor of a traditional Italian risotto dish. The best part of this recipe is that it uses cauliflower instead of rice. Genius!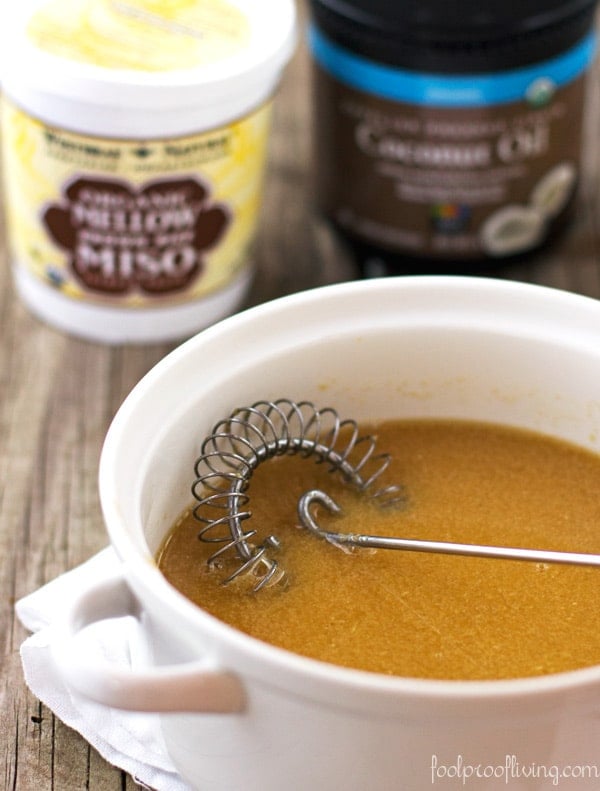 Ingredients:
So, what are nutritional yeast and miso paste? How can you use them in your daily cooking?
Here are some notes from my research:
Nutritional Yeast:
Nutritional yeast is a "deactivated" yeast made from a single-celled organism called Saccharomyces Cerevisiae. It is a living microorganism grown on molasses. When it is ready, it is deactivated (or killed) with heat, and then harvested, washed, dried, and packaged. Since it is inactive, it does not have the rising and growing effect of baking yeast.
It is mostly used in vegan cooking to compensate for the "cheese" flavor.
It is rich in folic acid, selenium, zinc, protein, fiber, and most importantly, in vitamin B12. Since a plant-based diet does not provide the B12 vitamin, it is an important part of a vegan diet.
It is a gluten and salt free food.
Some popular ways of using nutritional yeast are:
– Sprinkle it on popcorn, salads (and salad dressings), vegetables, and pasta.
– Add it in soups and smoothies.
– Use it to thicken sauces or gravies.
– Use it as a seasoning anytime you want to have the cheese flavor in your dishes.
Miso Paste:
Miso paste is a concentrated, savory paste made from soybeans, sea salt, and koji (a yeast mold). It is often mixed with rice, barley, and wheat. During the process the mixture is allowed to ferment for 3 months to 3 years, which produces an enzyme-rich food.
While it is a great source of protein, carbohydrates, B Vitamins, and antioxidants, it should be noted that it is high in sodium. Therefore, it should be consumed sparingly. Especially, if you are salt-sensitive.
There are many varieties of miso, which vary in color and flavor potency. Yellow and white miso are mild in flavor and slightly sweet, whereas black and red miso are much more potent and carry a stronger flavor.
For most beginners, brown miso paste is recommended due to its mild flavor.When buying soy-based miso paste, it is recommended to buy the organic variety due to the fact that nearly all conventionally grown soy is a GMO crop, and thus, should be avoided if possible.
It should be stored in an airtight container in the fridge. As long as it is kept in the fridge, it has a very long shelf life.
Most popular uses of miso paste are:
– As a spread for sandwiches or pizzas
– Added in salad dressings, sauces (to thicken), and marinades
– Used in soups to give it a depth of flavor
– As a glaze on meat, fish, and vegetables
This risotto is excellent for people, who want to cut down on calories without sacrificing the taste. The portions may look big, but much of the bulk is because of the cauliflower, which is, luckily, a very low-calorie food.
If you are a fan of serving cauliflower in creative ways be sure to check out this Trader Joe's Cauliflower Gnocchi recipe.
A perfect lunch dish with a big green salad like this Boston Bibb Lettuce Salad.
OTHER HEALTHY CAULIFLOWER RECIPES YOU MIGHT LIKE
Cauliflower Risotto Recipe
A vegan cauliflower "risotto" dish made with superfoods like tahini, miso paste, nutritional yeast and cauliflower.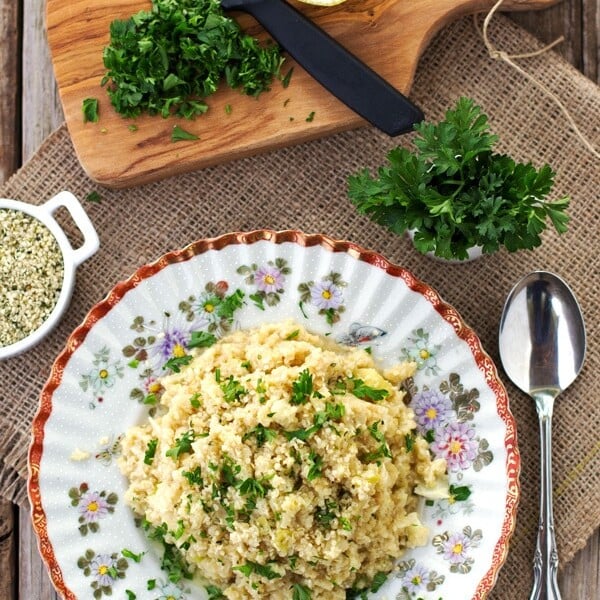 Print Recipe
Ingredients
For the dressing:
1 1/2

tablespoon

tahini

1

tablespoon

nutritional yeast

1

tablespoon

miso paste

1 1/2

cups

vegetable broth
For the "risotto":
1

head of cauliflower

washed and trimmed

1/2

tablespoon

coconut (or olive) oil

1

medium leek

washed thoroughly and thinly sliced

2

cloves

of garlic

peeled and minced

1 1/2

cups

cooked quinoa

1/2

tablespoon

lemon juice

1/4

cup

hemp seeds

1

teaspoon

coarse salt

Black pepper

optional

2

tablespoons

Italian Parsley

chopped
Instructions
Start by making the dressing: Whisk together the tahini, nutritional yeast, miso paste, salt, and vegetable broth in a bowl. Set aside.

Process the cauliflower florets in a food processor until they are very small, 12- 14 pulses. Preferably the size of rice.

Heat the oil in a 12 inch non-stick skillet in medium heat. Add the leaks and garlic. Sauté until leeks are tender and beginning to brown.

Stir in the cauliflower and cook, stirring occasionally, for 5-8 minutes.

When the cauliflower is cooked through, add the quinoa and the dressing. Let it come to a simmer. Cook until the excess liquid is evaporated. Give it a generous stir.

Turn off the heat. Stir in the lemon juice and hemp seeds.

When ready to serve, sprinkle it with parsley and black pepper.
Nutrition
Calories:
263
kcal
|
Carbohydrates:
31
g
|
Protein:
13
g
|
Fat:
11
g
|
Saturated Fat:
1
g
|
Sodium:
1148
mg
|
Potassium:
673
mg
|
Fiber:
7
g
|
Sugar:
5
g
|
Vitamin A:
792
IU
|
Vitamin C:
76
mg
|
Calcium:
87
mg
|
Iron:
4
mg
This recipe is adapted from the cookbook "Superfood Kitchen" written by Julie Morris.
Like this recipe? Consider sharing: