Once I decide on an ingredient and a recipe idea to publish here on Foolproof Living, I usually do a quick Google search before I even start cooking. And that is because (1) I want to get inspired and (2) I always want to find a creative way to put my twist on the recipes I share.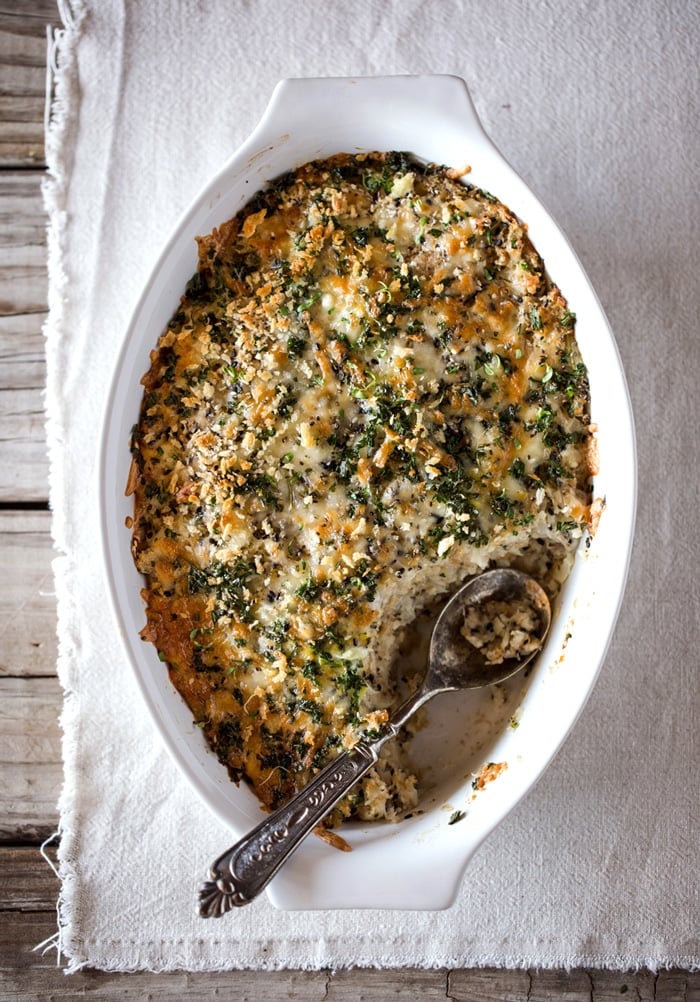 So during my initial research for this cauliflower au gratin dish, I found that the process in most recipes were somewhat similar; steam (or boil) cauliflower, mixed it with a béchamel-like sauce, sprinkle the top with cheese and/or breadcrumbs, and bake it for 20-30 minutes. After all, the term "gratin" is a technique (comes from the French cuisine) in which an ingredient is topped with a brown crust using breadcrumbs, cheese, eggs and/or butter.
So anyone using this method would -pretty much- end up with a similar end product. But I was on a mission to create something a little bit different.
The help came from one of my newest cookbooks Katie Queen Davies's What Katie Ate on the Weekend. She, too, had a cauliflower au gratin-like dish in her book, but with a surprising twist. What she did was to add crunch into her recipe using sesame seeds, chia seeds, and fresh bread crumbs. In addition, she enhanced its flavor with toasted cumin and coriander seeds. It sounded perfect.
Luckily, I had every ingredient available in my panty. I immediately went into the kitchen and made the recipe. It was very interesting, because even though I used chia seeds many times before it was mostly for breakfast dishes like porridges and oatmeal. This was the first time I used chia seeds in a gratin dish.
And I loved it because they thickened the cheese sauce while (with the help of breadcrumbs and sesame seeds) adding a nice crunch to the final dish. Plus the flavors of cheese and cauliflower went so well with cumin and coriander. It was definitely a hit.
On my second try – this time for the blog – I decided to swap the breadcrumbs with panko for more of a crunch factor. If you have never used panko (aka Japanese breadcrumbs), I highly recommend giving it a try, especially if you favor that "crunch" feel in your food. I usually toast 1-2 cups of panko once a week, keep it in an airtight jar and sprinkle it over salads, soups or any other dishes I want throughout the week.
As a result of substituting panko with regular breadcrumbs the gratin ended up being denser than Katie's version, which in my opinion made it a perfect side dish because (1) it kept its shape (almost like a perfectly sliced piece of cake) and (2) with the help of sesame seeds and chia seeds, it was definitely crunchier.
About this Spicy Cauliflower au Gratin with Crunchy Topping Recipe
The process of making this crunchy cauliflower dish is pretty simple. First, toast the panko and spices. While that's happening, pre-cook the cauliflower in boiling water. Second, make a quick béchamel sauce using butter, flour, and milk, and once it's cooked, add in the cheese. Finally, toss everything in a gratin dish, sprinkle it with more chia seeds, panko, fresh herbs, and cheese and bake in the oven for 20-25 minutes. And serve it immediately while it is still warm.
Other Cauliflower Side Dishes You Might Like:
Spicy Cauliflower Gratin with Crunchy Topping
Cauliflower au Gratin recipe – Ready to add in a delicious vegetarian side dish to your cauliflower recipes collection? If so, you are in for a treat because this cauliflower au gratin recipe is flavored with warm spices like coriander and cumin and topped off with panko breadcrumbs for a spicy, crunchy and creamy goodness all in one side dish.
Print Recipe
Ingredients
1 1/2

cups

panko breadcrumbs

1

tablespoon

+ 1 tablespoon olive oil

divided

1/2

teaspoons

cumin seeds

1/2

teaspoons

coriander seeds

1 1/2

pounds

cauliflower

cored and cut into small florets

4

teaspoons

black sesame seeds

4

teaspoons

white sesame seeds

1

+1 tablespoons chia seeds

divided

1

teaspoon

salt

1/2

teaspoon

black pepper

freshly ground

1/2

cup

fresh parsley

coarsely chopped

1/2

cup

white cheddar cheese

shredded

Cheese Sauce

4

tablespoons

unsalted butter

3

tablespoons

all-purpose flour

11/4

cup

whole milk

3/4

teaspoon

salt

1/4

teaspoon

black pepper

freshly ground

1

cup

white cheddar cheese

shredded
Instructions
Place panko in a large non-stick skillet with 1-tablespoon olive oil and cook in medium heat until golden brown, stirring frequently, 10-12 minutes. Transfer it to a plate, set aside and allow it to cool. Wipe the skillet with a paper towel.

Place the skillet back on medium heat and add cumin and coriander seeds. Toast for 2-3 minutes. Transfer to a mortar (or a spice grinder) and grind to a fine powder with the pestle. * Set aside. Wipe the skillet with paper towel. No need to wash as you'll use it again to make the cheese sauce.

Meanwhile, place a pot of water over medium-high heat. Add in the cauliflower florets and a teaspoon salt. Bring it to a boil and then turn the heat down to medium-low. Let it simmer for 9-10 minutes or until they are soft enough that you can easily insert a knife in and out of the florets. Drain, place in a large mixing bowl, and set aside to cool.

Mix together the ground cumin and coriander, both sesame seeds, 1-tablespoon chia seeds, salt and pepper in a small bowl. Set aside.

Pre-heat the oven to 400 degrees.

Make the cheese sauce: Heat butter in medium heat in the now-empty non-stick skillet. Add in the flour and cook, stirring constantly, for 2 minutes or until it forms a thick paste. Switch to a whisk and slowly add the milk while constantly whisking it to remove any lumps. Add in the salt and pepper. Whisk for 2-3 more minutes until the sauce is completely cooked and thickened. Off the heat, add 1 cup cheddar cheese and give it a big stir.

To assemble: Pour the cheese sauce over the cauliflower florets. Stir in the spice mixture, half of the panko breadcrumbs and remaining 1- tablespoon olive oil. Taste it for seasoning and add more if necessary.

Transfer the mixture to an ovenproof gratin dish (I used 9X6 gratin dish but any size that you can fit everything would work). Sprinkle the top with the rest of the panko breadcrumbs, 1-tablespoon chia seeds, chopped parsley, and 1/2 cup cheddar cheese.

Bake for 20-22 minutes or until golden-brown on top. Serve immediately.
Notes
*You can skip this step if you would rather use ground cumin and ground coriander.
Nutrition
Calories:
391
kcal
|
Carbohydrates:
26
g
|
Protein:
16
g
|
Fat:
26
g
|
Saturated Fat:
14
g
|
Cholesterol:
61
mg
|
Sodium:
1050
mg
|
Potassium:
584
mg
|
Fiber:
4
g
|
Sugar:
9
g
|
Vitamin A:
1119
IU
|
Vitamin C:
61
mg
|
Calcium:
418
mg
|
Iron:
2
mg
Recipe adapted (with many changes) from What Katie Ate on the Weekend.
Like this recipe? Consider sharing: