It is no secret that having a few tasty quinoa salad recipes in your weekly rotation is a good idea, especially if you are looking for easy, filling, and healthy meals that happen to be gluten-free. In our household, quinoa salads are a part of our weekly menu. That's why I thought that it would be helpful to you to put all my best warm and cold quinoa salad recipes in one easy place.
Packed with protein-rich superfoods and topped with sumptuous dressings, these dishes will be your new favorites—and they take 30 minutes to make! Even better, they are only a handful of my fast and easy quinoa recipes and salad recipes to add to your collection. Your kitchen will brim with fluffy quinoa and fresh veggies with these top-rated meals.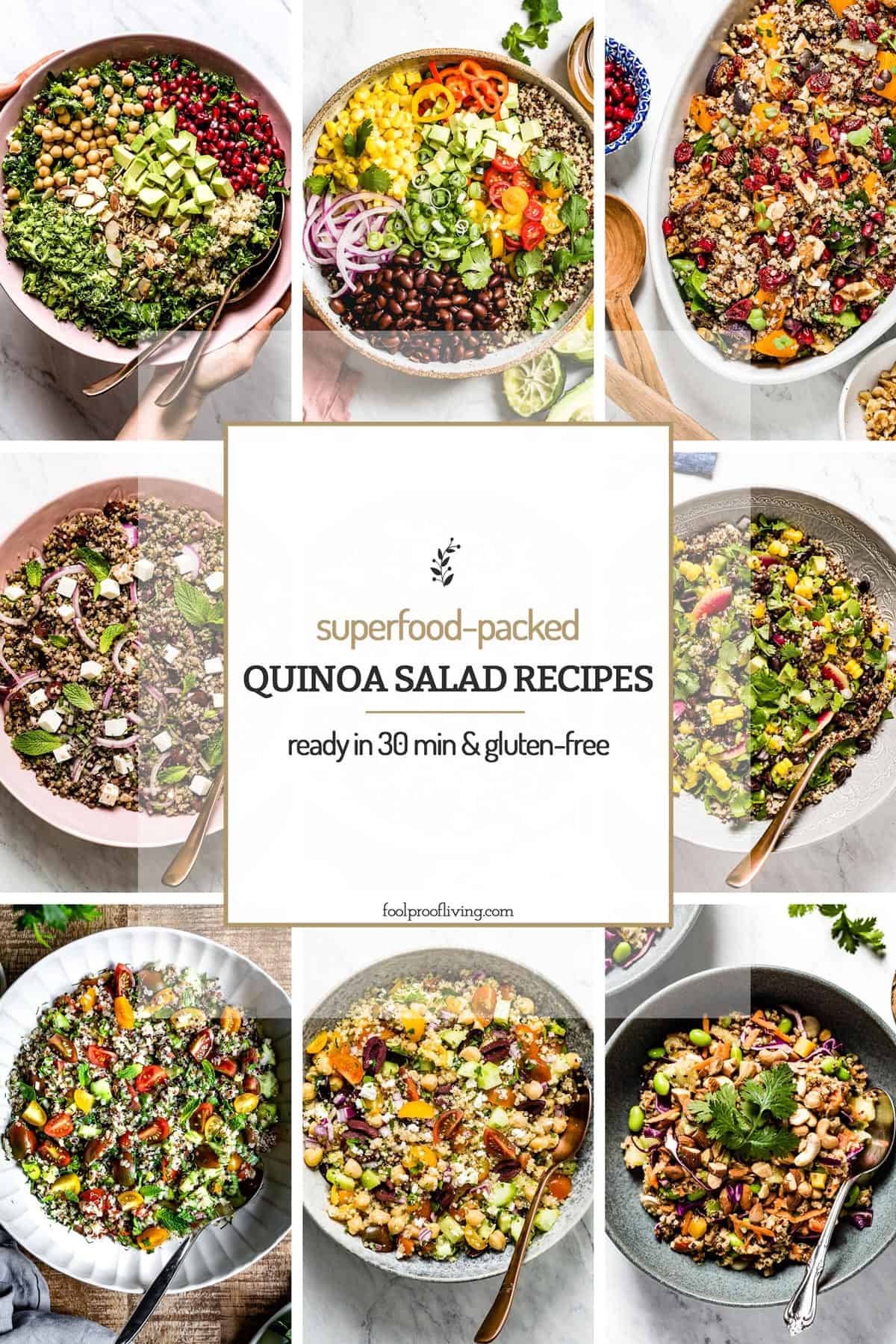 Why Should You Make Quinoa Salads a Part of Your Weekly Meals?
There's a reason why a good flavorful salad is such a popular dish. Nutritious, filling, and always customizable, each of the easy quinoa salads you see here will have you licking your lips.
How to Cook Quinoa for Salad
You can have a simple quinoa salad ready in no time once you learn these easy methods for how to cook quinoa. No matter what type of quinoa you use, there's a foolproof recipe just for you!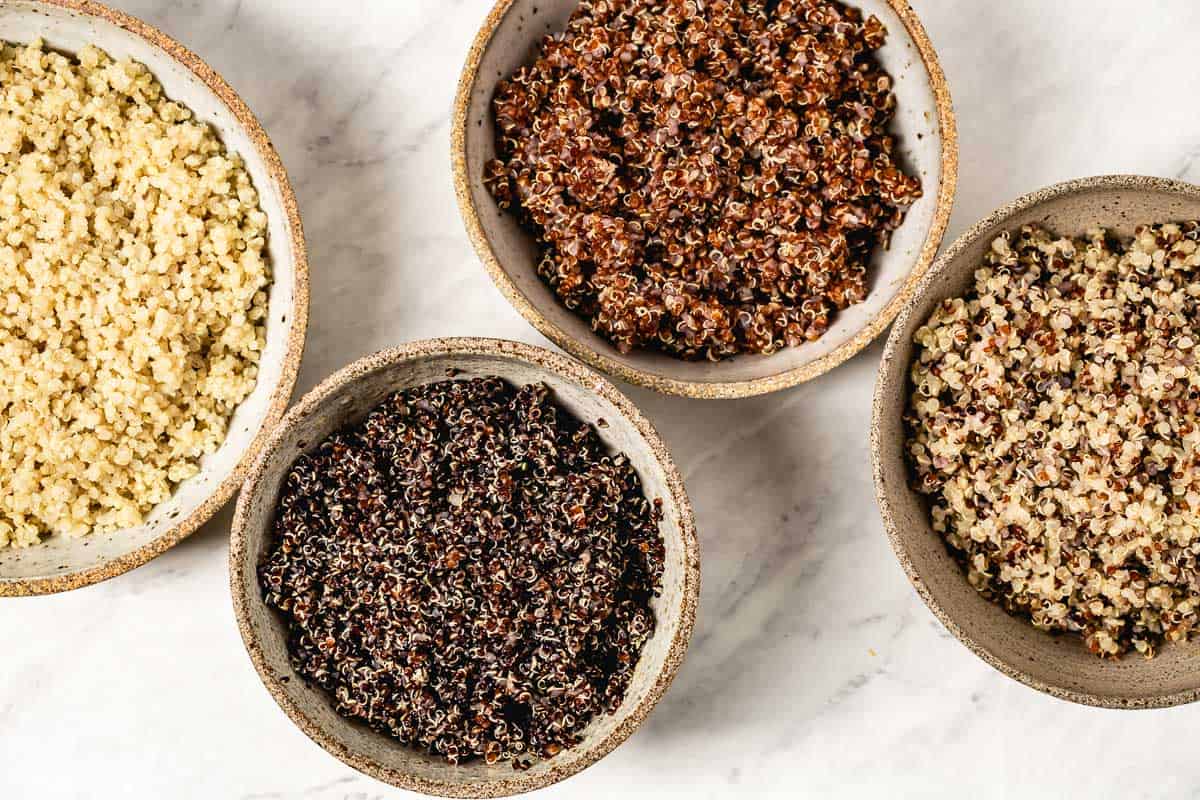 Below are different methods that you can use to cook quinoa. They are all foolproof with everything you need to know to get a perfectly cooked quinoa every time:
Is Quinoa Salad Healthy?
Absolutely. The quinoa salads listed below are made by mixing cooked quinoa with fresh vegetables, legumes, and seasonings (such as fresh herbs and spices). They are also flavored with homemade salad dressings.
Quinoa salads like this are not only filling but also nutritious, especially when they are packed with fresh vegetables like tomatoes, cucumbers, onion, spinach, and more.
This collection is just what you need to make a quinoa salad that's perfect for any occasion. Whether you're making it for a crowd or a quick lunch, you'll find the perfect recipe here.
All of these basic quinoa salad recipes come with their own salad dressings, but if you need all-purpose quinoa salad dressing recipes, I made sure to include them below.
Best Quinoa Salad Dressing Recipes
Wondering what to add to quinoa salad to make it pop? Once you learn how to make quinoa salad dressings, every bowl will explode with zesty, tangy, or even bold Asian flavor.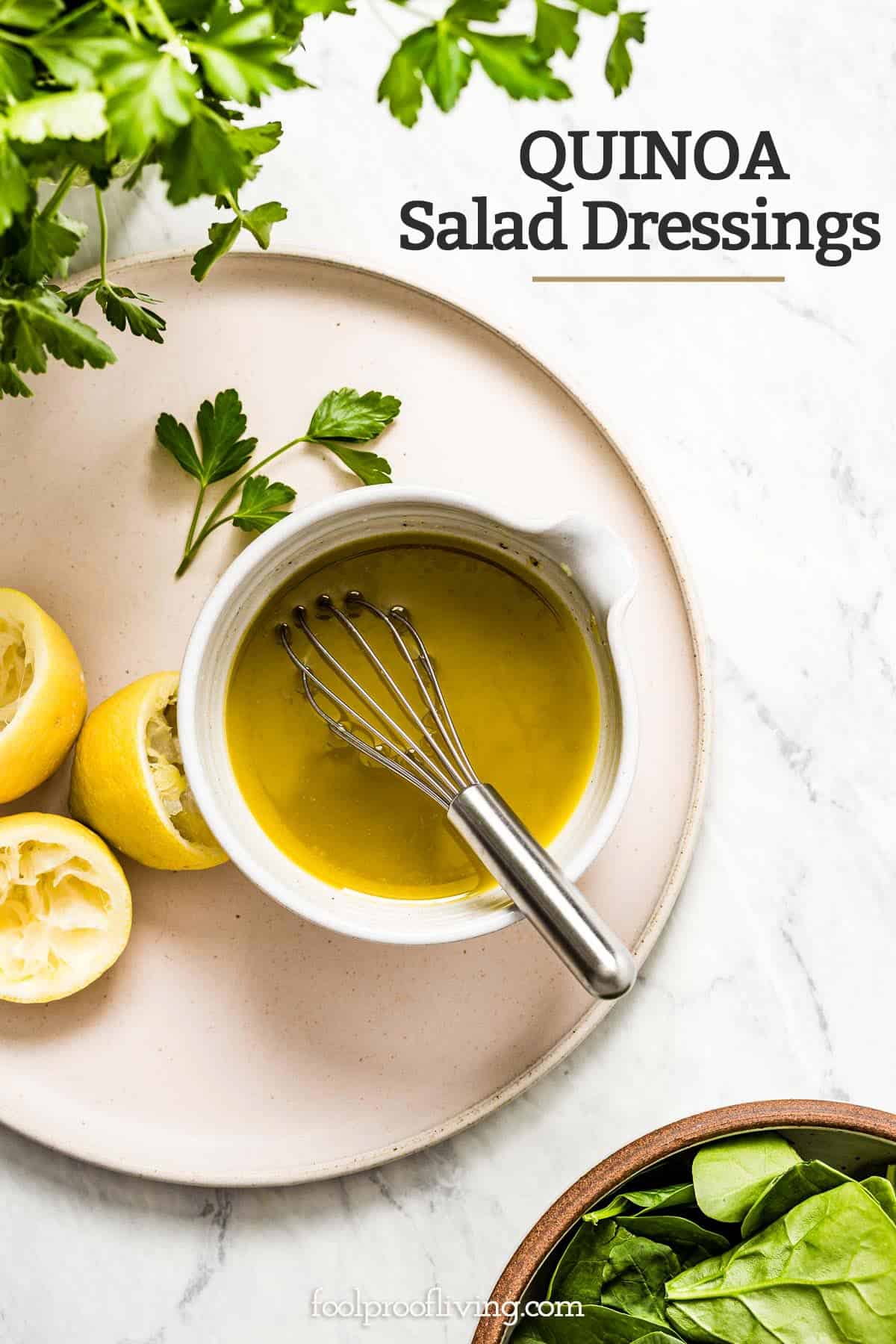 What To Serve Them With?
To make an amazing quinoa salad even more amazing, serve it with a mouthwatering main dish. Pair a simple salad with anything from roast chicken to hearty beef stew to make a perfect meal.
Chicken Recipes
Succulent, scrumptious, and easy to cook, chicken is a go-to for any weeknight meal and it pairs so well with quinoa. Take my best chicken recipes to the next level by pairing them with a fresh quinoa salad. Here are a few recipes to get you started:
Beef Recipes:
No one can resist the rich umami flavor of classic beef dishes. Now you can add a light side to my favorite beef recipes by serving them with a simple quinoa salad.
Vegetarian Recipes:
When wondering what to have with quinoa salad, what could be better than my top-rated easy vegetarian meals? These meatless matches are guaranteed to make your mouth water:
Expert Tips:
Finding it a challenge to make quinoa salads a part of your meals? Whether you are short on time or are looking for a superfood-packed healthy meal for your family, I hope the tips below will help you: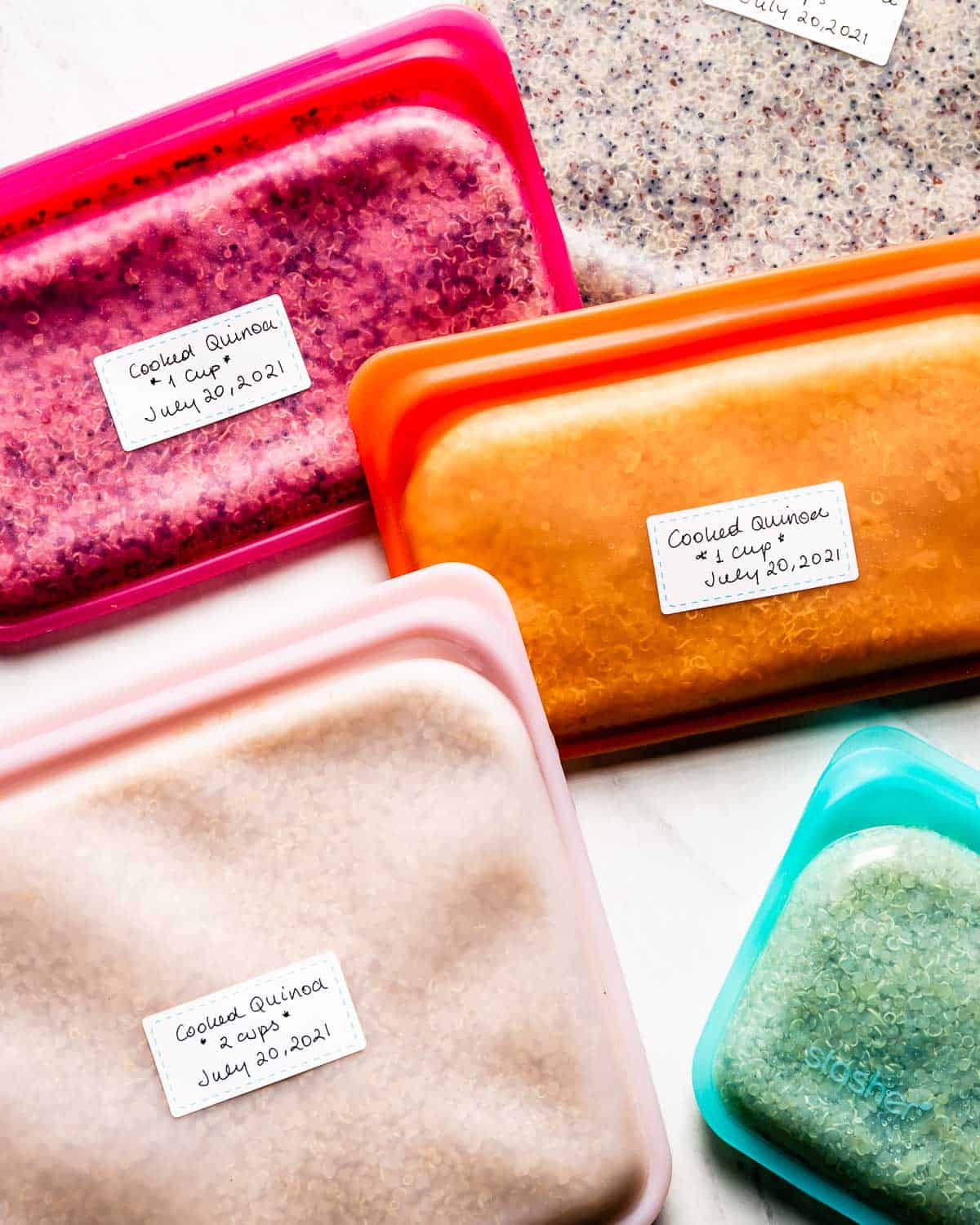 FAQs
What is quinoa salad?
Quinoa salad is a simple dish made from cooked quinoa, mixed vegetables, cooked meat (if preferred), and dressing. It can be made with or without meat.
Is quinoa salad served hot or cold?
You can serve quinoa salad hot, cold, or even room temperature! If the quinoa salad recipe you are following has salad greens in it, it is better to serve it either cold or at room temperature. If it has roasted vegetables, you can serve it warm or at room temperature.
Can you put raw quinoa in a salad?
No, you should always cook your quinoa before you eat it. Raw quinoa tastes bitter and tough and cooking it makes it easier to digest.
How do you get the bitterness out of quinoa?
Rinsing quinoa is the best way to remove any bitter taste from your grain. Simply place it in a fine-mesh strainer, run it under cold water until the water runs clear, and cook it using your favorite method.
Can I eat quinoa every day?
You sure can. Packed with all essential 9 amino acids, quinoa is considered a superfood. It is also a naturally gluten-free food that can easily be incorporated into breakfast, lunch, and dinner recipes.
Can quinoa be frozen after cooking?
It can be frozen. Simply let it come to room temperature, spread it on a sheet pan, and freeze. Once fully frozen, place in freezer-safe containers and place in the freezer. If you want to know more about it, check out our article on freezing quinoa.
Quinoa Salad Recipes: Quinoa Tabbouleh Salad
Need a healthy quinoa salad? Try this traditional Mediterranean Tabbouleh Salad made with protein-rich quinoa, fresh herbs, tomatoes and a simple zesty olive oil dressing.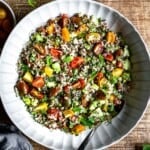 Print Recipe
Ingredients
To cook the Quinoa:
1

cup

quinoa

rinsed

1 ¾

cups

water

½

teaspoon

salt
For The Dressing:
4

tablespoons

lemon juice

freshly squeezed – plus more to taste

1/4

cup

olive oil

1

teaspoon

salt

¼

teaspoon

black pepper
For the Tabbouleh:
1

cup

fresh parsley

chopped

1

cup

fresh dill

chopped

½

cup

fresh mint

chopped

1

cup

cherry tomatoes

chopped

2

small

or 1 English cucumbers, peeled and chopped

3-4

scallions

sliced thinly both white and green parts
Instructions
To cook the quinoa: Place quinoa in a saucepan and add in the water and salt. Give it a mix, put the lid on and bring it to a boil in medium high heat. Once it comes to a boil, turn down the heat to low and cook for 10-12 minutes or until water is fully absorbed. Take it off the heat and let it rest for 15 minutes. Fluff it with a fork and place it in a large salad bowl.

Make the salad dressing: Meanwhile, prep the dressing by whisking all dressing ingredients in a small bowl. Set it aside.

To assemble the quinoa tabbouleh: Place all tabbouleh ingredients in the bowl with the cooked quinoa.

Drizzle it with the dressing. Give it a toss.

Taste for seasoning and serve immediately.
Video
Notes
Can I make quinoa tabbouleh in advance? You certainly can make this salad a day in advance. If you do so, be sure to keep the salad in an airtight container in the fridge. Some people chop everything up, mix it with cooked quinoa, and drizzle it with the dressing at the very last minute, but I prefer adding the dressing in as I assemble the salad. I find that the time spent marinating in the fridge yields a more flavorful salad.
What to do with the leftovers? If you have any leftovers, you can place them in an airtight container and keep it in the fridge up to 2 days. This quinoa tabbouleh salad makes the most amazing lunch on the next day.
Nutrition
Calories:
303
kcal
|
Carbohydrates:
33
g
|
Protein:
8
g
|
Fat:
16
g
|
Saturated Fat:
2
g
|
Sodium:
903
mg
|
Potassium:
563
mg
|
Fiber:
5
g
|
Sugar:
2
g
|
Vitamin A:
2681
IU
|
Vitamin C:
48
mg
|
Calcium:
92
mg
|
Iron:
4
mg
Like this recipe? Consider sharing: