Beef and vegetables. Is there really anything better?
My husband and I are always craving hearty, comforting meals to enjoy around the fireplace now that the frigid air is here. But to be honest, sometimes I don't want to spend all day in the kitchen cooking and cleaning. That's the beauty of this CrockPot vegetable soup recipe.
Other than searing the meat and chopping up the vegetables, there is little hands-on time to do anything else. Most of the work is done by the slow cooker.
The best part is that you can make a big batch to serve some right away and freeze the rest for later to have soup ready on hand whenever you don't feel like cooking.
Intrigued? Let's break it down.
Ingredients for vegetable beef soup
The ingredient profile for this soup is not much different from the stove top vegetable beef soup recipe.
Beef Stew Beef – The right cut of beef makes all the difference. I usually buy a whole chuck roast and cut it into smaller pieces myself. However, you can also purchase pre-cut stew meat to make this soup. Below I will go into detail about the other cuts of meat you can use.
Kosher Salt + Black Pepper – For seasoning both the beef and slow-cooker stew.
Vegetable Oil – My favorite vegetable oils are grapeseed or avocado oil.
Onions, Carrots, Celery – Also known as mirepoix, this simple mix of aromatic vegetables offer so much flavor. I like to leave them in large pieces for a chunky beef stew.
Garlic – Mince the garlic cloves, so they provide the most intense garlic flavor. 
Yukon Gold Potatoes – Cut the potatoes in small cubes for size and textural variance in your vegetable beef soup.
Diced Tomatoes – Both the tomatoes and their juice offer sweet acidity and liquid. 
Fresh Green Beans – Trimmed and cut in half, the smaller size makes it easier to scoop up the green beans with a spoon.
Low-Sodium Chicken or Beef Stock – A low-sodium variety helps to control the amount of salt. This way, the seasoning is all up to you! Purchase a high-quality, organic brand for the best flavor or better yet make your own chicken stock.
Tomato Juice – Make sure the label reads 100% tomato juice. Certain brands pack a bunch of hidden salt and artificial flavors.
Frozen Peas – No need to thaw the frozen green peas. The peas are small enough so that they simply warm through in the veggie stew. Or if you have it, you can also use blanched peas.
Fresh Parsley – Vibrant parsley adds that final touch of fresh flavor.
---
Need a suggestion for a great slow cooker? I own this one (affiliate link) for over 7 years now and it never failed me. It is easy to clean and operate. I cannot recommend it enough.
---
Best cut of beef for soup
I always buy a whole Chuck Roast (also known as Chuck Shoulder, Chuck-Eye Roast, or Top Chuck) and cut it into large chunks (about 1 ½ inch) myself – or ask the butcher behind the counter to do it for me.
This is just my personal preference, as stew meat is a mixture of pre-cut cuts of beef, so you never really know what you're getting. The below passage is from TheKitchn and explains why getting pre-packaged stew meat is not the best option:
Packages of pre-cut stew meat are often assembled by the butcher or meat department from the odds and ends from other different cuts. While this might sound like a good thing — viva varieté! —this isn't actually the best news for your stew.

All those little scraps from different muscle groups often cook quite differently. Some might take longer or slower, resulting in some perfectly tender bites and some tough and chewy bites. Also, some of the scraps will probably be quite lean, while others contain a lot of fat, and still others have a good amount of gristle. These inconsistencies make it difficult to cook a stew where every bite gives you the same, delicious experience.

Citation: The Kitchn – Why Stew Meat Isn't Actually the Best Choice for Stews
Chuck Roast is economical and comes with the added bonus of extra marbling (fat) throughout the meat, creating a fall-apart tender beef vegetable soup every time.
If you want to try making this soup with other cuts of beef, I would recommend buying Round Tip or London Broil (aka Top Round) and cutting them into smaller chunks.
Fresh vegetables vs frozen vegetables
Crockpot vegetable beef soup with fresh vegetables – I prefer to use fresh vegetables that are in season, except for frozen peas, for the best texture and flavor. The beauty of using fresh vegetables is that you can make this CrockPot vegetable beef stew any time of year with any variety of fresh vegetables that look best at the market.
Slow cooker vegetable beef soup with frozen vegetables – If you do decide to go the frozen vegetable route, omit the fresh carrots, green beans, and frozen peas and purchase a 24-oz bag of frozen mixed vegetables instead and add them during the last 30 minutes of cooking. If you add the frozen vegetables too early, they will become gummy, overcooked and mushy.
How to cook vegetable beef soup in crockpot
Sear the meat: Dry the beef as much as possible (see PRO TIP below). Season with salt and pepper. In a cast-iron skillet, heat 1 tablespoon of oil over medium-high heat.
When the oil starts to shimmer (about 2 minutes), add as many pieces of cubed beef as possible without crowding the pan and cook until nicely browned on all sides, about 3-4 minutes on each side.
Transfer the seared meat to a plate and continue cooking in batches with the rest of the beef.
Place all ingredients (except peas) in the crockpot: Place the onions, carrots, celery, garlic, potatoes, tomatoes (and juice), green beans, seared meat, broth, tomato juice, salt, and pepper in the bowl of your slow cooker and give it a stir. Cook on LOW for 8-9 hours.
Add the frozen peas: During the last 30 minutes of cooking, add the frozen peas into the soup.
Taste & Serve: Give it a taste and add more seasoning if necessary. Ladle into bowls, garnish with fresh parsley, and serve.
Hearty Crockpot Vegetable Beef Soup (Slow Cooker Method)
A hearty CrockPot Vegetable Beef Soup recipe packed with chunks of tender beef and healthy vegetables cooked in a rich broth. Great for meal prep and freezer friendly.
Print Recipe
Ingredients
For The Beef:
2

pounds

chuck roast

or beef stew meat *, cut into 1-inch cubes

1 ½

teaspoons

kosher salt

½

teaspoon

black pepper

3

tablespoons

of vegetable oil

divided
For The Soup:
2

medium onions

chopped (approximately 1 cup)

5

carrots

peeled and cut into 1/2 -inch thick slices (approximately1 cup)

5

stalks of celery

chopped (approximately 1 cup)

3

cloves

of garlic

peeled and minced

1

pound

Yukon gold potatoes

cut into small cubes

1

can

15 oz. diced tomatoes

1 ½

cups

green beans

4

cups

chicken or beef stock

low sodium or no salt added

1 ½

cups

of tomato juice

1

teaspoon

kosher salt

½

teaspoon

ground black pepper

1

cup

frozen peas

¼

cup

fresh parsley

chopped
Instructions
Dry the beef: Line a baking sheet with a few sheets of paper towels. Transfer the cubed beef onto the sheet and pat dry with paper towels. Season with salt and pepper on all sides.

Heat 1 tablespoon oil in a large saute pan (I used my cast iron skillet) over medium-high heat. When the oil is sizzling hot, add in the cubed meat (as many as you can without crowding the pan) and cook for 3-4 minutes on each side or until the meat is nicely browned. Continue the same process with the rest of the meat. I had to do it in 3 batches.

Place the seared meat onto a plate and set aside.

To make the soup, place onion, carrots, celery, garlic, potatoes, diced tomatoes (with all its juices), green beans, seared meat, and salt and pepper into the bowl of your slow cooker. 

Pout in the beef stock and tomato juice. Give it a gentle stir.

Cook on low for 8-9 hours or on high for 6-7 hours.

Stir in the frozen peas in the last 30 minutes. 

Ladle into bowls, garnish with parsley, and serve.
Notes
*Please read the blog post for more information for the best cut of meat to use in this soup recipe.
Nutrition
Calories:
445
kcal
|
Carbohydrates:
35
g
|
Protein:
31
g
|
Fat:
21
g
|
Saturated Fat:
11
g
|
Cholesterol:
82
mg
|
Sodium:
1188
mg
|
Potassium:
1198
mg
|
Fiber:
7
g
|
Sugar:
9
g
|
Vitamin A:
7048
IU
|
Vitamin C:
37
mg
|
Calcium:
90
mg
|
Iron:
5
mg
My pro tips on searing the beef:
While I know that it is an extra step, for the most flavorful homemade vegetable beef soup in a CrockPot, I think it is essential to brown the beef before placing it in the slow cooker. Below are my two pro tips when it comes to searing beef:
Dry the meat thoroughly and make sure that the cast iron skillet is super hot: To dry the meat properly, line a baking sheet with a few sheets of paper towels and transfer the beef to the prepared baking sheet. Dab off excess moisture with another paper towel.
The browning process happens faster when you start with a super hot pan. Remember, our goal is not to fully cook the beef. Rather, brown it on all sides for flavor.
Season the meat as soon as you are ready to place it in the skillet: Salt draws out moisture, meaning all that work you just took to get your meat super dry will be lost. I like to season my beef cubes in four batches, while the oil is heating up in the pan.
I know it seems like a lot of extra work, but trust me, it's totally worth it!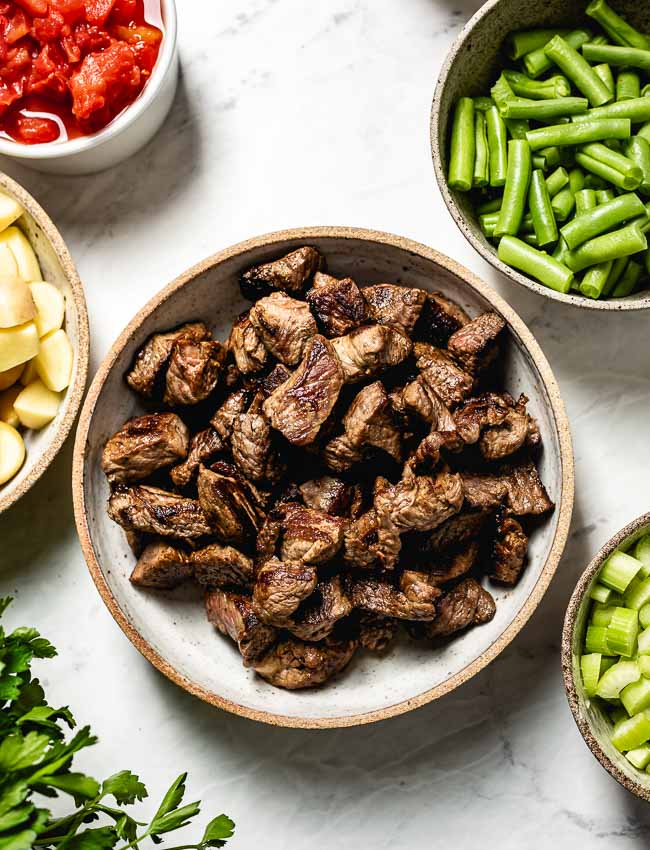 With this being said, you can make this vegetable beef soup without browning the beef, but you will end up with a soup with tougher beef chunks rather than soft (falling off the bone-like) meat.
How long does it take to cook vegetable beef soup
This hearty beef vegetable soup requires around 45 minutes of prep time, including searing the meat and prepping the vegetables and then continues to cook on LOW for 8-9 hours (on HIGH 6-7 hours) in your slow cooker.
Can I prep everything a day in advance?
If you'd like to get a step ahead, you can sear the beef and keep it in an airtight container a day in advance. You can also prep the rest of the vegetables and keep them in the fridge until the next day.
The next morning, place everything (except the peas) into the CrockPot, stir and set to cook for the day. Add the peas in 30 minutes before you are ready for dinner. And serve!
What goes with beef soup
I like to serve this easy beef soup with a warm, crusty slice of No-Knead Artisan Bread or Sweet Potato Biscuits to soak up all those wonderful juices. A simple green salad is an extra special touch that offers a comforting and well-balanced meal.
How many calories in vegetable beef soup
One serving of this beef and veggie soup is only 445 calories per serving! Hearty, healthy, and packed full of protein from the beef and veggies, it's a filling meal.
Crockpot vegetable beef soup variations
Below are a few recommendations to adjust the beef and veggie soup to your liking:
With Leftover Pot Roast – A fun and interesting way to use up leftover pot roast in your fridge. Simply skip the seared beef steps, chop the pot roast into 1-inch pieces, and add all the remaining ingredients to the bowl of your slow cooker. Cook as directed.
Without Potatoes – Replace the potatoes with another root vegetable of choice, such as rutabaga, turnips, or parsnips. Alternatively, use sweet potatoes during the fall months for that extra unique fall flavor.
Without Tomatoes – Omitting the tomatoes will also omit the liquid that comes along with them. To replace that moisture, add an additional 2 cups low-sodium chicken or beef broth.
Without Tomato Sauce/Juice – Omit the tomato juice and add an additional 1 ½ cups low-sodium chicken or beef broth.
How to freeze vegetable beef soup with stew meat
This CrockPot beef broth soup can be frozen for up to 3 months. Be sure to bring the soup to room temperature before freezing and follow one of the two options below:
Store in an airtight container: Ladle into individual airtight containers and pop one out of the freezer to defrost in the fridge overnight every time the craving strikes.
To rewarm, bring to a boil over medium heat in a small saucepan, pour into a serving bowl and enjoy!
Store in silicone reusable bags or plastic resealable bags: Transfer the beef vegetable soup to a few reusable silicone bags (like Stasher – affiliate link) or freezer-safe plastic storage bags, with a bit of room at the top.
Push out all the air, seal tight, label, date, and lay flat in your freezer. Remove from the freezer the night before to defrost in your fridge. Transfer to a large pot, bring to a boil over medium heat, and reduce to low to keep warm. Ladle into bowls and enjoy!
Other homemade beef soup recipes you might like
Like this recipe? Consider sharing: