No one can resist this eggplant air fryer recipe's crispy texture and savory taste. However, there's no need to miss out on the tastiness if you don't have an air fryer! You can whip up dozens of fiber and potassium-packed eggplant recipes in the oven, like my easy Roasted Eggplant Slices, hearty Baked Eggplant Parm, and more.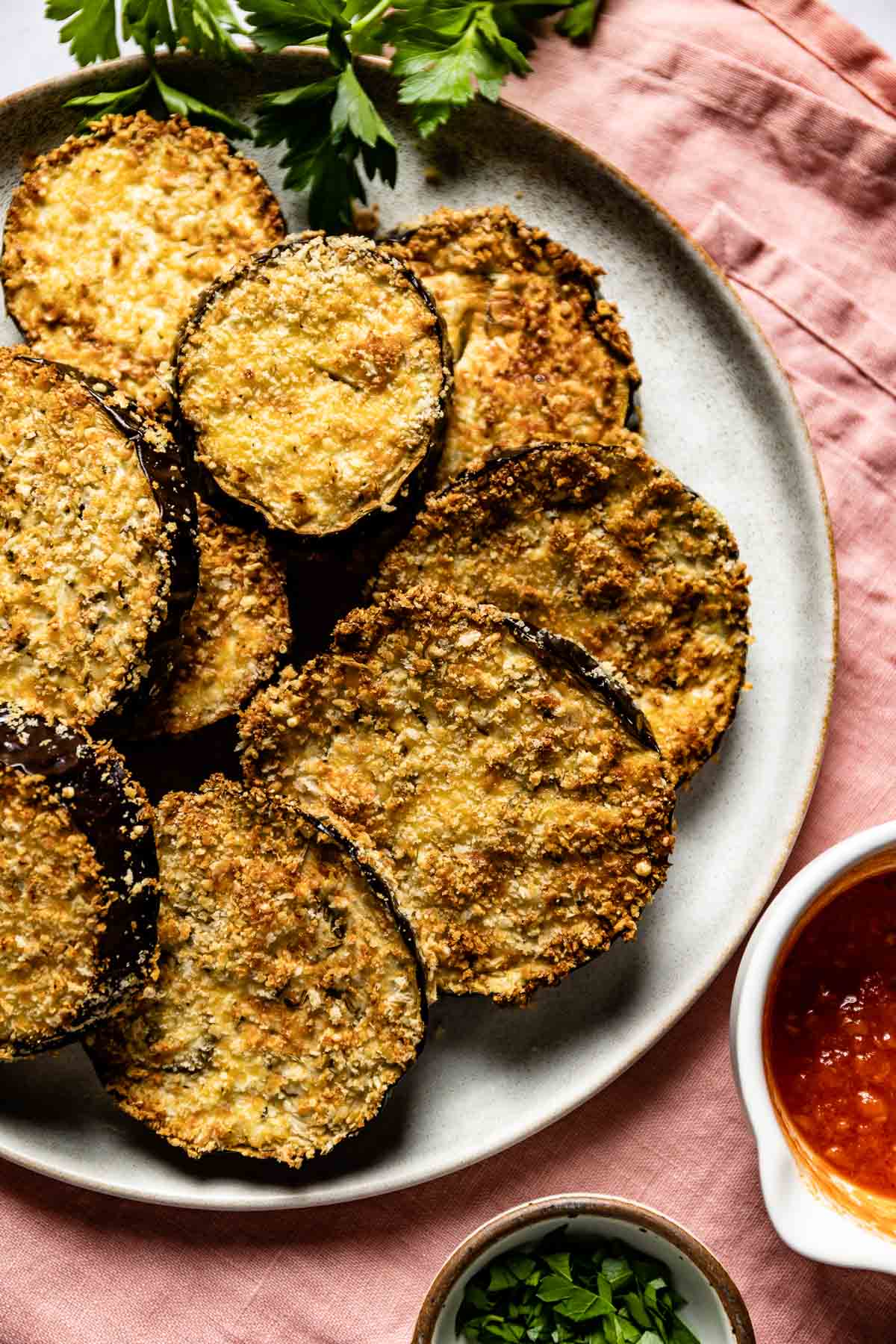 Ingredients You'll Need for Air-Frying Eggplant
Air fryer breaded eggplant comes together with just a few simple ingredients and zero added oil. You won't need any last-minute runs to the grocery store with this easy side dish.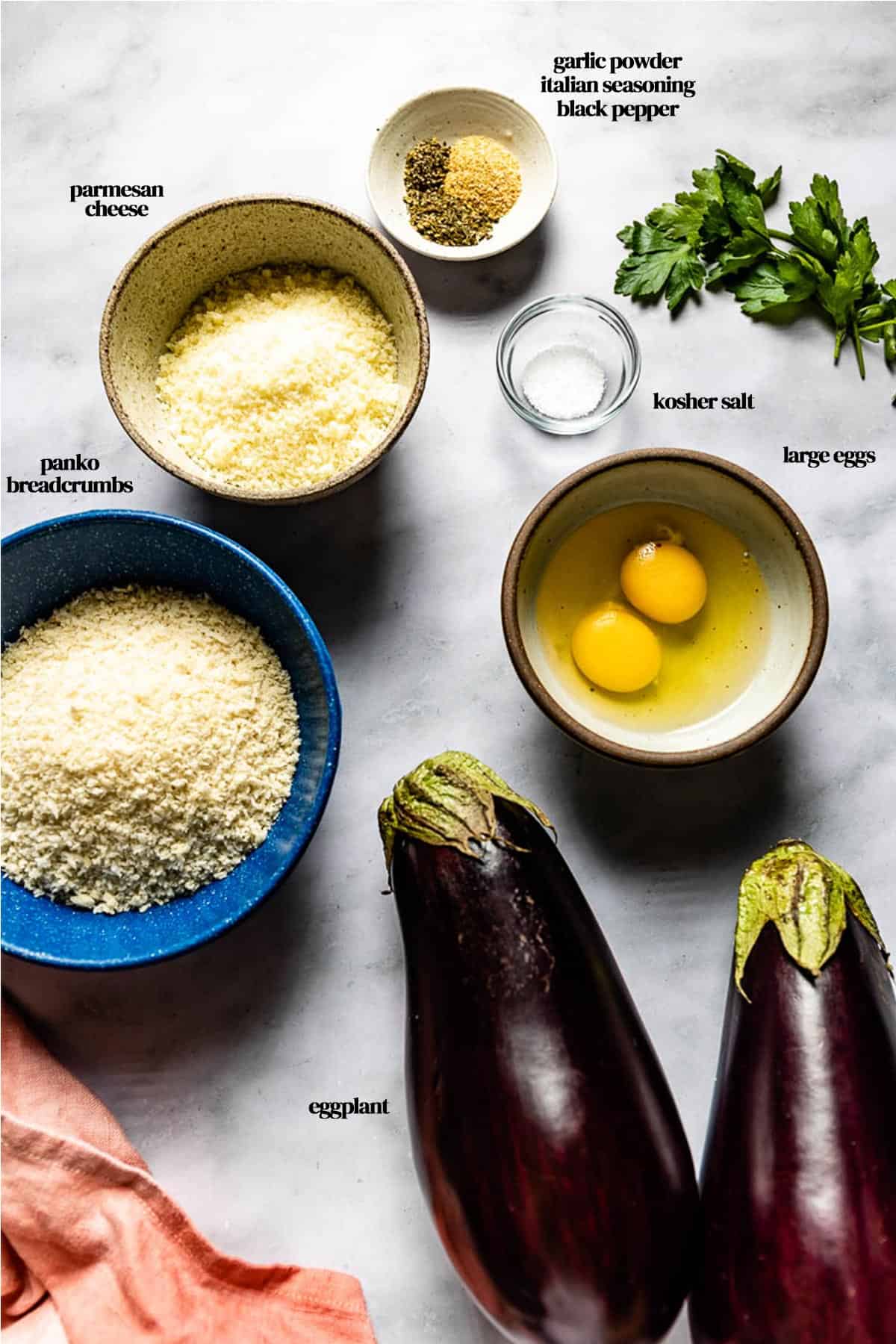 Eggplant: I recommend using globe eggplants for this dish, as they're usually the most common among the many different types of eggplant found at American supermarkets.
Kosher salt: Salting eggplant is optional—especially if you're watching your sodium. However, sweating eggplant may help remove excess liquid and unwanted bitterness if you buy your eggplants out of season. I use half a teaspoon of salt for every pound of eggplant. I then pat dry the slices with a paper towel after letting them rest for 15 minutes.
Large eggs: Eggs are the key to bonding your panko mixture to your eggplant rounds.
Panko breadcrumbs: Panko forms the base of this recipe's breading mixture and gives the eggplant slices an irresistibly crispy exterior.
Parmesan cheese: Rich and nutty, grated parmesan cheese adds calcium and the Italian flavors we love in breaded eggplant.
Seasoning: You'll need one teaspoon of garlic powder, Italian seasoning, and black pepper to season this air-fried breaded eggplant recipe.
Ingredient Substitutions
Breadcrumbs: If you'd prefer a diet-friendly alternative to traditional breadcrumbs, you can make keto air fry breaded eggplant using almond flour—a great way to lower your carbohydrates. Or, substitute your breadcrumbs with gluten-free panko breadcrumbs for another low-carb option.
Dairy-free option: To make air-fried breaded eggplant without dairy, use vegan parmesan cheese instead of dairy-based options. This simple substitution uses cashews and nutritional yeast to mimic traditional parmesan's rich, cheesy flavor.
Vegan version: Looking for a vegan recipe for air fryer breaded eggplant slices? Use aquafaba instead of eggs and vegan parmesan instead of parmesan cheese, and your eggplant cutlets will satisfy your dietary needs.
How to Make Air Fry Breaded Eggplant
Whether you're looking for a great snack or a protein-packed main course doesn't matter. These instructions will transform your kitchen into a five-star Italian restaurant with minimal prep time.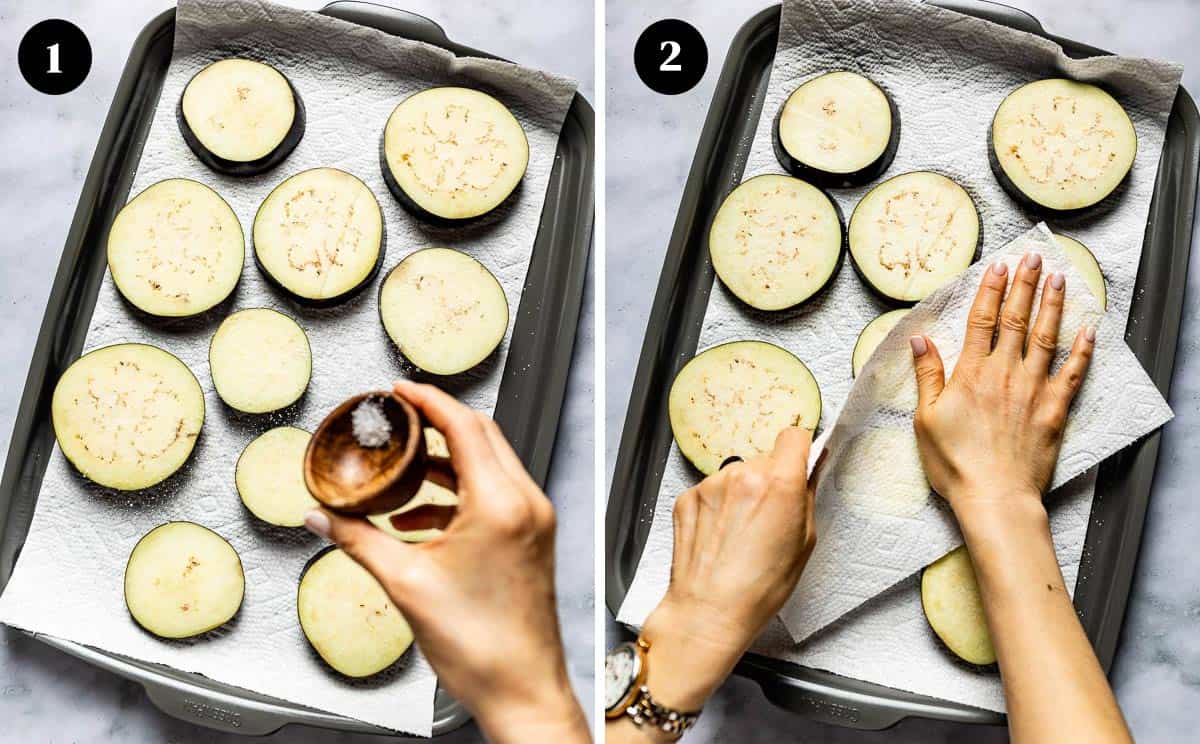 Salt the eggplant: Cut up the eggplant into ½-inch slices, and lay them on a surface lined with paper towels. Sprinkle salt on top of the eggplant (both sides!), and let it rest for 15 minutes.
Dry the slices: Use a sheet of paper towel to pat dry the eggplant slices, removing any excess moisture.
Prepare the dredging station: Whisk the eggs in a shallow bowl. Then, whisk together the panko breadcrumbs, parmesan cheese, garlic powder, Italian seasoning, and black pepper in a separate shallow bowl.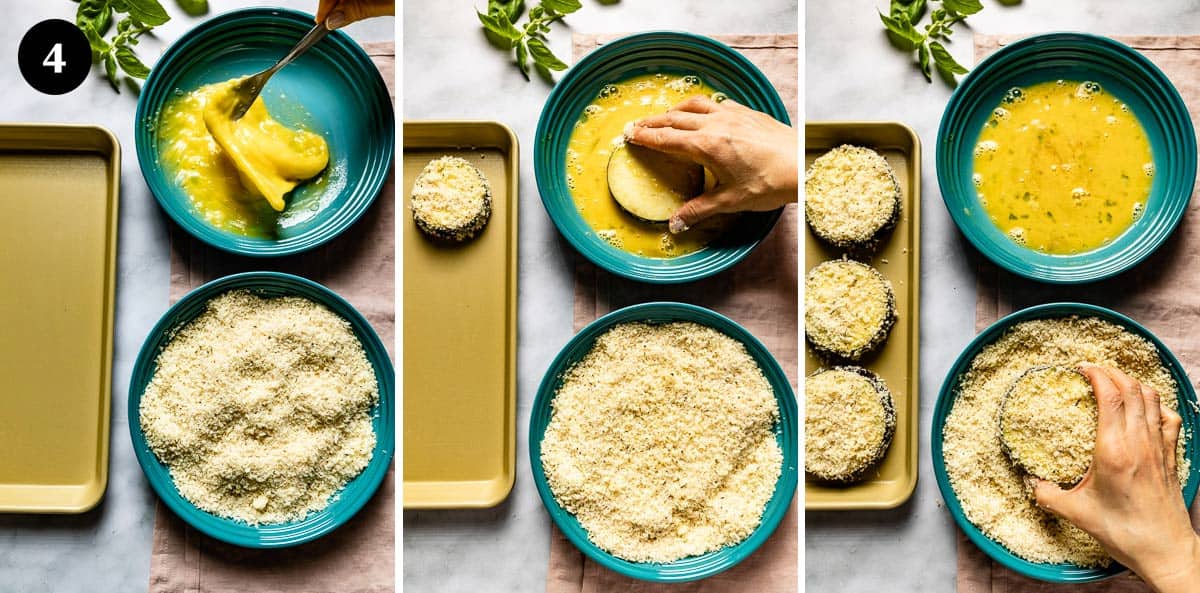 Dip eggplant slices: Dip each piece of eggplant in the egg wash, letting the excess drip off. Then, dip the cuts in the panko mixture, being sure to coat all the sides of the eggplant. I recommend gently pressing the bread crumbs into each slice to ensure complete coating.
Preheat the air fryer: Set the air fryer to 350 degrees F.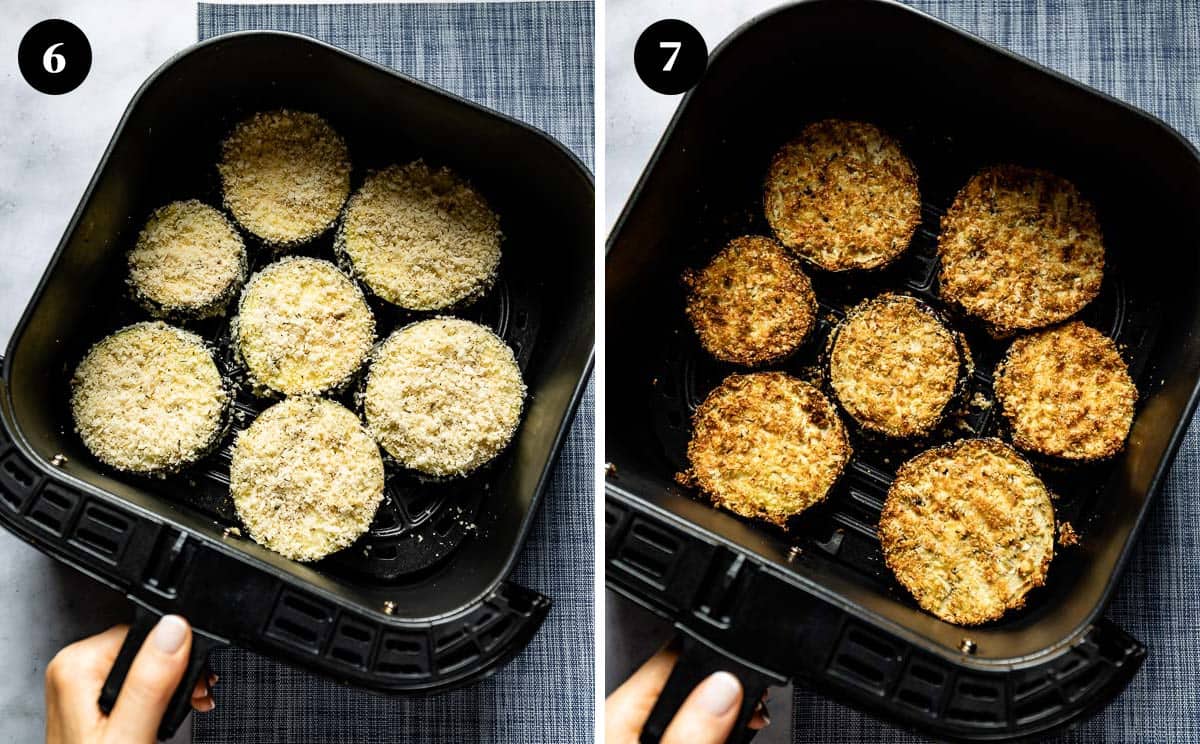 Arrange the slices in the air fryer: Transfer the eggplant pieces to the air fryer basket in a single, even layer. No slices should overlap, so you may need to air-fry your eggplant in multiple batches.
Air fry eggplant: Cook the breaded eggplant until they turn light brown (approximately 14 minutes), flipping each slice halfway through. You can check for doneness by inserting a knife into one of the pieces. Your eggplant is ready to eat if the blade easily enters and exits the slice.
Serve: If desired, top your air fry breaded eggplant slices with fresh parsley and serve alongside your favorite dipping sauce.
How to Store and Reheat
As it is with any breaded vegetable or meat recipe, this breaded eggplant recipe is best on the day it is made. However, you can easily store leftovers with the storage tips below:
Store: Store your leftover breaded eggplant slices by letting them first reach room temperature. Then, transfer them to an airtight container and place them in the refrigerator. Though the pieces may lose their crispiness during storage, they will stay fresh for up to 2 days.
Reheat: To reheat your eggplant, place them in the air fryer at 350 degrees F. for 2 minutes on each side.
Freeze: When freezing your air fryer breaded eggplant, let it first reach room temperature. Line a baking sheet with parchment paper, then place your eggplant slices on top in a single layer. Place the tray in the freezer until the pieces are frozen, then transfer them to an airtight container or freezer bag. There is no need to thaw, simply place them in a 350-degree preheated air fryer and cook for 5-7 minutes or until they are warmed through.
How to Serve Air Fryer Roasted Eggplant
When you roast breaded eggplant in the air fryer, you'll unlock dozens of tasty menu ideas. These Instagram-ready recipes will disappear in seconds, from easy snacks to effortless appetizers.
Serve it with a dip or a sauce on the side: Crispy breaded eggplant slices make the ultimate appetizer when served alongside a tasty sauce. Dip them into your favorite marinara sauce or tomato sauce for an Italian-themed side bursting with robust tomato flavors. Or, try out a tangy, Mediterranean menu by serving them alongside my Yogurt Tahini Sauce or Tzatziki Recipe. You can even try them with my fan-favorite Blue Cheese Dip for the perfect game-day snack.
Enjoy it as a side dish with your favorite main dishes: I cannot think of a better side dish to serve with dinner dishes like Goat Cheese Stuffed Chicken, Chicken Fricassee, or Spaghetti Bolognese.
Expert Tips
You don't have to be a master chef to make delicious air fryer eggplant with breading. These pro tips will give you perfectly golden brown slices every time.
Slice evenly: If you want your slices to cook evenly, cutting eggplant into evenly sized pieces is essential. I recommend cutting your veggies into ½-inch slices for this recipe, but if you'd prefer thinner slices, keep in mind that your cook time will decrease. No matter what size you slice your eggplant, keep an eye on your rounds to avoid burning.
Salting eggplant: It's technically not necessary to salt eggplant before cooking, especially if you are buying it from the grocery store when eggplant is in season (May-September.) However, pre-salting your veggies may help remove unwanted liquid and bitterness—especially if you purchase your eggplant out of season.
Set up your dredging station before you start: No one likes cooking in a messy kitchen. Avoid the extra hassle by setting up your dredging station before you begin coating your eggplant rounds.
Gently push the breadcrumbs: The best part about this simple air fryer recipe is the eggplant slices' tender, moist insides and crisp exteriors. To get these best results, gently press your breadcrumb mixture into your eggplant slices before placing them in the air fryer basket.
Olive oil spray: Though unnecessary, you may lightly coat your breaded eggplant slices with olive oil cooking spray before putting them in the air fryer. This step may help enhance your slices' crispiness and prevent burning.
Avoid overcrowding: The key to getting perfectly crispy eggplant slices is to avoid overcrowding them in the air fryer basket. Proper air circulation is necessary for thorough cooking. Therefore, you may find it helpful to cook your eggplant in batches, depending on the size of your air fryer.
Flip halfway through: I highly recommend flipping or shaking your eggplant slices halfway through cooking. Doing so ensures even browning and crisping on both sides of the veggies.
Adjusting dredging ingredients: You may have to change how much of your dredging ingredients you include based on the size of your eggplants. Larger eggplants tend to need more dredging ingredients than specified.
Monitor closely: Cooking times may vary depending on your specific air fryer model, the thickness of the sliced eggplant, and the diameter of your slices. Watch your eggplant to keep them from burning or coming out unfinished. Flipping them halfway through the cooking time is a great way to gauge their doneness. This step will allow you to check their texture and color and see whether they need more cooking time.
FAQs
Want to know more about this breaded, crispy air fryer eggplant recipe? I've answered all your biggest recipe questions below, from vegan substitutions to ideal cooking time.
Can you make breaded eggplant in the air fryer?
Yes! Quick and easy, cooking breaded eggplant in the air fryer takes half the time as Crispy Oven-Baked Eggplant—while still having all the same savory Italian flavor.
What can I use instead of egg in breading eggplant?
If you want a vegan version of this breaded air fryer eggplant, use aquafaba instead of eggs.
How long to air fry breaded eggplant?
I recommend air-frying breaded eggplant for a total time of 14 minutes, flipping halfway through. However, you may find that your eggplant needs more or less time depending on your air fryer model and the thickness of your slices, so use this estimate as a starting time and watch your eggplant closely.
Other Air Fryer Recipes You Might Also Like
Can't get enough of this easy air fryer eggplant recipe? Do you love hassle-free air fryer dishes? Simple and fast, these other mouthwatering air fryer recipes are just what you need.
If you try this Air Fryer Breaded Eggplant recipe or any other recipe on Foolproof Living, please take a minute to rate the recipe and leave a comment below. It is a great help to others who are thinking of making the recipe. And if you took some pictures, be sure to share them on Instagram using #foolproofeats so I can share them on my stories.
Breaded Eggplant In Air Fryer Recipe
Making Breaded eggplant in air fryer is not only healthier but also quicker. Indulge in this easy recipe to create irresistibly addictive breaded eggplant, featuring a crispy outer layer and a lusciously soft, tender inside.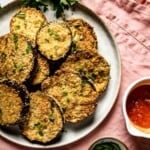 Print Recipe
Ingredients
2

medium-sized

globe eggplants

~ 1 pound each; washed and dried

½

teaspoon

Kosher salt

2

large

eggs

1 ½

cups

panko breadcrumbs

3.5 ounces

¾

cup

grated Parmesan cheese

3.2 ounces

1

teaspoon

garlic powder

1

teaspoon

Italian seasoning

¼

teaspoon

black pepper

1 ½

cups

Tomato Basil Sauce

optional
Instructions
Salt eggplant*: Slice eggplant into ½-inch thick slices. Spread them on a paper towel-lined surface. Sprinkle with ½ teaspoon of kosher salt on both sides (you are using ½ teaspoon in total for both sides.) Let it rest for 15 minutes.

Pat dry the eggplant slices with a sheet of paper towel to remove the excess moisture.

Set up your dredging station: Whisk eggs in a shallow bowl. In a separate shallow bowl, whisk together the panko breadcrumbs, Parmesan cheese, garlic powder, Italian seasoning, and black pepper.

Dip each eggplant slice in the eggs (let the excess drip off) then into the panko mixture, making sure that it is coated on all sides. You may have to gently press it down to ensure that it is fully coated.

Pre-heat the air fryer to 350 degrees F.

Place eggplant rounds in an even layer in the fryer basket making sure they are not overlapping. You may have to do it in two batches.

Cook until crispy and golden on both sides for approximately 14 minutes making sure to flip each slice halfway through the air-frying process. It should be done when they turn lightly golden brown. You can also check doneness by inserting a sharp knife into one of the eggplant slices. If it goes in and out easily, it should be done.

Serve it right away with tomato sauce (or your favorite marinara sauce) on the side, if preffered!
Notes
Yields:

A globe eggplant that is approximately 1 pound will yield 6-8 slices. With 2 globe eggplants, this recipe will yield 12-16 slices of breaded eggplant.

Salting the eggplant: If I am making this recipe during the eggplant season (May-September), I skip the salting as freshly picked storebought globe eggplants do not require to be salted. However, salting would not hurt, especially if you are making this recipe during the winter months.

Dredging ingredients may have to be adjusted more or less based on how big the eggplant is.

Storage & Reheating: These air fryer breaded eggplant slices are best when served immediately. However, if you have leftovers, you can store them in an airtight container for up to 2 days, then reheat them in the air fryer at 350 degrees F for 2 minutes per side.
Nutrition
Calories:
130
kcal
|
Carbohydrates:
17
g
|
Protein:
7
g
|
Fat:
4
g
|
Saturated Fat:
2
g
|
Polyunsaturated Fat:
1
g
|
Monounsaturated Fat:
1
g
|
Trans Fat:
0.004
g
|
Cholesterol:
49
mg
|
Sodium:
410
mg
|
Potassium:
325
mg
|
Fiber:
4
g
|
Sugar:
5
g
|
Vitamin A:
171
IU
|
Vitamin C:
3
mg
|
Calcium:
125
mg
|
Iron:
1
mg
Like this recipe? Consider sharing: