I have never been a fan of brown rice. As a matter of fact, when I was talking to my friend, Elysia today, she said the same thing.
Brown rice could be very blended if you do not add lots of herbs, garlic, and oil to it.
However, my feelings towards brown rice changed after this Curried Brown Rice recipe.
My husband, Dwight loved it so much so that he asked me to make it again this week. Very unusual of him, but he did.
Brown rice is the "unrefined" version of white rice. Here, unrefined means that it is not stripped of its hulls and bran, which makes it a whole grain. In other words, it is a whole grain that has not lost its "wholeness" through refinement.
Therefore, with its high fiber content, brown rice is a great side dish recipe you can serve with chicken, beef, salad, or vegetable meals.
About This Curried Brown Rice Recipe
Knowing this, I really wanted to find a way to create a brown rice recipe that will give me all the goodness that it offers but still has great taste. Another goal of mine was to use healthy fats like nuts and seeds to boost its flavor.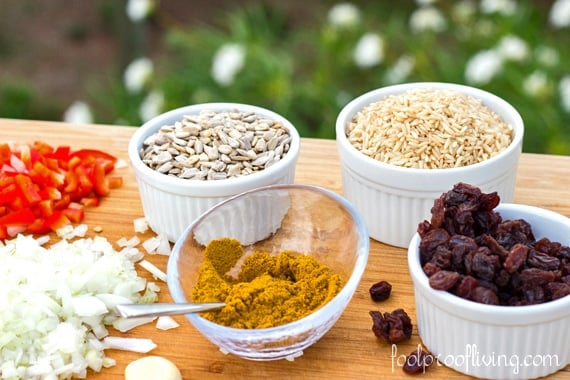 That is how this Curry Brown Rice came about.
Imagine; curry, brown rice, crunchy sunflower seeds, raisins, onions, garlic, and bell pepper. All in one dish…
Nutritious, simple, and filling…
When I first made this brown rice curry, I used water to cook the brown rice, which was okay. But next time I made it, I used homemade vegetable stock instead of water.
Ohhhh my!!!! What a difference vegetable stock made. All the flavors of vegetables in the stock were magically incorporated with the aroma of cooked brown rice and made it smell like a vegetable garden.
Just imagine the smell in my kitchen!!
It takes close to 50 minutes for the rice to cook. I would recommend cooking the rice first and while it is resting, work on the other ingredients. The more you let the rice rest, the flavorful it gets.
After you mix the rice with other ingredients, once again, let it rest for at least 15 minutes so that all the flavors in each ingredient (mostly curry) will have time to blend with each other.
Believe me, it is worth your time.
For Dwight, who does not believe in a meal without lean protein, I served it with a piece of chicken breast. For myself, who wishes that one day she could become a vegan or vegetarian, I served it with steamed vegetables.
Other Brown Rice Recipes You Might Like:
Other Pilaf Recipes You Might Like:
Curried Brown Rice
An easy to make Curried Brown Rice recipe flavored with sunflower seeds and raisins. Serve it as a side dish with your favorite protein or by itself for lunch.
Print Recipe
Ingredients
1 1/2

cups

Brown Basmati Rice

3

cups

plus 3 tablespoon vegetable stock or water

1

teaspoon

table salt

1

tablespoon

sesame

or olive oil

2

cloves

garlic

1

medium onion

chopped

1

medium red or green bell pepper

seeded and chopped

1/2

cup

raw sunflower seeds

1/2

cup

no-sugar added raisins

1 1/2

teaspoon

curry

1

tablespoon

fresh Italian Parsley

finely chopped
Instructions
Rinse rice under warm running water. Place it in a medium pan with stock and salt, and bring it to a boil. Turn down the heat to low and simmer for 50 minutes with the lid on. Set aside to rest.

Meanwhile, in a different pan, sauté onions, stirring frequently, until softened for 4 minutes. Stir in the pepper and let it cook with the onions for another 2 to 3 minutes.

Once fragrant, add sunflower seeds and 3 tablespoon stock and cook for 1 to 2 minutes. Lastly, stirring constantly, add the raisons and curry powder.

Combine curry mixture with rice; simmer until liquid is absorbed for about 10 minutes. Let it rest at least 15 minutes.

When ready to serve, sprinkle it with freshly chopped parsley.
Nutrition
Calories:
443
kcal
|
Carbohydrates:
77
g
|
Protein:
10
g
|
Fat:
12
g
|
Saturated Fat:
1
g
|
Sodium:
603
mg
|
Potassium:
550
mg
|
Fiber:
6
g
|
Sugar:
2
g
|
Vitamin A:
490
IU
|
Vitamin C:
29
mg
|
Calcium:
81
mg
|
Iron:
3
mg
Like this recipe? Consider sharing: