Curry brown rice is a super simple, versatile, and delicious side dish you can serve with any main dish. I love to make this on a Monday evening to enjoy with dinner, and then pack up the rest to have a hearty side for the week. If you are interested in cooking brown rice dishes, also check out our Brown Jasmine Rice Recipe.
Ingredients
The ingredients for this curried rice with raisins are so simple and full of ingredients you probably already have hanging about in your pantry. We will need:
Extra virgin olive oil
Onion: You can use both yellow and white onion in this recipe. Be sure to chop it finely.
Bell pepper: Use more savory green bell pepper or sweeter yellow or red bell pepper.
Curry powder: My favorite store-bought curry powder is Simply Organic Curry Powder (affiliate link), which is what I use for many Indian rice recipes.
Fresh garlic cloves
Brown Basmati rice: Brown basmati rice is a long grain aromatic rice easy to find in the rice or global section of major grocery stores. My favorite brand is Pride of India (affiliate link.) If brown basmati rice is unavailable, brown jasmine rice is a great substitute.
Vegetable stock: Use Homemade Vegetable Stock, low sodium store-bought vegetable broth, or opt for Chicken Stock if not concerned about keeping it vegetarian.
Kosher salt
Raisins: Raisins provide a nice pop of sweetness, but the trick is to soak them beforehand (more on this below). If you can get your hands on sultanas or dried currants, either one would be a great substitute.
Sunflower seeds: Be sure to purchase unsalted sunflower seeds.
Citrus juice: This recipe can use fresh lemon juice or lime juice interchangeably.
Fresh herbs: Go for fresh parsley, fresh cilantro, or a mix of both to suit your taste.
Optional Add-Ins / Variations
Jalapenos: One small seeded and diced jalapeno can be added along with the bell pepper to add a nice spicy bite.
Homemade curry powder: If you don't have curry powder on hand, make your own by mixing together 2 Tablespoons each ground coriander and ground cumin, 1.5 Tbsp ground turmeric, 2 teaspoons ginger, 1 tsp ground cinnamon, and ½ teaspoon each ground black pepper, ground cardamom, ground nutmeg, and cayenne pepper. Use 1 teaspoon for this recipe and store the rest in your spice cabinet.
Extra spices: Up the curry flavor with the addition of 1 teaspoon of cumin seeds.
Coconut milk: If you want to turn this dish into a coconut curried brown rice, replace 1 ¾ cups of the vegetable stock with one (13.5 ounces) can of coconut milk, and use 1 ¼ cups of vegetable stock to total 3 cups of liquid.
Craisins: Swap out the raisins for dried cranberries instead.
Nuts: Toasted slivered almonds or cashews are a great substitute for sunflower seeds.
Green peas: Add 1/2 cup frozen green peas while the rice is resting for some color and extra protein.
How to Make Curried Brown Rice?
If you have ever wondered how to spice up brown rice, this easy curry rice recipe will get you there. Here's how to make it in a few easy steps:
Rinse rice: Place brown basmati rice in a colander and thoroughly rinse under cold water.
Saute aromatics and curry powder: Heat the olive oil over medium-high heat in a medium saucepan for about 1 minute. Add onion, pepper, and curry powder and saute, stirring frequently, for 4-5 minutes or until vegetables have softened. Add garlic and saute for 1 minute.
Toast rice: Pour in the rinsed basmati rice and fry rice gently, stirring constantly, for 7-8 minutes.
Add the stock: Pour in the vegetable stock, cover, and bring to a boil. Once the rice has come to a boil, reduce the heat to low.
Cook rice: Simmer for 45-55 minutes or until all the liquid has been absorbed. Turn off the heat and allow it to rest, with the lid on, for 10-15 minutes.
Soak raisins: While the rice is cooking, place the raisins in a heat-proof small bowl and cover with hot boiling water. The raisins will plump up as the rice is cooking.
Add mix-ins: After the rice has rested, fluff it with a fork. Drain the raisins and fold them in, along with the sunflower seeds.
Finish and serve: Drizzle with lemon or lime juice. Taste for seasoning and add more if desired. Finish with fresh parsley or cilantro and serve.
How to Make Ahead, Store, and Reheat Leftovers?
Brown rice with curry powder is a wonderful make-ahead side dish and one that I make regularly in my kitchen. To meal prep and store for later, simply:
Make Ahead: Prep on a Sunday or Monday evening to enjoy dinner throughout the week. Simply place it in meal prep containers with your choice of cooked meat and/or vegetables in individual portions.
Store: Place leftover rice in an airtight container in the refrigerator for up to 3 days. We do not recommend freezing.
Reheat: Place the rice on a microwave-safe plate, add a splash of water or broth, place a damp paper towel on top, and reheat in the microwave in 30-second increments until warmed through.
Serving Suggestions
Brown rice curry is a delicious and hearty side dish that can be paired and enjoyed with a number of different meals. You could try serving it with:
Expert Tips
Rinse rice: Rinse the rice in a fine mesh strainer under cold running water for about 1-2 minutes or until the water runs clear. This removes excess starch and ensures the rice does not become too sticky.
No need to soak: While it is customary to soak brown basmati rice for 30 minutes prior to cooking, we found the rice texture to be just as tender and pleasing without soaking beforehand.
Fry in oil: Toasting or 'frying' the rice in olive oil and curry spices helps to prevent the rice grains from clumping or sticking. It also evenly distributes the flavors onto the rice grains, making each bite as delicious as the next.
Use the right ratio of liquid to rice: We found the best ratio of liquid to brown basmati rice to be 2:1. If there appears to be excess liquid in the pot, add 5-minute increments to the cooking time until all the stock is absorbed. Remove from the heat when done.
Increase curry spices: You can adjust the curry to your desired taste. Adding more may also change the color of the rice.
Do not stir: As soon as you add the vegetable stock to the pot, refrain from stirring, as this can cause the rice grains to break, resulting in a stickier product.
Allow the rice to rest: The key to fluffy rice is to allow the rice to rest once it is done cooking. Leave the lid on and steam the rice for 10-15 minutes to allow the moisture to distribute evenly.
Taste for seasoning: Be sure to give it a taste and add more salt if needed.
FAQs
Can you add butter to brown rice?
Yes, butter can replace olive oil in just about all brown rice recipes. Heat and melt butter in the pan just as you would the olive oil.
What can I add to brown rice for taste?
A few aromatics, like onions, peppers, and garlic, along with warming spices, in this case, curry powder, add flavor, spice, and plenty of taste to brown rice.
Should I soak my brown rice before cooking?
Although it is usually recommended to soak brown rice before cooking, we simply rinsed the rice in a fine mesh strainer under cool running water for 1-2 minutes, and the rice came out perfectly.
Other Whole Grain Recipes You Might Also Like:
If you try this Curried Brown Rice recipe, please take a minute to rate the recipe and leave a comment below. It helps others who are thinking of making the recipe. And if you took some pictures, be sure to share them on Instagram using #foolproofeats so I can share them on my stories.
Curried Brown Rice Recipe
This Curried Brown Rice is an easy-to-make side dish that can be served along with any of your favorite meat, poultry, or vegetarian dishes. Packed with sweet, salty, and crunchy flavors, this brown rice recipe is sure to be a crowd-pleaser.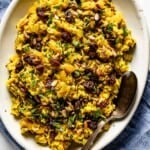 Print Recipe
Ingredients
2

tablespoons

olive oil

1

medium onion

chopped

1

medium yellow

red or green bell pepper, seeded and chopped

1

teaspoon

curry powder

2

cloves

garlic

finely minced

1 ½

cups

Brown Basmati Rice

thoroughly rinsed

3

cups

vegetable stock or water

1

teaspoon

Kosher salt

plus more to taste

½

cup

raisins

½

cup

raw sunflower seeds

unsalted

1

tablespoon

lemon juice

or lime juce, add more to taste

1

tablespoon

fresh parsley

or cilantro, chopped
Instructions
In a medium size saucepan or Dutch oven, heat the olive oil over medium-high heat.

Add onion, pepper, and curry powder and saute, stirring frequently, for 4-5 minutes or until softened.

Add the garlic and saute for one more minute.

Stir in the basmati rice and cook, stirring constantly, for 5-6 minutes.

Pour the vegetable stock in, put the lid on, and bring to a boil. As soon as it is boiled, turn the heat down to low, and let it simmer for 45-55 minutes* or until all the liquid has been absorbed. Remove from the heat and let it rest for 10-15 minutes.

Meanwhile, place the raisin in a ramekin and pour some hot boiling water over it. Let it plump up while the rice is cooking.

When ready to serve, fluff the rice with a fork. Drain the raisins and stir them in, along with the sunflower seeds.

Drizzle it with the lemon juice. Taste for seasoning and add more if necessary.

Sprinkle it with fresh parsley and serve.
Notes
Yields: This recipe makes about 4 to 5 cups of brown rice. The nutritional information below is per serving.

Rinsing the rice is important as it helps remove any additional starch. The best method is to place the rice in a mesh strainer and rinse it under cold water, stirring with your fingers or spoon.

If there appears to be excess liquid in the pot, add 5-minute increments until all the stock is absorbed. Remove from the heat when done.

Any leftovers can be refrigerated in an airtight container for up to 3 days.
Nutrition
Calories:
335
kcal
|
Carbohydrates:
53
g
|
Protein:
7
g
|
Fat:
12
g
|
Saturated Fat:
1
g
|
Polyunsaturated Fat:
4
g
|
Monounsaturated Fat:
6
g
|
Sodium:
866
mg
|
Potassium:
377
mg
|
Fiber:
4
g
|
Sugar:
3
g
|
Vitamin A:
881
IU
|
Vitamin C:
28
mg
|
Calcium:
37
mg
|
Iron:
2
mg
Like this recipe? Consider sharing: