You cannot talk about Turkish cuisine and not mention bulgur wheat. And you cannot speak about bulgur recipes and not mention tabbouleh, also known as Middle Eastern Parsley salad. It is that simple.
If you are new to cooking with bulgur and need a refresher, be sure to check out the posts I wrote on Types of Bulgur and How To Cook It based on the type you are using.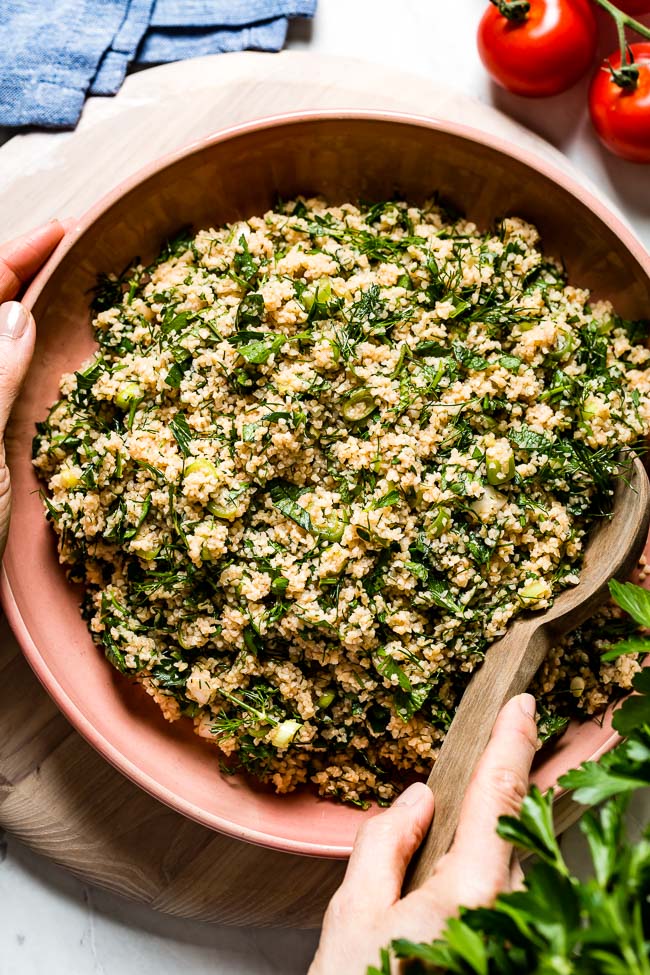 In today's post, I will share everything you need to know about making tabbouleh salad, including but not limited to the origin of it, ingredients and procedure (with step-by-step how-to photos), variations, along with my mom's tips for the best tabouli recipe.
What Is It & Where Is It From?
Tabbouleh, also known as tabouli and tabouleh salad, is a fresh herb (mostly made with fresh parsley and mint) salad made with fine bulgur (parboiled crack wheat). It is mainly served as a meze or a side dish similar to other Middle Eastern recipes like Tzatziki sauce and Mediterranean hummus.
According to this article on tabbouleh from Wikipedia, it originated from the Levantine region – the large area in the Eastern Mediterranean region that consists of Syria, Lebanon, Israel, Palestine, Jordan, Turkey, and Iraq.
While most popular tabouli recipes are labeled as Lebanese, it is commonly made in the Middle Eastern (Arab countries) and Mediterranean regions (including Cyprus and Greece).
What Is It Made Of?
To make it easier, I am breaking down the ingredients for my homemade tabouli recipe into four categories:
Fine Bulgur:
The authentic tabbouleh recipe uses fine bulgur, but if you cannot get your hands on it, you can also use medium-coarse and red bulgur for this recipe. The cooking method would be different, but it would still work.
To soak fine bulgur, you will need boiling water, tomato paste, and salt.
If you want to purchase it online, this fine bulgur (affiliate link) is the one I always buy.
A Quick Note on The Amount of Bulgur I Use:
As I was doing my research for this recipe I realized that some of the Lebanese tabbouleh recipes online uses less bulgur than what I am accustomed to.
In my version of tabbouleh salad here, I am cooking 1 cup of fine bulgur but if you prefer yours less bulgur, feel free to cook less.The bulgur to water ratio I use is one to one and a quarter. In other words, I use 1 cup bulgur wheat to 1 1/4 cups of water.
If you decide to use less bulgur, be sure to adjust the amount accordingly.
Salad Ingredients:
Fresh Herbs: I used a combination of fresh parsley (flat-leaf or Italian parsley), fresh mint, and fresh dill. Finely chopped.
A quick note about the fresh herbs: Most authentic recipes feature parsley as the only herb, which is why it is also called Mediterranean Parsley Salad. However, the Turkish tabbouleh recipe (aka kisir)that I grew up eating was always made with a combination of fresh parsley, dill, and mint. With that being said, if you are not a fan of tabbouleh with mint or dill, you can easily substitute it with an equal amount of fresh parsley.
Scallions: Finely chopped with both green and white parts. It is not traditional, but you can substitute scallions with chopped red onions.

The Dressing:
The tabbouleh dressing is made with olive oil and lemon juice and seasoned with salt and pepper.
Optional Spices:
I kept my easy tabbouleh recipe simple and used only salt and pepper. However, my mom would always sprinkle it with sumac. I recommend using it if you have some, as it will add an additional layer of zesty flavor to the overall dish.
How To Cook Bulgur for Tabouli?
As I mentioned earlier, since fine bulgur is thin/small to cook, we prefer soaking it in hot water instead of boiling it on the stovetop. To do so:
You will need a large bowl: Place fine bulgur in a large bowl (one that is big enough to make the salad)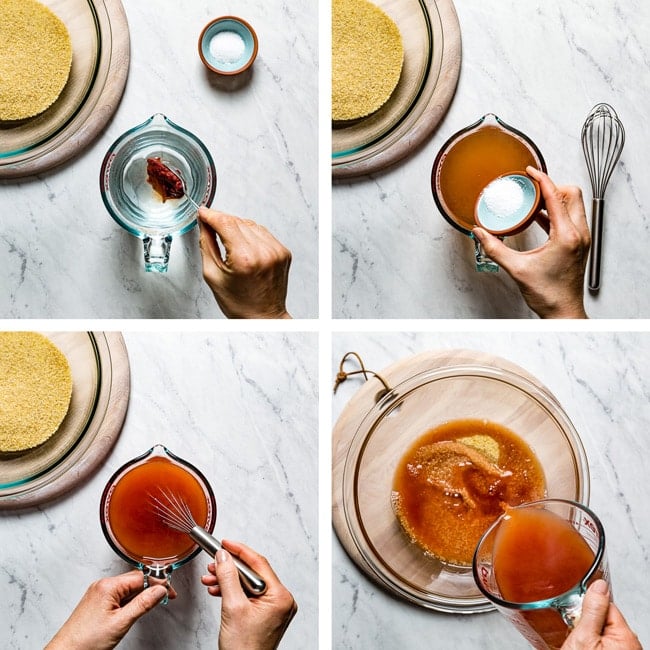 Prep the liquid mixture: In a measuring cup, mix 1 ¼ cups of hot boiling water with 2 tablespoons of tomato paste and a teaspoon salt (I used Diamond kosher salt.)
Pour it in: Pour the mixture into the bowl, making sure to cover the bulgur fully.
Rest & Fluff: Let it soak for 10-15 minutes or until the liquid is fully absorbed and bulgur is cooked. Fluff it with a fork before adding the rest of the ingredients.
How To Make It?
Once the bulgur wheat is cooked, the rest of making Mediterranean salad is relatively easy. Simply: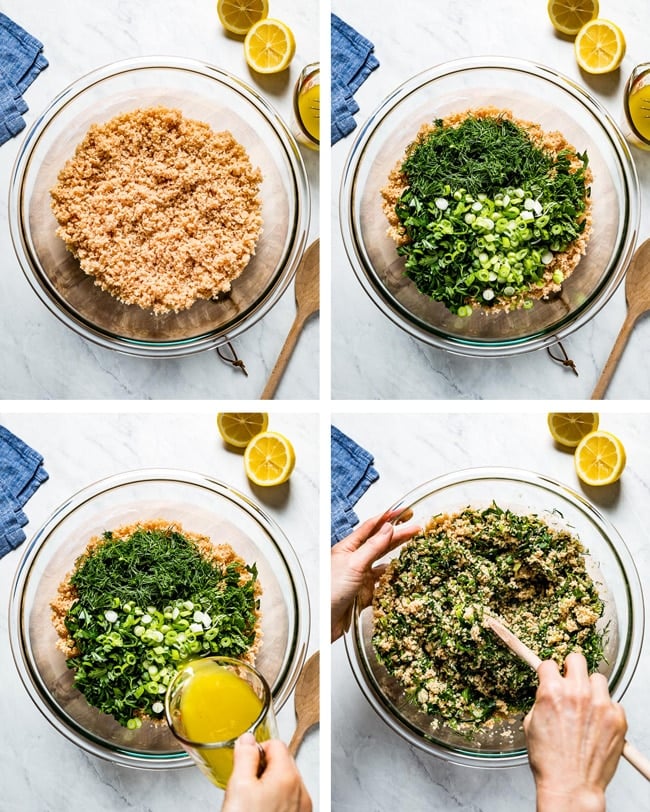 Make the tabbouleh dressing: Whisk together the freshly squeezed lemon juice with olive oil and salt and pepper in a bowl. Set it aside.
Chop the herbs & green onions: Prep the parsley, mint, dill, and scallions and place them on top of the soaked bulgur.
Pour the dressing over & mix: Drizzle the salad with the dressing and give it a gentle mix to combine.
Taste for seasoning and serve: Give it a taste and add in more if necessary. Serve.
Make-Ahead Instructions:
If you want to make it a day earlier, I recommend soaking the bulgur, chopping the herbs and scallions, and keeping them in an airtight container. You can also prep the dressing and store them separately in the fridge.
When ready to serve, pour the dressing over and give the tabouli mix a gentle toss to combine.
Storage Tips & How Long Will It Keep In the Fridge?
To store, place your Mediterranean bulgur salad into an airtight container and place it in the fridge. It should stay fresh in the fridge for up to 3 days.
Keep in mind that this is one of those salads that gets better as it sits. I personally enjoy it more on the next day. For that reason, I usually make this easy tabbouleh recipe as a part of my weekly meal prep.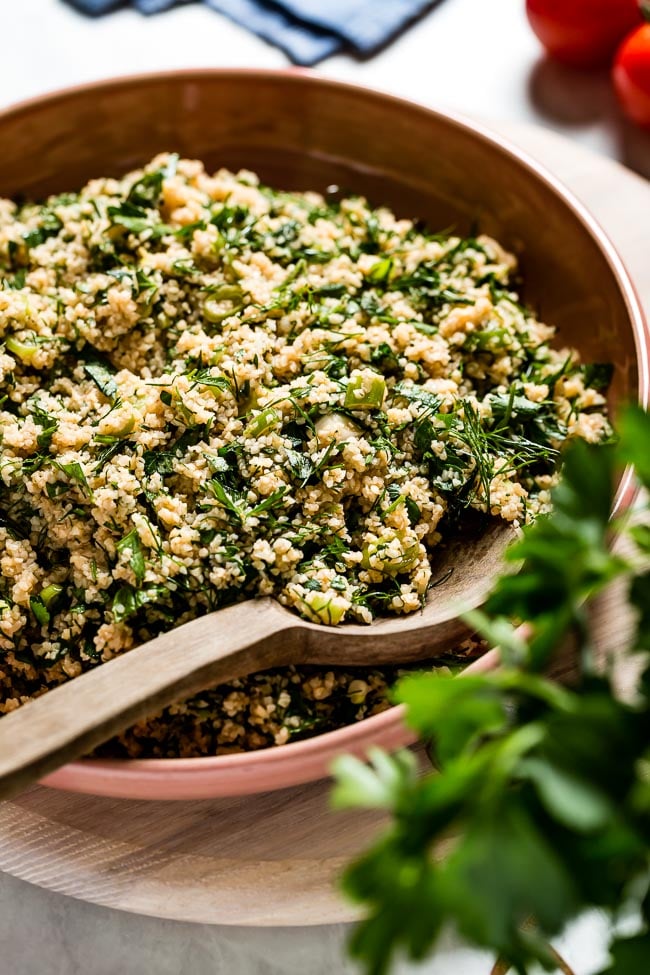 Variations:
The beauty of this Turkish tabbouleh is that it can be customized in various ways to make it match your taste buds. Here are a few variations you can try:
Tabbouleh without bulgur: If you prefer this recipe without bulgur or following a gluten-free diet, be sure to try my Quinoa Tabbouleh Salad recipe.
With Tomatoes and Cucumber: While it is not traditionally added into tabbouli, you can add half a cup of each chopped fresh tomato and cucumber into your tabbouleh.
Without Parsley: If you are not a fan of fresh parsley, you can substitute it with a combination of fresh mint and dill. If you do not prefer using fresh herbs, you can chop a few cups of romaine lettuce thinly and use that instead.
Warm Tabbouleh Salad: You can serve this salad warm by heating it in the microwave for 15-30 seconds until it reaches the temperature of your liking.
Red bulgur tabbouleh: If you live in the US and shop for bulgur in the supermarkets, you will likely be able to find Bob's Red Mills' red bulgur. This Mediterranean bulgur and parsley salad can be made with red bulgur. However, I recommend following my detailed instructions on cooking red bulgur rather than soaking it.
Serving Suggestions & Calories:
The easy tabbouleh recipe below makes about 4 cups of tabbouleh. I thought it would be ideal to serve 1 cup per serving, which is about 386 calories.
What To Serve it With:
While it is traditionally served as a meze, I usually serve this Middle Eastern salad with bulgur as a side dish with meat and chicken dishes or as a light salad by itself. Below are a few recipes that I recommend to enjoy your salad:
Easy Tabbouleh Recipe
My mom's Easy Tabbouleh recipe made with fine bulgur, fresh parsley, mint and dill and drizzled with a zesty dressing. This vegan Mediterranean/Middle Eastern meze / side dish comes together in less than 30 minutes and can be enjoyed with meat and chicken dishes or by itself as a light and healthy meal.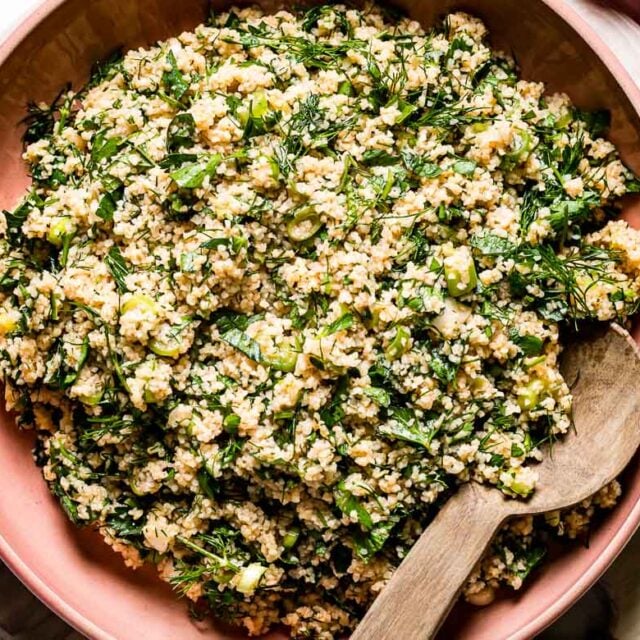 Print Recipe
Ingredients
For The Fine Bulgur:
2

tablespoons

tomato paste

1 ¼

cups

of boiling water

1

teaspoon

kosher salt

1

cup

fine bulgur
For The Dressing:
½

cup

of olive oil

¼

cup

lemon juice

freshly squeezed

½

teaspoon

kosher salt

¼

teaspoon

ground black pepper
For The Tabbouleh Salad:
1

cup

fresh parsley

finely chopped

1

cup

fresh dill

finely chopped*

½

cup

fresh mint leaves

roughly chopped*

3-4

stalks of green onions

chopped with both green and white parts
Instructions
In a measuring cup, whisk together tomato paste, water, and salt until fully combined.

Place fine bulgur in a large bowl and pour the mixture over it. Let it rest on the counter for 10-15 minutes or until the whole liquid is absorbed. Fluff it with a fork.

Meanwhile, make the dressing by whisking together olive oil, lemon juice, and salt and pepper.

Add in the herbs and scallions into the bowl and drizzle it with the dressing.

Give it a gentle toss, taste for seasoning and add in if necessary. Serve.
Notes
A note on herbs: If you are not a fan of mint and dill, you can substitute them with an equal amount of fresh parsley.
A note on the amount of bulgur used:

If you prefer using less bulgur, feel free to half the amount that is used. If you do so, soak 1/2 cup bulgur with 2/3 cups of boiling water mixed in with 1 tablespoon of tomato paste and 1/2 teaspoon salt.

Taste for seasoning: The recipe written here uses the least amount of salt, but be sure to taste it at the end to make sure that it is to your liking.
To store: Place the leftovers in an airtight container and keep in the fridge up to 3 days.
Freezing? I would not recommend freezing tabbouleh salad.
Nutrition
Calories:
386
kcal
|
Carbohydrates:
32
g
|
Protein:
6
g
|
Fat:
28
g
|
Saturated Fat:
4
g
|
Sodium:
964
mg
|
Potassium:
469
mg
|
Fiber:
8
g
|
Sugar:
2
g
|
Vitamin A:
2626
IU
|
Vitamin C:
41
mg
|
Calcium:
85
mg
|
Iron:
3
mg
Like this recipe? Consider sharing: