If you're looking for more healthy, yogurt-based summer snacks, you've come to the right place! Dip your favorite seasonal fruits in my Greek Yogurt Fruit Dip for a refreshing pick-me-up, or cool off after a morning walk with my Breakfast Yogurt Parfait.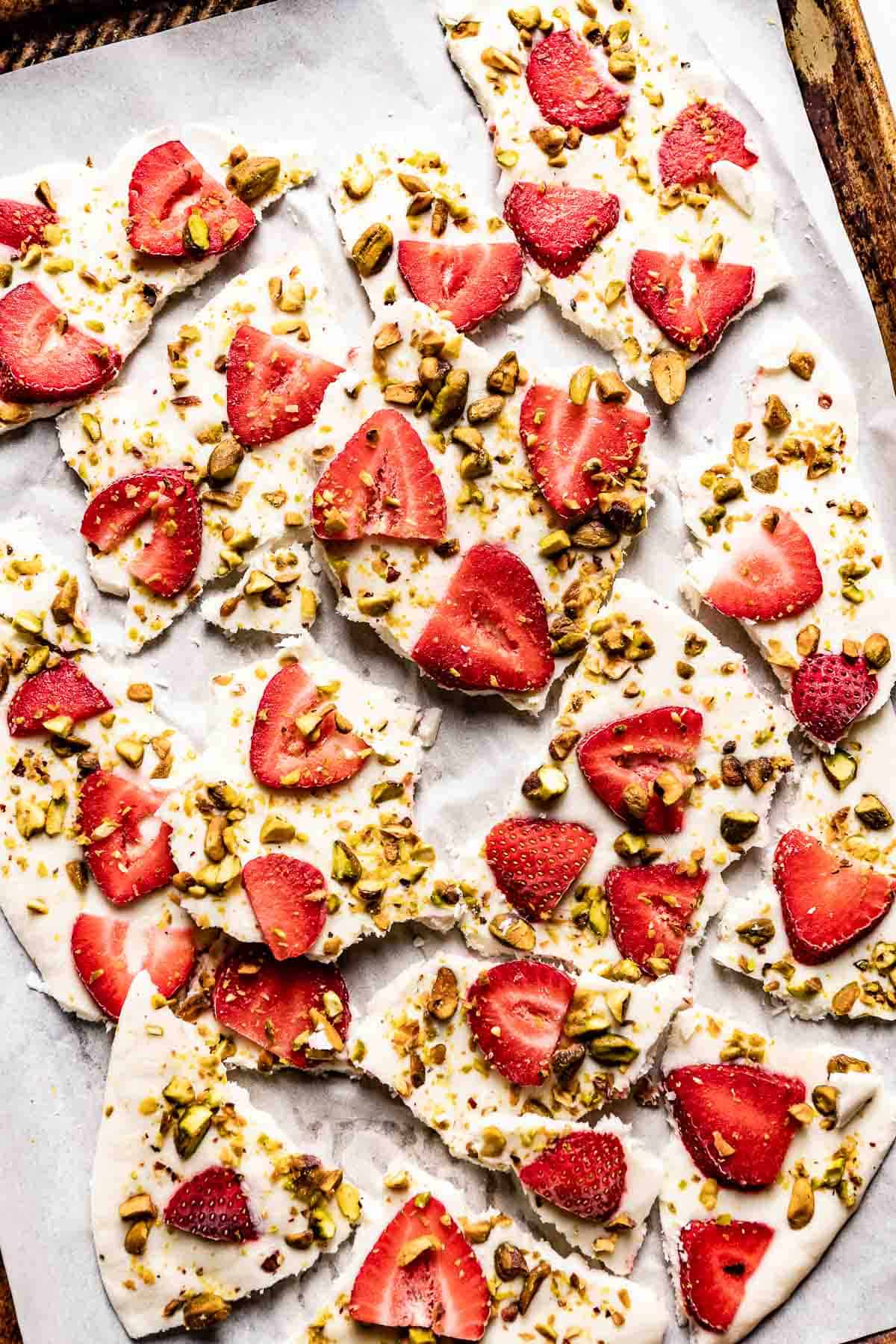 Ingredients
The three simple ingredients in these frozen yogurt bars provide a pop of color, a great crunch, and a salty-sweet finish. They're simply irresistible! For this recipe, you'll need vanilla yogurt, fresh strawberries, and pistachios (or any nuts, granola, or your favorite toppings).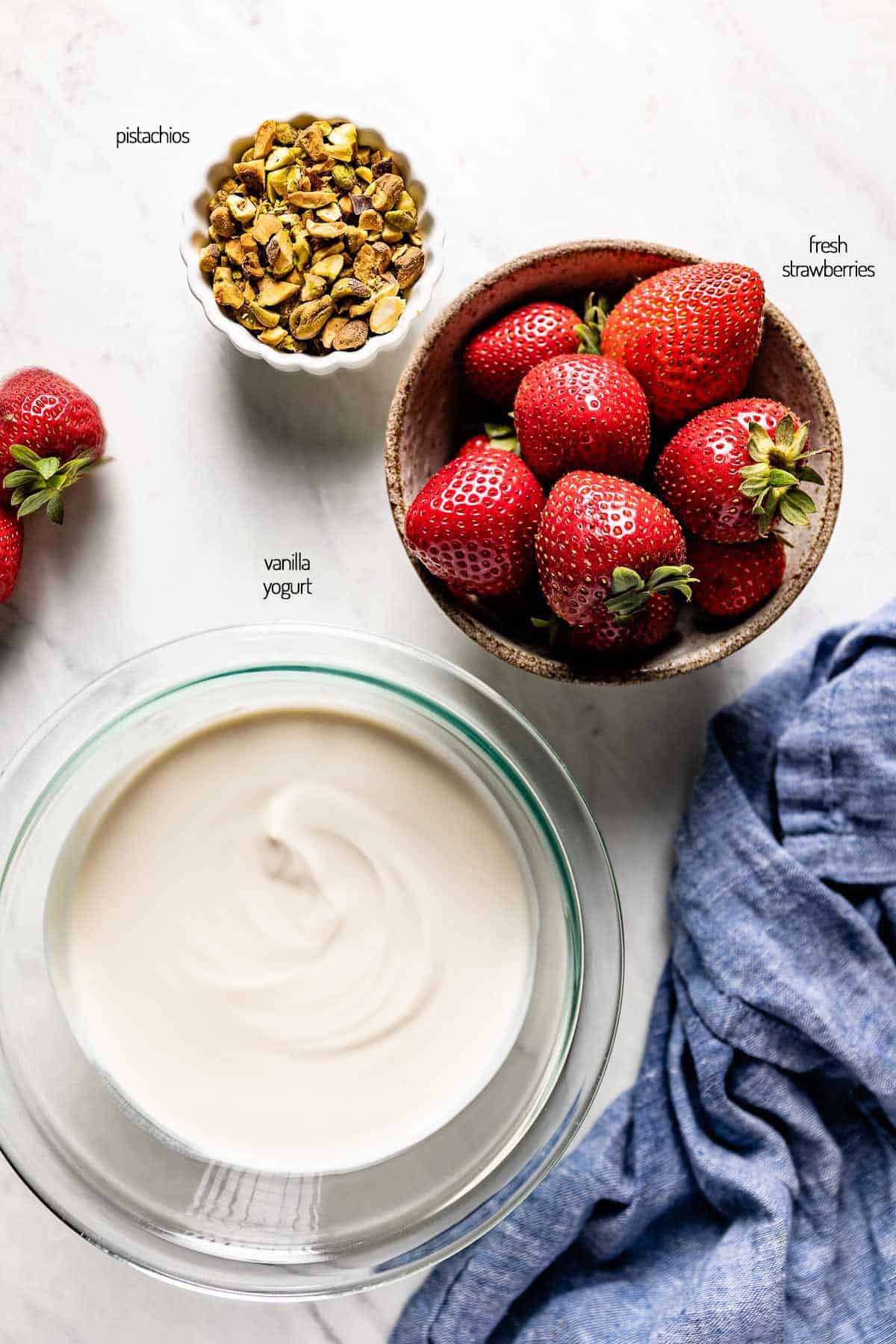 Substitutions
Aside from being totally snackable and addictive, these homemade yogurt bars are also super customizable. Grab your kids or some friends, your favorite sweet or salty toppings, and go crazy! The sky's the limit when it comes to substitutions, but here are some suggestions:
Yogurt: I used my Vanilla Yogurt recipe for this Greek yogurt frozen bark, which is made with full-fat plain Greek yogurt mixed with a little honey and a splash of vanilla extract. I personally love using full-fat yogurt in this recipe, as it provides a super creamy texture and freezes well. I recommend subbing non-fat Icelandic yogurt or skim yogurt if you want a lower fat option that's still thick and creamy. Or, feel free to use dairy-free yogurts if you'd prefer (you can make almond frozen yogurt by using full-fat almond yogurt).
Sweetener: If you have a sweet tooth, feel free to use your favorite sweetener to make this yogurt fruit bark a truly sweet treat! I recommend using non-refined sugars like honey, maple syrup, or agave nectar, or even monk fruit sweetener or erythritol for a keto version of this frozen Greek yogurt bark.
Fruits: Adding colorful fresh fruits to your frozen yogurt bark really makes it pop! I used strawberries, but any soft fruits or berries would be a delicious addition. Take a trip to your local grocery store to see what's in season.
Nuts, granola, & other toppings: To make this Greek yogurt bark slightly savory and salty, top it with any nuts you prefer or have on hand. Or, toss in your favorite granola (I love this Chunky Granola), unsweetened coconut flakes, or even chia seeds to add some extra crunch! For an extra indulgent chocolate bark (similar to my Almond Chocolate Bark), sprinkle on your favorite chocolate chips and a thin swirl of peanut butter.
How to Make Yogurt Bark?
Not only is this healthy yogurt bark easy to make, but it's fun too! Here's how to do it:
Prep the baking sheet: Line a baking sheet with parchment paper.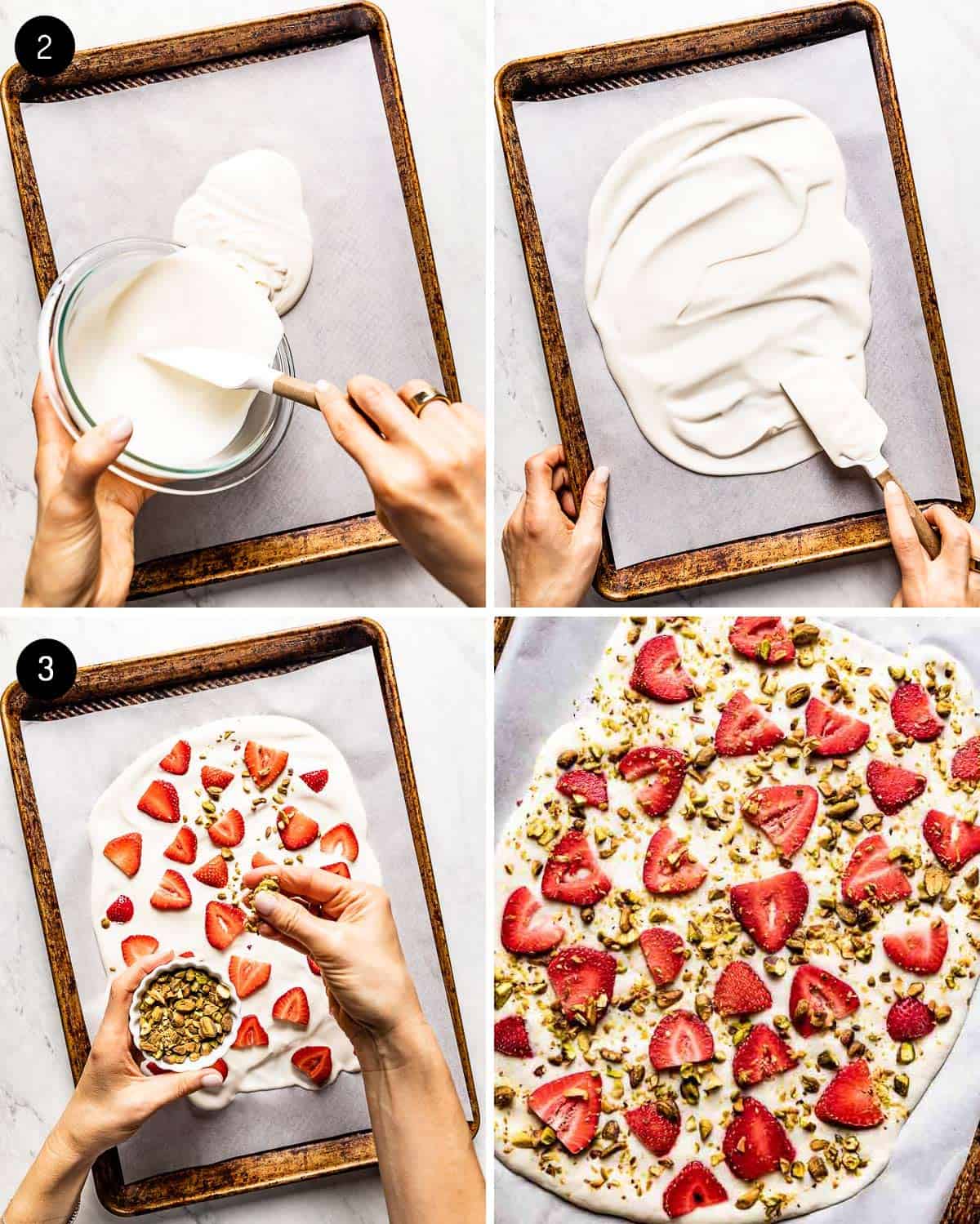 Spread the yogurt: Using an offset spatula (or a spoon), spread the yogurt in an even layer across the baking sheet.
Add your toppings: Sprinkle the vanilla Greek yogurt evenly with the strawberries, pistachios, or toppings of your choice.
Freeze: Freeze the yogurt bark overnight or for at least 3 hours until firm.
Serve: Remove the yogurt bark from the freezer and break it into large chunks. Serve immediately.
How to Store
While it is best to enjoy this yogurt fruit bark as soon as it comes out of the freezer, you can also make a big batch ahead of time for quick grab-and-go snacks! Just keep in mind that the frozen Greek yogurt bark needs at least 3 hours in the freezer before serving, although freezing overnight is better and will help prevent melting.
To store leftovers, make sure to break the bars into pieces before placing them in an airtight container. Keep in the freezer and enjoy them for up to 2-3 months.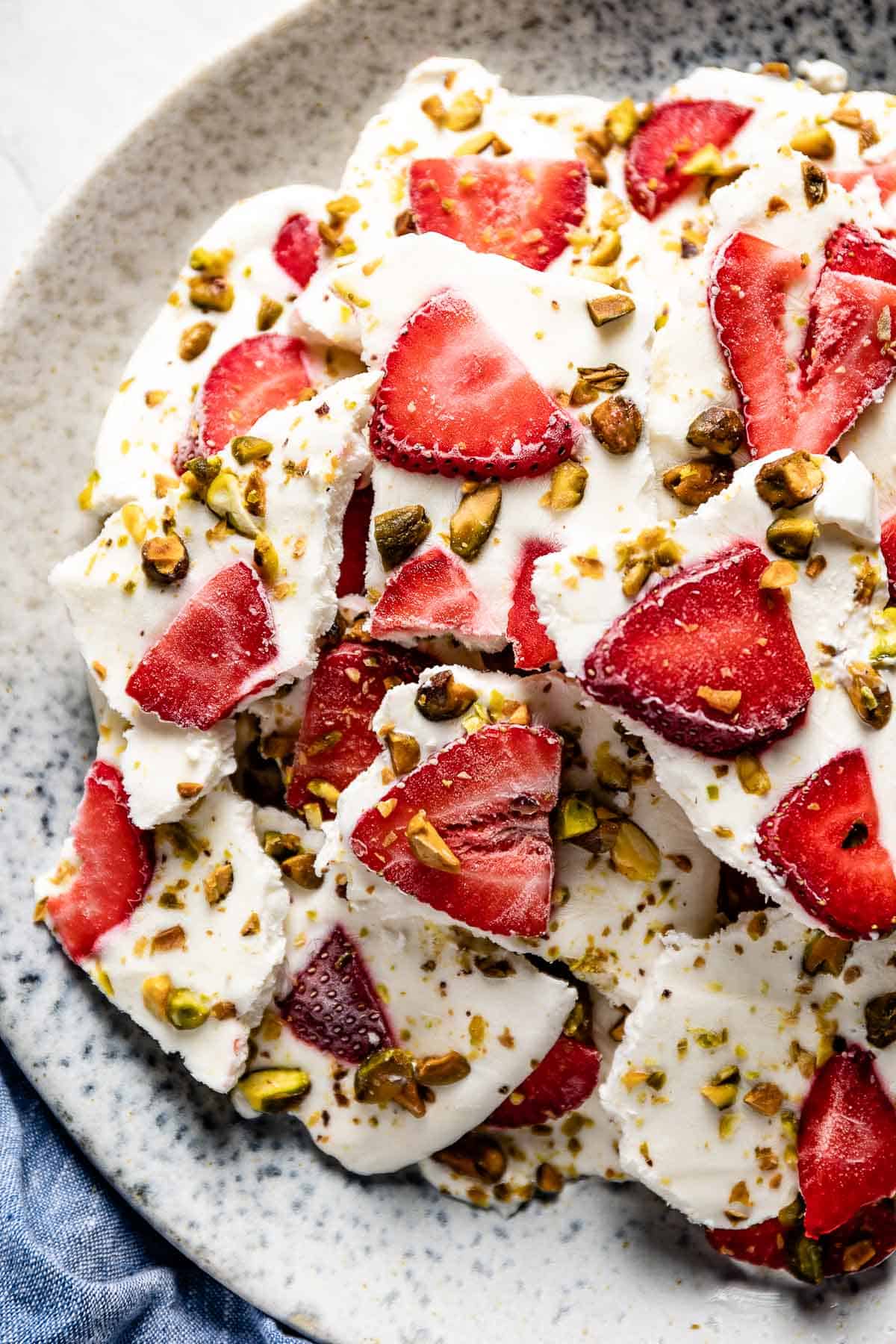 Expert Tips
The fun of this frozen yogurt bark recipe is that it's supposed to look homemade and a little imperfect. While you can get creative with their look and taste, I encourage you to follow these tips for the best, foolproof results:
Treat it like ice cream: Just like ice cream, these healthy yogurt snacks will melt if left out too long. The key is to take them out of the freezer and let them rest at room temperature for about a minute before serving. Once they've softened a bit, enjoy them before they melt (trust me, they'll be gone before they've had time to melt)!
Use a small sheet pan: Smaller sheet pans are easier to work with and fit well in the freezer. Just make sure to use lined baking sheets with parchment or wax paper so the bars don't stick!
Chop fruit into small pieces: Cut larger fruits into small pieces and make sure to equally distribute them on the yogurt. Doing so will ensure that you get a delicious piece of your favorite fruit in every bite.
Make it your own: This Greek yogurt bark recipe can be as delicious as you want to make it. Love Reese's cups? Add in peanut butter and chocolate for a kid-friendly treat! Want to make a frozen yogurt berry bark with a pop of color and extra antioxidants? Sprinkle a combination of blueberries and strawberries on top of the yogurt!
FAQs
What is frozen yogurt bark?
Frozen yogurt bark, also called fro yo bark, is a healthy frozen treat made with yogurt and toppings such as fruit and nuts. The yogurt is spread thinly on a pan, frozen, and broken up into pieces to serve. The frozen yogurt bark recipe was made famous by the Pioneer Woman, and many recipes are adapted from the Pioneer Woman Frozen Yogurt Bites.
How long to freeze yogurt bark?
For best results, freeze yogurt bark overnight or for at least 3 hours. Keep leftovers in the fridge for up to three months.
Are frozen yogurt bars healthy?
Yes, they are! Yogurt has several health benefits, making these frozen yogurt bars a great source of gut-friendly probiotics, calcium, B vitamins, and other important nutrients. The toppings in this homemade frozen yogurt bark, such as fruit and nuts, also provide antioxidants and healthy fats.
Can you make yogurt bark with frozen fruit?
Yes, you can use frozen fruit to make frozen fruit yogurt! Just make sure to thaw the frozen fruit before adding it to the yogurt, which will allow the yogurt and fruit to thaw at the same time. Just keep in mind that thawing frozen fruit can be messy, as the process releases a lot of juices!
How to cut frozen yogurt bark?
Once you're ready to serve your healthy frozen yogurt bark, you can break it up with your hands to make smaller yogurt pieces, cut it on a cutting board with a sharp knife, or even use a pizza cutter. This process is very hands-on, so get your kids involved!
Can you just freeze yogurt to make frozen yogurt?
Yes, you can, but it may be hard to consume. It's best to spread the yogurt on a sheet pan before freezing to make it thinner and easier to eat.
Is frozen yogurt a dessert?
Frozen yogurt can definitely be a healthy dessert! To make it extra indulgent, add sweeteners like maple syrup, honey, or agave, or even add a swirl of peanut butter or dark chocolate. To make a healthy frozen yogurt bars recipe, add lots of fresh fruit for extra nutrients and antioxidants.
Other Yogurt Recipes You Might Like
Here at Foolproof Living, yogurt is such a staple in our fridge. If you're like us and keep a yogurt stash in the fridge year-round, why not use it to make a new recipe? After you make these healthy yogurt bars, give one of these recipes a try!
If you try this Frozen Yogurt Bark recipe or any other recipe on Foolproof Living, please take a minute to rate the recipe and leave a comment below. It is a great help to others who are thinking of making the recipe. And if you took some pictures, be sure to share them on Instagram using #foolproofeats so I can share them on my stories.
Frozen Yogurt Bark Recipe
Cool off on a hot summer day with this refreshing Frozen Yogurt Bark. This kid-friendly treat combines sweet vanilla yogurt with fresh berries and crunchy toppings for a healthy ice cream alternative that's just as satisfying. This recipe is also super customizable, so grab your favorite toppings and get started!
Print Recipe
Ingredients
2

cups

Vanilla Yogurt*

½

cup

sliced strawberries

½

cup

pistachios or any other nuts or granola
Instructions
Line a baking sheet with parchment paper.

Place the yogurt on the sheet pan and spread it using an offset spatula.

Sprinkle it evenly with sliced strawberries and pistachios.

Freeze until firm, at least 3 hours or overnight.

Remove it from the freezer and break it into large chunks. Serve right away.
Notes
Yogurt: I used Greek Yogurt in this recipe as I enjoy the thickness of the Greek yogurt. I also prefer making my own Vanilla Yogurt (using plain Greek yogurt) as I can adjust the amount of sugar in it. However, if you prefer low-fat yogurt, I recommend using Icelandic-style yogurt as it will provide you with a similar thick (spreadable) consistency.
Storage:

To store leftovers, make sure to break the bars into pieces before placing them in an airtight container. Keep in the freezer and enjoy them for up to 2-3 months.

Toppings:

I used berries and pistachios, but any combination of fruit and nuts and/or granola would work in this recipe.
Nutrition
Calories:
196
kcal
|
Carbohydrates:
23
g
|
Protein:
9
g
|
Fat:
9
g
|
Saturated Fat:
2
g
|
Polyunsaturated Fat:
2
g
|
Monounsaturated Fat:
4
g
|
Cholesterol:
6
mg
|
Sodium:
81
mg
|
Potassium:
453
mg
|
Fiber:
2
g
|
Sugar:
19
g
|
Vitamin A:
119
IU
|
Vitamin C:
12
mg
|
Calcium:
228
mg
|
Iron:
1
mg
Like this recipe? Consider sharing: